Global Left Midweek – International Women's Day 2023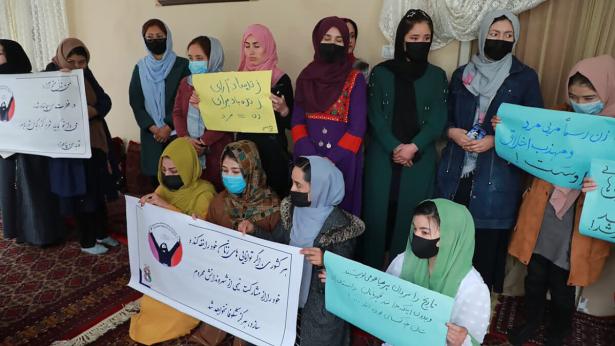 Women gather in Kabul, Afghanistan, March 6, 2023. Credit, Amu TV
__________
Dossier: Feminism From the Left
Rosa Luxemburg Stiftung (Berlin)
Left-wing feminism links the demand for higher pay with struggles against gender-based violence. It links the protests against privatizing health care with a critique of a migration policy that only tolerates people who bring profit. Lastly, it links questions of democratic participation with the demand for a redistribution of work and time.
__________
Feminist Perspectives
__________
The Kurdish Feminist Revolution
Rahila Gupta / New Internationalist (Oxford)
The Rojava women's revolution has hardly been covered in the mainstream media, perhaps in deference to Turkey, a NATO ally, which sees the movement for Kurdish self-determination as 'terrorism' – and is bombing Rojava at the time of writing. In contrast, a protest movement with the potential to bring down the Islamic regime of Iran gets unprecedented coverage. Here's why.
__________
Guatemala: Meet Thelma Cabrera
Amy Goodman / Democracy Now! (New York)
The Guatemalan Constitutional Court upheld a decision by the country's electoral tribunal to bar Indigenous human rights defender Thelma Cabrera from running. Cabrera and her running mate, former human rights ombudsman Jordán Rodas, are members of the leftist political party the Movement for the Liberation of the Peoples. 
__________
Afghan Women Demand Rights
__________
Black Tunisian Women Speak Out
Fatma Ben Hamad / France 24 (Paris)
Tunisian authorities continue to carry out mass arrests of people from sub-Saharan Africa as part of a campaign against irregular migration. Black Tunisian women activists are now speaking out about this rampant racial profiling, denouncing the racist climate and showing support for the people targeted by the anti-migrant campaign. 
__________
Remembering Berta Cáceres
Gianpaolo Contestabile / il manifesto Global (Rome)
This week marks the seventh anniversary of the death of Berta Cáceres, a leader of the Councils of Indigenous People's Organizations of Honduras. In Intibucá, as well as in the many communities and neighborhoods of Honduras, Berta Cáceres's life, her words and her commitment to activism continue to be a role model for new generations.
__________
Fighting Femicide
Istanbul   ANF News (Amsterdam)
 
Albania   Alice Taylor / EURACTIV (Brussels)
 
Durban   Steven Makhanya / Independent Online (Cape Town)
__________
Sexism and Feminism in Venezuela
Cira Pascual Marquina / Venezuelanalysis (Caracas)
Suzany González Zambrano is an eloquent advocate for the rights of people – especially women and adolescents – to a safe sexual life that is free of discrimination, coercion, and violence. She discusses how Venezuelan feminists, like most in the region, face structural sexism, plus a reproductive health crisis that has been exacerbated by US sanctions.
__________
Women in the Russian Revolution