Tidbits – Apr 27, 2023 – Reader Comments: McCarthy's MAGA Holds Country Hostage; Military Budget, Arms for Israel; Harry Belafonte, Social Justice Song List; May Day in New York; Ukraine What Next?; Fighting for Democracy in the Workplace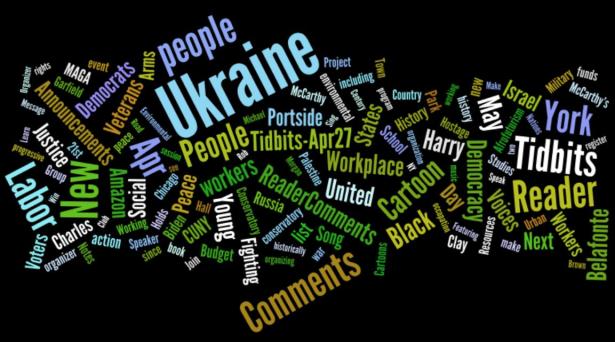 Tidbits - Reader Comments, Resources, Announcements, AND cartoons - Apr. 27, 2023,Portside
Resources:
Announcements:
Re: Progressive Young Voters to Biden: Energize Us and Win or Ignore Us and Lose

Ah, makes me feel young again! Add universal health care, serious rent control, and public education, and goodness gracious you may be there/
Charles Patrick Lynch
Posted on Portside's Facebook page
Re: Speaker McCarthy Is Feeling the Heat  
McCarthy is a SINO — a Speaker in name only. He gave away all the power of a real Speaker to the crazies in the House.
Charles Weiland
Posted on Portside's Facebook page
      =====
The inmates are running the asylum 
David Pearce
Posted on Portside's Facebook page
      =====
A self-absorbed idiot leading a party of Political misfits: it's no wonder they make the Keystone Cops ????? look like geniuses. He gets to see his stupidity each and every day. He is thrilled to have George Santos his motivational mentor!
Carlos Montalvo
Posted on Portside's Facebook page
      =====
To think he's 3rd in line for the presidential seat
Candido Mercado
Posted on Portside's Facebook page
      =====
Screw with that debt ceiling buster and you have no one to blame but you when the floor opens up
Joan Mccorkle
Posted on Portside's Facebook page
Real Estate  --  Cartoon by Clay Jones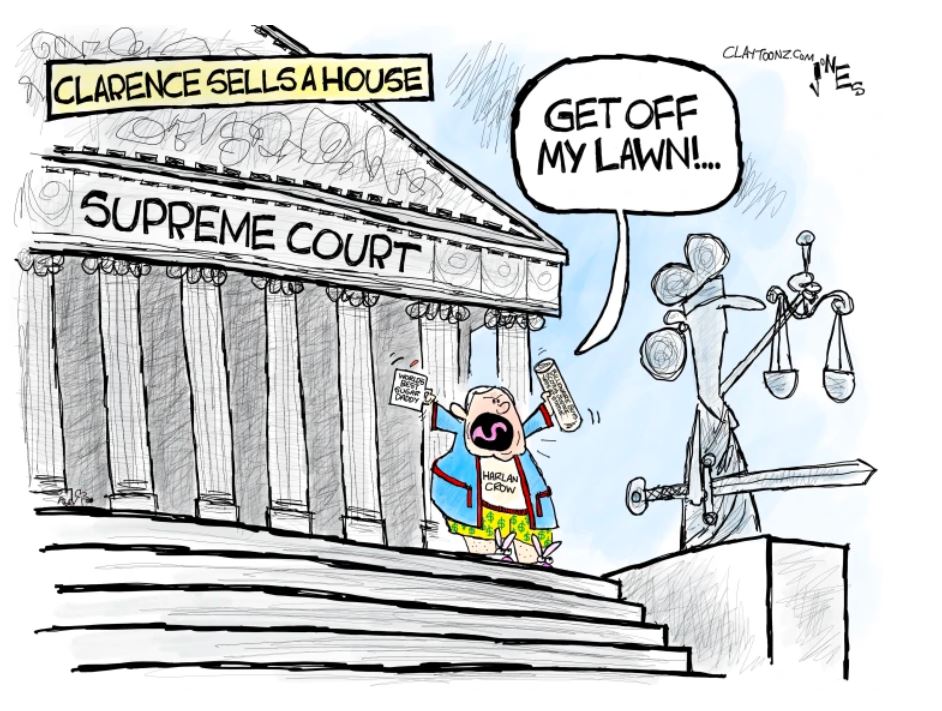 Clay Jones
April 24, 2023
Claytoonz
Re: Congress Members Urge Probe Into Use of US Weapons by Israel  
It is very brave in these times to stand up to two sacred cows, the weapons industry and Israeli human rights abuses, at the same time. Thanks to you few who value peace and human life more than careerist opportunism.
Sonia Cobbins
Posted on Portside's Facebook page
      =====
"Conditioning" the use of US funds is useless unless ALL our funds are conditioned on the same principles, no matter what they are theoretically used for. If all we say is that our funds can't be used for weapons or for settlements, they'll use American money for items they would ordinarily pay for with their own money and use their money to pay for the "forbidden" activities. ALL AMERICAN Aid to Israel must stop until the occupation is ended (whether with one Democratic State, two Democratic States, two States allowing dual citizenship or some other ethical solution).
Arlene Halfon
Re: Spurring an Endless Arms Race  
The Empire in crisis desperately tries to keep its dominance in the only way it knows how.
Dan Morgan
Posted on Portside's Facebook page
      =====
Because the arms makers fund congress
Charles
Re: Understanding the Latest Restrictions on Mifepristone  
Sad the Right cares nothing for the Breathing. Breath is the standard of life in the Bible. Yes, suffering for many, including women who experience miscarriages.
Quinton Johansen
Posted on Portside's Facebook page
Biden Launch  --  Cartoon by Rob Rogers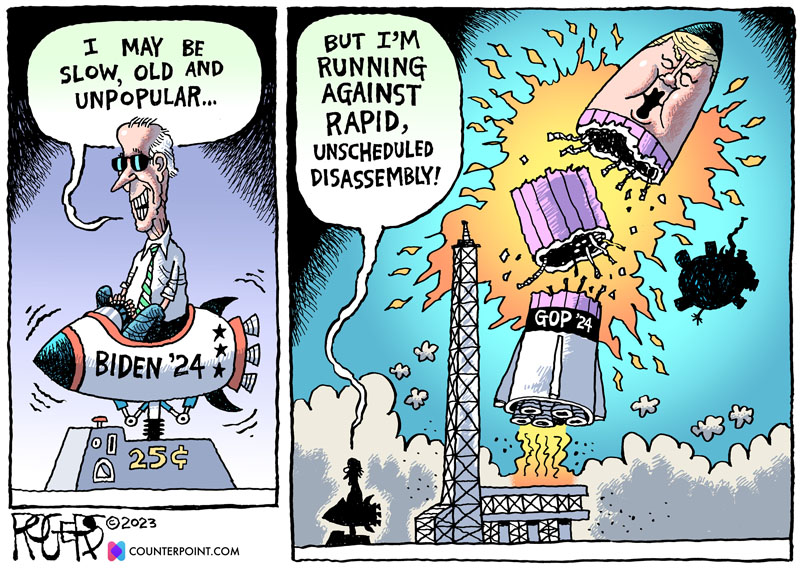 Rob Rogers
April 25, 2023
robrogers.com
Re: The Democrats' Appalling Failure To Confront the Rogue, Right-Wing Supreme Court  
Democrats have to remember how they got on the court, the Democrats losing the elections of 2000 and 2016. Democrats can't win without moderate pro-choice Catholic voters. Democrats have to say goodbye to NARAL.
Lawrence Rockwood
Posted on Portside's Facebook page
Re: Harry Belafonte, Singer, Actor and Tireless Activist, Dies Aged 96  
"When the movement is strong, the music is strong." - Harry Belafonte.
He is quoted in this piece by the Resistance Chorus.  Along with a performance of We Shall Overcome in his honor at Berklee School of Music, it is near the top of this Social Justice Song list compiled over the last four years: 
Michael Dover, Cleveland
Lights Camera Fiction  --  Cartoon by Brendan Loper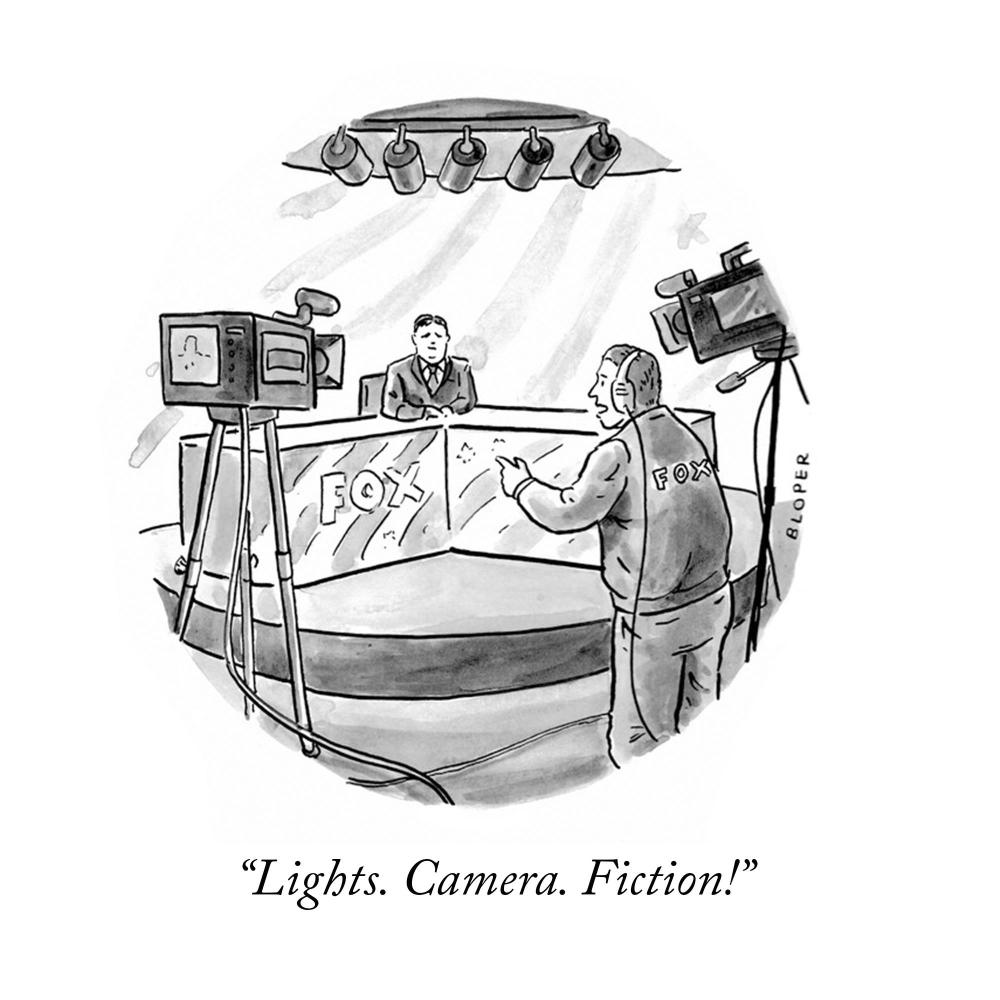 Brendan Loper
April 17, 2018
The New Yorker
Tucker Carlson  --  Cartoon by Nick Anderson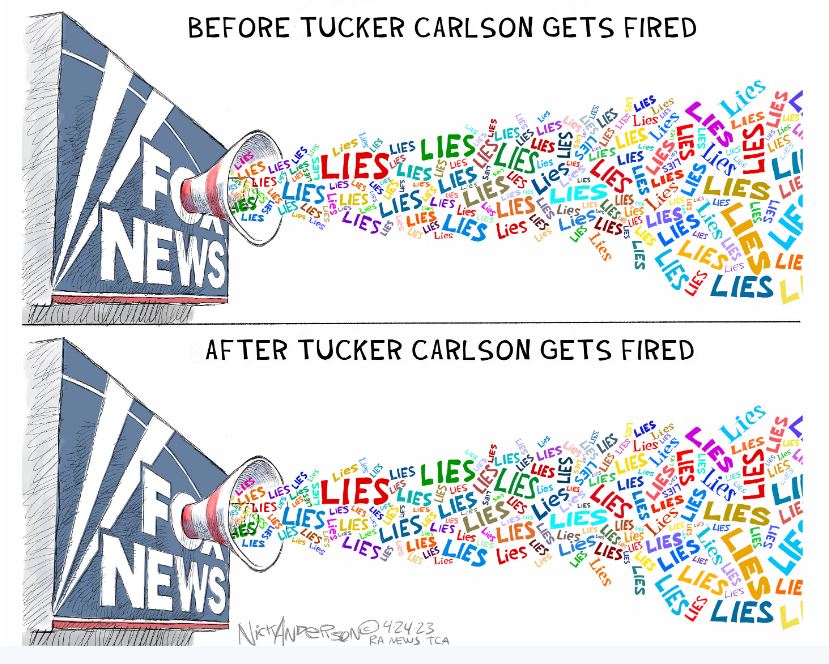 Nick Anderson
April 24, 2023
Pen Strokes
Re: Amazon Delivery Drivers in California Join Teamsters
(posting on Portside Labor)  
Amazon, like Joe Lewis said, "You can run but you can't hide"!
Joel C. McClurg
Posted on Portside's Facebook page
      =====
Amazon is a bully.
Miriam Haiman-González
Posted on Portside's Facebook page
Re: Global Left Midweek – April 26, 2023  
Have you not noticed the contradiction between cheering on a U.S. proxy war against Russia (as Portside does) while at the same time fretting about the seconds ticking away on the Doomsday Clock?
Alan Hart
Posted on Portside's Facebook page
      =====
The "Putin is naughty, but..." chorus is fixated on a connection between support for Ukraine and nuclear war. IMO it's a fear mongering non sequitur to cover up Putin's culpability.
Ethan Young
Posted on Portside's Facebook page
Mike Lindell  --  Cartoon by Clay Bennett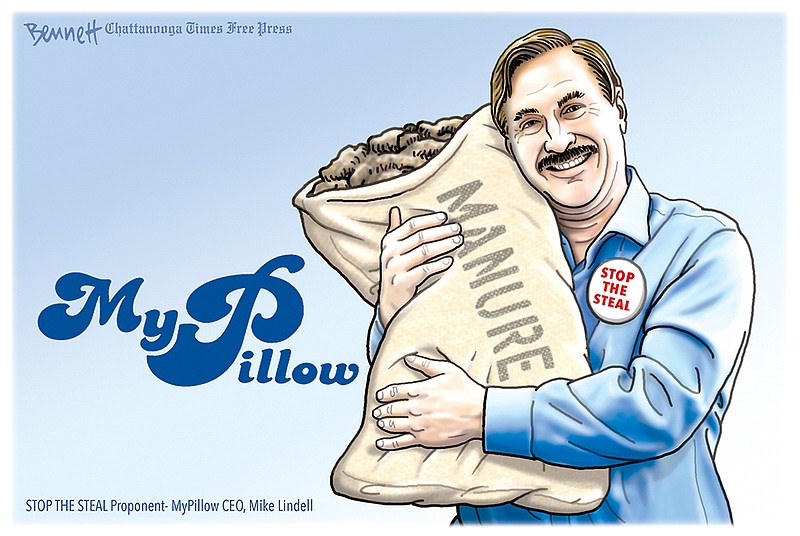 Clay Bennett
April 21, 2023
Chattanooga Times Free Press
Garfield Park Conservatory Showcasing Art That Imagines World Where Black People Are Free Of Environmental Racism  (Block Club Chicago)
Visitors can see "An Otherworldly Existence: Afrofuturism & the Environment" starting Thursday at the conservatory.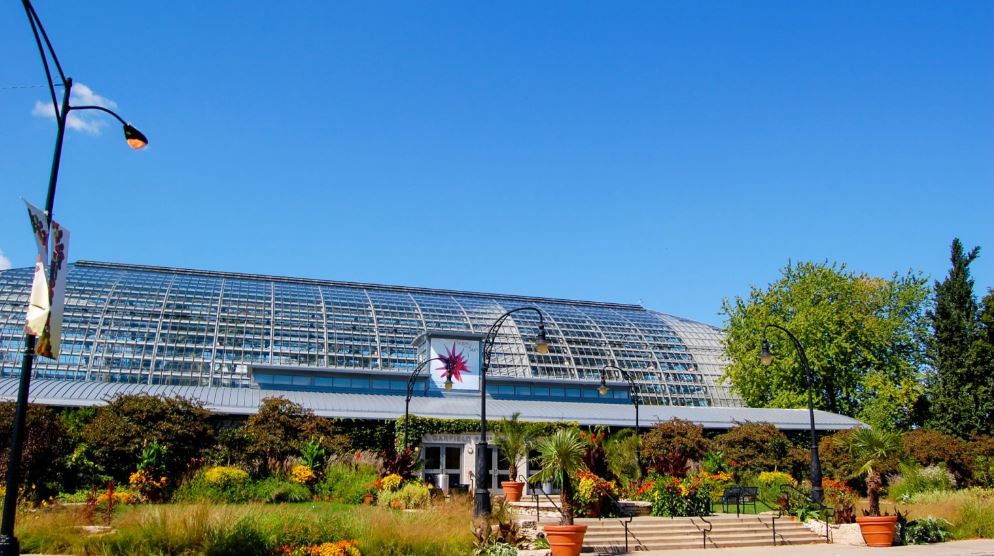 By Trey Arline
April 26, 2023
Block Club Chicago
GARFIELD PARK — A new art exhibit at the Garfield Park Conservatory depicts a futuristic world where Black history and iconography blend.
Visitors can see "An Otherworldly Existence: Afrofuturism & the Environment" starting Thursday at the conservatory, 300 N. Central Park Ave. It will be available through June 30. The exhibit shows a future where Black people are free of marginalization and environmental neglect.
The exhibit features work focused on Afrofuturism and the environmental racism experienced by Black people throughout the world, according to the conservatory's website. It was created by collage artist Kee Merriweather, a South Side native.
Afrofuturism explores futuristic, sci-fi settings where people of African descent are at the forefront of technological advancements.
Conservatory exhibitions coordinator Onyx Engobor told Austin Weekly News Merriweather's pieces were chosen since environmental injustice and racism have historically affected Garfield Park's Black and Brown residents and the West Side overall.
"Environmentalism as a whole, as a system and as an institution has historically excluded Black and Brown people and Indigenous people," Engobor said, according to Austin Weekly News. "It's really important to the conservatory to make space for representation of Black and Brown people and marginalized people in the outdoors." 
Subscribe to Block Club Chicago, an independent, 501(c)(3), journalist-run newsroom. Every dime we make funds reporting from Chicago's neighborhoods.
Voices From Palestine: Virtual Reports from the Ground  - April 30 (Cambridge Bethlehem People to People Project)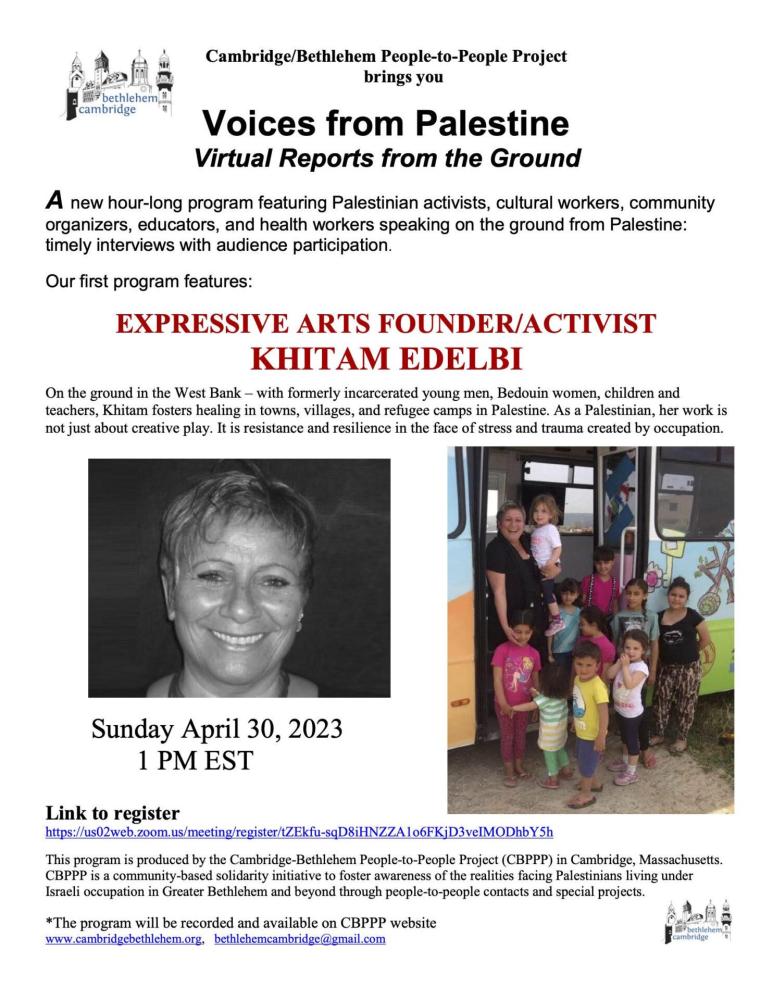 Sunday, April 30 @ 1:00 pm - 2:00 pm EDT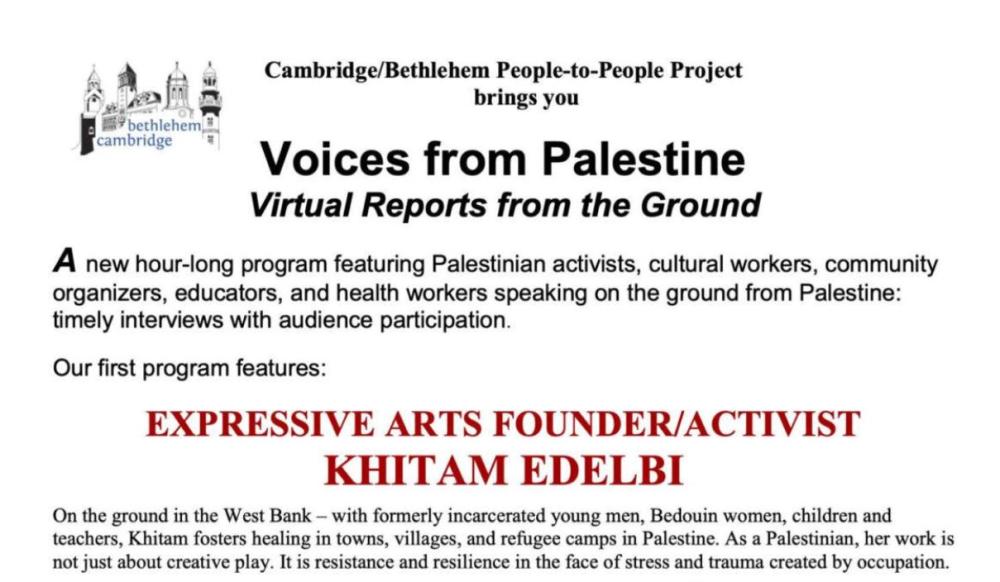 A new hour-long program featuring Palestinian activists, cultural workers, community organizers, educators, and health workers speaking on the ground from Palestine: timely interviews with audience participation.
This program is produced by the Cambridge-Bethlehem People-to-People Project (CBPPP) in Cambridge, Massachusetts. CBPPP is a community-based solidarity initiative to foster awareness of the realities facing Palestinians living under Israeli occupation in Greater Bethlehem and beyond through people-to-people contacts and special projects.
Email CBPPP for more information: bethlehemcambridge@gmail.com
A May Day for All Workers - March in New York - Monday, May 1 (Make the Road NY)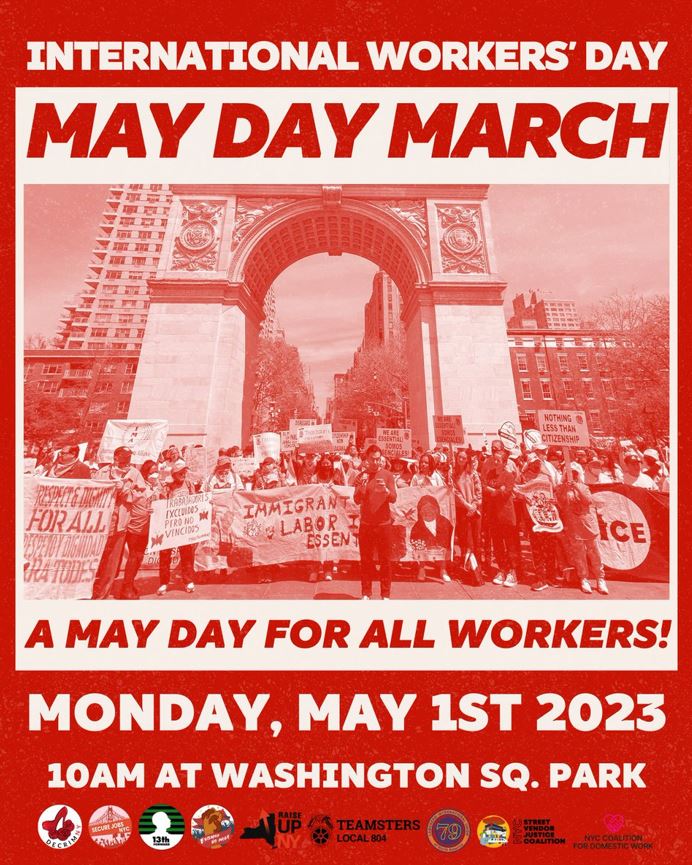 This #MayDay, we march for the excluded, those who toil in homes, on the streets, and behind bars. Join us this year to march for the respect and dignity of ALL workers!
May 1st, 2023
10 AM
Washington Sq. Park
We hope to see you there!
The Town Hall Presents: The People Speak - and Sing! - New York - May 2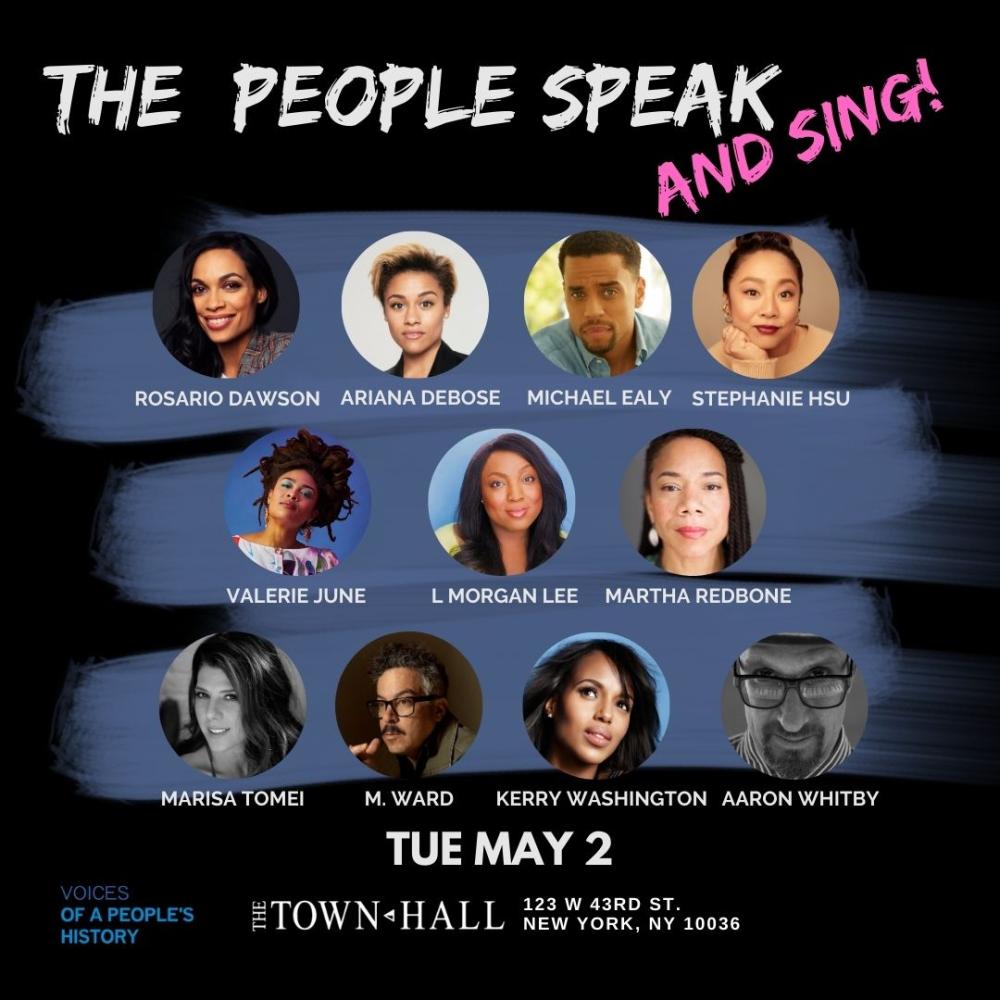 The Town Hall Presents
The People Speak - and Sing!
Voices of People's History of the United States in the 21st Century
Featuring:
Rosario Dawson, Ariana DeBose, Michael Ealy, Stephanie Hsu, Valerie June, L Morgan Lee, Martha Redbone and Aaron Whitby, Marisa Tomei, M. Ward, Kerry Washington and DJ Laylo
Tuesday, May 2 | 8PM
Join leading artists and activists including Marisa Tomei, Kerry Washington, and Stephanie Hsu at The Town Hall on May 2nd for the book launch of Voices of a People's History of the United States in the 21st Century. Featuring powerful readings and music, this event showcases over 100 texts from social movements that have shaped the 21st century, including contributions from Angela Y. Davis, Colin Kaepernick, and Naomi Klein. Inspired by the original Voices of a People's History, this new book is a testament to the ordinary people who have taken collective action to shape history and offers inspiration for those seeking to change the future.
Inspired by the original Voices of a People's History of the United States, edited by Anthony Arnove and people's historian Howard Zinn (1922–2010), this new book features speeches, essays, poems, and calls to action from Black Lives Matter, #MeToo, Indigenous struggles, immigrant rights activists, the environmental movement, disability justice organizers, and frontline workers during the global pandemic who spoke out against the life-threatening conditions of their labor. Together, their words remind us that history is made not only by the rich and powerful, but by ordinary people taking collective action.
Voices of a People's History of the United States in the 21st Century offers inspiration for those seeking to understand our recent history in order to change it.
Every ticket includes a copy of the book
As a National Historic Landmark, The Town Hall has played a significant role in New York City's cultural life and social evolution since 1921, when it was built by a suffragist organization as a gathering place for all New Yorkers. 
Secrets of a Successful Organizer May Workshop Series - May 3, 10 and 17 (Labor Notes)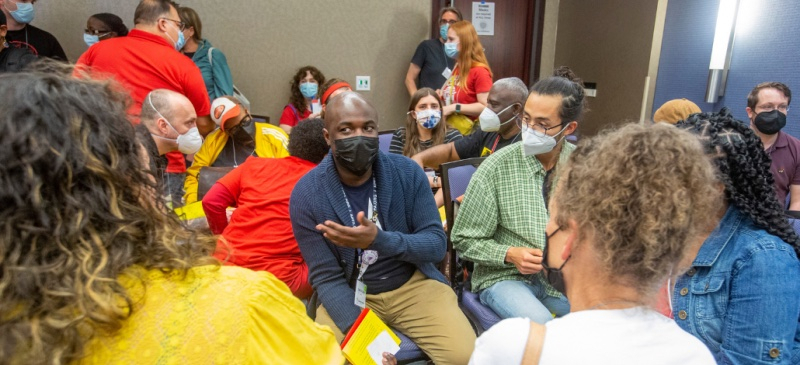 These workshops are based on our widely-acclaimed book, Secrets of a Successful Organizer. These trainings will be held via Zoom.
The sessions will run Wednesdays from 7:30-9:30pm Eastern (4:30-6:30pm Pacific) on May 3rd, 10th, and 17th. We ask that you attend all three workshops in the series.
Once you register, you will receive a link to join via Zoom. We will send emails weekly with links to sessions on the day of the event. Be sure to check all of your email folders, including your spam folder, for the session links and to download and update Zoom beforehand.
Cost: $15 for the whole series. Includes access to all workshops until space is filled. No one will be turned away due to lack of funds.
Also available: registration plus 50 percent off a one-year subscription to Labor Notes magazine—$30!
Subscription offer valid only for U.S. addresses. Click here to purchase an international subscription.
Accessibility: Zoom's automatic captions will be turned on during the session. Please feel free to contact us with other accessibility needs or questions.
If you have any questions or problems signing up, email: courtney@labornotes.org.
WORKSHOP DESCRIPTIONS
Beating Apathy
Are you beating your head against the wall trying to get other workers involved? This workshop is for you. Hear success stories from those who've turned their workplaces around and turned apathy into action. Learn practical organizing tools for engaging your co-workers, taking action, and getting results.
Assembling Your Dream Team
Your workplace may feel like an unorganized mess, but the truth is you're not starting from zero. There's organization there already—though it might have nothing to do with the union. Learn how to map out the existing networks in your workplace, identify the leaders in those networks, and then knit them together into an organizing committee.
Turning an Issue into a Campaign
Everybody has complaints and frustrations, but an organizer has the power to turn problems into opportunities. Learn how to sort through the issues you hear from co-workers, bring people together, and make a plan to solve them.
To register, choose your registration type from the dropdown box below, then click "Add to Cart." Next, click the shopping cart icon at the top of your screen and follow checkout instructions. To register multiple people, change the "quantity" in your shopping cart and send a list of names and email addresses to groups@labornotes.org
Registration Details (scroll down)
Labor Notes  
Main Office: 7435 Michigan Ave, Detroit, MI 48210; (313) 842-6262.
East Coast Office: 104 Montgomery St, Brooklyn, NY 11225; (718) 284-4144.
Webinar: Ukraine: 2014, Today, What Next? - May 3 (Veterans For Peace Ukraine Working Group)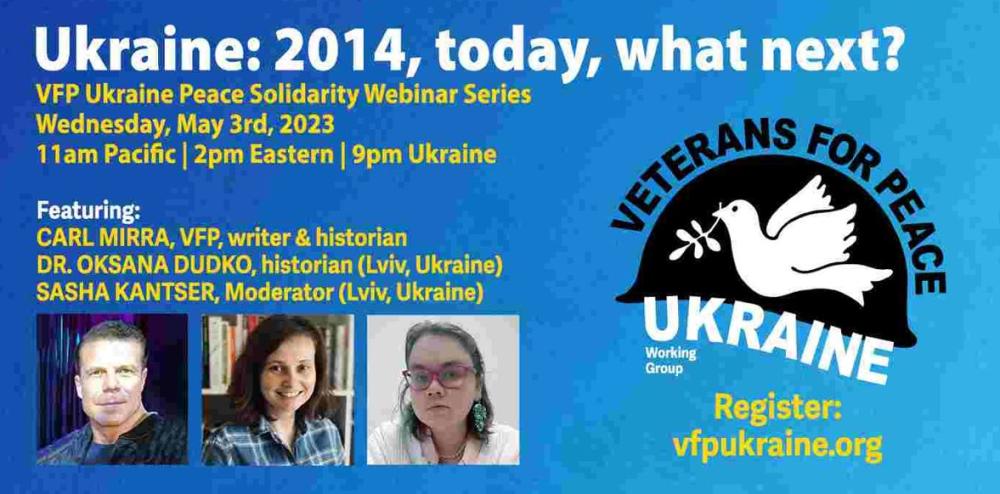 The Veterans For Peace Ukraine Working Group (in formation) seeks to promote a just, moral, and legal resolution to Russia's invasion and occupation of Ukraine by:
Amplifying progressive Ukrainian-centric perspectives on the war.
Providing material aid to the victims of the war.
Promoting a progressive post-war reconstruction without austerity measures.
Advocating for a secure and peaceful post-war coexistence between all parties involved.
Acknowledging that "Russia out of Ukraine" is the most direct route to peace.
Note that this working group, in formation, originally organized as "Veterans For Peace For Ukraine," and then later as the "Veterans For Peace For Ukraine caucus." We have updated our name and graphics at the request of the VFP National Board.

Russia Out of Ukraine
In order to bring about a genuine and lasting peace as soon as possible, we call on the Russian Federation to unconditionally leave the internationally recognized borders of the sovereign nation of Ukraine, a founding member of the United Nations since 1945.
We join the 144 Member States of the United Nations that reiterated the demand that Russia "immediately, completely and unconditionally withdraw all of its military forces from the territory of Ukraine and called for a cessation of hostilities" during the UN's 11th emergency special session, 23 Feb 2023. Veterans For Peace holds a permanent Non-Governmental Organization seat at the United Nations.
Following the exit of Russian forces from Ukraine, we hope for a process of restorative justice and restitution for the untold suffering of tens of millions of Ukrainians as a step towards a lasting peace.
A progressive reconstruction plan will be needed to rebuild Ukraine, one free of neoliberal austerity requirements imposed on the people of Ukraine.
Veterans For Peace Ukraine Working Group
Fighting for Democracy in the Workplace: The New Labor Movement - New York City -  May 4 (CUNY Graduate Center and CUNY School of Labor and Urban Studies)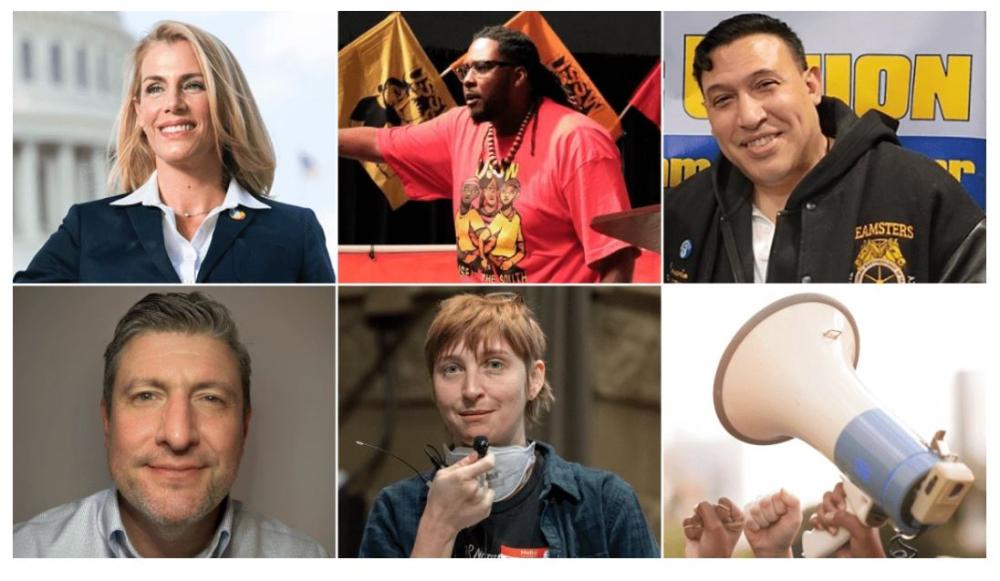 Thursday, May 4, 2023  --  6:30 pm
This program is offered as both an in-person and livestream event. Choose one
IN-PERSON AND LIVESTREAM EVENT
A dramatic wave of union organizing has occurred since the pandemic, with Amazon and Starbucks as only the most high-profile examples. In a relatively pro-labor environment, workers are energized to fight for their rights — witness the recent threatened rail strike and the nurses strikes of 2022-2023 — but the nation's unionization rate remains historically low and employers continue to resist. How long will the window for progress stay open? In this timely discussion, hear from a new generation of labor leaders working on the front lines about the opportunities and obstacles facing workers at this crucial moment.
Featuring: Keith Bullard, organizer for the Union of Southern Service Workers; Mark Meinster, director of organization for the United Electrical, Radio and Machine Workers of America (UE); Sara Nelson, international president of the Association of Flight Attendants - CWA, AFL-CIO; and Anthony Rosario, organizer from Teamsters Local 804, who is working on the Amazon and UPS campaigns. Moderated by Sarah Hughes, organizer, trainer, and writer at Labor Notes, and former coordinator of the Union Semester program at the CUNY School of Labor and Urban Studies.
Presented with the CUNY School of Labor and Urban Studies, this is the inaugural event of the conference "How Workers Win: Rebuilding Labor's Power."
Part of the Promise and Perils of Democracy Project funded by the Carnegie Corporation of New York.
A video of this event will be posted a few days later on our YouTube Channel