Global Left Midweek – May 31, 2023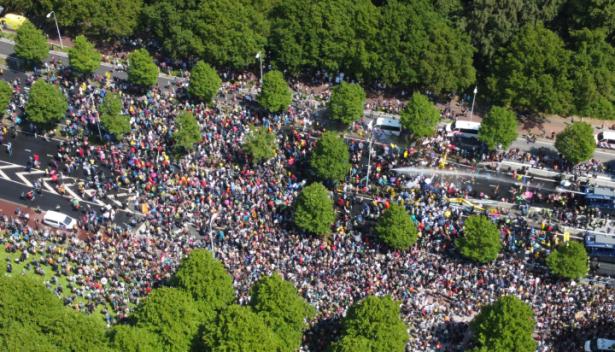 Extinction Rebellion protestors have been apprehended in the Netherlands for blocking a major road in The Hague. The 1,579 people who refused to leave the A12 motorway after walking into the road and forming a blockade were taken away by police. Credit, Extinction Rebellion Netherlands
__________
Jayati Ghosh Podcast: Rebalancing Power
Carl Schlyter and Alexia Fridén / SystemShift (Stockholm)
The renowned development economist, Jayati Ghosh, argues for the need to redress the power imbalances which are reinforcing socially irrational and unjust policies. Seen through the prisms of gender inequality, social discrimination, and global power dynamics between countries, how does relational inequality impact the ability of individuals or groups to influence the actions of others?
__________
Turkish Left Parties Will Keep the Heat on Erdogan
HDP Europe (Brussels)
The Green Left Party and HDP want to continue to defend society and its rights with all their strength and fight in all fields. "We are here. We will continue the democratic struggle for change both in parliament and in all other areas of life, we will make democratic politics grow. We will not deviate from this path. With the base of society, we will fight and win together."
__________
Labor Rumblings
New World Realities   Timothy Rooks / Deutsche Welle (Berlin)
 
France   Leigh Thomas / Yahoo! Money (New York)
 
Japan   Promise Li / Jacobin (New York)
 
EU   Minoas Andriotis / LeftEast
 
Canada   Natasha Bulowski / Canada's National Observer (Vancouver)
 
China   / China Labour Bulletin (Hong Kong)
 
Italy   Frankie Lister-Fell / Novara Media (London)
 
India   Puja Pal and Amit Kumar / Global Labour Column (Johannesburg)
 
Romania   Vladimir Mitev / Cross-Border Talks (Warsaw)
__________
Sudan: From War to Revolution
Mohammed Amin / Middle East Eye (London)
In the past fortnight, Sudan's Resistance Committees, a nationwide network of activist cells that were the driving force behind the uprising that swept Bashir out of power in 2019, have been holding "informal but intense discussions" in Atbara, as they seek a way to resume war-torn Sudan's democratic path.
__________
Thai Election and the Myanmar Struggle
The Irrawaddy (Yangon)
Thailand's Move Forward Party (MFP) won the largest number of seats among the contestants in the country's May 14 polls. The MFP's leader, Prime Minister-elect Pita Limjaroenrat, 42, has been a consistent critic of Thailand's policy toward neighboring Myanmar, where the regime has been attacking civilians—including bombing villages, schools and clinics—as well as resistance forces.
__________
Polisario at 50
Bill Fletcher Jr and Sidi Omar / The Real News Network (Baltimore)
Through the twists and turns of history, the people of Western Sahara have faced Spanish colonialism, the occupation of their territory by Mauritania and Morocco, and expulsion from their territory to refugee camps in Algeria. Despite this long struggle, Western Sahara's history and politics remain relatively unknown to many outsiders. For 50 years the Polisario Front led the fight.
__________
Chile: Boric Hits a Pinochet-Shaped Rock
Marc Cooper / Truthdig (Santa Monica)
Chile's Progressive President Gabriel Boric and his leftist administration suffered a major blow when the extreme-right Republican Party of José Antonio Kast, along with other right-wing allies, won an overwhelming 2-to-1 majority on a committee elected to begin rewriting the country's 1980 constitution. The vote reveals dissatisfaction on the left concerning Boric's recent moves toward the center.
__________
Racism and the French Revolt
John Mullen / Green Left (Sydney)
The French radical and revolutionary left has been traditionally weak on actively fighting racism. Recently a right-wing smear campaign against a student union which sometimes organises seminars reserved for Black members found far too few defenders on the left. And for decades no left organisation took fighting Islamophobia seriously; even today they are often disappointing. 
__________
International Day of Peasant Struggles
La Via Campesina (Bagnolet, France)
April 17 is globally commemorated through educational, mass, and mobilization initiatives led by peasant, indigenous, and migrant organizations, as well as farmers and farm workers at large. They stand in solidarity with the struggle for food sovereignty, land rights, popular agrarian reform, and the promotion of peasant agroecology to address the climate crisis and global hunger.
__________
Interview: Editors of Ukraine's Leading Left Journal
Patrick Le Tréhondat / New Politics (New York)
Commons, Journal of Social Criticism, is certainly one of the most important and productive places for us to understand the situation in Ukraine — and in the world. Today Commons is a reference website for critical thinking on the European left. While the site deals with issues specific to Ukraine, it is open to the world.