Sunday Science: Childhood Vaccine Crusader Shares Concerns for Future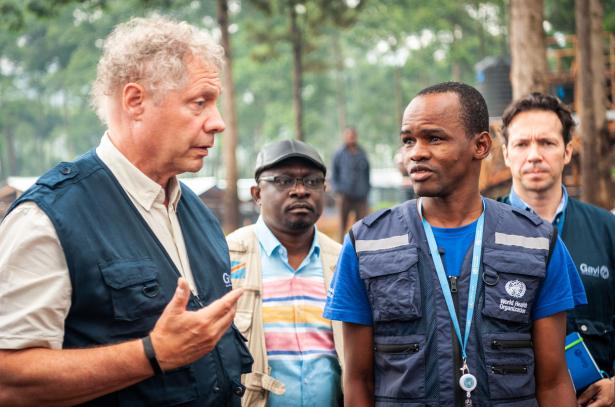 Gavi, the Vaccine Alliance CEO Seth Berkley (left) visited the Democratic Republic of the Congo in 2019 during an outbreak of Ebola, which now is one of the vaccine-preventable diseases the nonprofit works to combat.,GAVI/2019/FREDERIQUE TISSANDIER
By the start of 2011, the year epidemiologist Seth Berkley became CEO of Gavi, the Vaccine Alliance, the ambitious nonprofit had over its 11-year history supported the immunization of 288 million children in poor countries. But it also had a $3.7 billion funding gap between its plans and donor financial pledges. Making matters worse, an internal battle raged about how much it should invest in strengthening health systems versus more technological solutions, such as new or improved vaccines, favored by its main funder, the Bill & Melinda Gates Foundation. "It was a crisis," Berkley says.
Berkley plans to step down from Gavi's helm on 2 August, arguably leaving it in a much better place. Between 2011 and 2022, it raised $33.3 billion in financing from governments, philanthropies, and industry—a jump of 683% from its first decade. To date, Gavi has helped low- and middle-income countries vaccinate 1 billion children against a widening range of diseases. Tensions have eased between the organization and the Gates foundation, which has donated another $3.5 billion to Gavi under Berkley's watch.
Berkley and Gavi also played a central role in the COVID-19 pandemic, helping create and run the COVID-19 Vaccines Global Access (COVAX) Facility. Although the new nonprofit fell short of its goal of getting COVID-19 vaccines to lower and middle-income countries at the same time as they were rolled out to wealthy countries, it still ended up providing nearly 2 billion doses, accounting for 74% of the shots that went to the world's low-income countries.

Berkley came to Gavi from IAVI, a nonprofit he founded that aims to speed HIV/AIDS vaccine development. Before IAVI, he represented the Rockefeller Foundation in the Children's Vaccine Initiative, which had a Gavi-like vision but never left the runway.
Last week Science spoke with Berkley about Gavi's past and future. In the background of his home office in Geneva sits a large, model sailboat. "Now what I'd like to do is go sailing," Berkley says. "I'm tired, and this has been a stressful last few years."
This interview has been edited for clarity and brevity.
Q: Given your work with the Children's Vaccine Initiative, did you think Gavi would grow into what it has become? (The initiative disbanded in 1999 after 8 difficult years.)
A: The Children's Vaccine Initiative did not turn into what we had hoped it was going to do, and yet we knew that we needed something. The idea was that Gavi was going to try to solve that problem, and because it was coming on the heels of a failure, it really was an experiment. And, to be honest, the chance of it succeeding, given how problematic the previous experiment had been, was challenging. But it took off.
Q: In Gavi-supported countries, 77% of children in 2021 had a complete course of vaccinations with shots that protect against diphtheria, tetanus, and pertussis—a jump of 19% since 2000 and only 4% shy of the global rate. Is that Gavi's greatest success?
A: No, no, I wouldn't think that. With other vaccines, against hepatitis B, haemophilus influenzae B, and pneumococcal disease, we went from, in essence, zero to 40%, 50%, 60%. So it's not just the number of children being reached, but it's the number of vaccines that they have been provided. Now, when I think of successes, the most important one is the 70% reduction in vaccine-preventable disease deaths in Gavi countries, which then contributed to the more than 50% reduction in the under [age] 5 mortality rate. Those are the kinds of things I'm proudest of.
Q: Gavi has had 19 countries transition to self-financing, and other countries are now cofinancing another $1.5 billion of the vaccination costs. Do you see Gavi fading out over time?
A: Many countries started out at such low income that it is going to be a long time. Rwanda, even though it's made great strides, is a very poor country. The other part, of course, is fragility. Mali, South Sudan, Yemen, Somalia, Haiti—they will not be on their own for a long time.
Q: A vaccine against respiratory syncytial virus (RSV) may soon be approved for pregnant women because their antibodies will spill over and protect their newborns. Would Gavi fund that?
A: Yes, absolutely. It depends on what the vaccine ultimately costs.
Q: But Gavi has never vaccinated pregnant women to protect their children, has it?
A: Not systematically. One of the questions that Gavi will struggle with in the future is a lot of the vaccines that are being considered in its plans are for adults. What COVID showed us is that we could move into an older age group—not perfectly, there are lots of challenges—but we've proven we can do it. So the challenge then is do we want to make that routine? Or will it just be in an emergency effort? [Gavi's portfolio in the future may include vaccines for COVID-19, tuberculosis, Sudan ebolavirus, and the Marburg virus.]
Q: What do you think of COVAX's performance and the criticisms that it didn't rapidly offer COVID-19 vaccines to the 92 low- and middle-income countries that opted to be part of it?
A: There's always going to be a day one problem: The richest, most powerful countries are going to want the available doses of vaccine, but what we can do is improve the speed, efficiency, ability to scale vaccine production and delivery.
If you look at the 92 countries, they have 55% primary coverage with COVID-19 vaccines, as compared to 65% globally. It's not equitable, it was delayed, but it's better than it's ever been. We've got to start right there. My worry is if you start out and say, "COVAX was a complete failure," what that means is then, OK, we're not going to learn the lessons, we're not going to build on the positives. That's what I think has to happen now. How can you have a coalition at the ready? How can you best have vaccines ready, including having zero-day financing available, so you can start ordering quickly? And hopefully you're going to have more diversified manufacturing. [COVAX relied heavily on the Serum Institute of India to make vaccine doses, and the country blocked exports until it met its own needs.]
Q: Gavi recently introduced a vaccine that works against six diseases. That obviously simplifies delivery of shots. In the future, do you foresee, say, a 20-in-one shot?
A: I suspect what will happen is instead of going to 20, you're going to have a respiratory disease vaccine for COVID, flu, and RSV, and a vaccine for infants that covers a range of diseases, and maybe a combination vaccine for the pregnant women that covers group B strep, RSV, and a diphtheria/tetanus booster. That's probably the way we'd go first before we went to one master vaccine. There's also a vaccine patch technology—that'll be an advantage. And if we ultimately get to really good inhalable products, then they can be self-administered. So it's easier.
Q: What are the biggest challenges for your successor?
A: It's a tough fiscal time, so making sure that there is continued support for the priority of vaccines and public health is really important. Climate change is the biggest, most important problem going forward. It's going to lead to a polyepidemic. We're going to have massive movement of people, water challenges, desertification, displaced people, and that's going to all lead to disease, because it's going to affect ecosystems.
And then we hit the wall of populations in all countries getting older. We should start thinking about providing vaccines for older people in developing countries. How do we use prevention technology to reduce disease burden and keep people healthy? That is scary to donors, because it's more money and more work, but at the end, what other choice do we have?
---
Jon Cohen is a staff writer for Science.
Science has been at the center of important scientific discovery since its founding in 1880—with seed money from Thomas Edison. Today, Science continues to publish the very best in research across the sciences, with articles that consistently rank among the most cited in the world. In the last half century alone, Science published:
The entire human genome for the first time
Never-before seen images of the Martian surface
The first studies tying AIDS to human immunodeficiency virus
Science is more than just a magazine. Subscribers, like you, make up a community that's dedicated to driving scientific progress that benefits everyone. When you join AAAS, you're directly helping us promote diversity in STEM, support educational opportunities for underserved communities, engage policymakers on issues like climate change, and much more. Become a Member.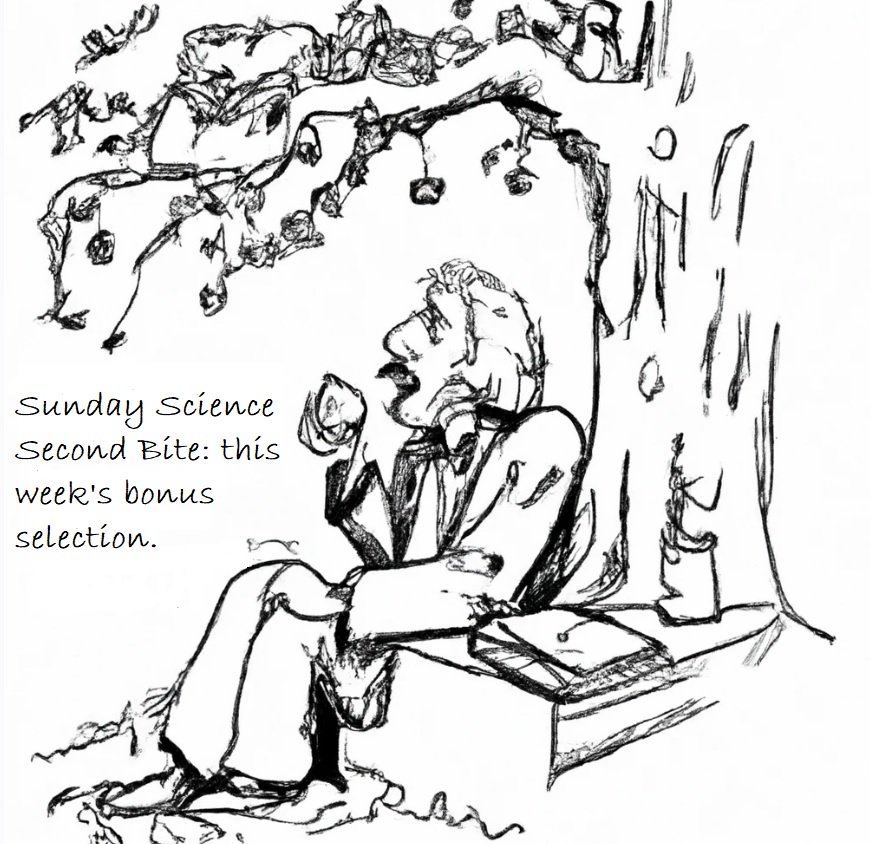 Extinguishing the Idea That Hobbits Had Fire
Elizabeth Grace Veatch
Research has overturned earlier claims that a diminutive human relative, Homo floresiensis, lit fires—but big stories die hard.
Sapiens.org
July 27, 2023