Media Bits and Bytes – August 22, 2023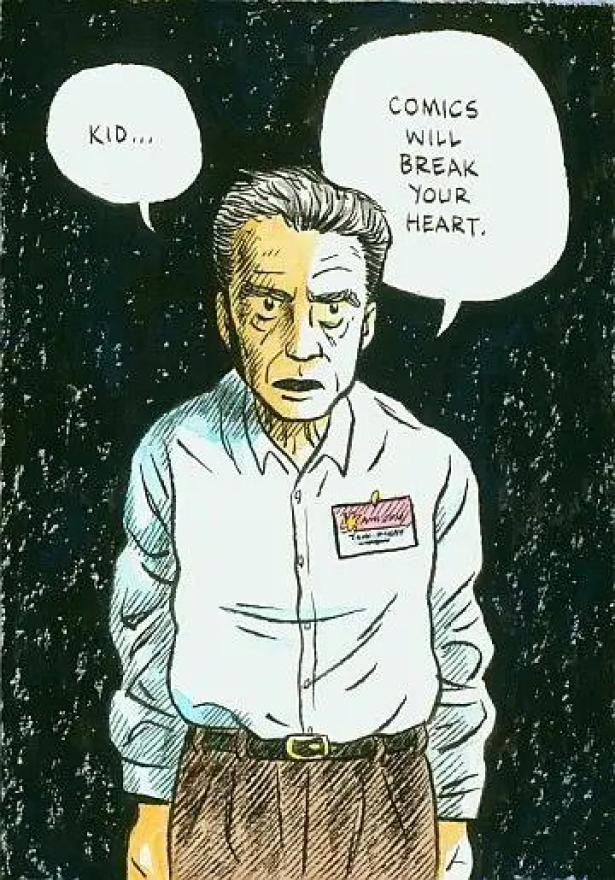 Jack Kirby's opinion. Credit, Dylan Horrocks
By Sherman Smith
Kansas Reflector
Marion County Record staff worked through the night to publish the paper's weekly edition as scheduled Wednesday, days after police raided the newsroom and confiscated computers, cellphones and other items. Authorities returned property taken by police but said they would continue to investigate whether a reporter had committed a crime by verifying information from a confidential source.
By Eric Hananoki
Media Matters
X (formerly known as Twitter) has placed ads on a verified pro-Adolf Hitler account that encourages antisemitic harassment. Since Elon Musk took over the company, X has placed ads for numerous brands directly on Holocaust denial, white nationalist, and neo-Nazi accounts. Ads have also appeared next to content from the accounts of extremists that have been restored under Musk. 
Universal Service Fund in Trouble
The Universal Service Fund — a federal subsidy pool collected monthly from American telephone customers — faces the biggest crisis of its existence. 
Big Tech's Ban on News for Canada
By Andy Miah
The Conversation
Canada recently passed a law that will require digital media companies to compensate news organisations for hosting their content on sites such as Facebook and Instagram and via search engines such as Google. In response, it is reported that Meta has begun to block news stories from its sites Facebook and Instagram. 
By Steven Wishnia
The Indypendent
The American movie industry has been one of the most consistently unionized sectors of the economy since the 1930s. Hollywood's moguls and the Depression's brutal economy gave workers a motive to organize: In March 1933, the main movie studios announced a 50% pay cut. The unions also benefited from a core of leftist militants.
If users view chatbots as overly human, they risk trusting them too much, connecting to them too deeply, being disappointed and hurt. What will it mean to recognize and respect whatever degree of humanity is present in the intelligences that we ourselves create?
By Marianne Dhenin
Yes!
It's true that far-right groups are relying on radio communications. But radio's connection to movement organizing has a much longer and richer history. Even today, radio technologies have a vibrant life in collective action, community organizing, mutual aid spaces, and revolutionary movements.
Lawsuits Are in Season
Authors Demand AI Compensation
By Lucy Knight
The Guardian
Margaret Atwood, Viet Thanh Nguyen and 8,000 others have signed an open letter asking that permission is obtained and compensation given when a writer's work is used by AI.