Tidbits – Aug.31, 2023 – Reader Comments: Racist Gun Violence Fueled by MAGA; March on Washington, Chicano Moratorium; GOP "Debate"; Capital Destruction, Maui; Hollywood Runs on Low Pay; Dolly Parton–The Book Lady; 50th Anniversary of Chile Coup;
Tidbits - Reader Comments, Resources, Announcements, AND cartoons - Aug.31, 2023,Portside
Resources:
Announcements:
Racist Assault  --  Cartoon by Rob Rogers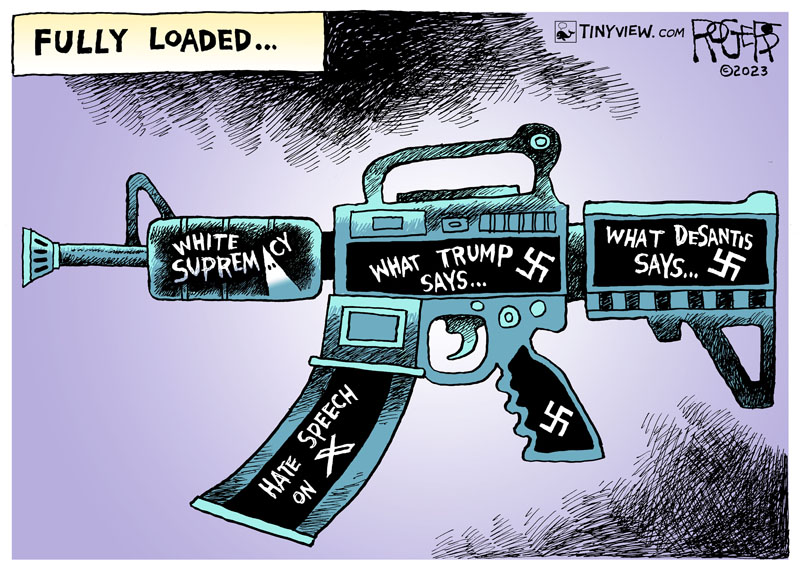 Rob Rogers
August 30, 2023
robrogers.com

Re: The March on Washington Advanced a Radical Vision for Society That Remains Unfulfilled  
The march served as a pivot point taking the civil rights movement beyond the stage of racial equality before the law. It set forth an agenda that challenged capitalism at its roots and sought to remake the country along the lines of democratic socialism. The sixty years since the march have seen a retreat from this vision, which places racial inequality in the context of the broader political economy. The result has been a precipitous decline in the living conditions for the majority of black working people, and an accelerated class divide between them and their middle- and upper-class counterparts.
The radical demands of the March on Washington have still not been fulfilled. Recovering the true legacy of the march and its aftermath can help us establish the root causes of racial inequality today and what to do about it.
Dave Lott
Posted on Portside's Facebook page
August 29, 1970 Chicano Moratorium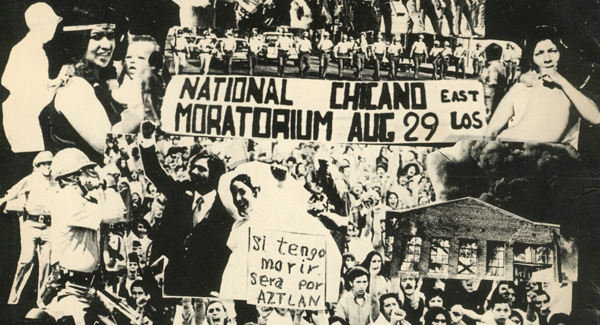 I have been reading your articles and in particularly your histories for some time. I have always enjoyed your reporting and they have always been right on. But today in your weekly history section I was extremely disappointed to see that you did not mention at all the August 29th1970 Chicano moratorium. This march in Los Angeles was opposing the US war in Vietnam and for economic equality. 30,000 people marched that day. There were also many other Chicano moratorium marches that day around the country in solidarity with the Los Angeles March.
I would think that the August 29th moratorium, with 30,000 people marching, world be included in your weekly history.
I'm at the point where I might just unsubscribe to your reports.
Roberto Roibal, Santa Fe, NM.
The Other Lethal Hurricane Churning Through America  --  Cartoon by Nick Anderson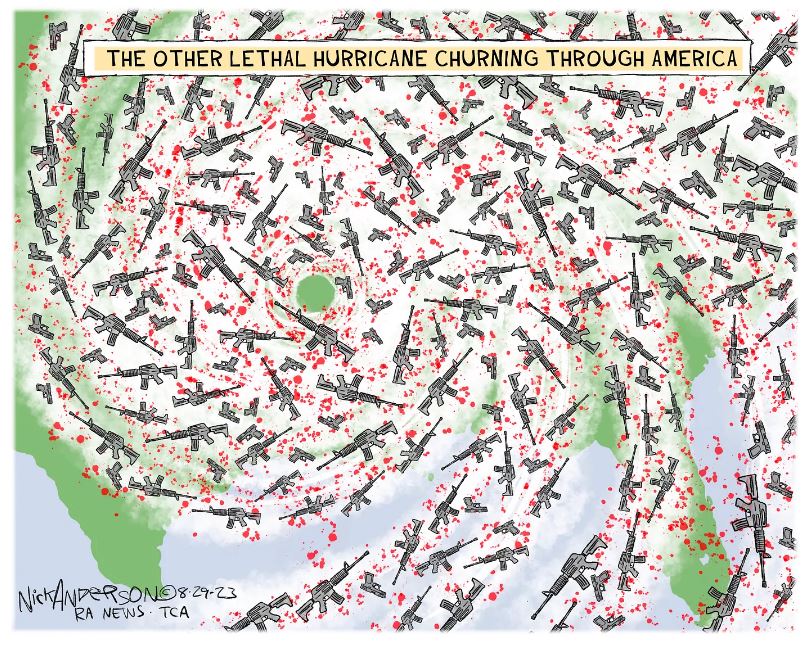 If only we treated gun violence like the national disaster that it is.
Nick Anderson
August 29, 2023
Pen Strokes
Re: The GOP Debate – Trump and the MAGA Party  
Did that farce even deserve comment of any kind?  I say no more than a pack of snarling dogs would.  What
a travesty and embarrassment - a shame anyone wrote anything about it to use of ink and paper.
Cathy Deppe
The GOP Field  --  Cartoon by Clay Bennett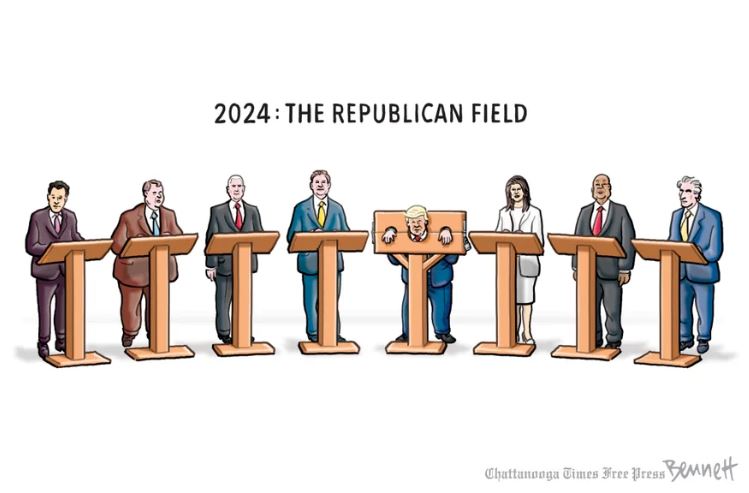 Clay Bennett
August 25, 2023
Chattanooga Times Free Press
If Donald Trump is reelected president, he will form and reform several agencies. He will name Jim Jordan as a new Secretary of Hate, Lindsey Graham to head a Hypocrisy Commission, and install Rudy Giuliani as Attorney General in the renamed Department of Injustice.
Seymour Joseph
Re: Empire and Capital Set Maui Ablaze  
Andrea Brower is an activist and scholar from Kaua'i. She is an assistant professor in the Solidarity & Social Justice Program with Gonzaga University's Department of Sociology. Her research, writing, and teaching on capitalism, colonialism, the environment, food, and agriculture is embedded in social movements for justice, equality, liberation, and ecological regeneration.
In this recent article, linked below and shared today in The Shalom Report under our "Prophetic Voices" banner, Prof. Brower traces the roots of the disaster in Maui to "empire, capitalism, elite power, and their ravaging of the planet and people" and, equally importantly, highlights the transformational cooperative alternative future embodied in the grassroots mutual-aid response — also rooted in long historical tradition — that has abounded in the Maui wildfire's aftermath.
The Shalom Center
Posted on Portside's Facebook page
Re: NYCHA Residents in Chelsea Resist Demolition Plan That Could Displace Them  
NYCHA tenants in Chelsea are fighting to save their homes from being demolished and the land handed over to one of the largest real estate developers in New York. H/t to Portside.org for sharing this article from our summer intern Elsie Carson-Holt with their nationwide audience.
John Tarleton
Posted on Portside's Facebook page
Re: Why Are SAG-AFTRA and WGA on Strike? Hollywood Runs on Low Pay and Exploitation  
It's so true and most people don't see that side of the industry. Thanks for sharing.
Patty Bird
Posted on Portside's Facebook page
      =====
My parents were working actors. My Dad stayed in the business all his working life. He made a good living, although we were never rich. He was frugal and helped us with college, etc, getting started, and making sure that at least some $$$ transferred across generations. He died owning his house free and clear and with a small inheritance for us. That way of life is almost gone. The American middle class has been gutted and film/TV is no exception. You aren't in the industry so you think this won't touch you? Really? Have you noticed how you have to pay for "premium" to get what you used get for "basic"?  They are coming for your income, your security, your future right now. Time to remind them that they are relying on you, not the other way around. Support the actors, writers and all the creators!
Josh Reilly
Posted on Portside's Facebook page
Re: NLRB: Companies That Try to Union-Bust Will Be Forced To Recognize Union  
Wow.   Could be significant if it holds.
Thanks!
Ken Kukovich
Florida Is History  --  Carton by Christopher Weyant  
Christopher Weyant
May 26, 2023
Daily Freeman (Kingston, NY)
Re: 20 Groups Demand Passage of Bowman Amendment To Disclose Cost of US Military Footprint  
Excellent bill.  The U.S. military has been overfunded enormously for decades and this is a major cause of why our health and education and justice systems in this country are so underfunded and in crisis.  This is the real threat to our viability as a society.
Noel Kent Professor Emeritus.
University of Hawaii Manoa
Re: We Oppose McCarthyism and Apologizing for China  
The authors of this article criticize the McCarthyism of the New York Times article while they themselves make baseless charges about China. The great failure of the New York Times article was its refusal to address the claims made by those who believe that the US and the world are moving toward a New Cold War. Note these claims are not celebrations of China.  In short the Times article is about guilt by association not the substance of the issues that are animating protest. Further, the authors of the Portside article aggravate the situation by making unfounded assertions in the name of balance. For shame Portside.
Harry Targ
      =====
Moderator's Note:
This was not Portside's article, but was an article that was written by Dan La Botz and Stephen R. Shalom  and published by Foreign Policy in Focus, and clearly identified as such when it was re-posted by Portside.
Posts on Portside are chosen by individual moderators, not the collective as a whole, so nothing we post is a "Portside article." We are always open to opposing views from readers
      =====
Here is how to claim you are part of some imagined left while supporting US foreign policy. LOL. Merely repeating attacks on China et al. does not accomplish anything (Funny, I have never heard about all of these supposed left journals, umm, where do they get their money from?). There is no "the left" although right wingers often claim there is. It is hilarious to see people attacking China around Feminism, while supporting right wing evangelical missionaries who travel there to show anti-abortion movies in college dorms. And who preach an anti-gay message as well. Umm, I don't see the opposition to McCarthyism. One thing that is happening on campuses are attacks on people who oppose any aspect of US Foreign Policy. And who oppose attacks by Gov. DeSantis and his buds. Want to stop the new McCarthyism? Defend books, and teachers in the US. Americans love to ignore America and attack other nations. Is any country perfect? Nah. But really, I never heard of Roy Singham or the New Lines Journal (award winning? wow). There is a tendency for supposed academic leftists to form circular firing squads aimed at other supposed academic leftists, while praising the supposed academic leftists that agree with them. ROLFMAO.
Here is the thing, the real left is not primarily campus based but is busy organizing workers, fighting for the homeless, trying to save the environment, working for peace, fighting to defend immigrants, and to stop police brutality, as well as fighting for rights of people of color, women, LGBTQ+ folks, people facing religious bigotry, and the list goes on and on. I do wonder why Portside is so in love with these supposed academic leftists. (supposed academic, supposed leftists?? LOL).
Charles Patrick Lynch
Posted on Portside's Facebook page
Re: Health Care Worker Unions Are on the Side of Patients
(posting on Portside Labor)  
A hospital that automatically turns you over to collections if the bill isn't paid in full within 30 days cannot in any way whatever be said to be operating in the interest of patients.
Eleanor Roosevelt
Posted on Portside's Facebook page
Re: The Impact of the Raise the Wage Act of 2023, by Congressional District  
It's time for $25....
Rocky Doolster
Posted on Portside's Facebook page
Re: We Did Not Evolve To Be Selfish  
Marx and Rousseau said essentially the same thing...and both were before (Rousseau) or simultaneous (Marx) with Darwin.
What is (are) indisputably wrong: Christianity (both Prot and RC), Islam, Hobbes, Locke and American political culture.
William Hansen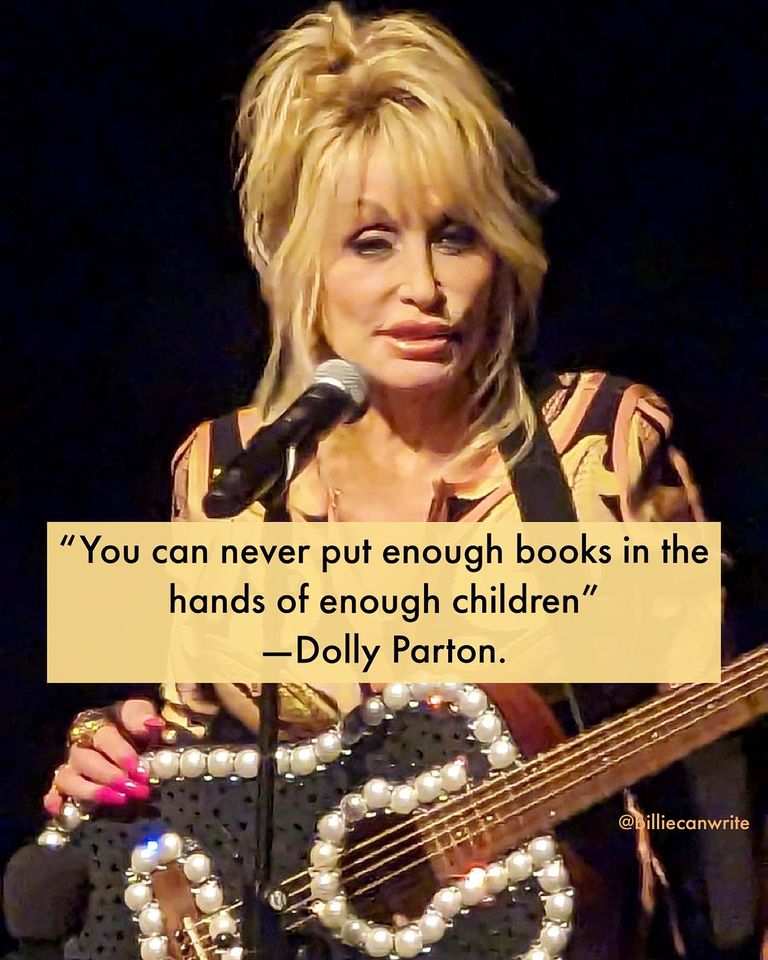 This is Dolly freakin' Parton. The ROCKSTAR. The QUEEN OF COUNTRY. The SONGWRITER. The LITTLE SPARROW from Tennessee.  But do you know what's her favorite nickname, no matter how impressive her catalogue of songs is?
THE BOOK LADY.
The @imaginationlibrary is, by far, Dolly's most ambitious project. Forget her crossover to pop. Forget her crossover to rock. Forget Dollywood. Even forget her arrival to Nashville to be a star. Dolly's most ambitious project is to put books in the hands of every child in the world.
For those of you who don't know the story behind the Imagination Library, here it goes: Dolly created it because her dad could not read or write. So, to honor him, she started this little program in her county in Tennessee. Her dad was mighty proud of her because of this. The program went so well, that the governor, at the time, talked to Dolly and she expanded her Imagination Library throughout Tennessee. Then others states started to follow through. And now the Imagination Library is everywhere in the US and it's also in Australia, the UK and Canada.
Dolly spends a lot of time promoting her Imagination Library. And here she is in Washington, this past week, singing her song TRY. Because yes, she's a fairy godmother on a mission and she wants you to read more, learn more, care more and dream more. And she also wants you to never be afraid of trying new things until you finally succeed and then some more.

Imagination Library
Dolly Parton's Imagination Library is dedicated to inspiring a love of reading by gifting free books to children from birth to age five.
imaginationlibrary.com
50th Anniversary of the Coup in Chile - Special Showing of Film Missing by Costa Gravas - New York City - September 9 and 10 - and other events and dates around the country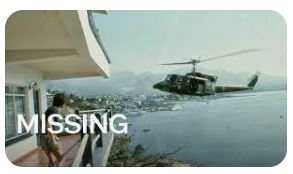 New Plaza Cinema is currently planning two screenings:
Saturday Sept. 9 at 3pm and
Sunday Sept. 10 at 12:30 pm
Address:  35 West 67th Street, Macauley Honors College
between Central Park West and Columbus Ave.
Tickets are now available, and can be purchased on-line at https://newplazacinema.org/
A question and answer session will follow the screenings.
If you cannot attend, the Criterion DVD of MISSING
can be purchased at https://www.criterion.com/films/769-missing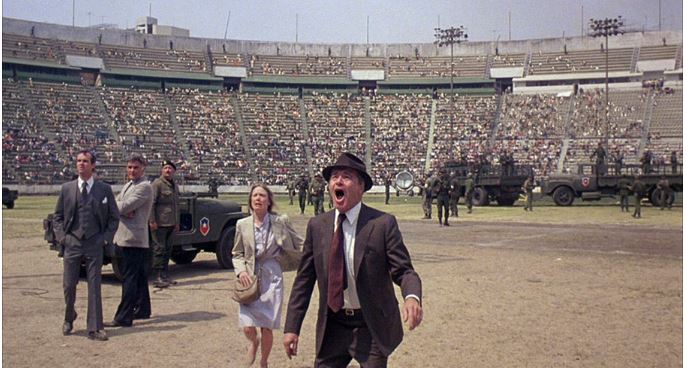 In addition, there are other movies being screened and other events in other locales in recognition of 50 years after the 1973 Pinochet coup against democracy in Chile:
The magazine Film Quarterly is organizing a series of events in September and October. A link to screenings around town can be found here
FROM CALIFORNIA: On-line versions of a piece that Patricio Lanfranco, Majo (Maria Jose) Calderon and Elizabeth Farnsworth (The Judge and the General) regarding the legacy of U.S. interventions in Latin America, produced at UC Berkeley (during this period before the anniversary of the Pinochet coup).
https://nclasberkeley.wpcomstaging.com/2023/05/11/legacies-of-intervention-chile/
On-line film about the prosecution of Pinochet by Judge Juan Guzman Tapia in Chile: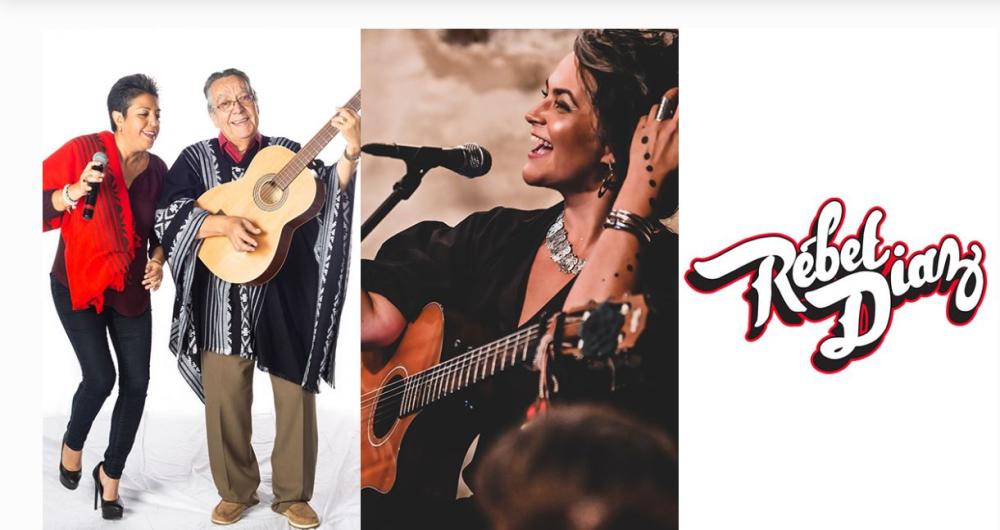 Commemoration of the 50th Anniversary of the Coup of Chile
featuring Rebel Diaz, La Paula, and Nelson & Paola Sosa
4545 N Lincoln Ave · The Myron R. Szold Music & Dance Hall
A five part mural installation by Francisco Letelier and artists from the Latin American Youth Center,  on display Sept 9-Oct 22, 2023 at MLK Library, floor 1, Great Hall East, Washington D.C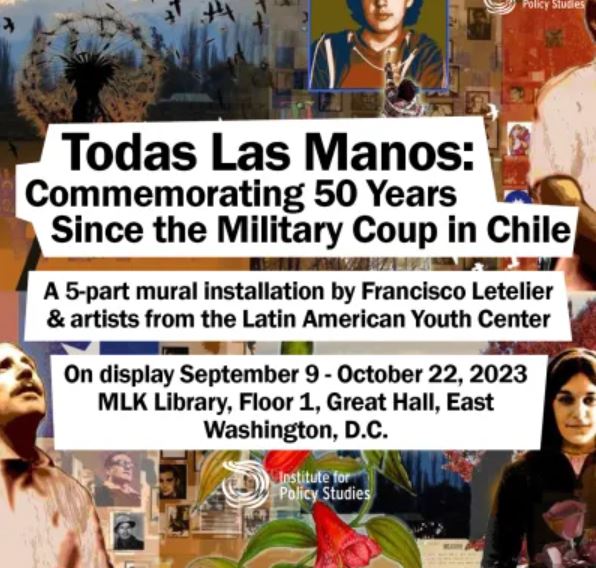 Isabel Rojas-Williams & Francisco Letelier in Conversation with CHILE Sin Cuenta exhibit at Ave 50 Studio
September 7, 2023 6:30 pm Choi Auditorium, Occidental College, 1600 Campus Rd., Los Angeles, CA 90041  for more info https://www.oxy.edu/events/2023/09/public-art-activism-chile-1973-2023