Tidbits – Sept. 21, 2023 – Reader Comments: Auto Strike; Ukraine War; Billionaire Tax, Dems, SCOTUS; Africa and France; Walter Mosley's New; Nuclear Truth Telling; Remembering Barbara Ehrenreich; Nano Stern Sings Victor Jara; Vito Marcantonio;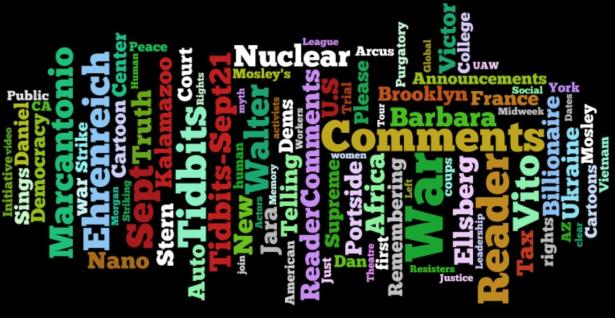 Tidbits - Reader Comments, Announcements AND cartoons - Sept 21, 2023,Portside
Announcements:
.....
Re: Why Auto Workers Are Striking
(posting on Friday Nite Video)  

It struck me while watching the inspiring Friday Night video "Why the UAW" Is Striking" that getting rid of the tier system in labor situations is akin to getting rid of unequal pay for women and Black people. That too is a tier system. I couldn't help but wonder if the white man in the video who is passionately clear that he should get the same pay as the guy next to him sees it that way. I hope so. And I wanted to hear from some of the women and Black people, who are in the photos. Not all UAW autoworkers are white men. Solidarity all around!
Carol Hanisch
Kevin McCarthy: Just trying to get to the bottom of all this  --  Cartoon by Bill Bramhall
Bill Bramhall
September 14, 2023
New York Daily News
There's no real criticism of Russia's invasion here and near as I can tell Grossman wants us to see Putin as a victim rather than a perpetrator.  This sort of stuff was bad enough in defense of the Soviet Union, but now that it's used to defend Russian imperialism (which has no pretensions of being socialist) it is beneath contempt.  Grossman's analyses used to be worthy of respect, but after this I'm afraid not any more.
Stan Nadel
      =====
And what exactly should Ukraine negotiate away? What would the US negotiate away if it were invaded?
Daniel Jordan
Senate GOP Prayer Meeting  --  Cartoon by Jack Ziegler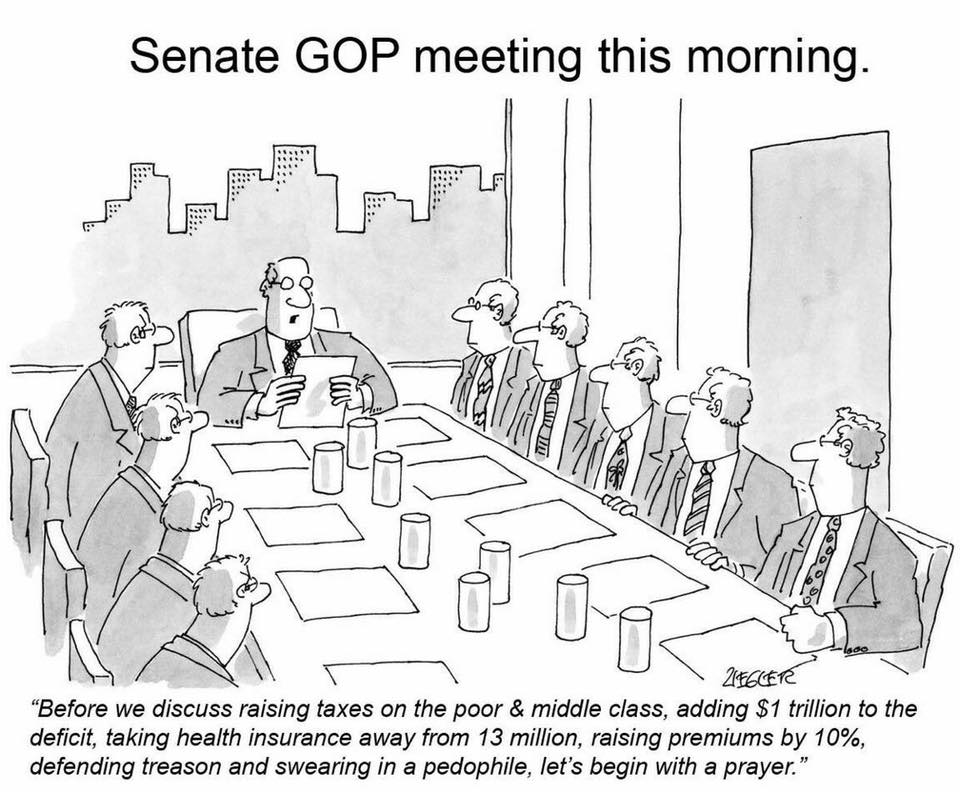 Jack Ziegler
April 19, 2004
The New Yorker
Re: Top Dems Press Supreme Court To Block Billionaire Tax  
It turns out that Neal Katyal, a regular "talking head" on MSNBC, is the lawyer and front man for a corporate-funded attack on progressive taxes. He also has an awful track record of defending child slavery and supporting Trump's nominees to the Supreme Court. This is outrageous. MSNBC should replace him ASAP.
Peter Dreier
Posted on Portside's Facebook page
      =====
It is very sickening to see just how plutocrats rule and dictate policy.
Robert B. Overton
Posted on Portside's Facebook page
      =====
He represents everything that so many (esp young) progressives hate about the Democratic Party.
Dan Immergluck
Posted on Portside's Facebook page
Re: Ecuador Just Showed the World What It Means To Take Climate Change Seriously  
Portside fell for the myth
"It was a form of "climate appeasement" comparable to Chamberlain's failure to prepare for war in the 1930s."
Wow have you got it backwards!  — that myth must die!
Even while Chamberlain was signing the Munich Agreement, he was agreeing a huge increase in spending to increase Britain's armament in preparation for war. He must have known from the situation outlined to him by General Ismay, that Czechoslovakia was lost, that war was bound to come.
https://www.nationalarchives.gov.uk/education/resources/chamberlain-and-hitler/#:~:text=Even%20while%20Chamberlain%20was%20signing,war%20was%20bound%20to%20come.
No way could England fight a war then— totally unprepared.  By delaying it, England improved the spits and increased production and, thereby, won the battle of Britain.  I think Chamberlain was a hero.
Please correct that article.
Bernard Cleyet
Re: Global Left Midweek – Africa and France  
The author asserts that Russia is a brutal imperialist in Africa, gives no evidence. The clear preference shown by the masses on the streets speaks otherwise. Where there are corrupt electoral processes military coups may be the only solution and several of these coups have clear mass support. The author's preference for pro western governments shows.
Dan Morgan
Posted on Portside's Facebook page
      =====
Dan Morgan: Please be more straightforward. Achille Mbembe opposes imperialist domination by the west. Where does he indicate he prefers "pro western government"? When did popular support for coups become an indication that the coups are progressive? Mbembe does offer a solution to corruption in its many forms: mass democratic political action and the cultural awakening that comes with it. Despair on the left is leading to romanticizing some deadly alternatives.
Ethan Young, moderator, Global Left Midweek
      =====
Thanks. Not addressed is the enormous impact climate change is having on the fragile structures of government and civil society.
Walter Yonn
Posted on Portside's Facebook page
Not kid-friendly  --  Cartoon by Mike Luckovich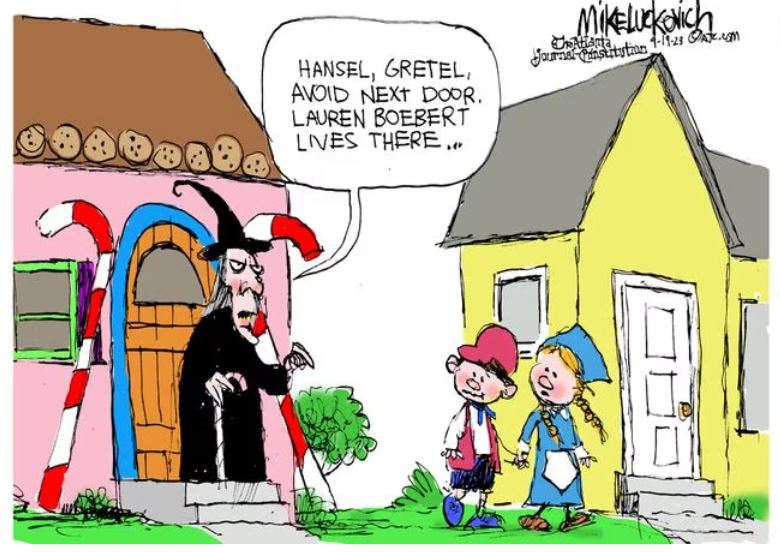 Mike Luckovich
September 18, 2023
Atlanta Journal-Constitution
Re: War Resisters' League Organizes the First U.S. Vietnam War Protest
(posted in This Week in People's History, Sept. 19–25)
|
One correction to your report on first times. The first demonstration in the U.S. against the war in Vietnam was not the one organized by the War Resisters League in 1963. The first demonstration against the war in Vietnam was held on August 2, 1962, organized by Youth Against War & Fascism. Although it was not a large protest, Ho Chi Minh heard about it and sent word through a visiting journalist that it was an example of what needed to be done by anti-war forces in the U.S.
Please print this correction.
Naomi Cohen Goldstein
Re: Walter Mosley's New York: Classes Divided, Races at War
(posting on Portside Culture)  
The title of Walter Mosley's provocative new novel, "Every Man a King," is a motto with a violent history. It was the catchphrase of the firebrand Louisiana populist Huey Long, who might have challenged Franklin Roosevelt from the left in 1936, were he not assassinated first.
These words — a cry for equality from a bygone era — are a snug fit for Mosley's novel, which skitters across the spectrum between orthodox and radical like a polygraph needle wired to a nervy accomplice.
Lorraine Suzuki
Posted on Portside's Facebook page
Human Rights and Democracy Teach In - Kalamazoo, MI - September 25  (Kalamazoo College Arcus Center for Social Justice Leadership)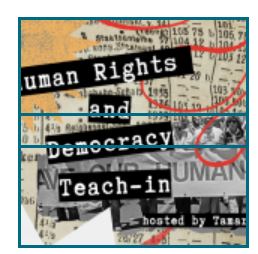 Monday September 25 @ 6:00 - 8:00 pm.
Arcus Center
Kalamazoo College
Would you know if your human rights were violated? Many in the USA take their human rights for granted. Join us on Monday September 25th to learn about human rights, their role in democracy and what social justice activists and advocates can do to ensure human rights are protected in this country and beyond.
This event is open to all Kalamazoo College students and community members.
For more information:
Kalamazoo College Arcus Center for Social Justice Leadership
269-337-7398
acsjl@kzoo.edu
Nuclear Truth Telling - In Memory of Daniel Ellsberg - Webinar - September 26  (The Ellsberg Initiative for Peace and Democracy)
Tuesday, September 26, 2023
7:00 PM - 8:30 PM ET
The Ellsberg Initiative for Peace and Democracy at UMass is beginning a year of programs called "The Whistleblower Project: A Series on Public Interest Truth Telling." Our first event, on September 26 at 7pm ET, is an online panel discussion with antinuclear activists, "Nuclear Truth Tellers: In Memory of Daniel Ellsberg." Please register to join us.
The Ellsberg Initiative for Peace and Democracy invites you to join us for a webinar with leading antinuclear activists to talk about the ongoing threats posed by nuclear weapons and collective efforts to reduce those dangers and move toward nuclear abolition. Moderator Christian Appy, director of EIPAD, will invite questions from the audience.
CBH Talk | Remembering Barbara Ehrenreich - Virtual Broadcast - September 28  (Brooklyn Public Library)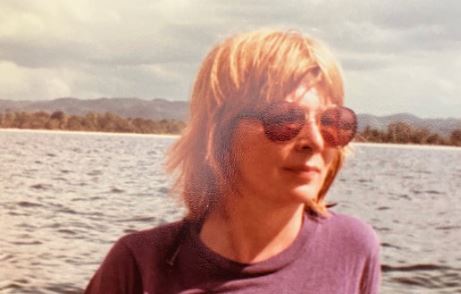 Thursday, September 28 2023    7:00 pm – 9:00 pm
Center for Brooklyn History
In-person attendance for this program is at capacity! Please join the livestream on the Center for Brooklyn History Public Programs YouTube Channel. To watch the broadcast live, click HERE.  Note that we generally overbook our free events to ensure a full house. Please arrive early to avoid disappointment; we will do our best to accommodate everyone! Doors will open at 6:30 pm.
An activist, journalist, social critic, and author of 21 books including the groundbreaking Nickel and Dimed, Barbara Ehrenreich amplified the voices of America's disempowered by bringing her sharp perspective to the myth of the American dream, the labor market, health care, poverty, women's rights, and a society rife with hypocrisy. Join us for a look at Ehrenreich's intellectual and political legacy and how it might be carried forward today with Cornel West, Jia Tolentino, Alissa Quart, Frances Fox Piven, Matthew Desmond, Janet McIntosh, and Tom Lewandowski. Senator Bernie Sanders pays tribute by video and Reverend Billy and the Stop Shopping Choir raise the house.
Presented in collaboration with Ehrenreich's children, Rosa Brooks and Ben Ehrenreich.
Nano Stern Sings Victor Jara - U.S. Tour Dates - October 2 - 20 - Amherst, MA; Brooklyn, NY; Chicago, IL; Tucson, AZ; Flagstaff, AZ; Stanford, CA; Los Angeles, CA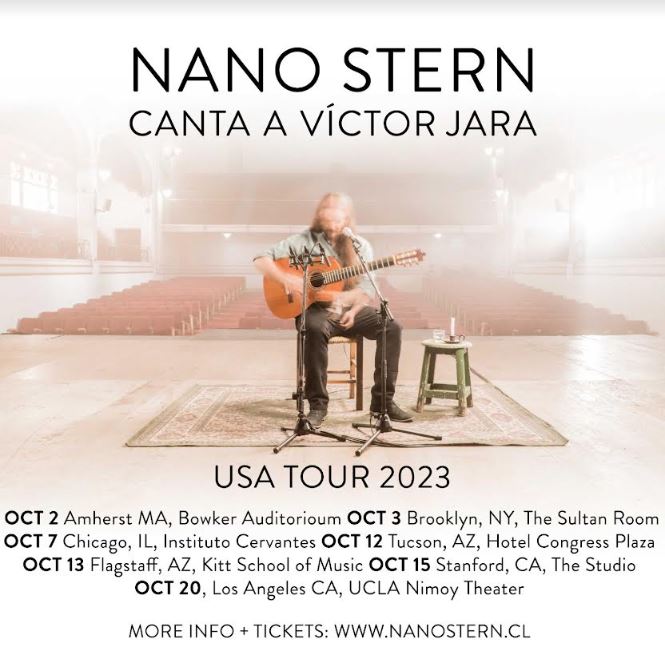 For more information and tickets, Click here
The Purgatory Trial of Vito Marcantonio - New York - October 4 - 15  (he American Theatre of Actors)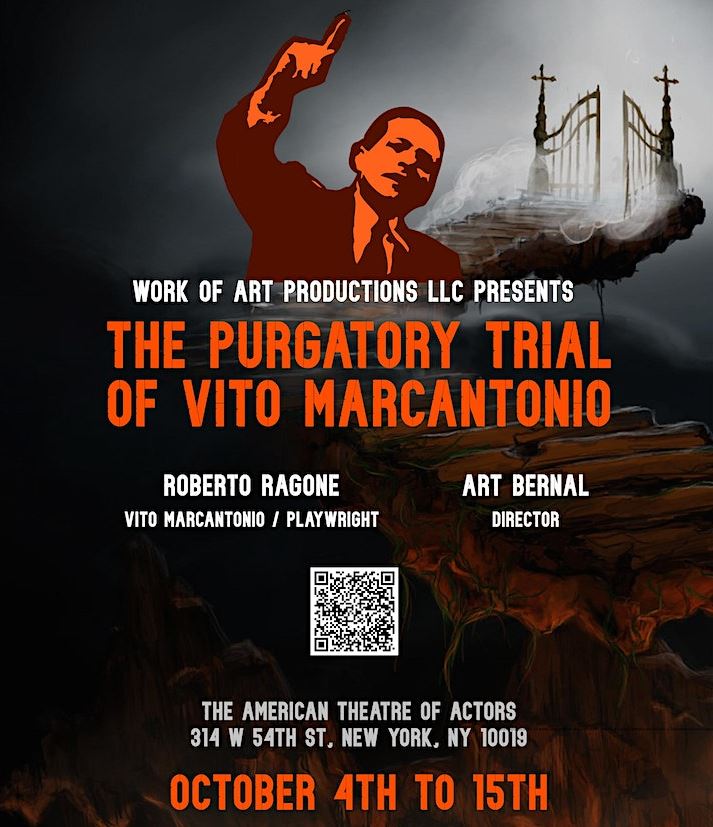 The life and times of politician Vito Marcantonio. Italian-American. Catholic. Republican. Progressive and Blacklisted as a Communist.
WORK OF ART PRODUCTIONS presents....
"The Purgatory Trial of Vito Marcantonio" Off-Broadway
Written and Starring ROBERTO RAGONE
Directed by ART BERNAL
Synopsis:
Vito Marcantonio, a real-life congressman that represented East Harlem throughout the 1940's is temporarily released from purgatory to prove his case to a modern-day audience that he is deserving to be acquitted from spending eternity in limbo. Testimony will be given by multiple witnesses including FDR, the gangster Tommy Lucchese and Vito's own grandmother.
The American Theatre of Actors Inc,
314 West 54th Street
New York, NY 10019