Tidbits – Sept. 28, 2023 – Reader Comments: Holding Oil Industry Accountable; Trump Bankrupt; Netanyahu Map Without Palestine; Support Striking UAW Auto-Workers; Nationwide Free Banned Book Club; Triangle Fire Memorial To Be Dedicated;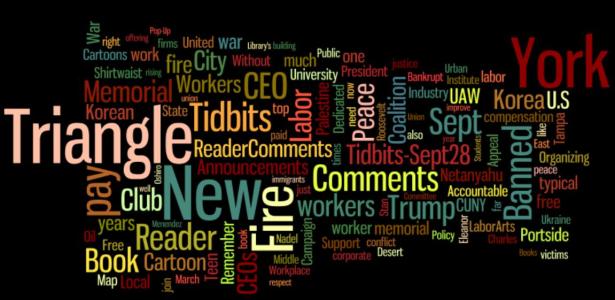 Tidbits - Reader Comments, Resources, Announcements AND cartoons - Sept 28, 2023,Portside
Resources:
Announcements:
Re: How the Federal Government Can Hold the Oil and Gas Industry Accountable  
Rather than continue to improve regulation in order to compel the oil and gas industry to serve the public interest, it would be a lot simpler and cheaper just to nationalize the industry and run it in the public's interest.
Lawrence Winans

      =====
Biden would never ever do any of these things. Not in a billion years.
Ben Cupp
Posted on Portside's Facebook page
BREAKING ÑEWS: Latest Poll Results Put Trump On Top  --  Cartoon by Lalo Alcaraz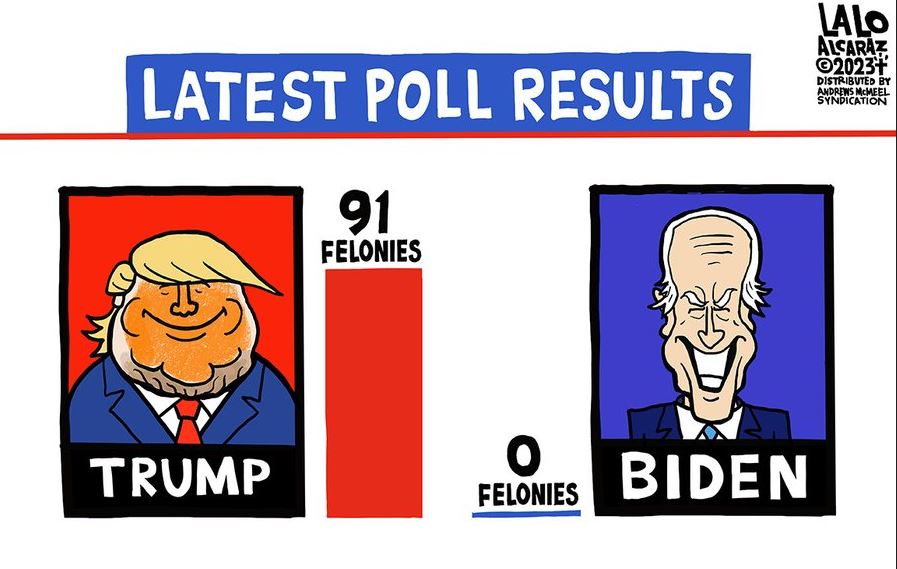 Lalo Alcaraz
September 27, 2023
pocho.com
Re: A Court Ruling That Targets Trump's Persona  
Anybody who's paid even the slightest attention to this buffoon's career since the 70s knows that he's nothing but a front, a big piece of painted cardboard propped up to hide the empty hole behind it.
Eleanor Roosevelt
Posted on Portside's Facebook page
Re: Clarence Thomas Secretly Participated in Koch Network Donor Events  
And how corrupt is the Supreme Court that they don't force him and Alioto off the bench, like right now? And investigate others? Anyone remember Abe Fortas and what happened to him? No justice in America.
Charles Patrick Lynch
Posted on Portside's Facebook page
Re: Netanyahu Shows Map of 'New Middle East'—Without Palestine—to UN General Assembly  
This is absolutely shameful.  Another intended act of genocide by Europeans/Americo-Europeans toward a population native to the land, their homeland.  The US is implicitly guilty of this horrendous act as well through its unquestioning political and vast monetary support of Israel.  I am disgusted.  Where is the outrage?  We can not continue to live in the world this way.  The US did the same to its native populations. I am crying for the Palestinian people as I have no control over the heinous acts of our (?) government. Our corporate news outlets don't even touch this story.
Velva Spriggs
Re: The GOP Is the Party of Corrupt Oligarchy  
I generally like what you put out. However, the article above is very partisan. And if it was just that one party being corrupt, it would be of no bother. But you have a one party system. A thin hairline difference. And putting articles out about one party over the other is propaganda. And it tarnishes the good work you do put out into the media sphere.
John Mudd
Midtown South Community Council
Robert Menendez  --  Cartoon by Nick Anderson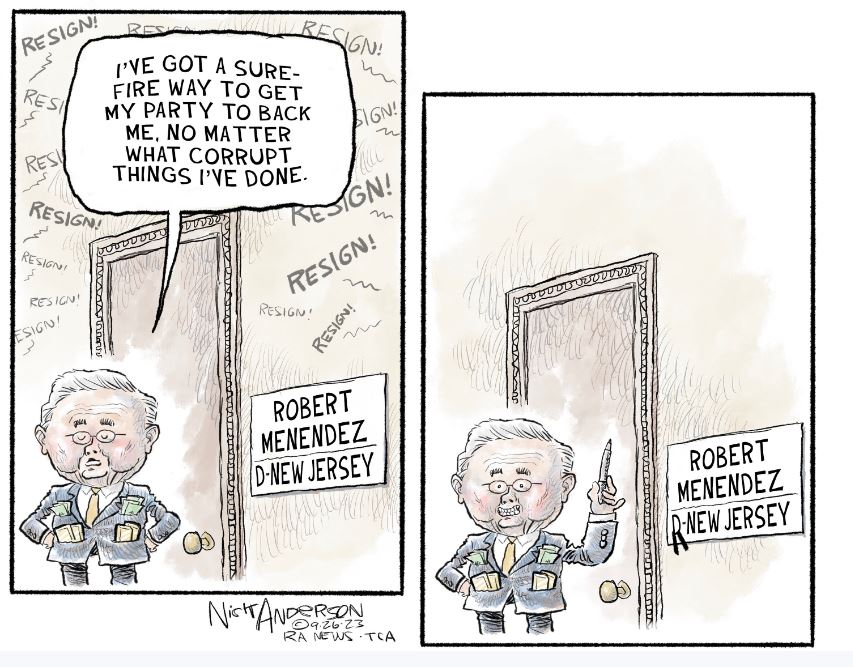 Nick Anderson
September 26, 2023
Pen Strokes
Re: Labor's Militant Creativity  
Sounds like good leadership, certainly tactically speaking! GO UAW!
Charles
Re: PragerU's Propaganda Is Now Being Taught in Schools
Because school board meetings are so difficult to attend and most citizens have long hour jobs to cover. Funny how that works out. Also the review process is under attack from the far right which has become well funded of late.
Gene W Ferrell
Posted on Portside's Facebook page
      =====
"History -- it's what we say it is." STOP ASKING QUESTIONS KID YA BOTHER ME
Eleanor Roosevelt
Posted on Portside's Facebook page
When you graduate summa cum fraud from Trump University  --  Cartoon by Jesse Duquette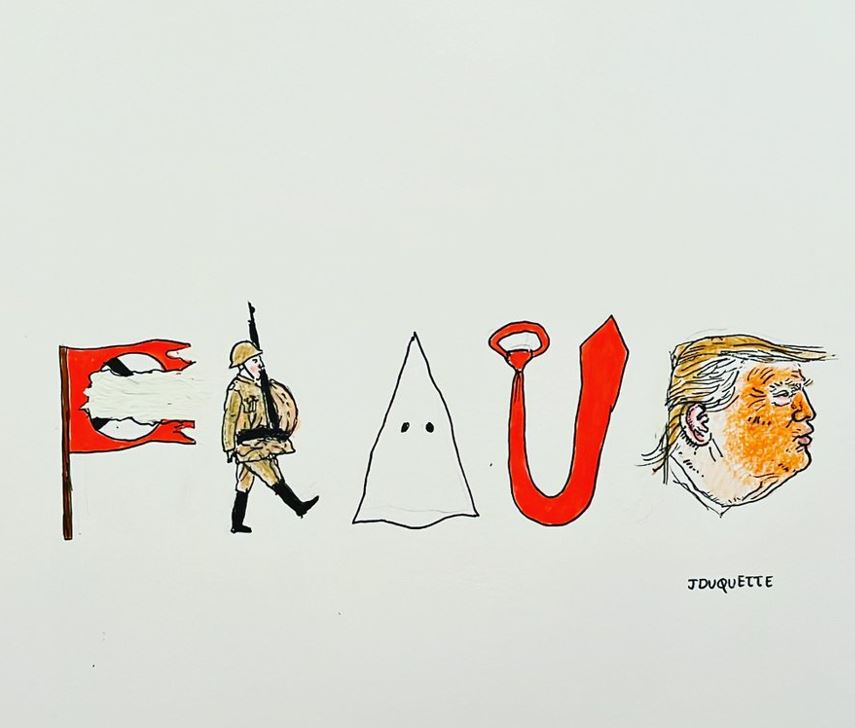 Jesse Duquette
September 26, 2023
The Daily Don
(posting on Portside Culture)  
What a terrific selection. Thank you
Lita A Kurth
The U.S. Senate relaxes its dress code  --  Cartoon by Jack Ohman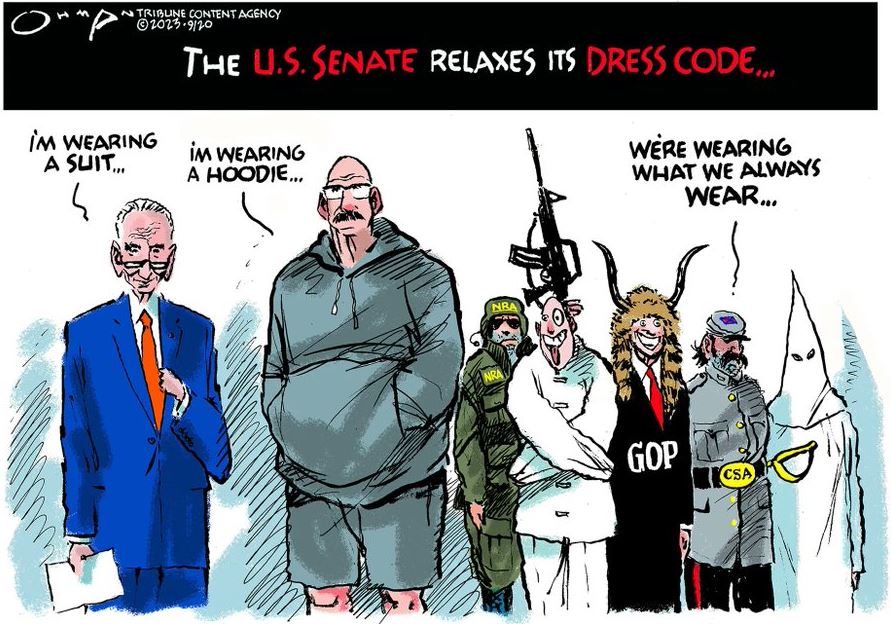 Jack Ohman
September 22, 2023
The Baltimore Sun
Re: Othello and the War
(posting in Tidbits - Sept. 21)  
    There's no real criticism of Russia's invasion here and near as I can tell Grossman wants us to see Putin as a victim rather than a perpetrator.  This sort of stuff was bad enough in defense of the Soviet Union, but now that it's used to defend Russian imperialism (which has no pretensions of being socialist) it is beneath contempt.  Grossman's analyses used to be worthy of respect, but after this I'm afraid not any more.
Stan Nadel
      =====
In reply to Stan Nadel's angry comment on my analysis of the Ukraine war I would inquire whether, if the USSR had installed missile bases in Vancouver and Montreal, or Red China in Sonora and Baja California, and the USA had replied militarily (as it did at the Bay of Pigs in 1961, for example, or, in a way, in Iraq), this can perhaps be compared with installing US-NATO missiles in Estonia (100 m from  St. Petersburg) and the Ukraine (less than 400 m from Moscow). One may well call the Russian response imperialist. I called it frightening, bloody and condemned it; briefly, it is true. I felt it unnecessary to improve on the mass media in this respect. But since any further false steps - no matter their perpetrator or their motivation – can lead within hours to world conflict, perhaps atomic, I believe these events merit at least a modicum of cooler analysis - and should also aim at cooler resolutions of this terrible war. That is what I attempted with my Othello analogy. So I politely regret Stan Nadel's contempt.
Victor Grossman
Support striking UAW auto-workers.
Check out this map to find location near you. Join their picket lines. Sleepless? Head down overnight.
CEOs Are Paid 344 Times What The Typical Worker Makes  (Economic Policy Institute)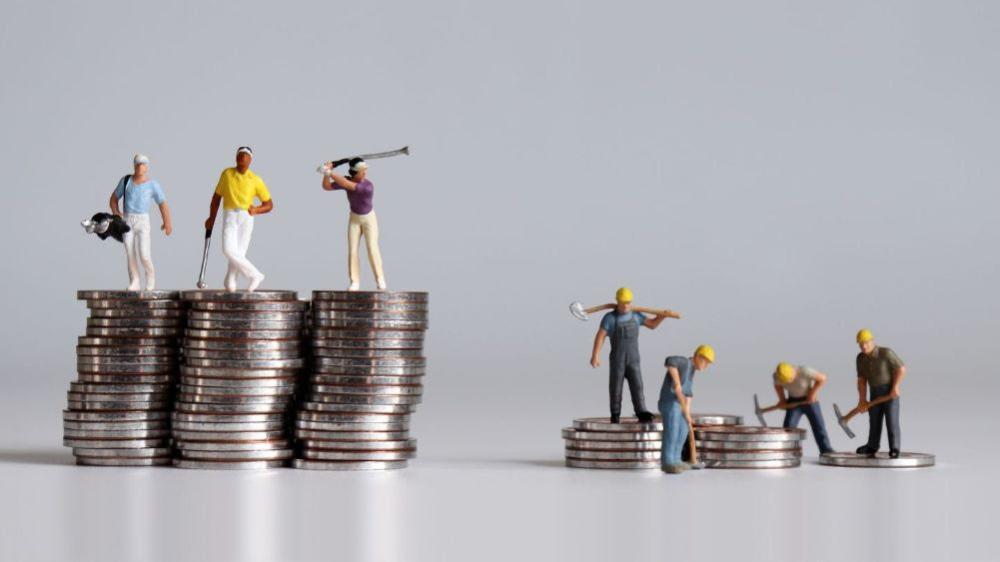 By Josh Bivens and Jori Kandra • September 21, 2023
Chief executive officers of the largest firms in the U.S. earn much more today than they did in the 1990s and many times what they earned in the 1960s or 1970s. They also earn far more than the typical worker, and their pay has grown much more rapidly than a typical worker's pay.   
Importantly, rising CEO pay does not reflect a rising value of skills or contribution to firms' productivity. What has changed over the years? | Read the report
Overview
Summary: CEO pay dipped in 2022 but remains enormous compared with the pay of other workers. CEOs are granted massive compensation packages by corporate boards because of their bargaining power, not because of their skills. CEOs' exorbitant payouts have far outpaced the pay of typical workers over decades.
Key findings
CEO pay is linked strongly to the stock market—and market declines in 2022 led to an uncharacteristic dip in CEO pay.  

Cumulatively, however, from 1978–2022, top CEO compensation shot up 1,209.2% compared with a 15.3% increase in a typical worker's compensation. 

In 2022, CEOs were paid 344 times as much as a typical worker in contrast to 1965 when they were paid 21 times as much as a typical worker. 

To illustrate just how distorted CEO pay increases have gotten: In 2021, CEOs made nearly eight times as much as the top 0.1% of wage earners in the U.S. 
Why this matters
Exorbitant CEO pay is not just a symbolic issue—it has contributed to rising inequality. CEOs are getting paid more because of their leverage over corporate boards, not because of contributions they make to their firms. Escalating CEO pay in recent decades has likely pulled up the pay of other top earners. This concentration of earnings at the top leaves fewer gains for ordinary workers.  
How to fix it
Policies that limit CEOs' ability to collude with corporate boards to extract excessive compensation are needed to prevent the U.S. from becoming a winner-take-all society. These policies could include reinstating higher income tax rates at the very top, using tax policy to incentivize lower CEO pay, allowing shareholders to vote on CEO compensation, and using antitrust enforcement and regulation to rein in the market power of the largest firms. 
Economic Policy Institute  
1225 Eye St. NW, Suite 600
Washington, DC 20005
Phone: 202-775-8810 • epi@epi.org
Teen Banned Book Club at NYPL - The New York Public Library's Teen Banned Book Club is offering free, nationwide digital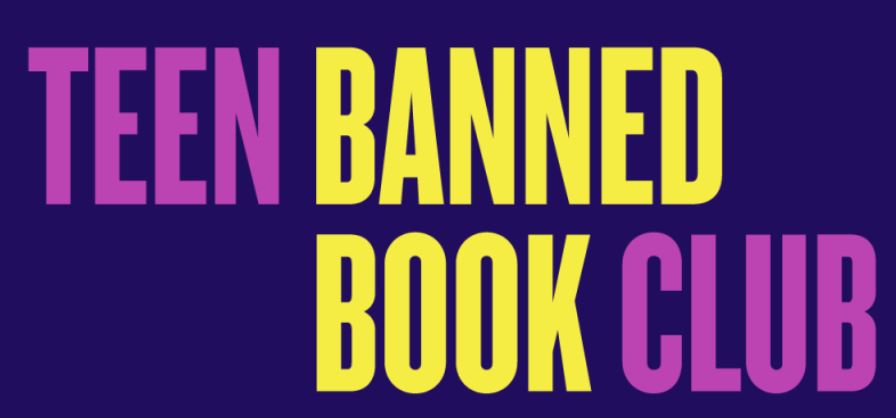 Read with us! Throughout the year, The New York Public Library's Teen Banned Book Club is offering free, nationwide digital access to young adult titles that have been the subject of bans or challenges. Download the latest title on SimplyE starting October 2—then join the conversation at our book club events and author talks.
Tuesday, Oct 3 | 11 AM
Kick off Banned Books Week at The New York Public Library with a special edition of TeenLIVE. Bestselling author Mark Oshiro will talk about their work and join us in launching our national Teen Banned Book Club! The first title, which will be the focus of a special book club event at the end of November, will be Mark's book Each of Us a Desert.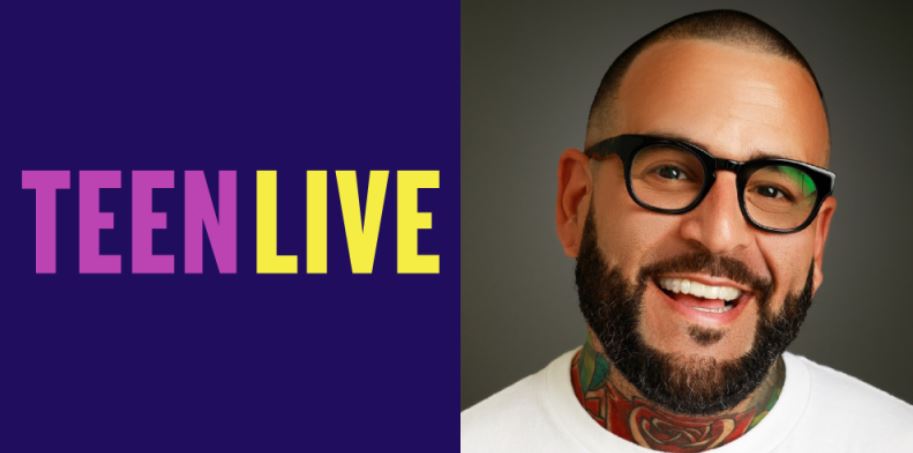 Oct 2: Start Reading "Each of Us a Desert" on SimplyE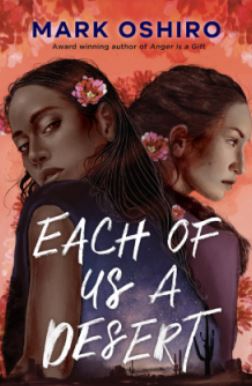 Our first Banned Book Club pick is Each of Us a Desert by Mark Oshiro. Starting October 2, readers anywhere in the U.S. can borrow the book for free from the "Books for All" library on SimplyE, NYPL's e-reader app. Each of Us a Desert is available to all readers ages 13 and above through November 30, 2023. Learn more and download the app to get reading!
Korea Peace Rally & March in New York City - September 30  (Korea Peace Appeal: Peace Campaign to End the Korean War)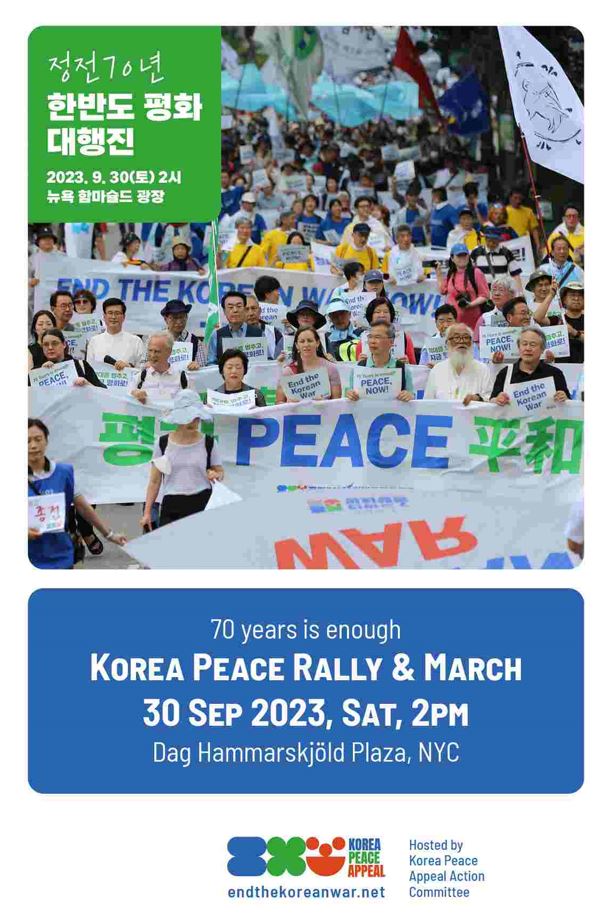 70 years is enough, Korea Peace Rally & March in NYC
Saturday, September 30, 2023, 2 ~ 4 pm
Dag Hammarskjöld Plaza -> Ralph Bunche Park, NYC
This year marks the 70th year of the Korean War Armistice Agreement. 70 years have passed with no sign of the end of war.
With an uneasy ceasefire far from over, an unprecedented threat of war is brewing again. In a vicious cycle of head-to-head confrontation, including large-scale ROK-US and ROK-US-Japan Combined Military Exercises and DPRK missile tests, armed conflict is on the horizon. The military confrontation in Northeast Asia is also becoming more and more intense.
Efforts should focus on 'preventing' armed conflict, not practicing war. We must take urgent steps to reduce military tensions and create an environment for dialogue again. Now is the time to stop hostility and walk towards peace.
The Korea Peace Appeal Campaign plans to deliver the signatures collected from all around the world over three years and the results of the Campaign to the United Nations Secretary-General and the UN Missions of the two Koreas, the US, and China on the occasion of the 70th anniversary of the Korean Armistice. Thus we will urge everyone to raise an awareness of the gravity of the growing threat of war on the Korean Peninsula under the recent political situation. And we will call for proactive efforts to create an environment for dialogue and prevent armed conflict.
Ahead of the delivery of our collection of signatures, we're once again raising our voices for "peace over war" in New York City. There will be speeches, performances, a Korean traditional folk music experience called 'Pungmul', and marches. Please join us if you want peace! 💜  
Please click here sign for peace!
>> Click here for the Korean version 
Host : Korea Peace Appeal Action Committee
Contact : Korea Peace Appeal Campaign Secretariat +82-2-723-4250 endthekoreanwarnow@gmail.com
Free Workshop for CUNY Students on Workplace Organizing - New York - October 10  (CUNY School of Labor and Urban Studies)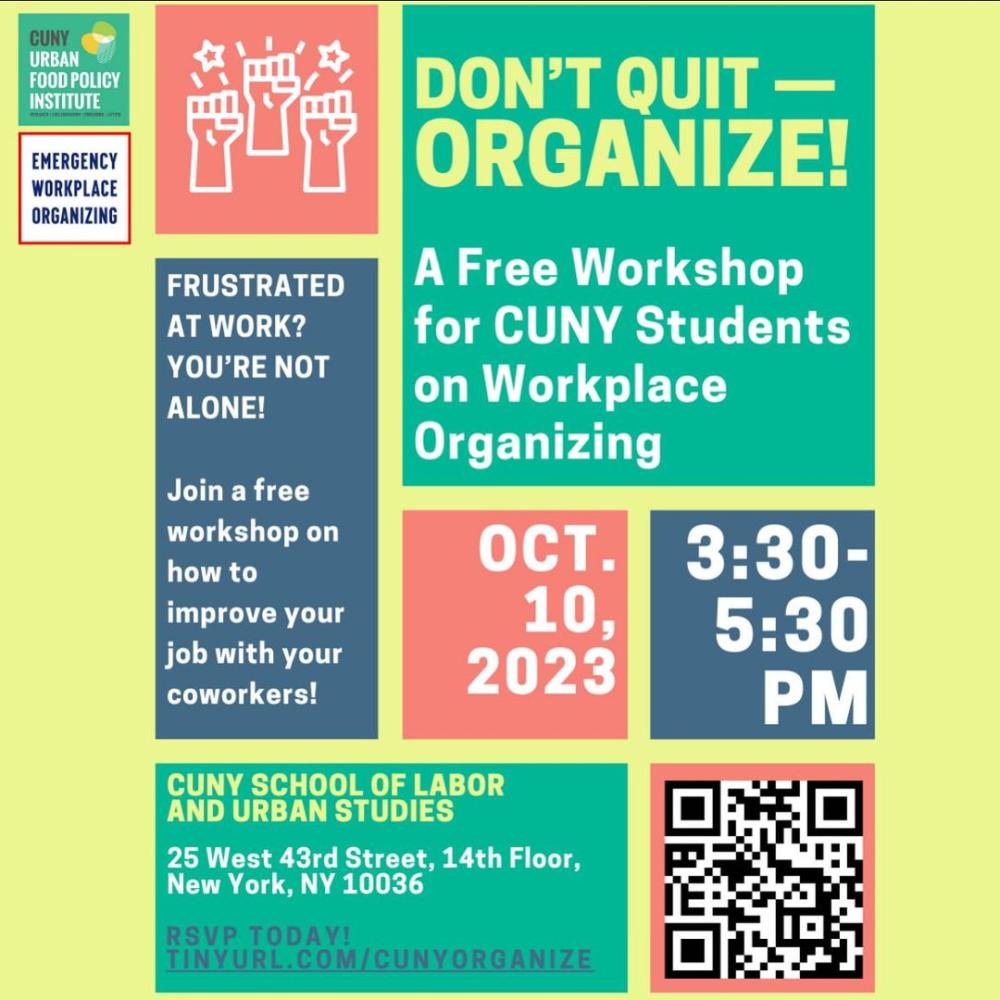 Feeling frustrated at work? Tired of low pay, unpredictable scheduling, or a lack of health care? Don't quit — organize!
On Tuesday, October 10, join the CUNY Urban Food Policy Institute (CUFPI) and Emergency Workplace Organizing Committee (EWOC) for a free workshop on how you can work with your coworkers to improve your workplace. We'll practice talking with your coworkers about the issues they care about at work. We'll also hear from restaurant and grocery store workers who've recently organized their workplaces, and get guidance on how to build a campaign at your workplace.
Refreshments will be provided. This session is in-person but there is a remote option if requested. Spots are limited — sign up today! 
October 10, 3:30pm - 5:30pm
CUNY School of Labor and Urban Studies
25 West 43rd Street, 14th Floor, New York, NY 10036
Triangle Fire Memorial to be Dedicated on October 11 - New York City  (Remember the Triangle Fire Coalition)

The long-awaited Triangle Fire Memorial to the victims and legacy of the 1911 Triangle Shirtwaist Factory fire will be dedicated October 11, 2023, at the site of the historic fire in New York City. The Memorial, which tells the story of the fire in the languages spoken by the victims – English, Yiddish and Italian – is being installed on the very building that housed the Triangle Shirtwaist Factory, at the corner of Greene Street and Washington Place in Greenwich Village. It will be one of the only memorials in the U.S. dedicated to workers.
"This awe-inspiring memorial will help us remember the workers who lost their lives because of employers' greed, shining a light on this dark history and reminding us of the need for collective action," said Mary Anne Trasciatti, President of the Triangle Fire Coalition. "Outrage in the aftermath of the tragedy changed labor and fire safety laws and these changes continue to protect us more than 100 years later. We are honored to partner with New York University and to have gotten so much support from the labor movement and others in the community for this project."
The fire swept through the Triangle Shirtwaist Factory on the afternoon of March 25, 1911, killing 146 garment workers in the span of 15 minutes, with dozens of the victims forced to jump from the ninth floor of the burning building. Nearly all of the dead were women, most were immigrants or the daughters of immigrants, and many were teenagers. This shocking public tragedy sparked decades of social reform that has helped to better the lives of all Americans.
"The Triangle fire resonates so significantly with my union, Workers United, because it was Local 25 of the International Ladies' Garment Workers Union, the predecessor of the current Local 23-25, that was trying to organize the factory at the time of the fire and one reason that the factory bosses locked the doors was to keep the union organizers out," said Edgar Romney, Secretary-Treasurer of Workers United and long-time organizer of the union's annual Triangle Fire commemoration. "The story of the Triangle Fire rings true for our members, many of them immigrants, like those in 1911. We are grateful that the Remember the Triangle Fire Coalition spearheaded the building of this memorial that remembers the past and highlights the importance of organizing to gain dignity, respect, and safety at work."
In 2012, the Remember the Triangle Fire Coalition held a juried international design competition for a permanent memorial to the victims of the fire, the site of which is now on the campus of New York University. The winning proposal, by Uri Wegman and Richard Joon Yoo, was selected from nearly 180 submissions. The memorial has been made possible with a generous grant of $1.5 million from the State of New York, and by funding from foundations, labor unions, and thousands of individuals. K.C. Fabrications, based in Gardiner, New York, is manufacturing the memorial, with members of the Ornamental Ironworkers Union Local 580, the Scaffold Erectors of Laborers' Local 79 LIUNA, the Carpenters Local 157, and the Bricklayers Local 1.
"With the dedication of the poignant Triangle Shirtwaist Memorial, we will honor the brave workers whose lives were tragically lost in one of the darkest chapters of our labor history," said Roberta Reardon, New York State Department of Labor Commissioner. "May this memorial serve as a powerful reminder of the enduring importance of workplace safety, the need for robust labor protections, and the unwavering commitment to ensuring the well-being and dignity of every worker in New York State. Let us honor the memory of the Triangle Shirtwaist workers by advocating for fairness, equality, and justice in the workforce for generations to come."
"A vital part of our nation's history, the Triangle Fire stirs our passions, ignites our anger, and reminds us of what collective action can do to protect workers' rights," concurred President Trasciatti of the Coalition. "We feel this power as we look at the newly built Triangle Fire Memorial."
Triangle Fire Memorial Dedication
23 Washington Place, New York City   (Washington Place & Greene Street)
Wednesday, October 11, 2023
11:30-1:00 pm
Speakers:
Julie Su, U.S. Secretary of Labor
Kathy Hochul, Governor of New York
Roberta Reardon, Commissioner, New York State Department of Labor
Mary Anne Trasciatti, President, Remember the Triangle Fire Coalition
Edgar Romney, Secretary-Treasurer, Workers United/SEIU
Lynne Fox, President, Workers United/SEIU
Vincent Alvarez, President, New York City Central Labor Council
FDNY
List in formation
2023 Remember the Triangle Fire Coalition  
Memory in Cloth – Safety and Solidarity for New York City Garment Workers - A LaborArts Pop-Up Exhibit on view through November 17  (LaborArts)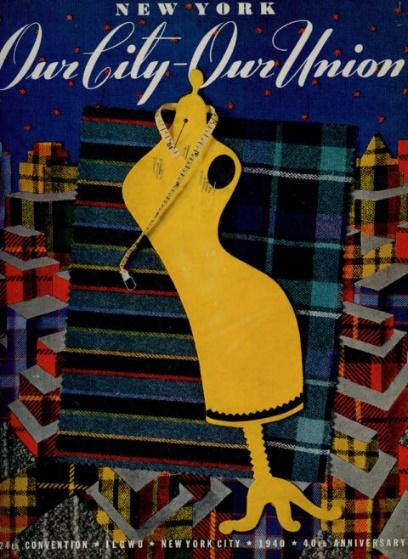 A LaborArts Pop-Up Exhibit on view through November 17:
Tamiment Library Entryway
NYU Elmer Holmes Bobst Library
70 Washington Square South, Floor 2
New York, NY 10012
Weekdays 10am – 5pm
Reservations required – e-mail Shannon O'Neill at smo224@nyu.edu at least 24 hours before your visit to arrange access to the building. For any other questions or to arrange a gallery talk email info@laborarts.org
Drop the Charges - Tampa 5 Speaking Tour - September 21 - October 21

"The Tampa 5 - Gia Davila, Lauren Pineiro, Laura Rodriguez, Jeanie K, and Chrisley Carpio - are the five Students for a Democratic Society protesters at the University of South Florida who were attacked by campus police and are now facing five to ten years in prison for protesting Governor Ron DeSantis' attacks on diversity programs and all of higher education.
They are currently touring the country to build their fight for justice. Click here to find out when they will be speaking in your area: https://www.defendthetampa5.org/tour/
The Committee to Stop FBI repression stands firmly against political repression of people's movements, and therefore we believe the demand for justice for the Tampa 5 should be taken up and supported by all progressive people.
We need to demand that the DeSantis-appointed, unelected State Attorney Susan Lopez and Assistant Prosecutor Justin Diaz drop the charges. We need to win this case once and for all and protect the right of the student movement - and all social movements in the United States - to exercise their First Amendment right to free speech and to protest."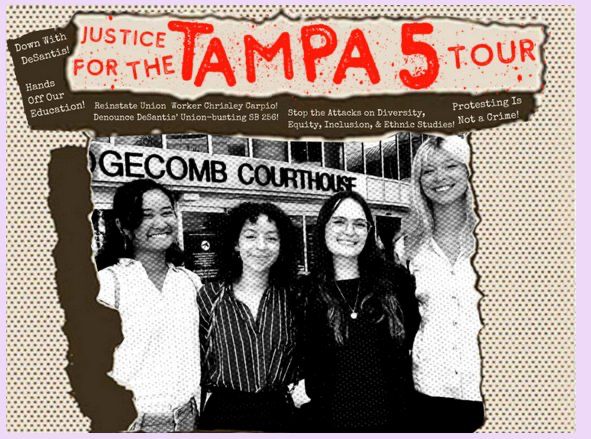 Sept. 29   Detroit     ..  1:00pm
Wayne State Student Center, Room 010
5221 Gullen Mall, Detroit, MI
Hosted by Oakland Community College SDS
Oct.   1   Dayton, OH......1:30pm
Fairborn Community Library
1 E Main St, Fairborn, OH
Oct.   2   Kent, OH   ..   5:00pm
Kent State Student Center, Room 310
1075 Risman Dr, Kent, OH
Oct.  18   New York   ..   6:30pm
The People's Forum
320 W 37th St, New York, NY
Oct.  19   Washington, DC.
Date, Time & Location TBA
Oct.  21...Atlanta, GA.....1:00pm
1332 Metropolitan Parkway SW
Atlanta, GA