Dispatches from the Culture Wars - Heatstroke Edition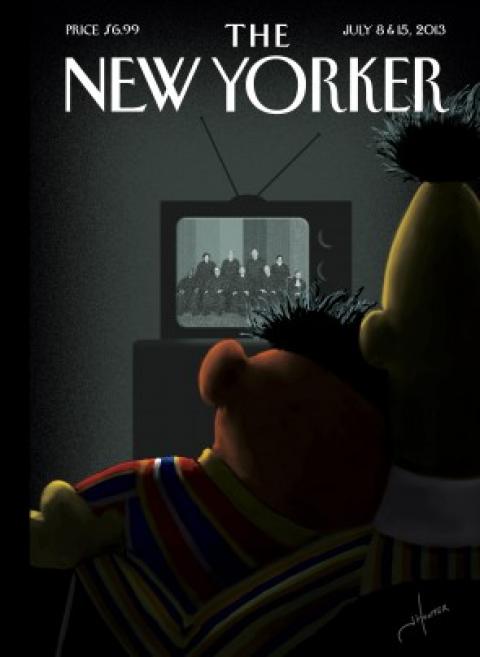 The New Yorker cover - July 8 & 15, 2013 issue,The Washington Post
By Emily Yahr 
June 28, 2013
By Nona Willis Aronowitz
June 27, 2013
The documentary's hook is that Kinderland was targeted last year by the Daily Caller and Rush Limbaugh when it was discovered that an Obama appointee was "indoctrinating" her child at camp. But Commie Camp's release is really just an occasion to profile, and therefore preserve, a specific sect of Jewish culture that, in ways both tangible and symbolic, is vanishing.
By Hayley Tsukayama and Tom Hamburger 
June 26, 2013
Advocates for the visually impaired say that fewer than one percent of all the world's books are accessible in these formats. The treaty would make it possible for converted texts in a given language to be available in multiple countries.
By Jonathan Benson 
June 13, 2013
The recent decision by Whole Foods Market to label all genetically-modified organisms (GMOs) sold in its stores by the long-off date of 2018 looks silly and almost meaningless compared to the right-now policy of fresh food chain Chipotle, which is officially the first and only major U.S. food supplier to voluntarily label GMOs. On its "Ingredients Statement" website, Chipotle clearly outlines which of its food products contain GMOs, and also states that it is working aggressively to source completely non-GMO ingredients for all of its products as it moves forward.
June 28, 2013
When the star witness for the prosecution in the George Zimmerman trial was in the hot seat for the past two days, it sometimes felt like Rachel Jeantel - a friend of Trayvon Martin's - was the one on trial. The 19-year-old said the N-word many times, as well as the word cracker, when recounting her last conversation with Martin.
Zimmerman's defense attorney asked her to repeat herself multiple times, apparently unable to . understand the way she talked.  Linguists who study African American Vernacular English (AAVE) - also called Ebonics - recognize all the features in Rachel Jeantel's speech. Khalil Gibran Muhammed, the director of the Schomburg Center for Research in Black Culture at The New York Public Library, said that scrutinizing Jeantel's language is really about class and power.
By Mark Binelli
June 12, 2013
Just a few years ago, Gov. Sam Brownback seemed washed up. A devout Catholic who attends mass several times a week, he'd built a following among the Christian right as one of the most socially conservative U.S. senators of the Bush era, but his campaign for the Republican presidential nomination in 2008 proved an embarrassing folly. But apparently, the notion of wielding executive branch power had become appealing. Two years later, he handily won the governorship of Kansas, part of the class of Republicans elected in 2010 on a Tea Party-driven wave of anti-Obama sentiment.
Since Mitt Romney's resounding defeat last November, much has been made of the supposed battle for the soul of the Republican party taking place at the national level, where pragmatic establishment types are attempting to win over minorities, women and young people by tamping down the most extreme elements of the Tea Party fringe and moderating stances on issues like gay marriage and immigration. The problem is, in places like Kansas (and Louisiana, and South Carolina, and North Dakota), that fringe has become the political mainstream.