Democrats Have Reached a Watershed?
On Occupy Wall Street's 2nd anniversary, nurse and transit workers unions, joined forces with labor, community organizations and OWS to demand restoration and expansion of vital public services for the 99% and passage of legislation for the Robin Hood Tax, Pat Fry
Fed Up with Wall Street, Democrats Look to the Left
By Harold Meyerson
September 17, 2013
Washington Post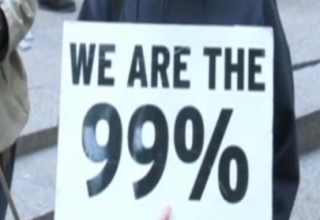 Campaigners mark the 2nd anniversary of Occupy Wall Street.
credit - ibtimes.com
The Democratic Party's romance with Wall Street may finally be breaking up. In the past 10 days, a diverse group of Democratic senators scuttled Larry Summers's candidacy for Federal Reserve chair and New York Democrats voted for the mayoral candidate whose campaign was an attack on Michael Bloomberg's care and feeding of the super-rich at the expense of the rest of the city. Former commerce secretary (and JP Morgan Chase executive) William Daley's surprise withdrawal from the Illinois Democratic gubernatorial primary is one more indication of Wall Street's diminished sway.
Democrats have reached a watershed. After two decades in which the party has moved leftward on social issues but has largely accepted the financial sector's economic preferences - for smaller government; a greater role for markets; and reduced regulation, particularly of finance - the abject failures of the market economy are pushing the party leftward. The revolt against Summers was less about his positions on today's economic issues than his adamant opposition to regulating derivatives during his tenure as Bill Clinton's Treasury secretary, when he invoked as an argument against such oversight the dismay of the big banks at the one set of regulations that might have staved off, or at least diminished, the Great Recession of the past five years.
In a broader sense, Democrats' turn against Summers signals both a weariness and a repudiation of Rubinomics and its apostles. Ever since he became the head of Clinton's economic council, and then Treasury secretary, former Goldman Sachs co-chairman Robert Rubin has been the party establishment's foremost economic guru, and his proteges - including Summers, former Treasury secretary Tim Geithner and White House economic counselor Gene Sperling - have dominated policymaking. During their reign, they successfully campaigned for the repeal of the Glass-Steagall Act (which had separated commercial from investment banking), the decision not to regulate derivatives, the trade deals with China and Mexico that decimated U.S. manufacturing and a post-2008 bailout that pumped more than a trillion dollars into the banks but never compelled - or even persuaded - the banks to use those public funds to help small businesses or homeowners facing foreclosure. They blocked efforts to create a safer, more consumer-friendly economy by women more prescient but less powerful than they - Brooksley Born , who headed the Commodity Futures Trading Commission under Clinton and sought to regulate derivatives, and Elizabeth Warren, who conceived the Consumer Financial Protection Bureau but was precluded from heading it.
Today, it's Warren, now the senior senator from Massachusetts and the party's leading critic of Wall Street, who is riding high. So is Bill de Blasio, the presumptive favorite to succeed Bloomberg as mayor of New York. In his primary campaign, de Blasio excoriated Bloomberg for helping transform what had once been a metropolis of thriving small businesses and free higher education into a city where the gap between the rich and everyone else has reached levels seen only in the least-developed nations. The New York Times' precinct breakdown of last week's Democratic primary shows that de Blasio ran first or second in every one of New York's hundreds of neighborhoods, save only the Upper East Side between Fifth and Park Avenues and 59th and 90th Streets - where New York City's wealthiest live.
These events portend a growing conflict between those Democrats who have hitched their wagons to Wall Street - among them soon-to-be New Jersey senator Cory Booker and Chicago Mayor Rahm Emanuel (about whom the ominously titled biography "Mayor 1 Percent"  is forthcoming) - and those, like Warren and her Senate colleagues Sherrod Brown (Ohio) and Jeff Merkley (Ore.), who believe government's role is in advancing the interests of the middle class and protecting it from finance.
As Peter Beinart demonstrated in a brilliant essay last week, what Warren & Co. have going for them is millennials' pervasive disenchantment with the market economics that have plunged them into a nightmare of unemployment and undercompensation. Millennials have suffered mightily from the withdrawal of government support for higher education, from the offshoring of jobs and government's failure to directly create the jobs that might take their place. Polling shows that they're the one generation that overwhelmingly supports Obamacare and a bigger government that provides more services. They clearly have no use for Rubinomics - something that Hillary Clinton would do well to realize should she seek to become the 2016 standard-bearer of what is fast becoming a more progressive Democratic Party.
[Harold Meyerson writes a weekly political column that appears on Wednesdays and contributes to the PostPartisan blog. Meyerson is also executive editor of The American Prospect, a liberal magazine based in Washington. A Los Angeles native, Meyerson was the executive editor of the L.A. Weekly from 1989 to 2001and hosted the weekly show "Real Politics" on radio station KCRW, the L.A. area's leading NPR affiliate, from 1991 to 1995. He is the author of " Who Put the Rainbow in the Wizard of Oz?"  (1995), a biography of Broadway lyricist Yip Harburg.]

Nurses Taste Victory in Battle That Shook New York Politics
By Sarah Jaffe
September 14, 2013
Working In These Times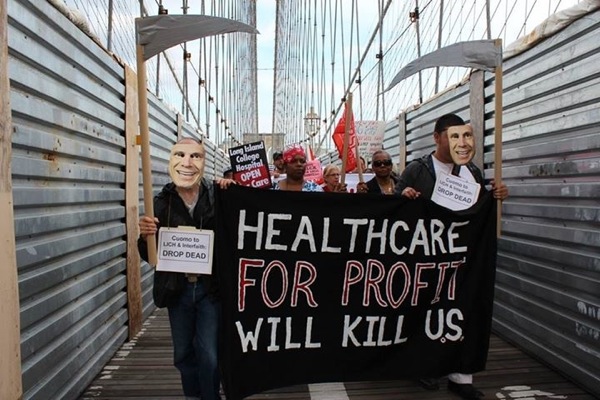 Nurses and supporters marched over the Brooklyn Bridge this summer to protest the closure of the Long Island College Hospital.
Credit - In These Times / Photo from NYSNA   
The momentum in the fight to save Brooklyn's hospitals seems to have shifted decidedly to the side of the community, not the bosses.
Not only did the fight over the hospitals prove central to the mayoral primary, helping sweep Bill de Blasio from the back of the pack to near-certain Democratic nominee and overall favorite; not only did a judge step in last month to side with nurses in declaring that SUNY Downstate had no right to close Long Island College Hospital (LICH); but now, another judge has issued a sweeping ruling in favor of the nurses that may have consequences for other embattled institutions.
Judge Johnny Lee Baynes of the state Supreme Court ruled on Thursday that the closure plan for LICH filed with the state Department of Health by SUNY Downstate officials was invalid and furthermore, that the DOH was at fault. He called the DOH's regulations for closing hospitals "unconstitutionally vague" and criticized its new tendency to act as a "rubber stamp" on hospital closings rather than acting in the best interests of the community. (He noted that, as recently as 2008, the department intervened at LICH to stop several departments from being shuttered.)
That's exactly what the attorneys representing the New York State Nurses Association, 1199SEIU and Concerned Physicians of LICH argued in their suit to keep the hospital open, making this yet another victory in the battle by the hospital workers to save their jobs and continue providing community healthcare.  Along with several community associations, the unions and physicians' group have held rallies, taken direct action, staged a "Race for Care" and marched over the Brooklyn Bridge, taking their fight from a small neighborhood struggle to a defining issue of an election season that has centered on the gap between the city's haves and have-nots.
Judge Baynes' ruling requires the DOH to rewrite its rules closing hospitals before any other hospitals can be shut down - meaning that Interfaith Hospital in Bedford-Stuyvesant, next on the chopping block, may also have a reprieve. His ruling amounts to something like the moratorium on hospital closures that NYSNA has called for. Jill Furillo, registered nurse and executive director at NYSNA, said the decision "changes the playing field" in the citywide struggle for healthcare. "We now have stronger standing to keep other vital community hospitals, like Interfaith, open for care."
SUNY had been slowly closing departments at LICH even as the court battles went on, but things are now definitely looking up. On Judge Carolyn Demarest's order, ambulances began running to LICH again last Friday, September 6. Though the hospital is not yet operating at full capacity, the number of patients in the hospital is up to 41, according to NYSNA, with 11 being treated in the ICU. Meetings continue with Judge Demarest to determine who will take over operation of LICH from SUNY (one option that's been floated is that the doctors run the hospital themselves, along with a partner).
Judge Baynes must still issue an order to explain how his ruling will be enforced going forward. But the nurses, community members and elected officials are pleased with the way things are headed. As local and national media outlets have noted in recent days, the power dynamics in New York City are shifting, and the labor and community groups at the heart of this fight are the ones making that shift happen.
"Today LICH; Tomorrow Interfaith, North Central Bronx Hospital, and St. Joseph's hospital. Today, we are one step closer to saving these hospitals, and preserving their services in our communities," said Letitia James, City Council member and candidate to succeed de Blasio as public advocate.
[Sarah Jaffe is a staff writer at In These Times and the co-host of Dissent magazine's Belabored podcast. Her writings on labor, social movements, gender, media, and student debt have been published in The Atlantic, The Nation, The American Prospect, AlterNet, and many other publications, and she is a regular commentator for radio and television. You can follow her on Twitter @sarahljaffe.]