Tidbits - January 9, 2014

Tidbits, Reader Comments, Shorts - Jan. 9, 2014 ,Portside
Re: Newspapers Push for Snowden Pardon
Clearly Mr. Snowden is a hero for all the reasons both articles cited. He has facilitated democratic discussion, which without the release of the information, would not and could not have taken place.
President Obama's reaction is at best strange and at worst reactionary. Clearly this young man is moderate, responsible but gutsy and concerned enough to act boldly. Such persons are valuable in a democracy and to any clearheaded government.
One cannot on the one hand constantly talk about democracy and chastise other countries for not meeting democratic standards as understood by the United States, and on the other hand make it clear that if Mr. Snowden returns home, as I am sure he would like to, he is likely to rot away in prison for a long time.
One hopes that this will be an issue in the mid-term elections if he is not pardoned, that there will be referendums on it, and spokespersons demanding his pardon. The support of these two newspapers should help. In the meantime, one hopes that he can find a new home in Germany or Brazil once the one year term in Russia is up and while he waits for the President to do the right thing - an action I daresay the vast majority of his supporters in the last election expect him to take.
Laurel S. MacDowell
Re: In Defense of an Academic Boycott of Israel
Can't help but wonder if two of your posts tonight are somewhat contradictory? Save academic freedom, but boycott academics?
Thanks for the info.
Steven Staples
Re: Recognizing Israel as a Jewish State is like saying the US is a White State
I completely agree with your position on Israel as a "Jewish state," but what is Kerry supposed to do with the following Islamic states, as listed by Wikipedia?  Consistency?  Or, more plausible, not increasing Muslim opposition to Israel?
Dan Slobin
     ====
     
The Basic Law defines "Palestine" as an Arab state - and Islam as the official religion:

Palestine is part of the larger Arab world, and the Palestinian people are part of the Arab nation. Arab unity is an objective that the Palestinian people shall work to achieve.
Islam is the official religion in Palestine. Respect for the sanctity of all other divine religions shall be maintained.
The principles of Islamic Shari'a shall be a principal source of legislation.
Do Cole and others who share his position on Israel as a Jewish State object to this?
Stan Nadel
     ====
     
Or like saying the US is a Christian country, which always makes me mad.
Helena Worthen
     ====
     
Nah... Jewish State is just the follow-up to Homeland for the Jewish People... no biggie. Relax... How many states are Muslim btw???... :)
Peace,
Neal H. Hurwitz
     ====
     
I truly am disgusted and amazed that you even published this damn thing.  There is NO comparison between Israel and the United States in that Israel WAS established as a religious JEWISH state.  The US was not, and I find this article almost in it's entirety as pro-Christian antisemitism.  Sickening.
Phyllis Mandel
Re: Turkey's Crisis: More Than Meets the Eye
You may be interested that the Gulen movement has started schools in the US and is getting government money for a charter school in Chicago, as well as other cities.  
Jerry Harris
Re: NAFTA: 20 Years of Regret for Mexico
Yes, but please don't glorify the European Union, which is a cartel of transnationals aimed at, among other things, depressing the living standards of workers in all the Eurozone countries.
Joe Kaye
New SNCC uprising in North Carolina
The Bill Moyers show airing tomorrow (Jan. 3rd) will focus on North Carolina and MoralMonday. Some SNCC folks and I hope a lot of young people were interviewed.  All of us got the following heads up from Bill, Moyers, that is.
To all of those who participated and agreed to be interviewed, thanks again, and I wanted to let you know that billmoyers.com will begin streaming the documentary, "State of Conflict: North Carolina" tomorrow, January 3rd. The piece also will be broadcast on television at various times over the weekend, with different markets airing it at different times. In North Carolina, my understanding is that the broadcast will be at 10 pm on January 3, and again at 6 pm on January 4. Thanks again for participating, and Happy New Year to all.
Forward Together!
Bob Zellner
PS: You can read (and view) a brief preview here.
Re: All Eyes on New York Mayor Bill de Blasio, America's Leading Progressive
The headline is ridiculous. It's questionable that Mayor de Blasio is a true progressive at all, let alone the leading progressive in the U.S. It remains to be seen what his administration will do.
I like the suggestions about what de Blasio could do, but doubt that any of the them will be implemented.
De Blasio was the NYC chair of Hillary Clinton's presidential campaign. Clinton likes to call herself a progressive too, but is actually a pro-corporate neo-liberal. She's not even a reformer, but a protector of the status quo. Before politics, Clinton made her career as a corporate attorney.
The moniker "progressive" has almost completely been stripped of meaning in the U.S. It's a label that for some reason pro-corporate Democratic politicians prefer to "liberal". But this is just word play.
It remains to be seen if de Blasio will end up being significantly more "progressive" than Hillary Clinton. The key will be, how will de Blasio's policies impact the working class and poor.
If de Blasio was to implement some of what the author suggests, I'd be happy to revise my view of him.
Jonathan Nack
Re: Why Socialists Need to Run in Elections, and What They Can Do When They Win
Khsama Sawant has "renewed discussion" about elections in the white (Occupy) left which is found in i.e. Seattle.   Ras Baraka has been on city council in Newark, NJ for years and is leading candidate for mayor in the May election.
Jubilee Shine

Re:  10 Disruptors: People Who Really Shook Up the System in 2013
Pretty sad that we are so tame that a newspaper reporter, the Pope and the author of a book about the NFL count as disruptors. Remember the '60s? The anti-war movement, with SDS, hundreds of thousands in the streets, the Kent State massacre, the Pentagon Papers, riots at the '68 Democratic convention, students burning draft cards, the Black Power movement? High school kids chartering buses to Washington DC just so they could get tear gassed? That's hardly a complete list. You probably remember a lot more.
If US senators and the New York mayor are disruptive, what were Bill Ayers and Stokley Carmichael?
Steve Lane
And so...tuning in to watch live newscasters has value? You might as well make up your own personal news fantasy. I would like Robin Williams to be the on screen anchor for what I write.
Karyne Dunbar

Re: `Sharecropper's Troubadour': The Life of Singer, Union Organizer John Handcox
I remember when Pete and Toshi brought him to visit. He performed at the Strawberry Festival and Revival. One day up on the hill as we were all getting ready for the festivals, Martha asked him what he wanted or needed as he sat watching us and he replied, "I want Toshi and Pete to adopt me." He was quite old at the time but he had a twinkle in those sad blue eyes.
Dona Marie Crawford
Posted on Portside's Facebook page
Re: Profits Over Pupils: Philadelphia's True Priorities
I read the latest Portside communication regarding the Philadelphia School Budget and overall City, tax burden, the debt service, etc.
Philadelphia does have about $6.5 billion dollars in assets and owns its own Redevelopment Corporation. As President Franklin Roosevelt used the Reconstruction Finance Corp as a Public Bank, in the Great Depression, Philadelphia can use its Redevelopment Corporation in lieu of a Public Bank, at least until a Public Bank can be instituted.
The Public Bank is infrastructure. Why do we the Citizenry, the two party, Political Leadership, the Courts and the Law Enforcement Powers, tolerate the piratical loan practices of the bailed-out Private Sector. The Fed, in all this, has remained silent and may have collaborated with these private banks doing business with Philadelphia, Detroit and other cities, states across the nation. It is a national security crisis, that these private banker speculator facilities, dependent on the Fed's unlimited bailouts, can operate what is financial/economic warfare. It's incredulous, No one noticed? I call it criminal control fraud and it ought to be investigated.
A transaction tax at the Philadelphia Stock exchange that could deliver $5 billion dollars, per year, to the City, painlessly, is in order. The Philadelphia Federal Reserve Bank, an independent corporation from all the other Fed member banks, by statute, can buy City Bonds, once again painlessly and should be made to do so.
Philadelphia has a great future, however we have a Nobility running the City, directing policy and priorities. The Greatest Depression is upon us and we need a political organization that will confront it.
There is too much to cover here. Please keep me informed.
All the Best,
Clarc King

Re: Art Spiegelman's Life in the "Shadow of Maus"
"...if the medium stays alive and healthy and can find some support outside the capitalist marketplace,..."
where is that?   cuba? north korea?
certainly not here, unless you are permanently stoned as a result of visiting colorado or washington state and acquiring a heavy supply of agricultural byproduct that leads you to believe there is such a place.
Frank Scott
Re: The Obamacare We Deserve - How to Make it Better
I can't for the life of me understand why some jerks want Obama care to go away. Back in November I had my Pace maker changed and, I was in the hospital for five hours. The bill was $127,000. Now that is pure insanity. Now I have good health coverage from my job so, I paid nothing but, what of those who have no health plan? What is wrong with these people who keep knocking Obama care. Where are their brains?
Morris Edward
Memorial: Celebration of the life of Steve Kindred - New York - Feb. 8
Celebration of a Life - Steve Kindred
A memorial for Steve will be held on Saturday, February 8, at 4:00 p.m. at the Murphy Center/ CUNY Labor Studies Dep't, 25 West 43rd Street, between 5th and 6th Avenues, in New York.
Steve's wife, Ellen Goldensohn, can be reached at egoldensohn3@gmail.com and at 420 West End #11A, New York NY 10024.
This has been quite a personal loss to me, and I know it is to many of you as well.  I regret to say I will not be able to attend the memorial, as I will be out of the country. Steve and I were friends since the early 1970s.  We moved to Cleveland in 1973 and were partners in starting TDU.  He would come to my house almost daily and raid the fridge while bringing fresh reports or ideas.  I was the steady-eddy organizer, and Steve was the proselytizer and recruiter.   Steve loved to talk with anyone. He did most of the talking but was also a good learner.  He could sit in a truck stop and meet strangers and come back with TDU applications filled in.   His father was a preacher and it showed. If his grandfather had been a wobbly, that would have been even more appropriate. Steve was a great wobbly organizer.
His writing was similar. I recall when he discovered the magic of 8-point type, so he could write more about the carhaul contract or grocery warehouse production standards.  We were 30 years old so we didn't know about reading glasses.
To this day, many in TDU talk about how Steve recruited them, always with a good story and fond memories and commitment.
Later when Steve was in New York, I saw him mainly at meetings, conferences, and occasional visits. He always thanked me for the long-haul work, and I thanked him for the spark. He loved all his friends.  These meetings had a sad quality because the market for wobbly organizers has rather dried up in recent years, and that is a sad fact for all of us who care about making a more just world.
Steve cared about that as deeply as anyone I know.
Ken Paff
National Organizer of Teamsters for a Democratic Union
Pete Seeger to receive Woody Guthrie Prize! Tickets on sale today (New York - Feb. 22)
PETE SEEGER TO RECEIVE INAUGURAL WOODY GUTHRIE PRIZE
We are so excited to announce that our dear friend PETE SEEGER will be honored with the first-ever Woody Guthrie Prize!
Saturday, Feb. 22, 2014 at 8:00pm
Symphony Space, NYC
Get Tickets Here!
Tickets for the event are $40 or $50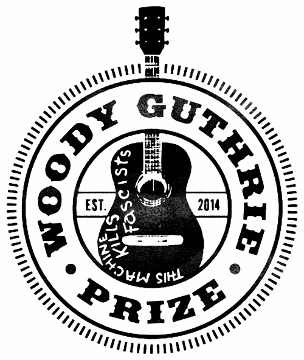 This intimate evening will include a one-on-one conversation with PETE SEEGER and GRAMMY Museum Executive Director, Bob Santelli, as well as special performances by PETE SEEGER, ARLO GUTHRIE, TONY TRISCHKA and other special guests.
The newly created Woody Guthrie Prize will be awarded annually to the artist who best exemplifies the spirit and life work of Woody Guthrie by speaking for the less fortunate through music, film, literature, dance or other art forms and serving as a positive force for social change in America. The Prize will be presented by the Woody Guthrie Center in Tulsa, Okla., in conjunction with The GRAMMY Museum.
"We hope that the Woody Guthrie Prize will shed an inspirational light on those who have decided to use their talents for the common good rather than for personal gain," said Nora Guthrie, daughter of Woody Guthrie. "With his dry wit, Woody called himself a `common-ist.' His lyric from the Ballad of Tom Joad, says it all: `Wherever children are hungry and cry, wherever people ain't free, wherever men are fightin' for their rights, that's where I'm gonna be.' There are so many people who are living this credo, and they're the ones we will be honoring."
For more than 70 years as a performer, Pete Seeger has embodied the ideals of folk music. The songs he has written, and those he has discovered and shared, have helped preserve America's cultural heritage, imprinting adults and children with the sounds, traditions and values of our global past and present. A fearless warrior for social justice and the environment, Pete Seeger's political activism ? from the Civil Rights movement and anti-McCarthyism to resistance to fascism and the wars in Vietnam and the Middle East ? has become the template for subsequent generations of musicians and ordinary citizens with something to say about the world.
ATTENTION STUDENT ACTIVISTS! - Application available for Student Activist Scholarships
The Davis-Putter Scholarship Fund has applications available for student activists who are organizing for social change and building  progressive movements and will be enrolled in school during the 2014/15 academic year.  Our website provides answers to questions about the Fund, the application process, and the students we support.  If you know of students working for peace and justice, or if you have a list of activist contacts, please send this announcement along and refer potential applicants to the Fund's website.
Since 1961 the Davis-Putter Fund has provided need-based grants to students who are able to do academic work at the college level and are involved in building movements for social and economic justice.  Grantees are both graduates and undergraduates enrolled in accredited schools for the period covered by their grant.  Although citizenship is not a consideration, applicants must be enrolled in an accredited program in the US in order to qualify.
The maximum grant is $10,000 and may be considerably smaller depending on the applicant's circumstances and the funding available.  All the funds come from individual donors and there are 25-30 grants awarded each year.  Grants are for one year although students may re-apply for subsequent years.
Applications and the supporting documents -- transcripts, a personal statement, two letters of recommendation, a photograph, financial aid reports -- must be postmarked by April 1.  Those selected to receive a grant will be notified in July.
In solidarity,
Carol J. Kraemer
Director
Davis-Putter Scholarship Fund
P.O. Box 7307
New York, NY 10116
davisputter@davisputter.org
www.davisputter.org
Preserve the Monument and Final Resting Place of Mother Jones at Union Miners Cemetery
There is a shrine that deserves a pilgrimage by all labor-minded persons.  It is the Union Miners Cemetery in Mount Olive, Illinois.  Each one who visits will be touched, for this is the resting place of that "grandmother of agitators," Mary Harris "Mother" Jones; and this is a place filled with the spirit of good union men.  They are the coal miners she called "her boys," among whom she asked to be buried at the time of her death in 1930.
Beyond the wrought iron gate to the little burial ground rises a granite obelisk on which is a great medallion bearing the likeness of Mother Jones.  She is guarded on either side by a larger-than-life bronze statue of a coal miner with his sledge. At the base is a simple stone nestled in the grass, Mother Mary Jones.
In 1936, fifty thousand people attended the dedication of the monument which was erected by the Progressive Miners of America.  Since that time the monument and the historic miners cemetery surrounding it have weathered many storms; both are in need of repair and restoration.
The Illinois AFL-CIO is organizing the Mother Jones Monument Restoration Project to enhance and maintain the Mother Jones monument and burial site in Mt. Olive.
In partnership with the Union Miners Cemetery Perpetual Care Association, Illinois Senator Andy Manar, the Illinois Labor History Society, the United Mine Workers of America and the Mother Jones Foundation efforts are underway to raise funds to preserve this national landmark and leave a lasting legacy for generations to come.
Funds will be used to preserve, restore and maintain this national landmark.  A pavilion will be erected with seating and historic information will be provided to enhance the visitor experience.
You can honor Mother Jones by donating to the project.  With a gift of $500 or more, donors will be recognized on a permanent marker at the site.
Donations may be sent to: Mother Jones Monument Fund c/o Illinois AFL-CIO, 534 S. Second St., Springfield, Ill.  62701.
Contact Amy Rueff, 217-492-2633 or Email
Facebook : Mother Jones Monument.  
For brochure: Click here.
With thanks to Illinois Labor History Society.
Fred W. McDarrah: Save the Village - New York Exhibit - Jan. 30 - Mar. 8
Fred W. McDarrah: Save the Village
Exhibition: January 30th - March 8th, 2014
Opening Reception: January 30th, 6 - 8 PM
Steven Kasher Gallery is proud to present Fred W. McDarrah: Save the Village. This exhibition of  over 130 rare and iconic vintage prints spanning the years 1958 to 1979 seeks to demonstrate that Fred W. McDarrah  was the most curious, knowledgeable, and indefatigable photographer of the New York downtown scene in the second half of the 20th century. Though always relevant to anyone interested in the culture and politics of America, McDarrah's pictures seem especially pertinent now with the recent designation of the expanded South Village Historic District by the Landmarks Preservation Commission, and  the film Inside Llewyn Davis  is declared Best Picture of the Year (byThe New York Times). Nobody did more than Fred to save Greenwich Village in our collective visual memory.
Fred W. McDarrah (1926 - 2007) was the first picture editor and only staff photographer at The Village Voice for decades. He photographed the artists, writers, musicians, and actors who frequented the bars, theaters, art galleries, and cafes in Greenwich Village. He documented political rallies, gay rights, feminism, and the anti-war movement. In a style simple and direct McDarrah created street and studio portraits of downtown luminaries, local politicians and bohemian celebrities that were often definitive. Many of his subjects, often little known when he shot them, became cultural icons, such as Jack Kerouac, Bob Dylan, Andy Warhol, and Allen Ginsberg.
Other subjects included in the show are Willem de Kooning, Robert Rauschenberg, Jasper Johns, Barnett Newman, Alice Neel, Yayoi Kusama, John Cage, Norman Mailer, Tennessee Williams, Susan Sontag, Harold Pinter, Woody Allen, Jack Smith,  both Dustin and Abbie Hoffman and Hans Hofmann, John Lennon, Yoko Ono, the Velvet Underground, Jimi Hendrix, Ed Koch, John Lindsay, and Robert Moses. (For a complete list of over 100 subjects contact the gallery).
Born in Brooklyn, McDarrah bought his first camera at the 1939 World's Fair in New York City. He served as a U.S. Army paratrooper in Occupied Japan at the end of World War II, camera usually in hand, and then earned a Journalism degree from NYU on the G.I. Bill. When a neighbor told McDarrah he was starting a newspaper to be called The Village Voice McDarrah signed on. He was associated with the paper for the rest of his life.  His archive of over 35,000 vintage prints has been represented by Steven Kasher Gallery since 2001. He is survived by his wife Gloria and sons Patrick and Timothy, who now proudly carry on his legacy.
Fred W. McDarrah's photographs have been exhibited at numerous museums, including the Museum of Modern Art, New York (currently); Whitney Museum of American Art, New York; Albright-Knox Art Gallery, Buffalo; and the Centre Georges Pompidou, Paris; and are in numerous private and public collections including the National Portrait Gallery, Washington; the J. Paul Getty Museum, Los Angeles; and the San Francisco Museum of Modern Art. He was the recipient of a Guggenheim Fellowship in 1972.
McDarrah's books include The Beat Scene (1960), The Artists World (1961), Greenwich Village Guide (1963), New York, New York (1964) Museums in New York (1967), Stock Photo and Assignment Source Book (1977), Kerouac and Friends: A Beat Generation Album (1985), Gay Pride: Photos from Stonewall to Today (1994), Beat Generation Glory Days in Greenwich Village (1996), The Photo Encyclopedia (1999) and Anarchy Protest and Rebellion & The Counterculture that Changed America (2003), and  Artists and Writers of the 60s and 70s (2006).
Fred W. McDarrah: Save the Village will be on view January 30th through March 8th, 2014. Steven Kasher Gallery is located at 521 W. 23rd St., New York, NY 10011. Gallery hours are Tuesday through Saturday, 11 AM to 6 PM. For more information about the exhibition and all other general inquiries, please contact Maya Piergies, 212 966 3978, maya@stevenkasher.com.
This week in history - The largest slave revolt in U.S. history occurred 203 years ago. It started in LaPlace, Louisiana
The largest slave revolt in U.S. history occurred this day 203 years ago. It started in LaPlace.
By Littice Bacon-Blood
January 8, 2014
The Times-Picayune (New Orleans)
The largest slave revolt in United States history occurred on this date 203 years ago. The uprising started in what is now LaPlace in St. John the Baptist Parish in 1811 and rolled eastward, with a goal of reaching New Orleans and possibly banding with other rebels to take the city.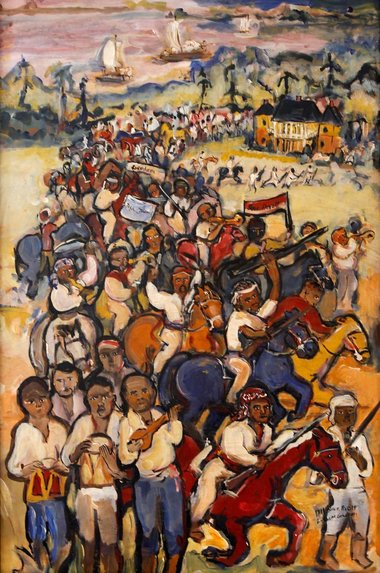 [Art by renowned River Parishes artist Lorraine Gendron depicts the largest slave revolt in United States history. It started in LaPlace and rolled east toward New Orleans before being crushed in Kenner.
The Times-Picayune archive]
The makeshift army of more than 200 enslaved men came from various parts of the U.S., Africa and Haiti. They were able to organize despite living miles apart on plantations along the German Coast of Louisiana.
They carried mainly farming tools as weapons, however, and were outgunned by a military detachment and local militia organized by farmers. They were stopped near Kenner.
Most of the slaves were killed during the battle. Others were later executed after a trial held at Destrehan Plantation in St. Charles Parish.
An exhibit commemorating the revolt is on permanent display as part of the plantation's 1811 Slave Revolt Museum and Historical Research and Education Center. And New Orleans historian Leon Waters has created a tour that retraces the steps of the uprising.
Despite the slaves' failure to reach New Orleans, historians say the uprising succeeded in raising awareness of the cruelty of human bondage and  helped fuel the abolition movement.
Read a detailed article about the 1811 revolt.