Tidbits - February 13, 2014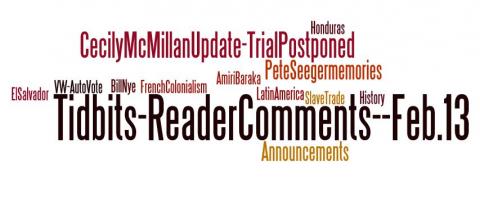 Reader Comments and Announcements - Feb. 13, 2014,Portside
Cecily McMillan Update - Occupy Activist Faces Seven Years in Jail - Trial Postponed to March 3rd - Please Attend if You are in New York to Show Support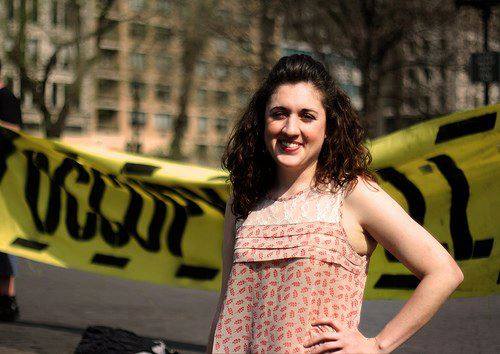 Address: 100 Centre Street, Room 1333 Part 31
Jury Selection on Monday March 3rd, 9:30AM
with the trial happening concurrently til March 6th.
Cecily is facing a recommended sentence of up to 7 years in prison and the reality of living out the rest of her life as a convicted felon after receiving brutal beatings and harassment by the NYPD. We would love for you to come and show your support of her and her case!
Please sign-up for time slots so we can gauge the attendance:
In the best interests of her trial, everyone who comes needs to wear proper business casual clothing and remain calm and respectful in the courtroom.
     ====
     
Video of Cecily's attorney breaking down the case and explaining the defense's legal strategy.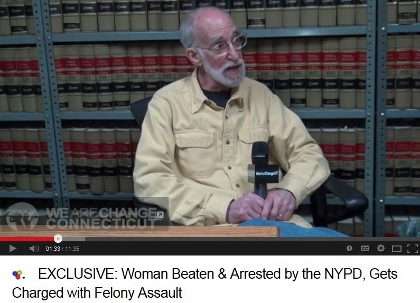 We Are Change CT obtained an exclusive interview with Cecily McMillan's Attorney Martin R. Stolar on the eve of Cecily McMillan's trial. Jeff Durkin had the opportunity to discuss the details of her case with her attorney, how he got involved in the case, & how people can get involved to prevent this from happening again.
Learn more about Cecily McMillan's case

     ====
     
Cecily McMillan message to supporters prior to trial start
Dearest comrades: after a stressful week of trial preparation, there is no "thank you" that can express what it has meant to me to come home to such a widespread, heartfelt display of solidarity. It is because of you that I will walk into that courtroom with my head held high; I am truly honored to stand beside you. Occupy
     ====
LIKE the Facebook page - Cecily's Judgement Day
Re: Occupy Activist Faces up to Seven Years in Jail for 'Assault' on PoliceOfficer
After a couple of hours of conversation, trading views of the world and ambitions for the future, I believe that not only is Cecily McMillan innocent of the charge leveled against her, but I can see why the NYPD and friends fear her.  She's a bright, committed woman who abounds in energy and street smarts and is keen on improving both her assets and the world around her.  We can hope that the jury "gets it" and makes the right decision -- acquittal.
Jim Young
Harrisburg, PA
Re: France Forces Africa to Pay for Colonialism
It's a little like asking Black Americans to pay the US for the Emancipation Declaration Act.  Although, we are probably doing that in more subtle ways!
Claire Carsman
Re: In Latin American Votes, Honduran Movements Cement Role While El Salvador Poised for Historic Shift
Now this is more to my way of thinking. Definitely possible to have democracy and economic justice.
Phyllis Mandel
Posted on Portside's Facebook page
Re: Do We Ever Actually Learn Anything from History?
In re William Astore's piece about not learning from history, to paraphrase Mae West, learning has nothing to do with it. The word learning is not in the vocabulary of rapacious individuals. To say "learn" presupposes that the matter at hand is merely a question of not knowing, that if they knew the consequences of what they were doing they wouldn't do it. Nonsense. The one thing that's obvious from even the most cursory glance at history is that aggressors don't give a rat's behind about the past; they just want to fatten themselves at someone else's expense, here and now. The fact that aggression eventually comes to a bad end for aggressors doesn't factor into the equation for the latest crop of bastards simply because they aren't concerned about the past or the future, the people or their country, they only see their bottom line. Period.
Seymour Joseph
     ====
Astor and Sigal got some things right in their vituperative exercise -- thinking ourselves (or our group, nation, etc.) and/or our times as exceptional does spawn myriad opportunities for self-deception, beastly actions, and other negative behaviors.  But they -- exceptions themselves, apparently -- seem to practice some of the same demonization of others for which they flagellate the others.  While there's much to condemn in the behaviors of the perpetrators of warfare, it's more important I think to understand them -- and "us."  The human laboratory that is history can certainly aid us in that pursuit.
James Young
Re: A New Book Shows How the Slave Trade Turned Jacobins into Mercenaries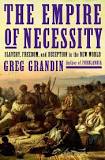 Victor LaValle's review of this book is riveting and reminds me of an exhibition I saw on Slavery about a decade ago (I think it was at the New York Historical Society). What is memorable about that show and what LaVelle's review makes clear is that Slavery was first and foremost an economic enterprise operating within the boundaries of the law. Not withstanding the fact that I studied West Indian History in HIgh School; read Eric Williams, Capitalism and Slavery; and was stunned by Walter Rodney's, How Europe Underdeveloped Africa, Slavery as a legitimate enterprise was a horror story that hard to hold in my head. The accretion of evidence at the NYHS show finally drove home the point that there was really no escape - which I imagined, vainly, I could miraculously manage to pull off . The memorabilia, the artifacts, the documents I saw at that NYHS exhibition was an orientation that gave me the same sickening feeling I got from visiting the Musée du Louvre. I could hardly breathe and had to split the joint. Laid out on display before my eyes, like a Damien Hirst piece, and carefully labeled were the remains of someone's brother, mother, father, uncle, aunt. My my my! What a ghoulish lot we are! Thank you Steve Mc Queen, Toni Morrison, Amiri Baraka, Greg Grandin and Victor LaVelle...folks that have reminded me recently that the price of freedom is constant vigilance.
Victor Davson
Posted on Portside's Facebook page
Re: Tenn. Lawmakers Threaten to Block Subsidies If VW Plant Unionizes
This Tennessee situation demonstrates class hatred and hatred of unions by Republicans over the economic benefit of the state, the nation and employees. Classism is akin to racism and sexism. It is irrational, totally undemocratic and backward. This situation shows citizens the real feelings of right wing Republicans, which are the opposite of democracy. Such people should not only be challenged but defeated in the next elections. They are the opposite of the ideals of the United States. It is mean and shocking behavior.
Laurel MacDowell
Oops
Baraka speak.  He will be so missed.  Last saw him at the memorial for percussionist Steve Berrios.  That was January.
Thanks again!
Ruth Howard Chambers
Re: How Crowdworkers Became the Ghosts in the Digital Machine
This article fails to explain why crowdworking has become a "serious problem" for Stephanie Costello.  I can't see why it would be a problem for anyone.  The PROBLEM would seem to be the GENERAL economic problem--boring jobs, low-paying jobs, poverty, unemployment, etc., caused by our bad government--a situation that cannot be made worse by crowdworking for any individual who willingly participates in it (although [in the absence of good gov't] it may make conditions worse for the working class overall).
Roger Skutt
Re: Human Footprints Discovered on England's Coast Are Oldest Outside Africa
One of my desires as a young person was to become an archeologist. Too many lifetimes ago but this is exciting and interesting news.
Cathy Talbott
Posted on Portside's Facebook page

Re: Why Bill Nye Won the Creationism Debate Last Night
The debate between Nye and Ham was a week ago (Tuesday, 2/4/14), but this was the only press report that I saw, so far
Elliot Linzer
Posted on Portside's Facebook page
Re: Is the American Health Profession Ignoring a Human Rights Issue Hiding in Plain Sight?
I've been watching this firsthand - it is frightening. Creigh Deeds has put forward 4 bills in the Virginia legislature, one of which involves health care and the jails. I know people don't care about those in jail, but there are so many who really don't belong there, we just have no other place for them to go. They need medical care, but medical care is out of the question for those of us with no insurance. And mental health care is often not included in insurance policies, or is at a much higher deductible.
Sue Herndon
Posted on Portside's Facebook page
credit: Pete Seeger at Joe's Pub - Michael Arthur drawing
Since we're still sending and reading heartfelt tributes to Pete Seeger, here's mine, which I sent friends 10 days ago, but seem to have neglected to send Portside:
You know what Pete would say, don't you?  He'd quote Joe Hill: Don't mourn!  Organize!
I was proud to have performed with him on a number of occasions. One of them is here on YouTube (at Art Kamell's memorial): http://www.youtube.com/watch?v=h5oiKkdSC18
Also never to be forgotten: "Where Have All the Flowers Gone"  "Both Sides Now" (an additional verse to Joni Mitchell's song)
and the words he wrote, inspired by the Xhosa, and challenged us to set to music: "We've been waiting here too long; perhaps we should use the stairway." "No, the stairway is dark; it's dangerous; don't use it." "If we all go together, I'm sure it's safe to use the stairway!"
Last week at Garden City's Church-in-the-Garden, I played "Where Have All the Flowers Gone?" and "We Shall Overcome." This coming Sunday we'll be singing "Turn, Turn, Turn." I'll play "If I Had A Hammer" and...  - any suggestions? I start work as Organist/ChoirDirector/Composer-in-Residence at Christ Lutheran Church in Rosedale Feb. 16. One of the first anthems we'll be singing will be "The Stairway."
In solidarity,
Leonard J. Lehrman
     ====
Since  your readers are plumbing their memories and digging up Pete Seeger stories, here's another one about a hitherto unmentioned talent he possessed -- building puppets.  When I was a student at college, I co-headed an organization called Student Caravans for America and we put on puppet shows in resort areas and towns around the country, mobilizing opposition to a war that was not then worthy of support.  The man who built our puppets was -- you guessed it -- Pete Seeger, and I'm sad to report that his products fell victim to a mob in Bristol, Vermont, who attended our performance for the sole purpose of burning down both our stage and the puppets that inhabited it.
They then went after the four of us, and followed us as we walked toward the edge of town.  As luck would have it, the last house in town, in which we sought refuge, belonged to the family of one of the leaders of the mob, and they parked themselves on the porch, shouting for the homeowners to throw us out so they could get at us.  Just when it seemed  that they might do so, I handed my glasses to the lady of the household and asked her to hold them for me.  Somehow, it struck a chord, and she called the town sheriff, who reluctantly escorted us out of town and to the home owned by the family that had hosted our visit, where we spent a very uneasy night.
I thereafter maintained a warm friendship with Pete, and he honored me with his attendance at my 85th birthday party ten years ago.  I share a characteristic possessed by so many of your readers -- I shall never forget Pete -- he is one of the genuine heroes that graced our nation's history.
Henry Foner
     ====
Re: Woody Guthrie Sez What Songs He Hates - Friday Nite Videos - Feb. 7
Woody Guthrie was a communist not just a radical
in solidarity  
Jim Pita
Elections Observation Delegation March 6-12 to El Salvador
El Salvador's 2014 presidential race is headed to a run-off on March 9th!
Apply today to join CISPES to witness to this historic election and accompany the Salvadoran people as they exercise their right to a free, fair and transparent democratic process. The Feb 2 elections had the highest number of accredited observers in history - let's ensure that we bring our solidarity on March 9 too!
Join us and respond to the call from the social movements in El Salvador asking for serious and committed election monitors for the March 9 presidential election, a run-off between the FMLN and ARENA.
This delegation is best suited for those:
with a strong background in US interventionist policy in Latin America, and particularly Central America
with media skills (giving interviews, writing, blogging, audio/visual media skills)
Spanish language capacity is preferred, but not required as Spanish to English interpretation will be provided at all meetings
Travel dates are March 6 & March 11: Plan to arrive in El Salvador anytime on 3/6 and depart after 2pm on 3/11.
Delegation cost (including in-country food, housing, transport, observer registration, etc.): $500 (in-country costs) + $50-$200 sliding scale administration fee + airfare
APPLY BY FEB 14th! Submit your completed application to alexis@cispes.org, which includes the following:
Fill out the online CISPES Delegation Application here
Submit a fully-legible electronic scan of the photo & signature pages of your valid passport, which will not expire before September 2014 (a fully-legible photo is also acceptable, please check the photo quality before submitting it)
Submit an additional digital passport-style photo (your head & shoulders on a white background)
Submit a scanned copy of your COMPLETED AND PHYSICALLY SIGNED & DATED official TSE (El Salvador's elections authority) application to be an international election observer (a fully-legible photo is also acceptable, please check the photo quality before submitting it): download the TSE form itself here. To fill out the Spanish language TSE form, you can follow these English language instructions You can review the TSE regulations for election observers here.
For more information, please contact alexis@cispes.org or call (202) 521-2510 ext. 205.
To learn more about CISPES' elections monitoring work and to read eye-witness reports from the Feb 2 election please visit the Salvadoran Elections Blog, which also includes reports from the US-El Salvador Sister Cities and SHARE Foundation observer missions.
Buy your Books at Powell's Books in Portland - Workers Get a Cut
ILWU Local 5 - Keeping Workers' Rights in Circulation since 1999
Continue to support us by shopping at Powell's Books, the best union bookstore in the world!
Click here and 7.5% of every sale goes directly to support the workers of ILWU Local 5.
Thank you for your continued solidarity and support!
Pete Seeger Celebration Sing-Along - New York - April 12
Peoples' Voice Cafe in New York city will host a Pete Seeger Celebration Sing-Along on Saturday night, April 12, 2014, from 8:00 to 10:30 PM. Doors open 7:30 PM.


Peoples' Voice Cafe is located in Community Church of New York at 40 East 35th Street between Park and Madison Avenues in Midtown Manhattan. A donation of $5 or $10 is requested to help cover overhead expenses (rent, insurance, ASCAP & BMI fees, etc.). However, no one will be turned away for lack of money.
New Video - Wage Crisis - The USA's new underclass
Economic hardship in the world's biggest financial superpower
For downloads and more information visit
The squeezed American middle class has been at breaking point for some time. Now with politicians reluctant to raise the minimum wage and food stamps being cut, the social consequences could be devastating.
Mike Doyle's plummet into the ranks of America's working poor is dramatic. He was a Wall Street trader - then the GFC clobbered his hedge fund and now he's mixing drinks at night for $2.13 an hour. Every day he takes the dawn ferry to Manhattan to try - so far in vain - to resuscitate his financial career. "I think it's a real big issue now. Every family I know, all of these people have two jobs", he tells us. As renowned economist Joseph Stiglitz points out, he's far from being alone. "Most Americans have seen their incomes stagnate or fall since 2008. Median income of a full-time male worker today is lower than it was 40 years ago." Yet despite the grind, some refuse to give up, like young mother of one Tayzia Treadwell. She works as a security guard in one of the toughest neighborhoods in America, while raising her child and studying at business college. "I want the good life that everyone dreams when you're in school and you draw the little house and the picket fence and a dog. I just want a happy ending." But without help it is difficult to see even those like Tayzia achieving their dreams. The land of opportunity? Not anymore.
ABC Australia
This video (and lots of other good stuff) at The Online University of the Left.
 
Labor Notes Conference - early bird discount ends Saturday
Haven't registered for Labor Notes yet?  Saturday is the last day to get an early bird registration discount.  Register now and save $35.
Labor Notes Conferences are the most inspiring gatherings of grassroots union activists, worker center leaders, and all-around troublemakers out there. Registration is just $95 if you register by February 15. Some scholarships are available, call for info.
The conference is Friday, April 4 through Sunday, April 6 at the Crowne Plaza O'Hare, near Chicago's O'Hare Airport.
Click here for details and to register.
More than 100 meetings and workshops include:
Secrets of a successful organizer
Beating apathy
Running for union office
Winning contract campaigns
Bargaining over technology
Assertive grievance handling
Learn how some unions are working with their communities to fight privatization, tax the rich, run ballot initiatives, bargain around health care reform, organize without collective bargaining rights, and organize along global supply chains.
Organize with others in your union, industry, or campaign. Face-to-face meetings to share tactics and swap notes are the heart of the Labor Notes Conference. Join an existing industry, union, or caucus meeting--or contact us to set one up.