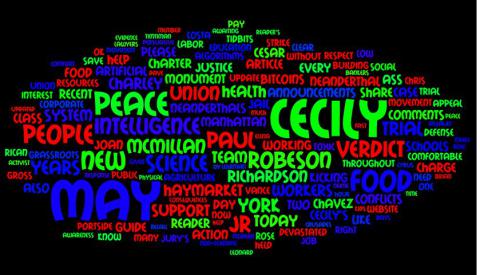 Tidbits - Reader Comments and Announcements - May 8, 2014, Portside
Cecily McMillan Trial Update - from defense team "devastated by the Jury's verdict"
Cecily's current address is below. She will be held in custody until her May 19 sentencing.

Cecily McMillan
Book & Case Number 3101400431
Rose M. Singer Center
19-19 Hazen Street
East Elmhurst, New York 11370
Here's the Statement from the #Justice4Cecily Team. Cecily was found guilty of 2nd degree assault charge, and will be in confinement until May 19th sentencing. As a member of the team, I'm hurt, but far from surprised. Please share the Pastebin, which was ready earlier today outside of court.
Yoni Jakob Brombacher Miller
Monday, May 19 - Sentencing Hearing
9:30 am
100 Centre Street, New York, NY 10013
    We are devastated by the Jury's verdict today. It has been clear from day one that Cecily has not received a fair and open trial. The job of a judge during a jury trial isn't to guide the verdict to fit his opinion. Judge Zweibel, who consistently suppressed evidence,  has demonstrated his clear bias by consistently siding with the prosecution.  In addition to suppressing evidence, he imposed a gag order on Cecily's lawyers, which is a clear violation of their 1st Amendment Rights, and placed the burden of proof on the defense, not the prosecution. He is rightly known as  `a prosecutor in robes'.

    Beyond Judge Zweibel, it is disgusting to see vast resources from taxpayers wasted for over two years to prosecute Cecily. Manhattan DA Cy Vance has refused to drop this case, pursuing maximum charges against Cecily while ignoring police violence and misconduct. This is unfortunately not isolated to Cecily's case but is indicative of a system concerned not with justice but with the unrelenting harassment of dissenters and the powerless.

    In the two years awaiting trial, Cecily was never offered anything less than a felony charge, a charge that would stay with her for the rest of her life.  While awaiting a trial, Cecily has lived in limbo for two years, not knowing what her future would be, forced to re-live her trauma every one of those days. Beyond the sexual assault and physical injuries she sustained, Cecily suffered PTSD and has had difficulty finishing her master's degree and continuing her work as a union organizer and activist.

    Despite the chilling precedent this verdict puts forth for activists, we will not be deterred from seeking social and economic justice, as evidenced in the courtroom today. Though we've held our tongues throughout this trial as Cecily was personally attacked and degraded, we could not stand silent today in the face of such a gross miscarriage of justice. The people had to speak truth to power today by standing up and will continue to do so as long as this justice system continues to punish the 99% and protect the 1%.

    As journalist Chris Hedges said in a recent article, "The corporate state, which has proved utterly incapable of addressing the grievances and injustices endured by the underclass, is extremely nervous about the mass movements that have swept the country in recent years. And if protests erupt again - as I think they will - the state hopes it will have neutralized much of the potential leadership. Being an activist in peaceful mass protest is the only real "crime" McMillan has committed."

    We recognize that, as poorly as Cecily has been treated these past two years, she was lucky enough to have an amazing support system comprised of representation from the National Lawyer's Guild and Mutant Legal, as well as significant financial help from supporters of Occupy Wall Street and a team of ten who tirelessly worked to bring her case to light and support her through this trying time. It's harrowing to imagine how many unfortunate people encounter this system without the resources Cecily had, though we know countless innocent people are forced to plea to felonies and ruin their lives every day in this building.

    We will be fighting this unjust verdict in the court of appeals. Cecily's lawyers are optimistic, given the circumstances of the case and the gross bias demonstrated throughout, that we can win on appeal. Thank you all for your ongoing support throughout this trial.  We know that many share our outrage at this verdict, if you would like to get involved in jail support, please visit justiceforcecily.com  to learn more about how to best support Cecily.
Re: Neanderthal Intelligence: A Reader's Response
CORRECTION - The author's name was given incorrectly in the email that was sent to Portside subscribers. Correct name for the author is Matthew Hallinan (not Michael). We have made the correction on the web. Here is a link to the corrected version of this article .
Moderator
     ====
Wow!!!! This is fucking brilliant. And in every way.
Mike Hirsch
     ====
Excellent.  I am glad someone pointed out the nonsense of the article that "Neanderthals Were Not Less Intelligent than Modern Humans".  Before Portside prints such phony science they will need to study many other experts in the field of anthropology (cultural and physical).
Joan Phillips
     ====
Portsiders may want to read the following recent article which makes a compelling archeological and genetics based argument that the mystery of the Neanderthals is not related primarily to cognition or language. The authors even suggest that the Neanderthals did not become "extinct" after all, but were integrated into the modern genome by admixture.
   Neanderthal Demise: An Archaeological Analysis of the Modern Human Superiority Complex
Warren  Davis

Re: Artificial Intelligence, Algorithms, Bitcoins
We've already sacrificed our intelligence to the so-called social media.  And bitcoins and algorithms?  Give me a break.  Gee I just walk around all day thinking about algorithms.  The bottom line is that it's about people talking and working with other people.  The song by Patti Labelle and the Bluebells, "The Revolution Will Not Be Televised" is as true now as ever.  It obviously didn't happen in Arab Spring.  We need to get off the Facebook/twitter/instagram and all of the other bullshit and start talking to each other.
Claire Carsman

Re: Charter Schools are Cheating Your Kids - New Report Reveals Massive Fraud, Mismanagement, Abuse
A glowing report on charter schools. When the Walton Foundation antes up 5 million for further oversight of charters, there must be trouble in privatizing paradise.
Elena Herrada
Posted on Portside's Facebook page
     ====
Not surprised. Fight back to defend public education. Fight to make it quality for all.
Blair Goodman
Posted on Portside's Facebook page
Why have a union?  Examine the NBA and other professional sports.  Before unionizing they were bound to one team for life.  Received very small salaries (Bob St.Claire 49er hall of fame member worked his liquor store in our neighborhood himself).  Were injured without compensation.  With the union?  Wealthy and powerful.  Bringing a racist owner to heel.
Think about your family in the years prior to general unionization.  Less than half of American families had indoor plumbing prior to WWII.  There was no minimum wage.  Twelve hour days and six day work weeks were the norm.  No paid vacations.  No health insurance.  Rampant gross inequality.  The improvements in our situation were not free will gifts of the wealthy and powerful.
Perhaps if we had history books that honestly presented our past and the roles of ordinary people in we wouldn't be so gullible.
Brian Obrien
Posted on Portside's Facebook page

Re: Paul Robeson Jr., Activist and Author, Dies at 86
Remembering Paul Robeson, Jr.
I recall meeting Paul Robeson, Jr, several times at annual meetings of the Socialist Scholars Conference when it was held at Manhattan Borough College in NYC during the late 1980s/early 1990s. He was quiet, self-effacing, but always interesting. I also recall a lack of respect by numerous leftists towards him, partly because his radicalism ran against deep-seated and sectarian differences from decades earlier. It was an insight into the tradition of dead generations weighing like a nightmare on the brain of red NYC that startled a young leftist graduate from across the pond. One lesson it taught me was that what divides us is much smaller than what unites us. Paul Robeson, Jr, would have agreed.
Jeffrey R. Kerr-Ritchie
Re: Are We Giving Cesar Chavez too Much Credit?
Please see additional historical information provided by the Filipino American National Historical Society (FANHS)
Joan May Timtiman Cordova
Re: Why It's So Easy to Believe Our Food Is Toxic
Why do science writers who want to persuade me I'm thinking about something wrong think it is helpful to patronize me?
Aside from starting with a snotty tone, this piece illustrates how non-scientific conflicts of interest affect the presentation of information in non-scientific ways under color of science.
It is useful to be reminded of my existing awareness reinforced that such conflicts extend to "health food" industries, something of which I have been aware since a food coop to which I belonged in Cambridge in the 1990s solicited me to help remove "food supplements" that people treat as medicines from FDA regulation, in collaboration with Orrin Hatch.
But that awareness actually only intensifies my perception that science related to industrial agriculture has also been corrupted by conflicts of interest and regulatory capture. The USDA, apart from chronic underfunding leading to fox-guarding-the-henhouse corporate self-regulation on food safety, also has conflict built in by having a dual mission to regulate agriculture while promoting its economic growth, which extends to agricultural-educational complex in the universities. Its public health remit is inconsistent and divided with the FDA, focused on individual organism consequences of substances rather than population health effects of the food system, while it has no charge at all to deal with ecological and environmental health consequences of agricultural practices.
And that doesn't even touch on the corrupting effects of corporate agriculture and food industry money on Congress as evidenced in the recent Agriculture Bill, and the distortions of science reflected and promoted there.
Despite the derision of people's distrust of "government and big corporations" with which this story is framed, there are great reasons for it.
Scientists are losing their persuasive battles because of lousy writing reflecting attitudes that are at best paternalistic, like this fairly benign example, but that often descend into crude and hubristic arrogance. They need to change both the attitudes and the failing persuasive methods if we are to have an inclusive and informed democratic debate over policy areas touched on by science. Among those changes needs to be acknowledgment that the social organization of our science under U.S. capitalism is riddled by conflicts of interest and political distortion.
Chris Lowe
Portland, Oregon

Re: Cyrus Vance: Why Jail Bankers When You Can Jail Bank Protestors?
And I remember the honorable career of this guy's father as Carter's first Sec. of State!
(Especially the account of his telling the newly-installed (Sandinista) Nicaraguan Foreign Minister Miguel d'Escoto, "If I were in your place, I probably wouldn't trust me" (considering the history of US-Nicaraguan relations).
Alfred Rose
Posted on Portside's Facebook page
Re: Costa Rican Lawyer Roberto Zamorra Crusades for the Right to Peace
Sounds like the Costa Rican Supreme Court is more in tune with fairness and peacefulness than ours.
Peggy O'Neil Manfredi
Posted on Portside's Facebook page

Re: The Watchdog That didn't Bark/The Divide
Finley Peter Dunne first said "comfort the afflicted and afflict the comfortable", not Joseph Pulitzer.  It is also sometimes credited to H. L. Mencken.
Now, especially when the comfortable are afflicting the uncomfortable more than ever, it might be good journalistic advice.
Dave Ecklein
     ====
"To comfort the afflicted and afflict the comfortable," a description of the role of a newspaper, is usually, correctly, attributed to Finley Peter Dunne; not Joseph Pulitzer.  I once used that phrase (in a job interview for the position of music director at an Anglican church) as describing what I thought was the correct role for religion.  (I got the job. :>)
Leonard J. Lehrman
Building Up the Peace Movement From the Grassroots - Peace Action Forum - New York - May 12
Monday, May 12 at 7:00 p.m.
Goddard Riverside Community Center
88th St. & Columbus Ave.
Free and open to the public
Please join Peace Action Manhattan at this month's free monthly community forum, at which Carol Husten and the Granny Peace Brigade lead a discussion about building up the peace movement from the grassroots.
Peace Action Manhattan
P.O. Box 10
Planetarium Station
New York, NY 10024
(212) 580-1504
PeaceActMan@gmaili.com
May 15 strike - Low Pay is Not OK
We're going global next week.
Get this: On May 15th, fast food workers everywhere, not just the U.S. but on every continent where McDonald's operates will be standing up for $15 an hour and the right to form a union without intimidation.
Yeah. Global. Everywhere. Are you with us?
We know that profitable fast-food companies can afford to give workers a decent wage, avoid stealing from employees' paychecks, and respect our right to form a union. And with workers worldwide adding their voices, nothing can stop us.
Help us spread the word that fast food workers are taking a stand all over the planet. Share this image on Facebook right now!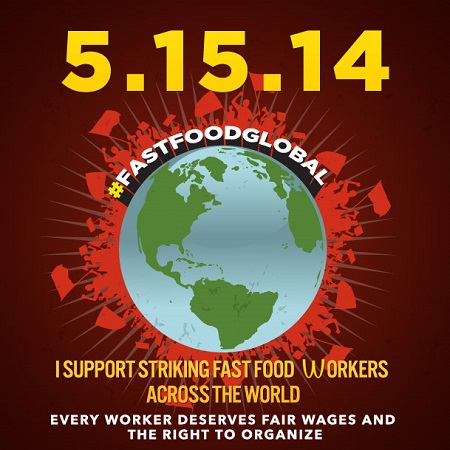 It's time for the fast-food giants to treat the people who make and serve their food with the same respect everywhere. Share our message and join the worldwide movement for fair wages and respect.
Help save the Haymarket Monument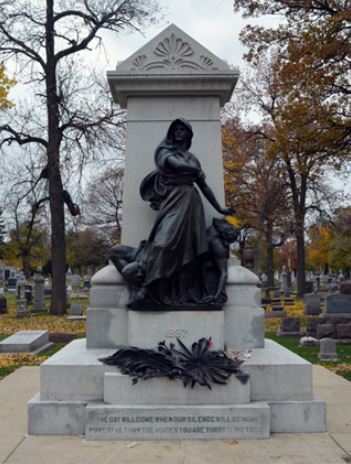 In conjunction with the Illinois Labor History Society, I have launched a fundraising appeal to preserve the Gov. Altgeld bronze plaque on the Haymarket Martyrs monument.
This is an urgent appeal! Use the buttons below the video and share on Facebook, Twitter, Google+ and please add this to your blogs. The campaign runs for 60 days.Click on the link and find out more
Please share this campaign with anyone/everyone!
Revised and updated website: The Charley Richardson Guide to Kicking Ass for the Working Class
Yesterday, on the one-year anniversary of Charley's death, we unveiled our revamped version of the website Charley left for labor educators and union activists, with several new resources, now called The Charley Richardson Guide to Kicking Ass for the Working Class .