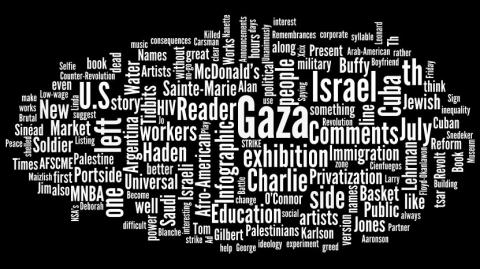 Tidbits, Reader Comments, and Shorts - July 31, 2014,Portside
Re: I'm Arab-American. My Boyfriend Is Jewish. A Selfie of Us Kissing Has Become a Viral Symbol of Peace
I don't know how to tweet and I don't do Facebook, but I must put down in writing that this photo and message is great.
Congratulations for not being afraid.
Nina Udovicki
     ====
Ms. Anderson writes:
"I've been the target of all sorts of aggressive comments on social media, with words like "bitch" and "attention whore" being spat at me; again, sadly, they've mostly been people I fundamentally agree with."
This suggests there is something even more fundamental than what she says she and her aggressive critics are in "fundamental" agreement about.  It's listening to and taking an interest in the "other," even the dangerous and harmful other; about being ready to meet any and all, even especially those with whom we disagree about "fundamentals."
Applied to the Israeli government - Hamas issue, it would mean talking with each other rather than passing messages via use of weapons or outsiders with their own interests.  No change in military posture would be required in order to listen and talk. Apparently some political and military people are more terrified of that than of physical suffering and casualties.
Joe
Re: Water Wars and Creeping Privatization
They won't be satisfied until Boss Tweed is raised from the dead and returned to power -- throughout the land.
Jim Young
Harrisburg, PA
Re: Remembrances of Charlie Haden
Read about Charlie Haden. He sounds like a great person. I wish I could have met him, not only for his music but for his courage as well. Thanks for your gifts, Charlie!
Mateenah Floyd-Okanlawon
Posted on Portside's Facebook page
Re: NLRB Says McDonald's is Responsible
Moderator's Note: The Portside post contained an early version of the story, written for the web. A more detailed, longer version of the story was published in the New York Times on July 30, and can be viewed here.
Re: Book Review - "The Counter-Revolution of 1776"
This sounds like a book worth reading.
Wendy Berg
Posted on Portside's Facebook page
     ====
I think you should publish more book reviews like the one of Gerald Horne's book on the American Revolution. People on the left still do read books.
George Snedeker
The first 'legitimate' voice from the other side of the story. Yes the Palestinians are being slaughtered.
Deborah Nagle-Burks
Posted on Portside's Facebook page
Re: Israel Bans Radio Ad Listing Names of Children Killed in Gaza
Because it is important that, in addition to killing children, people forget that they have names. Names are, after all, an indication that it is actual human beings being killed.
Corey Finger
Posted on Portside's Facebook page
Re: Thousands of Palestinians March in Support of Gaza
One quote tells much about the reality:
"The U.N. Office for the Coordination of Humanitarian Affairs (OCHA) said Thursday that Israel had established a 3-kilometer-wide "no-go" zone along its border with the Gaza Strip, encompassing 44 percent of Gaza's territory."
The ordinary way a state establishes a "no-go" zone along a line with a neighbor is to clear an area on its own side of the line.
The Israeli government's appropriation of a significant piece of (the very limited) land on the Gaza side tells us that with respect to Gaza Israel is an occupying power, subject to the international rules and obligations of occupiers.
Most Gazans are themselves refugees or descendants of refugees from land on the Israeli side of the line, not permitted to return. Every seizure is a reminder of their dispossession and a reaffirmation of the relationship of inequality. Truce/ceasefire/peace proposals which call for one side to be disarmed and yet do not call for any movement in that respect on the part of the nuclearized and most heavily armed entity in the region reaffirm past losses and present oppressions, and promise their continuation.  Some Gazans both understandably and inexcusably respond with their own violence and help the escalation.
The bombing and shelling by the Israeli military is in a sense as precise as claimed, precisely exposing the terrible consequences of their ethnocratic ideology.  That their ideology was crafted under the influence of similar European ideologies and in response to their cruel consequences provided no immunity to political Zionism becoming a carrier of that very disease.  Now, adding to the problem, U.S. political culture sponsors the game while watching from the skyboxes with a combination of self-righteousness and vicarious satisfaction at the apparent vindication of its own history and policies.
There is something better for us all, though events can make it difficult for us to notice the plentiful signs of it in the record of that experiment in trauma, repetition, and recovery, that experiment running without an experimenter, human history.
Joseph Maizlish, Los Angeles
Re: Carte Blanche for War Crimes Passes Senate Unanimously
Let us remember that the saintly Elizabeth Warren and Bernie Sanders did not stand up for Palestine.
Linda Janczewski
Re: The Kochs' New Racial Gambit: Behind a Quiet Battle With AFSCME
Sell-outs come in all colors and religions.  As a Jew I know that all too well.  The only color they're interested in is the color of money.  Kudos to AFSCME.
Claire Carsman
Re: Friday Nite Videos - Buffy Sainte-Marie - Universal Soldier
Thank you for posting the video of Buffy Sainte-Marie talking about and singing her "Universal Soldier."  One prosodic element of that song has always bothered me:
"Dachau" should be pronounced with the stress on the first syllable, but most renditions of the song stress the second syllable. In this version, she finesses it somewhat.  But we changed the line "But without him how could Hitler have condemned them at Dachau" to "But without him how could Hitler have built Auschwitz-Birkenau"

You can watch and hear us here:
In solidarity -
Leonard J. Lehrman (& Helene Williams Spierman Lehrman)
Re: Clintonians Join Vulture Flock Over Argentina
The "neoliberal" inclination (and class consciousness) are what has turned me to Elizabeth. Warren. Perhaps Hillary could publicly disagree with the vultures and win some support from progressives.
Chuck Weed
Posted on Portside's Facebook page
Re: Bacterial Antivirus System Repurposed to Attack HIV Where It's Hiding
Fascinating -- and so hopeful!
Alfred Rose
Posted on Portside's Facebook page
Re: The NSA's New Partner in Spying: Saudi Arabia's Brutal State Police
The US has always loved dictators; democracies can be so difficult to control, totally!
Ravi Khanna
Posted on Portside's Facebook page
Re: Building Not Rebulding Public Education
(posted on Portside Labor)
This article makes so clear how the system became victim to racism and inequality. So of course parents of African-American and Hispanic students are going to seek the promise of something better. It is rather sad because Public Education has the potential to be equal and democratic.
Eloise O'Shea
Posted on Portside's Facebook page
Re: Market Basket Revolt A Sign of Fed-Up Times
Totally amazing and totally inspiring. A coalition of workers and management striking against a parent Company's CEO that is determined to take away all their benefits and make them what they never were. Walmart and the other execs better study this closely. Service workers are definitely not he march. Avanti Poplo!
Larry Aaronson
Posted on Portside's Facebook page
     ====
Market Basket has traditionally been the "People's" supermarket in its region. I rarely shopped there because they didn't have a location that was handy for me. Anyway, I joined a co-op.
Bill Xcix Phillips
Posted on Portside's Facebook page
     ====
     
I am so excited to hear about this unity of workers and customers against corporate greed. But i was quite startled to get to the very end of the story, and see Portside's statement:
    Portside aims to provide material of interest to people on the left that will help them to interpret the world and to change it.
"People on the left???"
You don't think the thousands of Republicans who are standing firm WITH the workers, or who ARE the workers and customers, deserve your coverage also? Why do you only serve the left? When is the left going to wake the fck up and realize that the crisis is up vs down, not left vs right? MOST Americans oppose corporate greed. Let's stop organizing just on the left, and instead reach across that mostly fake chasm to our brothers and sisters on the other "side".
Hoping you are listening!
Paul Cienfuegos
Portland, OR
Immigration Reform Infographic
I saw your link to UnitedWeDream.org and wanted to suggest an Infographic for your readers:
Nearly 2 million undocumented immigrants were deported since 2009, and this Infographic shares an interesting timeline of immigration reform ideas dating back to the 80s. I thought you and your readers might find it interesting or perhaps worthy of debate.
Thanks,
Cara Delany
That Great Upheaval
before weekends, eight hour days,
when little adults were factory schooled,
the great emancipator a decade graved
election stolen and again
the ghoul Jim Crow with whip in hand
 
1877 July 14, at Martinsberg, West Virginia
railroad men starve on a dollar a day
STRIKE!
not a single train rolls
 
the men with cigars send in
                                                                         pinkertons
                                                                        
police
                                                                        
national guard
                                                                        
vigilantes
                                                                        
scabs
                     their court rules the strike illegal
 
the conflagration spreads to
                                                                        
Maryland
                                                                        
Pennsylvania
                                                                        
Illinois
                                                                        
Missouri
 
GENERAL STRIKE!
trains are stopped for 45 days
one hundred thousand stop work
and finally the president sends the marines
100 dead, strike done
 
the wage slaving giant will rise
again and again
to bring us
                                                                
Saturday and Sunday
                                                      
8 hours rest, 8 hours
work, 8 hours play
                                                                
pension, vacation, minimum wage
                                                                
and childhood
-- Tom Karlson
July 26, 2014
If the tsar shelled a hospital
killed children
what would
if the tsar shelled a school
shut off the power
what would you
if the tsar turned off the lights
cut the water
blew up UN headquarters
scattering the dead
made a pogrom
what would you
say?
-- Alan Gilbert
July 30, 2014
Afro-American Artists to Present Works in Cuba
July 30, 2014
Cuban News Agency (ACN)
HAVANA - A group of nine renowned U.S. artists, promoters of abstract art, will inaugurate an exhibition on August 1st at the National Museum of Fine Arts (MNBA), in this city.
 
Afro-American artists and abstraction is the title of the exhibition, which includes works of small format by Nanette Carter, Willie Cole, Jayne Cortez, Victor Davson, Melvin Edwards, Hill Hutson, Ben Jones, Senga Nerngudi and Howardena Pindell.
 
Ben Jones, one of the participants and curator along with Nanette Carter and Melvin Edwards, said in a press conference on Tuesday at the MNBA that Cuba has a powerful culture, above all among youngsters.
 
He highlighted that the exhibition will be presented in memory of Jayne Cortez, an eminent poet and revolutionary activist that inspired the world to think and struggle for social justice.
 
Jones also informed that present for the inauguration in Havana will be a group of 85 U.S. directors of museums, curators and intellectuals and artists and that a program with panels, visits to institutions and exchanges with Cuban colleagues will be carried out during their visit.
 
The U.S. artists pointed out that the exhibition will also be presented in U.S. museums and in Europe and Africa.
 
Ana Cristina Perera, director of the MNBA, thanked Jones for his efforts and recalled that thanks to the cooperation of U.S. collectors, her museum recently opened an exhibition with about one hundred works by the icon of surrealism, Spaniard Dali.
 
She specified that for the next Biennial of Havana there will be an exhibition from the Museum of Bronx, for the first time in Cuba, and that the MNBA will reciprocate with another one at that U.S. center.
Sinéad O'Connor: 'I Won't Play in Israel'
July 24, 2014
The Hot Press Newsdesk
Sinéad O'Connor has spoken exclusively to Hot Press about a show she was reportedly due to have played on September 11 in Caesarea, a town located half-way between Tel Aviv and Haifa.
"...I didn't realize - nor was I told by my booking agent or anyone else - that if I stepped foot there I would in fact be breaking this cultural boycott and may as well be shitting all over the Palestinian people. They were very well aware of the situation but they didn't fill me in when they were trying to convince me for a year to do the gig."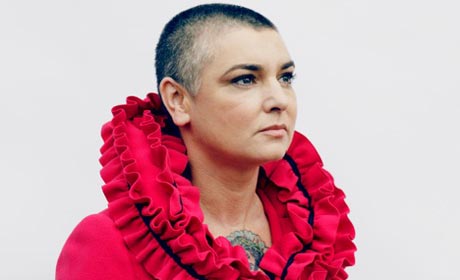 Read more of the exclusive interview here.