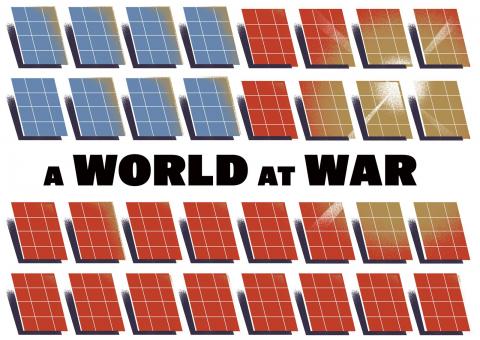 Illustration by Andrew Colin Beck,The New Republic
World War III is well and truly underway. And we are losing.
It's not that global warming is like a world war. It is a world war. And we are losing. 
The question is not, are we in a world war? The question is, will we fight back? And if we do, can we actually defeat an enemy as powerful and inexorable as the laws of physics?
For four years, the United States was focused on a single, all-consuming goal, to the exclusion of any other concern: defeating the global threat posed by Germany, Italy, and Japan. Unlike Adolf Hitler, the last force to pose a planetwide threat to civilization, our enemy today is neither sentient nor evil. But before the outbreak of World War II, the world's leaders committed precisely the same mistake we are making today-they tried first to ignore their foe, and then to appease him.
Eager to sidestep the conflict, England initially treated the Nazis as rational actors, assuming that they would play by the existing rules of the game. That's why Neville Chamberlain came home from Munich to cheering crowds: Constrained by Britain's military weakness and imperial overreach, he did what he thought necessary to satisfy Hitler. Surely, the thinking went, the dictator would now see reason.
But what would that actually look like? What would it mean to mobilize for World War III on the same scale as we did for the last world war?
The research delves deep into the specifics of converting to clean energy. Would it take too much land? The Stanford numbers show that you would need about four-tenths of one percent of America's landmass to produce enough renewable energy, mostly from sprawling solar power stations. Do we have enough raw materials? "We looked at that in some detail and we aren't too worried," says Jacobson. "For instance, you need neodymium for wind turbines-but there's seven times more of it than you'd need to power half the world. Electric cars take lithium for batteries-but there's enough lithium just in the known resources for three billion cars, and at the moment we only have 800 million."
But would the Stanford plan be enough to slow global warming? Yes, says Jacobson: If we move quickly enough to meet the goal of 80 percent clean power by 2030, then the world's carbon dioxide levels would fall below the relative safety of 350 parts per million by the end of the century. The planet would stop heating up, or at least the pace of that heating would slow substantially. That's as close to winning this war as we could plausibly get. We'd endure lots of damage in the meantime, but not the civilization-scale destruction we currently face. (Even if all of the world's nations meet the pledges they made in the Paris accord, carbon dioxide is currently on a path to hit 500 or 600 parts per million by century's end-a path if not to hell, then to someplace with a similar setting on the thermostat.)
Defeating the Nazis required more than brave soldiers. It required a wholesale industrial retooling. 
To make the Stanford plan work, you would need to build a hell of a lot of factories to turn out thousands of acres of solar panels, and wind turbines the length of football fields, and millions and millions of electric cars and buses. But here again, experts have already begun to crunch the numbers. Tom Solomon, a retired engineer who oversaw the construction of one of the largest factories built in recent years-Intel's mammoth Rio Rancho semiconductor plant in New Mexico-took Jacobson's research and calculated how much clean energy America would need to produce by 2050 to completely replace fossil fuels. The answer: 6,448 gigawatts.
"Last year we installed 16 gigawatts of clean power," Solomon says. "So at that pace, it would take 405 years. Which is kind of too long."
Building these factories doesn't require any new technology. In fact, the effort would be much the same as the one that Solomon oversaw at Intel's semiconductor factory in New Mexico: Pick a site with good roads and a good technical school nearby to supply the workforce; find trained local contractors who can deal with everything from rebar to HVAC; get the local permits; order long-lead-time items like I-beam steel; level the ground and excavate; lay foundations and floors; build walls, columns, and a roof; "facilitate each of the stations for factory machine tooling with plumbing, piping, and electrical wiring"; and train a workforce of 1,500. To match the flow of panels needed to meet the Stanford targets, in the most intense years of construction we need to erect 30 of these solar panel factories a year, plus another 15 for making wind turbines. "It's at the upper end of what I could possibly imagine," Solomon says.
In 1941, the world's largest industrial plant under a single roof went up in six months near Ypsilanti, Michigan; Charles Lindbergh called it the "Grand Canyon of the mechanized world." Within months, it was churning out a B-24 Liberator bomber every hour. Bombers! Huge, complicated planes, endlessly more intricate than solar panels or turbine blades-containing 1,225,000 parts, 313,237 rivets. Nearby, in Warren, Michigan, the Army built a tank factory faster than they could build the power plant to run it-so they simply towed a steam locomotive into one end of the building to provide steam heat and electricity. That one factory produced more tanks than the Germans built in the entire course of the war.
According to the conventional view of World War II, American business made all this happen simply because it rolled up its sleeves and went to war. As is so often the case, however, the conventional view is mostly wrong. Yes, there are endless newsreels from the era of patriotic businessmen unrolling blueprints and switching on assembly lines-but that's largely because those businessmen paid for the films. Their PR departments also put out their own radio serials with titles like "Victory Is Their Business," and "War of Enterprise," and published endless newspaper ads boasting of their own patriotism. In reality, many of America's captains of industry didn't want much to do with the war until they were dragooned into it. Henry Ford, who built and managed that Ypsilanti bomber plant, was an America Firster who urged his countrymen to stay out of the war; the Chamber of Commerce (now a leading opponent of climate action) fought to block FDR's Lend-Lease program to help the imperiled British. "American businessmen oppose American involvement in any foreign war," the Chamber's president explained to Congress.
"It was public capital that built most of the stuff, not Wall Street," says Wilson. "And at the top level of logistics and supply-chain management, the military was the boss. They placed the contracts, they moved the stuff around." The feds acted aggressively-they would cancel contracts as war needs changed, tossing factories full of people abruptly out of work. If firms refused to take direction, FDR ordered many of them seized. Though companies made money, there was little in the way of profiteering-bad memories from World War I, Wilson says, led to "robust profit controls," which were mostly accepted by America's industrial tycoons. In many cases, federal authorities purposely set up competition between public operations and private factories: The Portsmouth Naval Shipyard built submarines, but so did Electric Boat of Groton, Connecticut. "They were both quite impressive and productive," Wilson says.
"Usually, when people from different worlds are dealing with each other, they get into conflicts and then dig in their heels deeper," Berk says. "But because the stakes are so high and it's moving so fast, no one doubts that if you don't get a handle on this battle in the Atlantic, then the immediate consequences will be really grave. So they're willing to do this kind of pragmatic trial and error. They start to see that `I can't dig in my heels--I need this other person to learn from.'" In the face of a common enemy, Americans worked together in a way they never had before.
Today we live in the privatized, siloed, business-dominated world that took root under McNamara and flourished under Reagan. The actual wars we fight are marked by profiteering, and employ as many private contractors as they do soldiers. Our spirit of social solidarity is, to put it mildly, thin. (The modern-day equivalent of Father Coughlin is now the Republican candidate for president.) So it's reasonable to ask if we can find the collective will to fight back in this war against global warming, as we once fought fascism.
For starters, it's important to remember that a truly global mobilization to defeat climate change wouldn't wreck our economy or throw coal miners out of work. Quite the contrary: Gearing up to stop global warming would provide a host of social and economic benefits, just as World War II did. It would save lives. (A worldwide switch to renewable energy would cut air pollution deaths by 4 to 7 million a year, according to the Stanford data.) It would produce an awful lot of jobs. (An estimated net gain of roughly two million in the United States alone.) It would provide safer, better-paying employment to energy workers. (A new study by Michigan Technological University found that we could retrain everyone in the coal fields to work in solar power for as little as $181 million, and the guy installing solar panels on a roof averages about $4,000 more a year than the guy risking his life down in the hole.) It would rescue the world's struggling economies. (British economist Nicholas Stern calculates that the economic impacts of unchecked global warming could far exceed those of the world wars or the Great Depression.) And fighting this war would be socially transformative. (Just as World War II sped up the push for racial and gender equality, a climate campaign should focus its first efforts on the frontline communities most poisoned by the fossil fuel era. It would help ease income inequality with higher employment, revive our hollowed-out rural states with wind farms, and transform our decaying suburbs with real investments in public transit.)
FDR geared up early: The ships and planes that won the Battle of Midway were all built before Pearl Harbor.
In this war we're in-the war  that physics is fighting hard, and that we aren't-winning slowly is the same as losing.
While the Democrats were meeting in that depressing St. Louis hotel room last June, I had my laptop open. Even as they voted down one measure after another to combat climate change, news kept coming in from the front lines: