Tidbits - December 28, 2017 - Reader Comments: Poverty in the U.S.; Refugees; Coates and West; Daniel Ellsberg and the Pentagon Papers; AI Jobs; Russia and Korea; Catalonia and Spain; Chicago and HUAC; and more...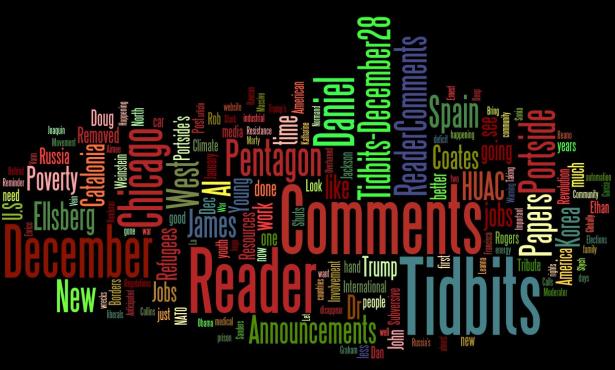 Tidbits - Reader Comments and Announcements - December 28, 2017,Portside
Announcements:
Re: A Deep Vein of Poverty Runs Through the U.S.

This is America's biggest embarrassment, one that Trump and the other fat cats don't care about and are determined to make even worse!
James McGinnis
Posted on Portside's Facebook page
     =====
Quite an indictment of the America system.
Robert James Rawson
Posted on Portside's Facebook page
     =====
It's time that someone removes the top layer of the 'garden' and let's everyone see whats under it all... But then some if the richest-top soil- will say this was made up..or throw rolls of sanitary paper to the needy like Your president did in his visit to P.R. right after it was destroyed by the hurricanes..
Francisca Rios Ortiz
Posted on Portside's Facebook page
     =====
That is what the GOP wants. Hard to vote when you don't have an address.
Blain Normand
Posted on Portside's Facebook page
     =====
This is systemic violence! WE can defeat this rightwing, libertarian class warfare!
Leanna Noble
Posted on Portside's Facebook page
Re: There Is A Massive Movement of Refugees Globally- International Community Shuts Down Its Borders in Response
That's what happened to Jews in the 1930s. The trick is to see what's happening when it is happening, not years later when in the issue has become crystal clear.
Sonia Collins
Posted on Portside's Facebook page
     =====
"Shuts Down Its Borders" now, if they'd just `shut-down' the bombing & killing of civilians, all would be good!
John D.Young
Posted on Portside's Facebook page
Re: Coates and West in Jackson
I like Robin Kelley.I first read his work when my son Martel, was at Santa Cruz in the early 90's. I like this article because there is no need to create and artificial enmity between two good minds that want our community better. Not only ours but that of our country.
Earl Marty Price
Posted on Portside's Facebook page
     =====
so true, I'm not an American but we need to take it back to our communities: 
"The culture we have created today is one where debates fall into call-out tropes; where we silo our conversations to social media. While this is an incredible tool, can we facilitate healthy debate off social media? Do we have the interest, ability, patience and compassion to have face-to-face conversations? Social media is not the only space we should rely on."
Salvador Beano
Posted on Portside's Facebook page
Re: The Most Dangerous Man in America: Daniel Ellsberg and the Pentagon Papers
(posting on Friday Nite Videos)
MSNBC had a special program on Daniel Ellsberg, which ran for two hours, December 23 (9 to 11 Eastern Time).
I'll try to find time to write up the background which helped contribute to Dan's decision to release the Pentagon papers.
I do remember that shortly after the War Resisters International Conference held at Haverford, Pa., which Dan attended, I had a call from Dan to have lunch with him here in New York. He said he had all the information on the Vietnam War but if he released the documents he would face life in prison. He asked for my advice.
At the  time, I was still drinking and confronted Dan with a hangover and what do you say to a man who might face life in prison? All I could tell him was to follow his conscience. When a few days later, the Times published the first installment of the Pentagon Papers I knew at once who the source was.
Good to see attention being paid. If you get this in time, catch the show tonight.
David McReynolds
Re: The Real Story Behind Katharine Graham and "The Post"
I didn't know that the Post was about to go public when the Pentagon Papers decision dropped on Graham's desk ... that took a lot of courage on her part.
Doug Sanders
Posted on Portside's Facebook page
As with all successful movements, youth energy and innovation are vital and energizing. But most youth do not have the experiences with fundraising, organizational structures, and providing leadership. After decades working with youth and studying history, I see the importance of partnerships between generations. Those with years of knowledge, connections, and guidance and those with new ideas, cognitive flexibility, and energy....
Aimee Loiselle
Posted on Portside's Facebook page
Re: Trump's Triumph, Labor Resistance?
(posting on Portside Labor)
Wait until he bans labour unions
Enrico Campomizzi
Posted on Portside's Facebook page
Re: Why We Shouldn't Fall for the Members-Only Unionism Trap
(posting on Portside Labor)
Right. Weaken the unions so employers can cut benefits and not give wage increases. Sounds like a good plan - if you are the employer.
Rich Ives
Posted on Portside's Facebook page
Re: The West in Flames in 2017, a Constant Reminder of Climate Change
I know people there. Some friends of mine have family there in fact my family had a big scare cause they were in the middle of it. God Bless then all
Idele Beltzman
Posted on Portside's Facebook page
Where have all the deficit hawks gone, long time passing ... Where have all the deficit hawks gone, long time ago ... 
Rob Rogers
December 27, 2017
Pittsburgh Post-Gazette
Re: How Television Anticipated the Weinstein Moment in 2017
(posting on Portside Culture)
"The Keepers" was very well done. Devastating!
Ernest Sturdevant
Posted on Portside's Facebook page
Re: Will the AI Jobs Revolution Bring About Human Revolt, Too?
There are countless jobs now done by automation that used to be done by humans but few would go back to them. Tractors put draft animals and their handlers out of work, along with planting and harvesting by hand (in much of the world). Explosives made moving dirt and rocks much easier. Anyone feel like breaking rocks by hand? The transcontinental RR was built almost entirely by men with shovels and picks. Anyone want to do that kind of labor by hand now? It's a simple fact of industrial advancement that people will lose jobs due to better efficiency and more production. Where should automation stop?
Bruce Walker
Posted on Portside's Facebook page
     =====
People are not getting it, countless millions of jobs are going to disappear. The driverless cars alone are going to be staggering. Not only do the driving jobs disappear, but far fewer car wrecks will mean body shops are going to take a huge hit, less need for ERs and all the medical professionals to rehabilitate people no longer injured in car wrecks. And companies and factories supplying car parts and medical supplies will suffer. And that's just one area. Construction jobs will be replaced by 3d printers. Airline pilots are going to be in much lower demand. It's going to be freaking huge, and if it isn't addressed unemployment rates will skyrocket. Interesting times indeed.
Doug Stych
Posted on Portside's Facebook page
Re: In Honduras, Calls Rise for New Presidential Elections
Why can't this be done in the US?
Juanita TPosted on Portside's Facebook page
Re: Taking Russia's Stark Warning on North Korea Seriously
"While condemning Pyongyang's nuclear missile adventurism, we cannot but condemn the provocative behavior of our America colleagues," Lavrov said. "Unfortunately, they are trying to drag the Japanese and South Koreans in the same direction. [These countries] will be the first victims in the event of war on the Korean Peninsula."
Ted Mccabe
Posted on Portside's Facebook page
Re: What is Happening in Catalonia and Spain
Excelente artículo que pone en perspectiva balanceada la situación política de España.
[Excellent article that puts the political situation in Spain in balance. - (Goggle translation)]
Joaquin Garcia
Posted on Portside's Facebook page
     =====
Funny how differently Spain is being treated by American liberals as compared to the dismantling of Yugoslavia - Europe's last socialist state - which they eagerly participated in carving up under the guise of "human rights."
Apparently Catalans and Basques (or any other oppressed nationalities living under the Yoke of NATO) have no rights that NATO is bound to respect, unlike those of countries targeted BY NATO for attack, dismemberment and economic colonization.
Funny how Crimea also got a different treatment. It's almost like American liberals have elastic morals.
Joe Elegua
Posted on Portside's Facebook page
     =====
Nationalism is the playground of the bourgeoisie (James E. Jackson). I wonder if the Soviet Union or Yugoslavia are better off after being broken up into mini-statelets. How about Sudan? Or the UK? Or Canada? Or the US? Smaller ethnically cohesive nation-states are not necessarily better for workers.
John Gehan 
Posted on Portside's Facebook page
Portside's New Look, New Upgrade
Are you, as i am a subscriber to Portside the lefty clipping service? Apparently, it's website has been redesigned to make it much less clunky (though, as you can see here, posting the link on Facebook still produces only black and white text; graphic and color free. The site itself though, is well designed, imo. Is this new Portsiders or am I just, barely, catching up?).
Daniel Millstone
Posted on Portside's Facebook page
     =====
Daniel design upgrade is new (went live this past Monday), for both website and emails to readers. Subscribe (and unsubscribe) links are also less clunky. Just tried pasting URL and it works fine. Try again, we fine-tuned this in past few days. Thanks for reading and sharing Portside posts
Moderator
Posted on Portside's Facebook page
Ten Important Obama Regulations Trump Overturned in His First Year
'45' came to the presidency with one overbearing mission -- to destroy President Obama's legacy. In November, Trump boasted that the only action he lamented not being able to overturn was "Obama's pardon of 2 Thanksgiving turkeys."
Of the dozens of harmful setbacks to date by Trump, these are 10 of the worst:
1.  Removed (DACA) protections for childhood immigrants
2.  Reinstated transfer of military equipment and weapons to local police
3.  Halted the process of establishing normal  relation with Cuba
4.  Made US the only nation to withdraw from the historic Paris Climate Agreement
5.  Reinstated oil drilling in the arctic and Atlantic Ocean
6.  Abolished "net neutrality" allowing the publicly-developed Internet to be controlled by Internet providers to establish different costs and levels of access
7.  Removed restrictions on the Clean Water Act allowing uncontrolled industrial pollution of the nation's rivers, streams, and waterways
8.  Remove pro-environment "caps" on greenhouse and toxic gas emissions from power plants
9.  Removed protections and re-opened millions of acres of federal monument lands to permit drilling, mining, and development on formerly public land
10.  Removed open access for transgender students to school bathrooms
Trumps's vindictive romp amounts to executive order overreach that has not been seen before and that will impact policies and programs for the nation and the world for years to come.
James E Vann
Longtime community, political, housing activist in Oakland California
Subversive Involvement: Chicago and HUAC - Tribute to Dr. Quentin Young - Chicago - January 12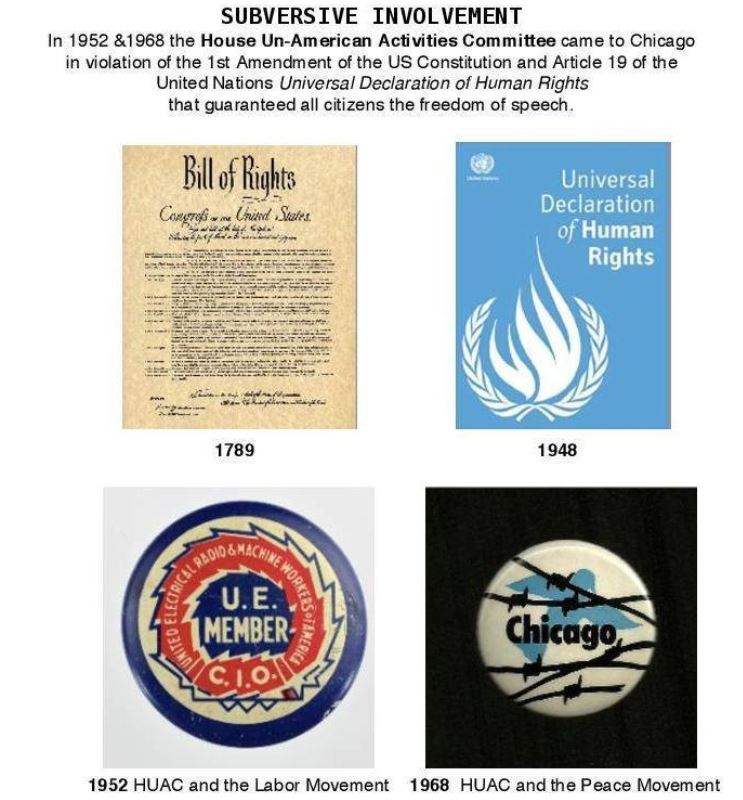 Friday, January 12, 2018 at 6 PM - 10 PM
Uri-Eichen Gallery
2101 S Halsted St, Chicago, Illinois 60608
info@URI-EICHEN.com
HUAC's 1968 visit to investigate the "disruption" of the Democratic Party national convention. The late Dr Quentin Young and five of the Chicago 8 conspirators refused to testify. A video of Dr Young's statement will be screened. Chicago artists affected by the blacklist generated by the HUAC witch hunt for Communists will discuss their work.