Tidbits - June 14, 2018 - Reader Comments: Families Belong Together; Rule of Law; Capitalism' Shadow; Anthony Bourdain; Broadsides for Trump Era; Book Sale - Monthly Review; Labor Notes is Hiring, and more ...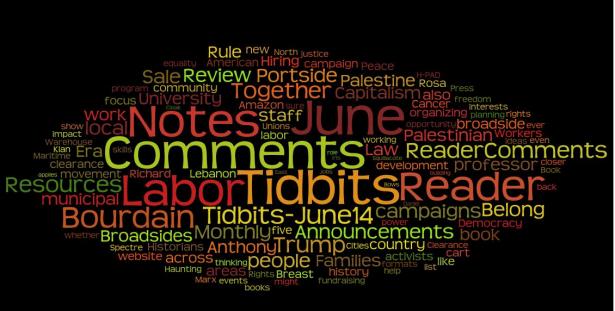 Tidbits - Reader Comments, Resources and Announcements - June 14, 2018, Portside
Resources:
Announcements: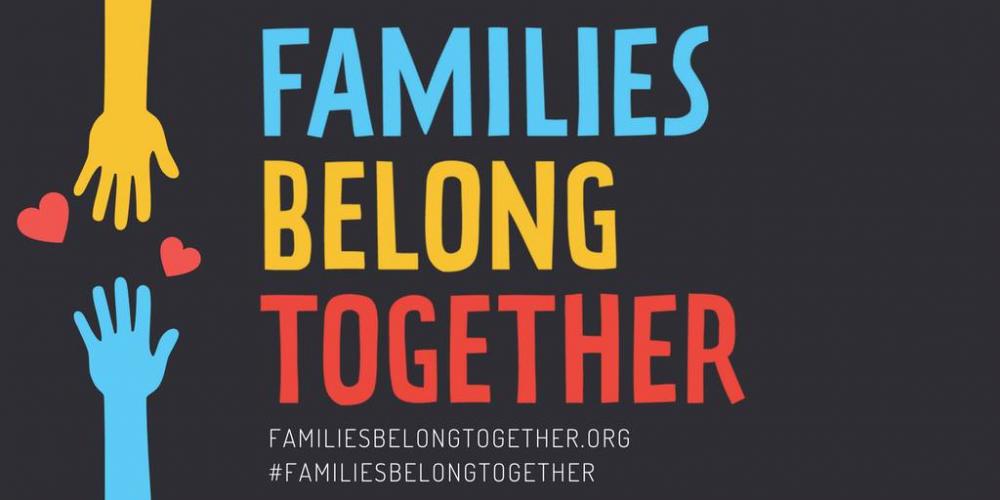 We Belong Together is an initiative of the National Domestic Workers Alliance, the National Asian Pacific American Womens Forum, and others, to bring attention to the ways in which unjust immigration laws affect women, children and families.
Re: The Rule of Law in America Has Always Been Selective
 
"In its majestic equality, the law forbids rich and poor alike to sleep under bridges, beg in the streets and steal loaves of bread." It's not new or news that the dice are loaded, that the system is rigged. Here, via Portside is Carol Anderson's ferocious take.
Daniel Millstone
Posted on Portside's Facebook page
Re: Lessons From Bobby Kennedy for Democrats Fighting to Win Back Congress
 
I'd sooner expect Wellstone to rise from the grave before thinking the Dems might put together a common-sense class-based economic program.
Theo Papathanasis
Posted on Portside's Facebook page
Re: The Spectre Haunting Capitalism Returns: A Celebration of Marx
 
Are there other similar examples of unions/labor organizations sponsoring relevant cultural events?
Sarah Grey
Posted on Portside's Facebook page
        =====
"Like Finnegan risen from the dead when a bottle of whiskey crashed upon his head, the banking crash woke up countless people for the need to challenge existing structures, and with that came imaginings of a better world."
Rosa Squillacote
Posted on Portside's Facebook page
Re: How Lebanon Transformed Anthony Bourdain
 
"After a few days in Beirut itself, Bourdain and his team moved to a hotel just north of the capital, closer to their eventual evacuation spot. By then, Israeli jets were bombing not only areas with a Hezbollah presence, but bridges and power plants across the country. Yet the show never became about the experience of a terrorized American stranded in a scary place. Bourdain never made it about Bourdain—Lebanon was the story. And even during the dramatic scene of his departure, on a ship surrounded by Marines and hundreds of other evacuees—Americans and dual citizens—his focus remained on Lebanon and the distraught faces of its people, leaving behind country and family, uncertain of whether they'd ever return.
"Despite the trying circumstances he faced, Bourdain still managed to produce a 43-minute piece later nominated for a news and documentary Emmy. We were also nominated for our coverage of the 2006 war, albeit in a different category, and won. While Bourdain did not win (although he would go on to pick up many other Emmys), I knew his episode had told my country's story better than I ever could. I cried when I watched it."
Richard Rosa
Posted on Portside's Facebook page
        =====
A very special person; he will be deeply missed.
Carmen Iris Rodriguez
Posted on Portside's Facebook page
        =====
I saw that show. He winged it as he and the crew hid in the hotel. He even cooked a meal for everyone. I thought it was about him. But it was a unique experience.
His best show ever!
Howie Leveton
Posted on Portside's Facebook page
Re: These 'Blue Lives Matter' Bills Send the Wrong Message on Race and Violence
 
Worse than that, they seem to welcome the idea that there is a real war between the police and the African American
community, and that the police have a right to "fight back" against Black people, and not be hampered by legal niceties like Civil Rights.
Ted Cloak
Re: Maritime Workers Wonder: Will There Be a Next Generation?
(posting on Portside Labor)
What kind of liberal crap is this?
David Berger
        =====
This is a great article , thanks for posting
John Samuelsen,
International President
Transport Workers Union
Re: Study Links Breast Cancer Rates with Neighborhood Factors
 
Jack Siemiactcki, a professor U at U/Montreal , and a friend, has done path breaking working on the correlation between disease and socio-economic class by neighbour. Very much grounded in Parks's 1920 studies on crime in Chicago. neighbourhoods.
Richard Lee Deaton
Posted on Portside's Facebook page
(posting on Portside Labor)
Si se puede.
Rosalina Rosario Melendez
Posted on Portside's Facebook page
Historians for Peace and Democracy publishes five Broadsides for the Trump Era
 
Historians for Peace and Democracy (H-PAD) is pleased to announce the publication of five broadsides, collectively called Broadsides for the Trump Era. You can access them on the H-PAD website, here.
This is a new series of brief, printable handouts that summarize important historical events, movements, crises, and more that form the backdrop for our current political situation. And please check back at this site for additions in the near future!
The five broadsides, their authors, and a short summary of each is below.
 
Geoff Eley is a professor of history at the University of Michigan, Ann Arbor. His broadside, "Is Trump a Fascist?" addresses this question and draws on historical comparisons to determine what fascism is, and whether or not the current administration is, indeed, fascist.
 
Linda Gordon is a professor of history and a University Professor of Humanities at New York University. Her broadside explores "The Ku Klux Klan of the 1920s" and examines what the Klan was, its ideology, constituency, use of violence, and accomplishments, and women and the Klan. 
 
Jeremy Kuzmarov, is the Jay P. Walker assistant professor of history at the University of Tulsa.  His broadside explores the political myths, interests, and impact of the "The U.S. War on Drugs" from its origins in the 1910s to today.
 
Robert Oppenheim is an associate professor in the Center for East Asian Center Studies at the University of Texas at Austin. His broadside "North Korea and Nuclear Weapons" discusses why North Korea developed nuclear weapons, the potential for eliminating or slowing its production of them, and whether or not North Korean has cheated on nuclear agreements.
 
Ellen Schrecker is a professor emerita of American history at Yeshiva University. Her broadside, "McCarthyism, 1947-1960," answers key questions about McCarthyism, such as what was it, who sponsored it, how did it end, and what were the long-lasting results.
Historians for Peace and Democracy (H-PAD)
We have a low-volume announcement-only list h-pad@historiansforpeace.org that you can join to receive updates on our activities.
Monthly Review Press Warehouse Clearance Sale!
 

For a limited time, get selected formats of close to 100 Monthly Review Press titles for just $5 per book! On cart totals of $50 or more use the coupon code 3free and get 3 books for free (applies only to clearance book formats). Sale ends June 20th.
Follow these steps to find clearance books and place your order now!
Browse the list of clearance titles here or below.
Add books to your cart. The sale only applies to selected cloth and/or paperback formats so be sure to select the right format before adding a book to your cart. (Note: eBooks are excluded from the sale.)
When your cart total reaches $50, apply the clearance coupon either by clicking here or by entering 3free in the box labelled "Coupon code" on the Cart page. Click "APPLY COUPON" and make sure the discount has been applied.
Labor Notes Hiring for Several Positions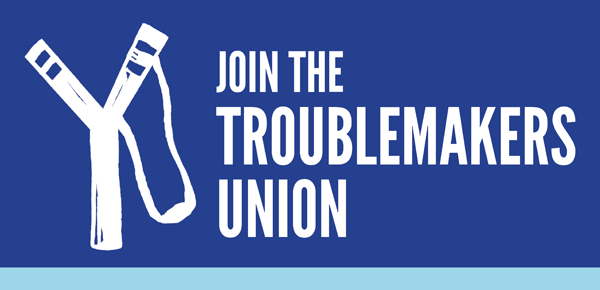 Labor Notes is a media and organizing project that has been the voice of union activists who want to put the movement back in the labor movement since 1979. Fresh off our record-breaking 2018 conference and with our book Secrets of a Successful Organizer flying off the shelves, Labor Notes' influence is growing, and we are uniquely placed to encourage and shape a reviving, militant, bottom-up labor movement.
We're looking to add two to three colleagues to our team. Women, people of color, LGBTQ people, and speakers of Spanish or another language are strongly encouraged to apply. This job is based in our New York office. Desired start date is ASAP.
What you'll definitely do: Since we are a small staff, we all play multiple roles in the organization's planning and day-to-day functioning. As a Labor Notes organizer, you will:
Network and Recruit: Keep in regular touch with rank-and-file activists across the country and around the world. Identify article ideas for the monthly magazine and daily blog and recruit activists to write. You will also write some articles yourself, but this is not primarily a writing job.
Organize Events and Trainings:  Coordinate one-day Troublemaker Schools (like mini-Labor Notes Conferences) in cities around the U.S. and Canada. Work with local committees to plan the program, recruit participants, and organize logistics. Set up and sometimes facilitate workshops and ongoing support for local unions, caucuses, and worker centers.
Build Labor Notes:  Promote Labor Notes publications, events, and training. Assist in fundraising efforts. Take lead responsibilities in some areas of work.
Help Organize Labor Notes' biennial Conference (next in 2020).  Your assignments will certainly include recruiting individuals and groups to attend. You might also be coordinating workshop speakers, dealing with venue and vendors, organizing volunteers, soliciting program book ads, overseeing scholarships, coordinating language interpretation, entertainment/culture, childcare, fundraising before and during, or audiovisual needs onsite.
Learn and Grow: Labor Notes' staff culture is friendly and collaborative. We value camaraderie, respect, a diverse workplace, and helping each other solve problems. We are committed to supporting staff members' growth and skills development.
What you might do: Each member of the staff brings unique skills and interests to the table. Besides the baseline work described above, you will also have the opportunity to specialize, eventually taking the lead on certain projects or ongoing areas of work.
For instance, we anticipate one position will develop into an Education Coordinator who will head up the training, coaching, curriculum development, and strategic planning support that we offer on a contract basis to unions. You would in some cases be providing the services yourself, and in other cases matchmaking the opportunity with a Labor Notes staffer or off-staff consultant from our Labor Notes Associates network. This role includes developing relationships with union leaders and activists, assessing their needs, developing and overseeing the progress of contracts, mentoring other staff, and working with staff to craft new curricula. The ideal candidate is an experienced labor organizer and trainer who has a wide background in bargaining, representation, organizing, labor education, internal organizational development, and campaigns.
Other areas where you could become our in-house expert and specialist include design and layout, fundraising, book promotion, or website and database management. Taking a relevant class to sharpen your skills could be part of your development in the role. Does this prospect excite you? Do you have expertise, talent, or interests you'd like to develop in any of these areas? Let us know.
Read more here.
This week, Palestinians in the West Bank, including East Jerusalem, and the Gaza Strip are marking the 51st year of the brutal Israeli military occupation. As the resistance to Israel's oppression continues across Palestine, we have a responsibility to keep pushing to end the US policies that have allowed Israel to act with such impunity for so long. 
Today we are launching a new website,

Cities for Palestine

, to encourage people to focus on opportunities to organize for Palestinian rights in our cities, towns, counties, and states that will build our collective power upwards to impact policy. 
Municipal campaigns focus on engaging directly with local policy makers, building capacity and activating the power of everyday people. This work will reverberate to help move decision-makers at local, state, and federal levels. Ultimately, we move closer and closer to changing the US policies that enable Israel's denial of Palestinian rights.
Why the municipal campaigns approach? Because we know it works. From the South African anti-apartheid movement to environmental justice campaigns that focus on divestment from fossil fuels to prison abolition, municipal campaigns are a tried-and-true strategy that prove the effectiveness of organizing locally to impact national and global causes.
citiesforpalestine.org
 lays out eight ideas to help you start thinking about what campaign would work for your community. These ideas are intended to be implemented as part of an overall commitment by communities to invest in freedom while divesting from injustice. That means understanding the connections between local demands related to the Palestinian struggle for freedom, justice, and equality and the demands of Black, brown, and Indigenous communities. 
Please check out citiesforpalestine.org, share it on

Facebook

and

Twitter

, and contact us if you are thinking about launching a campaign for freedom, justice, and equality in your community! 
In solidarity, 
Ramah Kudaimi,
Director of Grassroots Organizing
P.S. Our national conference this September, Together We Rise: The Struggle for Collective Justice from the US to Palestine, is the perfect opportunity to learn more about municipal campaigns and connect with other local organizers.
US Campaign for Palestinian Rights
PO Box 3609
Washington, DC 20027
(703) 312-6360