Tidbits - July 18, 2019 -Reader Comments: Trump Attacks Elected Members of Congress; Immigration, Concentration Camps, ICE, Border Patrol and Doing Something; Iran and Oil; World Cup; Arnautoff Mural; Resources, Announcements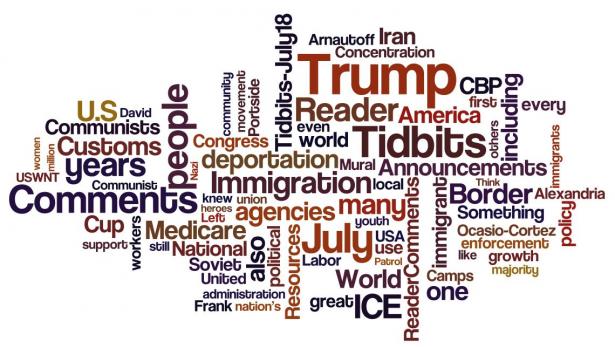 Tidbits - Reader Comments, Resources and Announcements - July 18, 2019,Portside
Resources:
Announcements: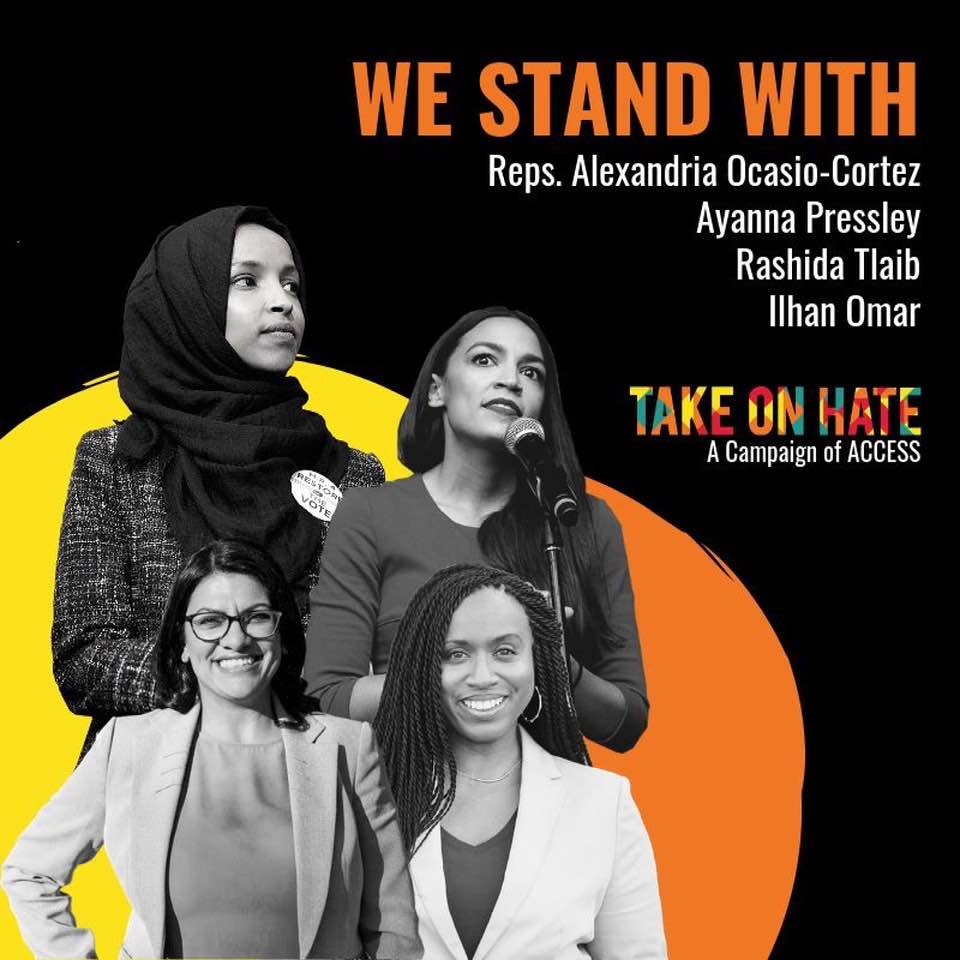 TAKE ON HATE
Dearborn, Michigan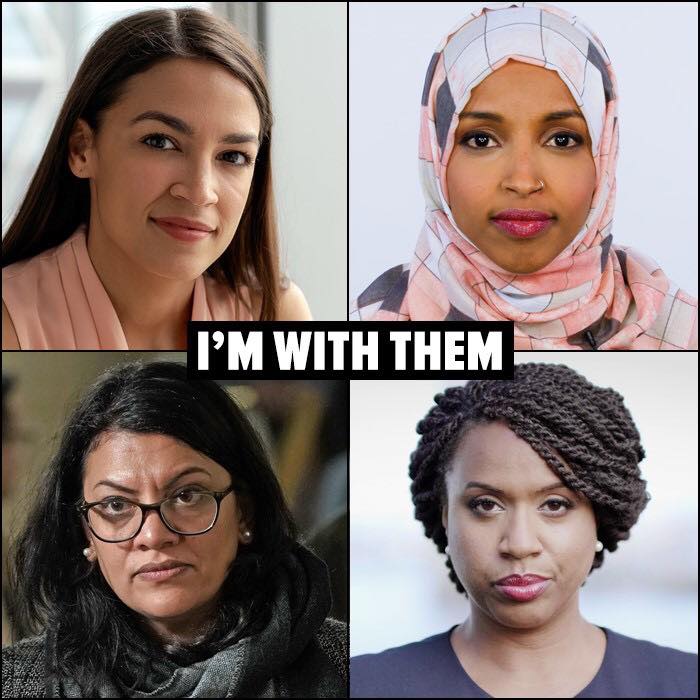 Alexandria Ocasio-Cortez Progressives
Re: Alexandria Ocasio-Cortez on the 2020 Presidential Race and Trump's Crisis at the Border
 
When the term was first circulating I was shocked (I'm an adult daughter of Holocaust refugees) but I thought it through and examined where my shock had come from. As the reports keep flowing in, it's the right phrase exacto. And for a promising political leader it's a great question that deserves our scrutiny and evaluation.
Miriam Frank
Posted on Portside's Facebook page
No Shame  --  cartoon by Rob Rogers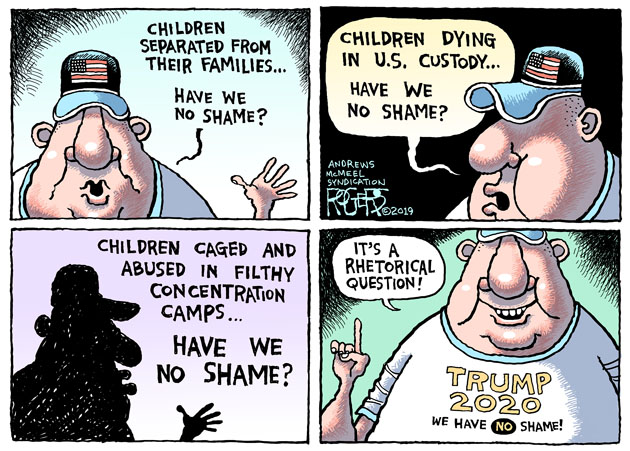 Rob Rogers
July 12, 2019
robrogers.com
Re: Every Jew in America Should Actively Protest Trump's Concentration Camps
 
How about every human being in America.
Tiffany Brook Newton
Posted on Portside's Facebook page
     =====
Every person and country should be actively protesting trumps concentration camps.
Debbie Philp
Posted on Portside's Facebook page
     =====
and not just Jews - every moral, decent person should
Jesse Johnson
Posted on Portside's Facebook page
     =====
Nonsense. Everybody should protest.
Carmen Asturias
Posted on Portside's Facebook page
     =====
This country is being run by an evil dictator, not a president of the people, by the people, for the people.
Brad Jacobs
Posted on Portside's Facebook page
Anne Frank Didn't Die in the Gas Chambers - She Died of Typhus Spread from Lice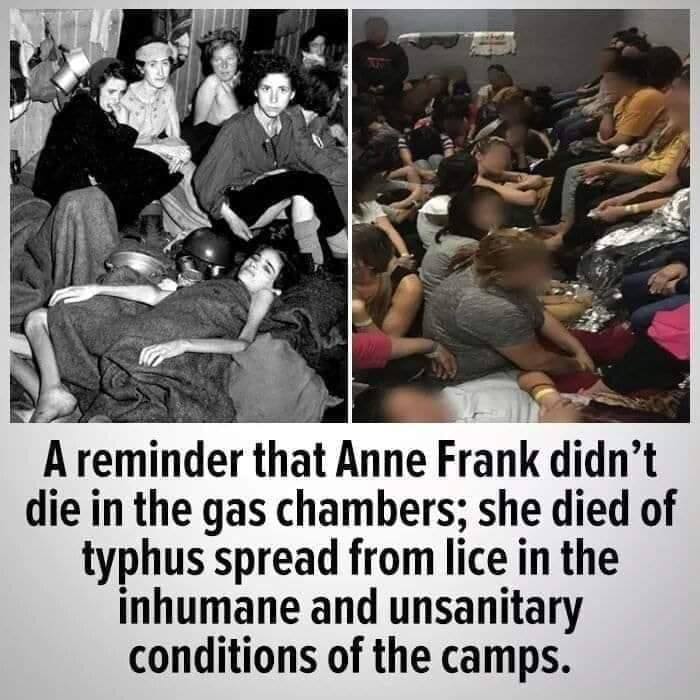 Jeffrey Gold
Post on Facebook
When You See Something, Say Something!  --  cartoon by Lalo Alcaraz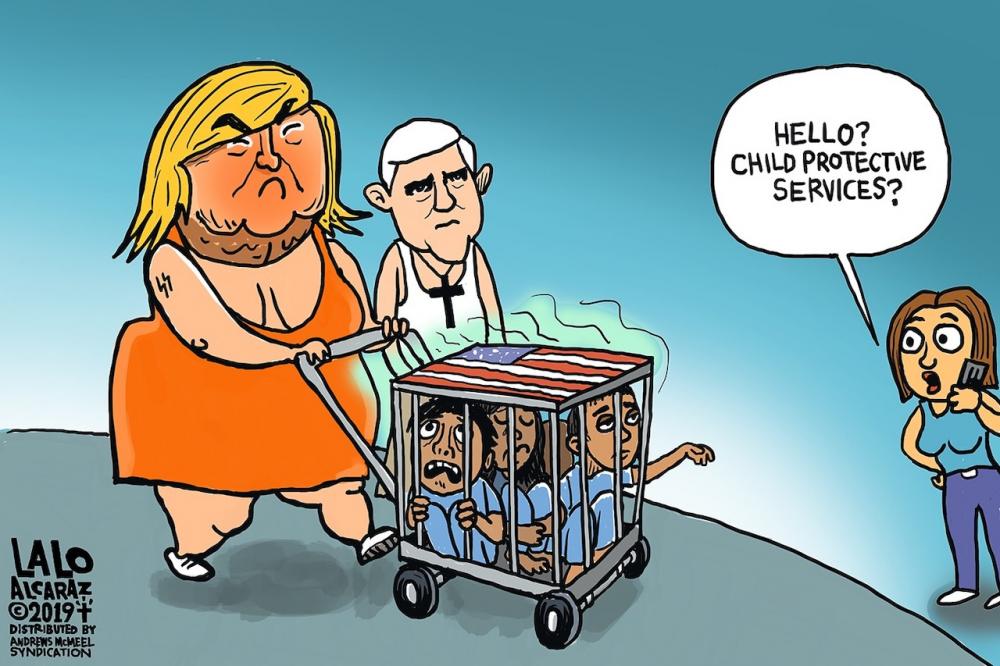 Lalo Alcaraz
July 15, 2019
Pocho Ñews Service
Re: The Missing Three-Letter Word in the Iran Crisis
 
A "great power" controls the resources it needs; a "superpower" controls the resources OTHERS need.  Some consider that a role to dedicate oneself to securing as if life depended on it, cost what it may, and permanent as pursuit of that mission will require.  Others consider the pursuit a disease, an autoimmune disease that consumes the sufferer.
Joe Maizlish, 
Los Angeles
     =====
How about the six-letter word I-s-r-a-e-l ? Benjamin Netanyahu' shouts about the threat from Iran incessantly....and has been doing so for many years. Prevention of a nuclear attack by Iran on Israel is obviously, obviously, the main concern of the governments of the USA and Israel. Every US president in the last 40 years or so has said that. President Trump probably is the most hawkish of all of them. Surely you saw the photo of his John Bolton shaking hands with Netanyahu in Israel a few weeks ago. Indeed, the USA need for Persian Gulf oil has slowed to a drip. Maybe, if Iran interfered with oil deliveries to India, China and Japan, those countries would send their armies and navies to the Gulf to insure that flow?
Frank Smor
Re: The World Cup Champion USWNT Showed America What True Patriotism Is - More Than A Team: A Social Movement That Plays Soccer
 
Dave Zirin's argument that the World Cup Champion USWNT is a social movement that plays soccer is an attractive one. I applaud those players who use the world stage to voice their sexual orientation. I also agree that soccer players should be compensated equally for their work regardless of gender. But he overlooks another problematic pattern of inequality. The quarterfinals involved seven European teams and the USWNT. No nation from the Global South was represented. This distinction emerged early on in some of the lopsided results in the initial group stages. Many celebrated, while others bemoaned the disturbing discrepancy. 
This unequal pattern has marked the tournament for decades. It reflects the gross inequality between teams in the wealthy Global North with leagues, sponsorship, and salaries, in contrast to their paucity elsewhere. What the USWNT and these European teams showed unequivocally was the chasm of a football divide between the wealthy west and the poorer rest. If FIFA officials were honest, they would rename the 2023 Women's World Cup tournament as the WWWRWC - Women's West v. Women's Rest World Cup!
Jeffrey R. Kerr-Ritchie
Re: Acosta Resigned. The Caligula Administration Lives On.
 
If I were an evangelical I would love this man Trump for his moral rectitude-- if I ignored everything that he does in his life and to the lives of others. (Yeah, I can do that. No, I can't.)
Dale Jacobson
Posted on Portside's Facebook page
     =====
Snapshot of 45: "Trump seems to understand, at least on a limbic level, that the effect of this cavalcade of scandal isn't cumulative. Instead, each one eclipses the last, creating a sense of weary cynicism that makes shock impossible to sustain."
Gary A. David
Posted on Portside's Facebook page
     =====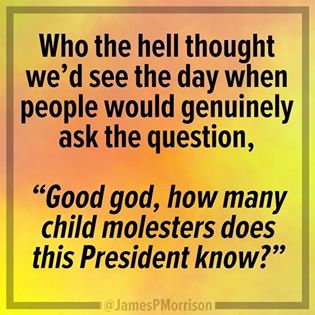 Isa Tudela
Posted on Portside's Facebook page
     =====
The British Ambassador spoke words of truth . Trump is a complete moron.
Alice Taulbee Cornett
Posted on Portside's Facebook page
Re: Here's What Unions Think about Medicare for All
(posting on Portside Labor)
 
Very good article, and thought I wonder were these union guys who are not in favor of M4A were when Medicare was passed in 1965.  I know where they were. They were not born yet. And because of Medicare they have NOT been faced with trying to pay the medical bills of their parents or grandparents.
And today they have the gall to say oh it is best if we bargain for it.  Most of the people in America are not in bargaining units.  In a few years most of the private and public unions my be belly-up if Trump is re-elected and if more guys like Gov. Walker in WI put Act 10 stunts like those WI Republicans did.
Where is the old all for one and one for all solidarity????  My guess is too many union leaders and union members do NOT know history.  They do not know about the years of battles to get Medicare passed.
Peace!
Buzz Davis, 
Tucson - here with Vets for Peace and AFT-W Retirees and ARA
Re: Trump's NLRB: Employers May Now File Decerts
(posting on Portside Labor)
 
To all my working class friends who for whatever reason support Trump please read how under the Trump National Labor Relations Board (NLRB) things just got a lot worse regarding the right to organize and collectively bargain. In an unprecedented power play employers can now can file to decertify unions. Trump is no friend of working people! Quite the opposite! While Trump distracts his base with hate and violent racist xenophobia, he destroys the rights of workers to organize. We must demand equal rights for ALL workers to organize, even the undocumented! Only by uniting as a class across race, ethnicity, and documented status can working people - and ergo the greater society - win! #EqualRightsforAllWorkers https://www.facebook.com/hashtag/equalrightsforallworkers?source=feed_t…
Scott Carter
Posted on Portside's Facebook page
Re: A Better Way To Think About June's Jobs Numbers
 
A huge question related to jobs numbers is to what extent are the numbers created by more jobs with defense contractors.  There must be some statistics somewhere on the number of existing jobs in that industry, let's say five years ago, and that number today.  Also, with what defense contractors do the numbers relate to and what form of production is being done?  How would a sharp reduction in the war industry effect the US economy? 
Susan Dupont
Re: This Artist Painted the Black Radical Response to the George Washington Slaveholder Murals. Here's Why He Stands Against Destroying Them
 
Excellent story, I am an artist of social and political work. So many people seem to not know what they are looking at.
Elliott Barowitz
     =====
For more that people wish to justify the "critic" of George in what refers to the slavery and racism issues, it is not a critic but a natural day (of those days) depiction of what would have been his life and was approved by people with that type of mentality that did not see anything wrong with it in the 1930s; racism and prejudice U.S.A. to its max (at that time - even after abolishing slavery forcefully by Pres. Lincoln and the influence of northern states majority population.
I am also an artist and when I wish to critic something visually, it shows clearly.
Like this mural of mine.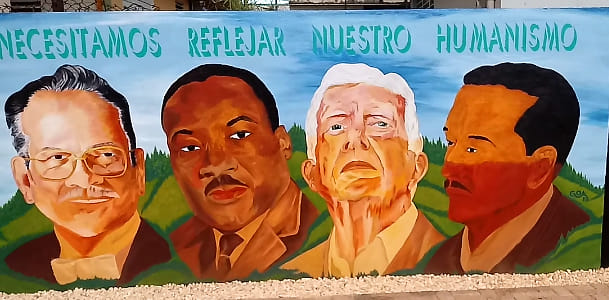 Guillermo Ortiz Acevedo
Posted on Portside's Facebook page
Re: The Hidden History of the Arnautoff Mural
 
Thanks to David for explaining what one would have expected the school board should have known...and taught.Washington high should be honored to have this mural and use it as a teaching opportunity. We should also remember the murals of Rivera and Sequeiros that where painted over because the American capitalists feared the messages of worker's history.
Lincoln Smith
Re: Disgruntled Employee Uses Hockey app Notifications To Air Payment, Throat-punching-related Grievances
(posting on Portside Labor)
 
True stories like this one make my day. Thanks for sharing,
Danielle
Re: The Book of Palestine: National Liberation vs Endless Negotiations
 
I subscribe to the main thesis of this article.  What should be added, however, is the class nature of the PA, and the PLO, for that matter, which was and is middle-class led.  The further tragedy is that the Palestinian Left also supported the policy of "endless negotiations" which is why their former influence has been greatly reduced in favor of the more consistently militant policies of Hamas, with all their limitations.
Joseph Kaye
(posting on Portside Culture)
 
Author Shannon Liao shows the limits of her analysis -- and/or possibly the limits imposed by tech-idolizing THE VERGE, when she cites Mayers, Sandberg and Wojcicki as possible "heroes" of a documentary based on Chang's book. Clearly the book is about gender discrimination, not about class, or capitalism, or corporations per se. Still, characterizing those three as heroes has got to be a stretch, by pretty much any standards higher than "whatever they can get away with."
Dr. Lapin
Re: A Dozen Slideshows from the 'Gramsci School Of Thought'. For use by today's Next Left - Online University of the Left - Tidbits - Resource - July 11
 
For a table of direct links to each Webinar, Powerpoint, go here.
Carl Davidson
Re: A Son's Memoir of His Father's Radical Beliefs, Pursuit by the F.B.I. and Ardent Love for America
(posting on Portside Culture)
 
Kevin Baker, reviewing "A Good American Family: The Red Scare and My Father" by David Maraniss, asks "…what were his parents, and especially his father, doing in the Communist Party in the first place?..." This moved me to ask myself the same question: How in the world could I too join that party in July 1945, despite "dreary Russian dogma" and "the horrors of the Soviet Union" which – later revealed in detail by Khrushchev in 1956 - we vigorously denied but at least partially suspected?
Looking back, I do recall a few reasons which may help explain this puzzle. Even at 17 I knew that Communists were a major force in building the labor union movement, especially the CIO, in the steel, auto, electrical appliance industries, among seamen, West Coast dockers, New York subway workers, southern sharecroppers and tobacco workers, white and black together - and not without bloodshed. This new strength was a key factor in achieving social security and the 40 hour week. I knew of the Communists' major role in fighting evictions and personally knew a black Communist woman who rallied neighbors to carry furniture back into the home of an evicted white family.
I knew that the Communist Party, almost alone at first, had fought to save the lives of the nine framed-up black "Scottsboro boys", mobilizing international solidarity in doing so.
Perhaps most dramatic of all, I knew that Communists formed a majority of the young men and women who overcame countless hardships, risking and often losing their lives to save a democratically elected government in Spain and prevent fascist Italy and Nazi Germany from preparing for a new world war. Their sacrifices were especially bitter because, while only the USSR and Mexico supplied the Madrid government, Britain, France permitted only Franco to obtain a victorious supply of tanks, planes, trucks and fuel from Hitler and Mussolini - and US corporations.
Indeed, I learned that Soviet Foreign Minister Litvinov had been virtually ignored by the western democracies when he called for "collective security" against fascist takeovers of Spain, Manchuria, Austria, and Czechoslovakia. I was then saddened and disturbed – but understood all too clearly why the USSR felt compelled to counter western moves to appease Hitler and push him into a conflict and defeat of the "Bolshevik threat." Seeing their repeated preference for Nazis over Communists, as demonstrated in Spain and at Munich, they resorted to the Hitler-Stalin pact, odious as it was, in order to prevent a united attempt to destroy them. This gained two precious years to build tanks, planes and other weapons in preparation for the inevitable Nazi invasion.
And how could I forget in 1945 that while battles such as Anzio or Normandy were costly and valiant, they were immensely outweighed in scope by the four years' struggle of the Red Army in defeating perhaps 80% of the fascist armies. Nor could I overlook the immense sacrifices of the Soviet people, with more than four times as many Soviet citizens murdered by the Nazi aggressors, a majority civilians, than were killed in the horrors of the Holocaust. More than three million Soviet POWs were deliberately starved to death by the Nazis, after first shooting Jews and Communists. Such facts doubtless helped me digest some "dreary dogma". Giant battles in the ruins of Stalingrad or crossing the Oder had also saved me, at seventeen, from being drafted and sent to some dangerous frontline.
And was it really all so dreary? In those years so many great artists, writers, musicians and film-makers were still either Communists or close to them. Theodore Dreiser, Arthur Miller, Richard Wright, Clifford Odets, Howard Fast, Langston Hughes, Shostakovich, Aaron Copeland, Marc Blitzstein, David Siqueiros, Picasso, William Gropper, Rockwell Kent, Maxim Gorki, Romaine Rolland, Martin Anderson Nexo, Mikhail Sholokhov, Ilya Ehrenburg, Louis Aragon, Sean O'Casey, Pablo Neruda, Anna Seghers, Bertolt Brecht, Mike Gold, Orson Welles, Earl Robinson ("Joe Hill" and "Ballad for Americans") and so many others! Plus the wonderful singers I loved: Paul Robeson, Woody Guthrie, Pete Seeger and the great Ernst Busch, who made Spanish Civil War songs known world-wide!
As for the members of my Communist Party group at Harvard, secretive because of increasingly icy Cold War tentacles, they were among the most brilliant students; witty, well-read not only in Marxism (even today not seen by everyone as dreary) but in world literature and political developments. At least seven – though later no longer Communist Party members – became leading professors in philosophy, sociology, mathematics, linguistics, Asian languages and other fields.
Yes, terrible things had happened and were still happening in the USSR. But we did not become Communists because of any adoration of Stalin. We wanted a better world, one in peace, and we admired the giant achievements of the Soviet people in overcoming illiteracy and building a giant industrial base which proved so vital in defeating the Nazis. We also admired an economy which suffered no joblessness while nearly the entire world groaned under the Great Depression.
Then too, looking backward at judging nations, I ask myself: How should a citizen of the world, or the USA, regard the deaths of three million North Koreans, the destruction of every building over one story (and allegedly some reservoir dams? Or the killing of up to three million Vietnamese, poisoning their forests and their genes for generations, plus the mining and bombing of Laos and Cambodia with no discernable excuse? Or the support of murderous Latin American dictators, Anastasio Somoza, Alfredo Stroessner, Fulgencio Batista, Papa Doc and a dozen others, most dramatically Pinochet in Chile, the support of apartheid in South Africa almost to the bitter end, perhaps including a CIA betrayal of Nelson Mandela to the police? Or unwarranted destruction and more death from the sky in distant Serbia, Libya, Afghanistan, Iraq, Yemen - none of them a threat to the USA?
Should one conclude, as some do with Russia, that the USA is totally diabolic, to be hated and threatened in every way? I think not. As an ex-pat for much of my life, an exile of the McCarthy era, I have always refused to give up my patriotic feelings for my native USA – but based on the actions of its genuine heroes: John Brown, Harriet Tubman, Frederick Douglass, Thoreau, Mark Twain, Eugene V. Debs, Albert and Lucy Parsons; "Big Bill" Haywood, Elizabeth Gurley Flynn, Paul Robeson, Malcolm X, Professor DuBois and Martin Luther King – and so many, many others, known or unknown. Those were fellow Americans who made me proud. But I could also admire great fighters of other lands, from Karl Marx to Karl Liebknecht and Rosa Luxemburg, Fidel and Che, Amílcar Cabral and Patrice Lumumba who fought for African freedom, Ho Chi Minh and Manolis Glezos, who tore the swastika from the Parthenon in 1941, and the brave partisans in World War Two, so often led by Communists. And also the exhausted Soviet soldiers who fought for every room in embattled Stalingrad or the tens of thousands who died in finally liberating Berlin from the Nazi monsters in the city where I have been living for so many years.
No, many countries have suffered horrors, and many had heroes, heroines as well as oppressors. Upheavals and disappointments have driven home the message that blind, inflexible allegiance to any person, policy or ideology, political or religious, must be avoided.  But the world still needs changing. Those resisting this, greedier, wealthier, more brutal than ever, still stand in the way. I feel no remorse about my choice in 1945.
Victor Grossman, 
author, Crossing the River (University of Massachusetts Press) and A Socialist Defector: From Harvard to Karl-Marx-Allee (Monthly Express Press).
The Truth About ICE and CBP (UnitedWeDream)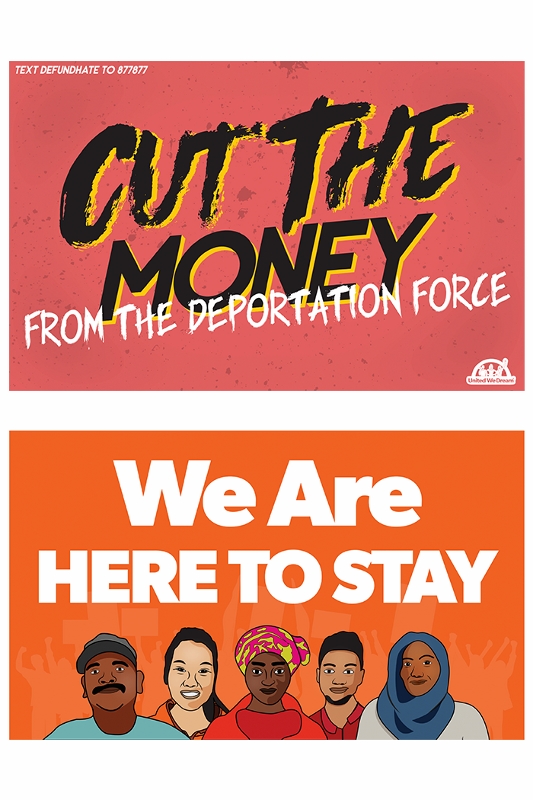 A Comprehensive Analysis of the Devastating Human Impact of the Deportation Force By The Immigrant Youth & Families Who Know It Best (United We Dream)
We will document Immigration and Customs Enforcement (ICE) and Customs and Border Protection (CBP) atrocities and stop them! No immigrant or person of color should be imprisoned. Scroll down to see the mountain of evidence politicians are trying to hide and take action.
Deeply Flawed: A Primer on our Nation's Immigration System
Snapshot of Our Nation's Immigration System
Immigrants without status make-up our nation's undocumented population: a stable, ever-present, vital community of approximately 11 million people who entered without status or subsequently lost their status.
Donald Trump has dedicated his political career to transforming the nation into a place wholly unwelcome and dangerous for immigrants and people of color. During the past two years, he and his administration have steadily advanced that racist agenda through rhetoric, the encouragement of vigilantism and the use of a massive and highly political armed wing of the government built for mass deportation.
This report tells the story of the human impact, uncontrolled growth and power of the nation's deportation apparatus under Donald Trump while also providing the policy rationale for Congress to dismantle U.S. Immigration and Customs Enforcement (ICE) and U.S. Customs and Border Protection (CBP) and enact legislation to turn their targets into citizens. The report includes concrete policy recommendations for Congress, federal agencies, local governments, advocates and the next President of the United States on the way forward.
It was developed by the young leaders of United We Dream who for years have worked to stop deportations, empower youth and immigrant communities and enact policy change while also tracking and analyzing the patterns and practices of deportation agents. It includes analyses of hundreds of first hand accounts and is the most thorough analysis of its kind ever produced.
The "deportation force" is primarily made up of the ICE and CBP, which the current administration has bolstered through budget increases, Executive Orders, regulations, policy guidance, attacks on the agencies' critics and leadership changes. (read full report summary here.)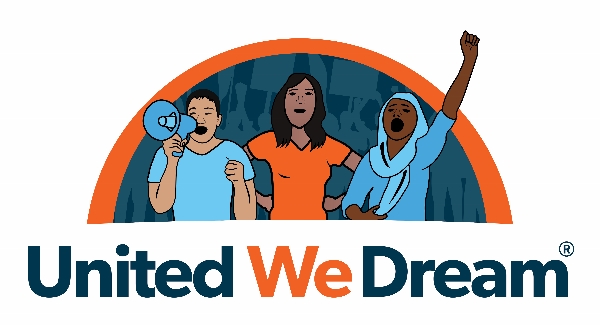 Overnight, Banksy Takes His Guerrilla Art To The Next Level (Situation Theatre)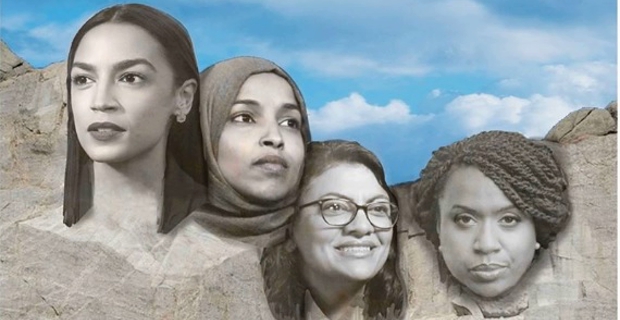 Image from Feminist News
By Situation Theatre 
July 17, 2019
Situation Theatre - Activism, Art, Chuckles
Few believed he could convert the 60-foot heads of George Washington, Thomas Jefferson, Theodore Roosevelt, and Abraham Lincoln into Alexandria Ocasio-Cortez, Ilhan Omar, Rashida Tlaib, and Ayanna Pressley in one busy evening, but never underestimate Banksy.
The original Mount Rushmore National Memorial was carved in the Black Hills of Keystone, South Dakota over 14 years from 1927 to 1941.
The English artist Banksy was so inspired by the powerful public rebukes of President Trump by four Democratic Congresswomen yesterday that he managed to transform the giant faces of former U.S. Presidents in less than 14 hours.
While the original memorial represented the nation's birth, growth, development, and preservation, the new memorial recognises the incredible insight, passion, vision, and courage of these four towering figures of US politics.
Meet & Greet with Labor - 21 in '21 - August 1 (21 in '21 initiative)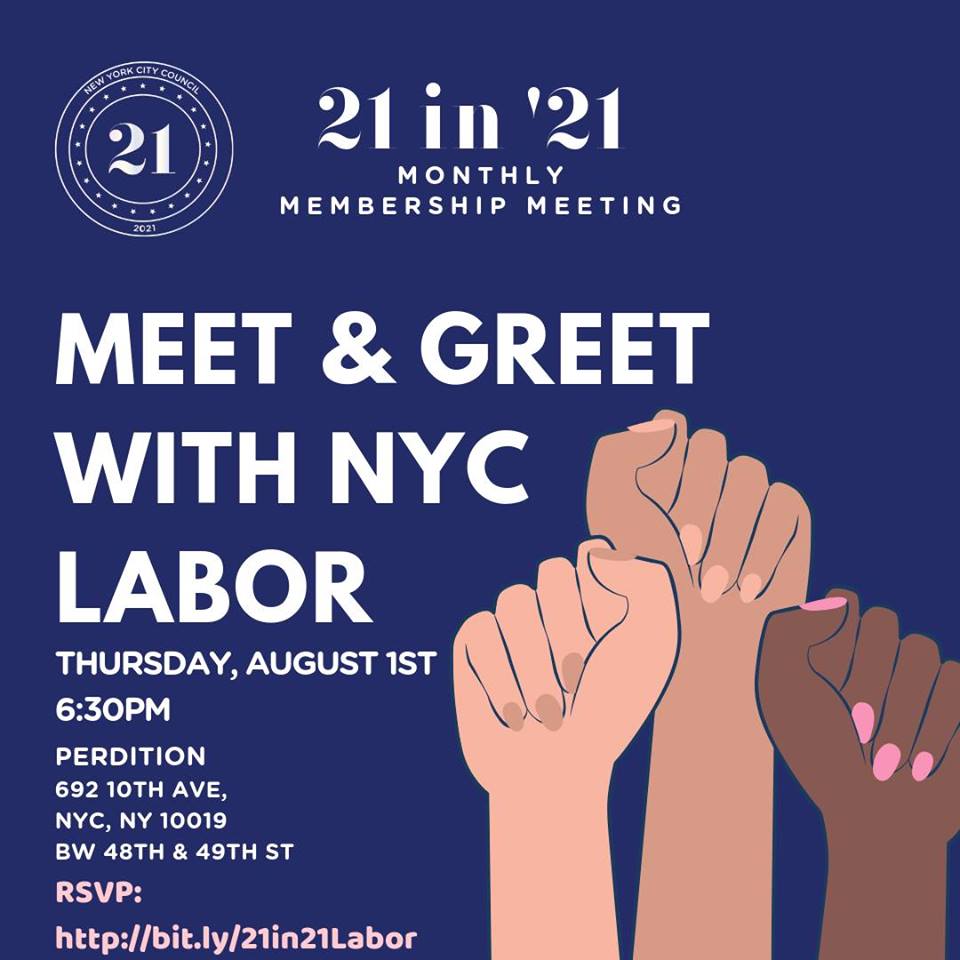 Let's Elect 21 women to the NYC City Council by 2021!
Through fundraising support, issue education, political training and networking, we aim to elect at least 21 women in NYC City Council by 2021. As of January 2018, there are only 11 women serving in this legislative body, out of 51 Council Districts citywide. Please like and share or page and become a 21 in 21 member and gain exclusive access to our monthly membership events. If you don't like what they're saying, change the conversation!
Register here for August 1 event
Single Payer National Strategy Conference - Portland, OR - October 18 - 20 (The Labor Campaign for Single-Payer)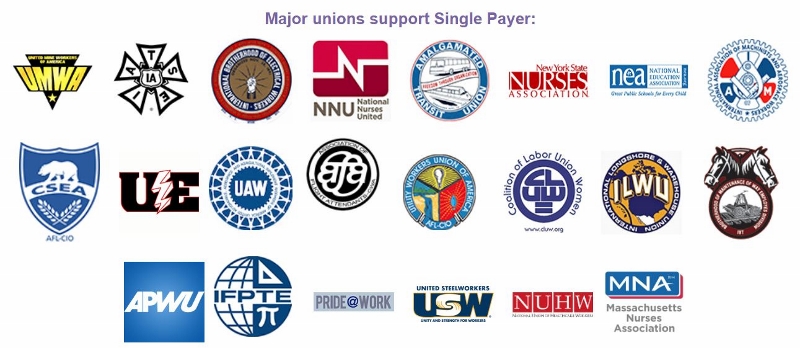 The great poet Seamus Heaney rhapsodized about that moment "once in a lifetime, where hope and history rhyme." For those of us in the long fight for healthcare justice, we may be approaching that magic moment.
Here are some of the signs of how far we've come:
This is a time of great opportunity and new challenges. On October 18-20 we will come together as a movement to assess our progress and prepare for 2020 and beyond. Registration is now open for the 2019 Single Payer National Strategy Conference.
Seamus Heaney would agree that history will judge us harshly if we fail to take advantage of this "once in a lifetime" window to finally make healthcare a right for everyone in America. The urgency of this moment is what makes this year's conference so important for every union and social movement organization committed to constructing a winning strategy. Through speakers, workshops, panels and discussions we will focus on:
Understanding and responding to the growing opposition to Medicare for All coming from the medical industrial complex and their right wing, anti-union allies.
Dealing with attempts to co-opt and dilute our vision by our erstwhile friends who are still trapped in the endless spiral of bargaining against ourselves.
Combatting the divide and conquer tactics that will surely be deployed against us.
Making Medicare for All a decisive issue in the 2020 election cycle and holding politicians' feet to the fire in the post-election period.
Developing and advocating a just transition to single payer that centers workers' concerns and interests.
Learning about the tools in our organizer's tool box and how best to deploy them.
Crafting a plan of attack to massively scale up our movement to meet the challenges ahead in ways that are inclusive and build unity.
Conference registration is limited and hotel rooms are even more limited. Don't delay.
In Solidarity,
Mark Dudzic
National Coordinator,,
The Labor Campaign for Single-Payer