Global Left Midweek - September 18, 2019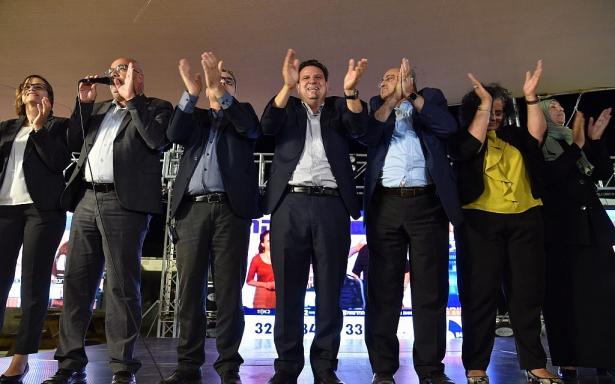 Heads of the Joint List party react as the first results in the Israeli Knesset elections are announced, September 17, 2019,Photo by: Gil Eliyahu-JINIPIX
__________
World Labor Joins Climate Strike
Jake Johnson / Common Dreams (Portland ME)

A labor federation representing over 30 million workers from 152 countries is calling on unions around the world to join—or do everything they can to support—the millions of people set to take to the streets on Sept. 20 for the youth-led global climate strikes.
__________
Israel: Impact of the Arab Vote
Jack Khoury / Haaretz (Tel Aviv)
Exit polls show the Joint List winning up to 15 seats in the Knesset, which leaders see as a chance to 'send that inciter Netanyahu home'.
__________
Women Organize Across Borders
Kerstin Wolter and Alex Wischnewski / Rosa Luxemburg Stiftung (Berlin)
Women around the world are taking to the streets. What do these new feminist movements have in common—and how might they join forces?
__________
France: Macron vs. the Working Class
Pauline Bock / New Statesman (London)
As the biggest strike for more than a decade has shown, the French president has picked a fight with the entire working population. 
__________
Hong Kong's Lonely Lefties 
Bennett Murray / New Internationalist (Oxford, UK)
A talk with Avery Ng,  chairperson of Hong Kong's League of Social Democrats (LSD), which occupies "the furthest left position in the democracy movement."
__________
Norway: The Elections and Left Parties
Kelly McKowen / Jacobin (New York)
Norway's Labor Party took a hit in this week's elections. But the radical left surged — showing that socialist politics are still alive in the Nordic country.
__________
Brazil's Indigenous Mourn Murdered Protector
George Dvorsky / Gizmodo (New York)
Maxciel Pereira dos Santos, a veteran defender of Brazil's indigenous people, has reportedly been shot dead in a remote Amazon town. His union stated that Santos was murdered in retaliation for his work at the Vale do Javari Reservation where he protected indigenous people from the "illegal invasions" by hunters, miners, loggers, and others. 
__________
Canada: The New Democrats Need Green New Deal
Harry Kopyto / Canadian Dimension (Winnipeg)
The NDP's electoral program makes no serious effort to put forward a radical vision of a Green New Deal for which public action in favour of climate justice and a massive public green jobs campaign would be its foundation.