Tidbits - Sept. 26, 2019 - Reader Comments: Impeachment; Climate Strike, Greta Thunberg, Isra Hirsi; GM Strike; Israel; Socialist History; Peggy Lipschutz - Presente!; Announcements - New York, Chicago, Washington, DC, Madison, St. Paul; more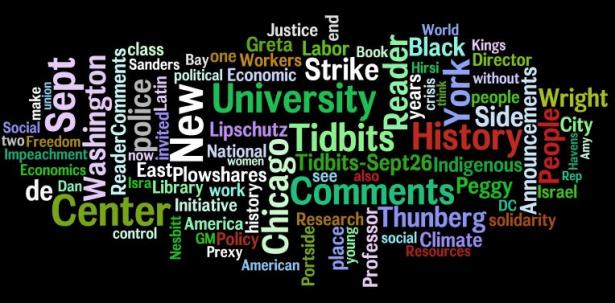 Tidbits - Reader Comments, Resources, Announcements AND cartoons - Sept. 26, 2019,Portside
Resources:
Announcements:
History Repeats Itself ?!? - I Am Not A Crook -- I Am A Crook; So What  -- cartoon by Jeff Stahler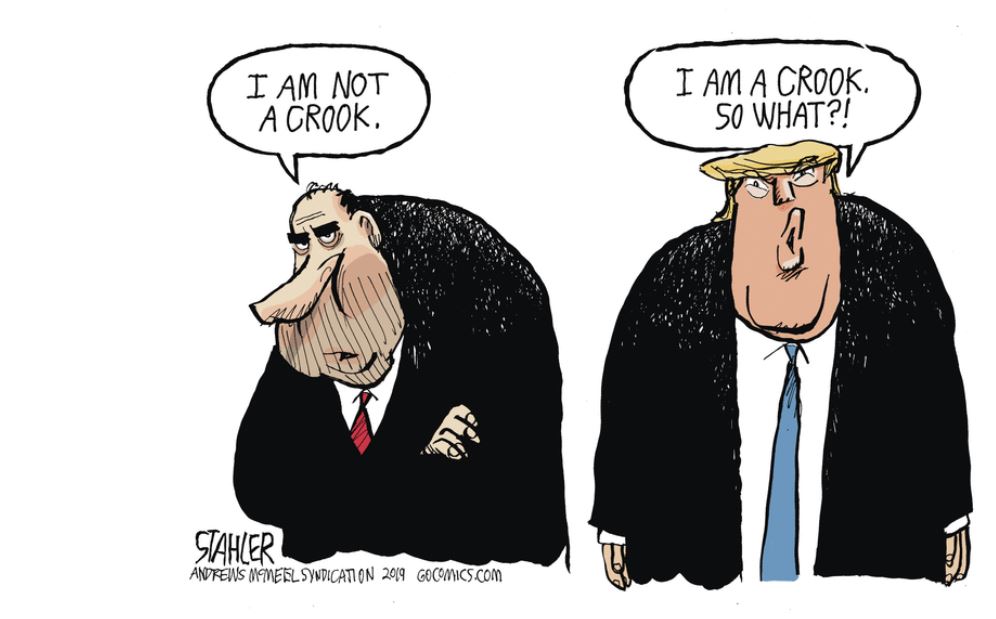 Jeff Stahler
September 25, 2019
Kokomo Tribune (Indiana)
Re: Youth Climate Strike Around the World in Photos
 
Hope for the future; hope for today and for tomorrow; hope that Trump's days are numbered; look out GOP the youth are coming for you!
Jay Schaffner
Posted on Portside's Facebook page
     =====
Looks like they have understood the world they will inherit. It's really sad the "adults" that should lead and take responsibility in this crisis haven't shown they care.
Alba Grace Pereira Medina
Posted on Portside's Facebook page
Re: Isra Hirsi Is 16, Unbothered, and Saving the Planet
 
These younger ones are concerned how we leave this place for them and their children. People should take them seriously.
Hope de Waardt-Jemerson
Posted on Portside's Facebook page
     =====
Stay safe young warrior
Phyllis Aldrich
Posted on Portside's Facebook page
     =====
She persists!
Dan Jordan
Posted on Portside's Facebook page
Greta Thunberg - Lifting the World  --  cartoon by Evan Lian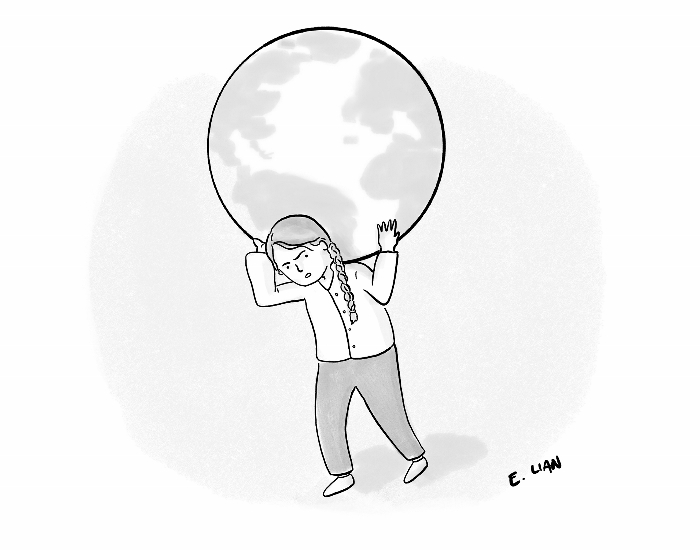 Evan Lian
Daily Cartoon: Tuesday, September 24th
September 23, 2019
The New Yorker
Re: Why is Greta Thunberg so Triggering for Certain Men?
 
She told them what they don't want to hear!
Theresa Mims
Posted on Portside's Facebook page
     =====
I think people invest a lot of their self image in their convictions. When someone exposing contrary convictions gets a lot of attention, and credit, it really irks them. Human nature, I think; not one of our best attributes, but there you go...
Mike Noon
Posted on Portside's Facebook page
     =====
It's a decent article with one caveat. Virtue Signaling does NOT exist. It is a thoroughly modern concept that has no basis in reality. People make moral arguments. They don't virtue signal. This young woman is making a profoundly moral argument. When the prince and princess fly around in private jets they aren't "virtue signaling" (whatever that means) they are engaging in what is called hypocrisy.
That is the key. Virtue signaling is a lie invented by those who can't make moral arguments to shut up those that do.
Whoever wrote this should remove the words from their vocabulary. Right wingers abuse them too often.
Emory Thompson
Posted on Portside's Facebook page
     =====
She has a movement that going to affect their stock investments.
William Lee
Posted on Portside's Facebook page
     =====
Jennifer O'Connell's article begins with a great strong premise: and ends with a disastrous, crashing conclusion. Did anyone at Portside actually read this through to the end, or just read the opening? "That's not to say that we should accept everything Thunberg says without question. She is an idealist who is young enough to see the world in black and white. We need voices like hers. We should listen to what she has to say, without tuning the more moderate voices of dissent out."
First, Ms Thunberg has clearly, repeatedly stated she does not speak out of her own head, she speaks based on direct interactions with climate scientists. Her conclusions are their conclusions. She reflects the best of current climate science when she speaks. How could she have possibly added that first, overtly derogatory, comment without also noting Ms Thunberg's sources (climate scientists)? Second, the idea that we should not tune out "the more moderate voices of dissent" thoroughly negates Ms O'Connell's entire article. Why would she add that last tag line at all, which suggests we should give credence to climate denialists?
Daniel Jordan, PhD, ABPP
     =====
When I find myself at a loss for words, as in this particular instance, I have a tendency to bend to those in history who are more adept at word useage than I am.
In the words of Vladimir Nabokov, "Words without experience are meaningless."
That is why I worry about a young girl who has serious anger issues not getting the psychological help she needs to overcome her fear that the world is going to end.
Vance Petersen
Posted on Portside's Facebook page
     =====
Yes, let's patronize and medicate her, because that's what men who fear angry women do.
Jeffrey Glogiewicz
Posted on Portside's Facebook page
     =====
...the RAGE level is telling. You feel sort of disgusted if it's a ploy by her parents. Rage? The level of ire we see? It's the same we see from men (and plenty of white women) towards outspoken, not holding back female politicians a lot (Ilhan Omar is a great example). It's beyond about what is being said and the rage response is a 'tell' that there is an visceral piece of anger at something else going on. We commonly see this kind of rage when women (and now children) don't 'keep their place in society.' When they stir things up. It seems out of control and/or it's something we CAN'T control. The more conservative you are (not talking politically here, but rather socially, societally attached to traditional roles), the more 'out of control' women (and now children) make you bananas. GT doesn't hold back her feelings at all. Women are socially supposed to be pliant (even just to a degree) and accommodating and placate. People HATE that GT doesn't buy into that trope at all. Thus, RAGE.
Alex Sweeton
Posted on Portside's Facebook page
     =====
I don't understand why so many people are being so harsh to this girl. Global warming is undeniable and proven, and we are slowly starting to see the effects of it. She is asking world leaders (and people) to start taking action in order to make sure Earth will still be a livable place in a couple generations. Older generations won't have to live through the consequences of our society, new generations will, and I share Greta's feelings. Even if backed by organizations, I still deem her message as valuable. After all, the Church too has a (mostly) nice set of values they want people to embrace, and definitely is involved with money, though nobody complains about that. I know this is hard to swallow coming from a little girl, but I think hers is a battle worth fighting for.
Alberto Racanati
Posted on Portside's Facebook page
     =====
Female young Smart conscience and activist
Sue Canavan
Posted on Portside's Facebook page
     =====
It's pure politics (and primarily the influence of biased Corporate Media - which fans flames, appeals to egos ignorance and stupidity and encourages unmitigated HATE). These types are conditioned to believe that if they are "outraged" enough, any erroneous misguided position they support is somehow justifiable and accurate.
Dan Kerlin
Posted on Portside's Facebook page
Re: GM Dumped Health Care for Striking Workers. That Poured Gas on Fire, Expert Says
 
Giving Bernie Sanders more reason for single payer in Medicare for all
Tom McCann
Posted on Portside's Facebook page
     =====
This is another reason WHY we need Medicare for ALL
Mike Glick
Posted on Portside's Facebook page
Re: The Real Reason General Motors Workers Are On Strike Nationwide
 
The most interesting thing to come out of the strike is GM's threat to take away health insurance benefits. If anything is going to persuade all union workers to forego whatever their companies agree to, instead of universal health care, it will be recognition of how precarious these benefits are.
Arlene Halfon
Re: Tech Workers Have Been Reluctant To Unionize, But Google Contractors Just Changed That
(posting on Portside Labor)
 
The article about Google contractors employees voting for a union in Pittsburgh ignored (as so many people and media do/did) that we succeeded in 2014 to have a union, Temporary Workers of America, at Lionbridge/Microsoft, as detailed on our blog and The Other Microsoft book.
It would be nice to remind your readers about what we achieved and how a run away shop tactics (they deny of course) finally kicked us out when we pushed (too far?) for joint employment with Microsoft and the NLRB was apparently ready to let the investigation (with subpoenas) take place.
Anyway. Just saying.
We also did not find in Seattle the adequate support of an established union (like USW), despite contacting several (although we did get a short and limited support form CWA).
Take care
Philippe Boucher
Re: Why the Private Health Insurance Industry Faces an Existential Crisis
 
We don't need them. They were hoping we wouldn't find out.
Ed Griffin
Posted on Portside's Facebook page
     =====
The UK's NHS is the way to go - I have recently had some experience of it with an elderly parent's healthcare, and it's still impressively good, despite the Tories' attempts to cripple it over the years. And if you want faster private treatment in the UK there has been BUPA (since 1947) which is a private company but has no shareholders so profits are reinvested. It's the profit motive in the health industry that is so pernicious and, to my mind, immoral.
Jonathan Blagburn
Posted on Portside's Facebook page
Re: Bernie Sanders Proposes a Wealth Tax: 'I Don't Think That Billionaires Should Exist'
 
Embracing? Mr Sanders has been doing this for decades back when Warren was a Republican!
Danielle Sparkles
Posted on Portside's Facebook page
     =====
Billionaires hurt economic growth and should be taxed out of existence, says bestselling French economist
A popular French economist says billionaires are harmful to economic growth and would be effectively abolished under his tax plan,
In an interview with the French magazine L'Obs, Thomas Piketty calls for a graduated wealth tax of 5% on those worth 2 million euros or more and up to 90% on those worth more than 2 billion euros.
Piketty says the notion that billionaires create jobs and boost growth is false.
CNBC
September 12, 2019
Dan Robles
Posted on Portside's Facebook page
Re: Lewandowski's Lesson: Impeachment Hearings Work
 
Take note, House Democrats - it was only disastrous for Lewandowski when the professional took over. Please bring the lawyers to center stage in the future hearings!
Jonathan Blagburn
Posted on Portside's Facebook page
     =====
good lawyers would have known what to expect from a witness they seek to hear from and would have been prepared to make him look unbelievable should he testify falsely. Democrats had not prepared and looked the fools. Sad.
Peter Strals
Posted on Portside's Facebook page
     =====
Can't hold him in contempt of the House?
Alan Lemke
Posted on Portside's Facebook page
     =====
Cory's testimony sends the nation just one message: THERE IS A GRAND COVER UP IN THE GOVERNMENT!
Diana Rodriguez Vega
Posted on Portside's Facebook page
Re: Ayman Odeh: We Are Ending Netanyahu's Grip on Israel
 
Gantz is only marginally less odious than Netanyahu, at best.
Norm Littlejohn
Posted on Portside's Facebook page
     =====
But wasn't Netanyahu re-elected already?
Richard Coffman
Posted on Portside's Facebook page
     =====
There was a tie and now a struggle for power.
In complete agreement. Hopefully there will be peace and justice for all.
Blanca Torres
Posted on Portside's Facebook page
     =====
Yes, get rid of Netanyahu and try him for corruption!!!
Francisco Valentin
Posted on Portside's Facebook page
Re: The Legacy of Israel's First Refuser
 
Brave citizen. I remember our fight against mandatory military service at the end of the sixties of the last century.
Mariecel Maldonado
Posted on Portside's Facebook page
Re: When the Socialist Revolution Came to Oklahoma—and Was Crushed
 
The ruling class make sure that we don't know our working class history
Ed Delgado
Posted on Portside's Facebook page
     =====
A lengthy read but very interesting and worthwhile history.
Ellen Broms
Posted on Portside's Facebook page
Peggy Lipschutz - - Dec. 11, 1918 - Sept. 24, 2019 - Presente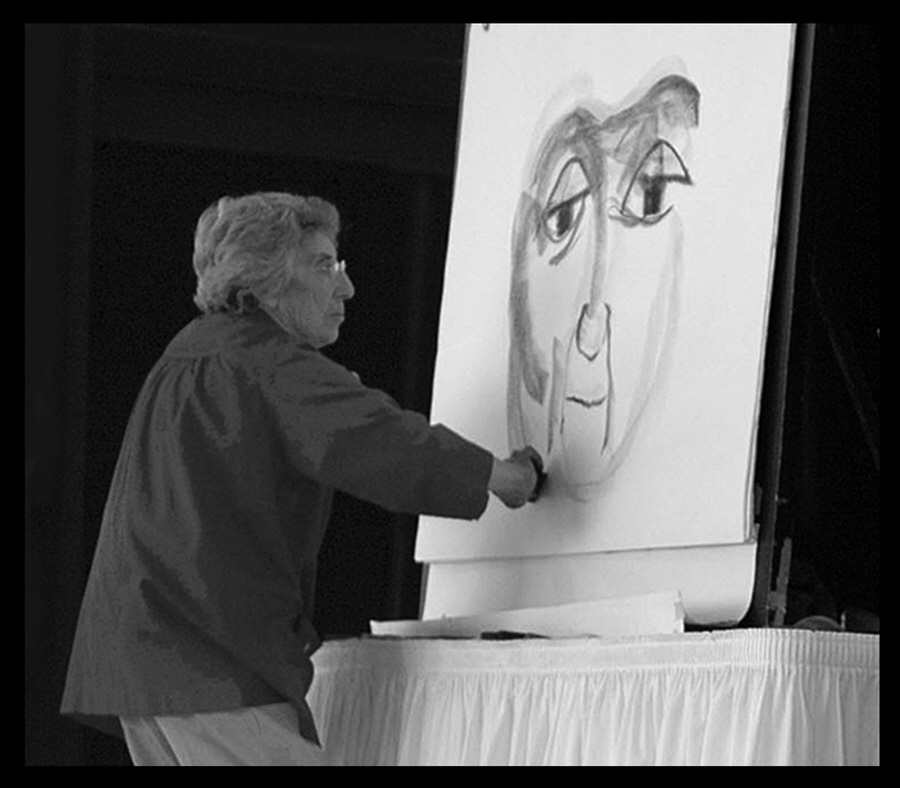 It is with great sadness to inform you of the passing of our dear friend Peggy Lipschutz.  She quietly slipped away early this morning in the presence of family.
Peggy had been in hospice care for the last month.  She had contacted pneumonia earlier in September, and decided not to receive treatment.  She made it very clear that it was her time to go -- taking control of a life well lived until the very end.  100 years, 9 months, 13 days!
A memorial will be planned shortly and as soon as I know the details I will contact you again.
Peace and love to all,
Jerri Zbiral
Director, Never Turning Back, The World of Peggy Lipschutz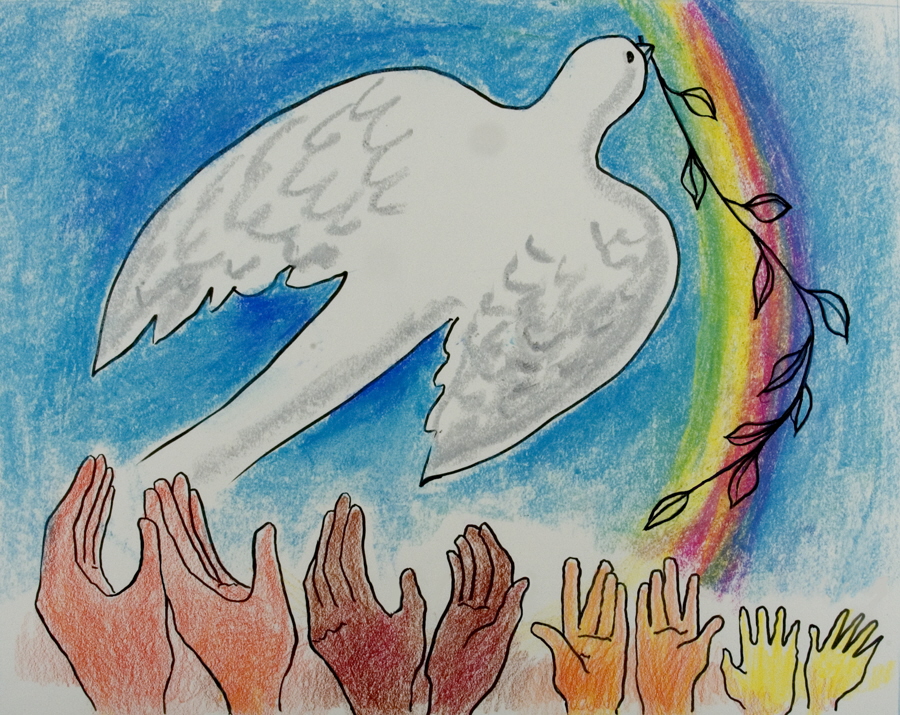 Teenage Girls scale Mex/US Border Fence in 15 Seconds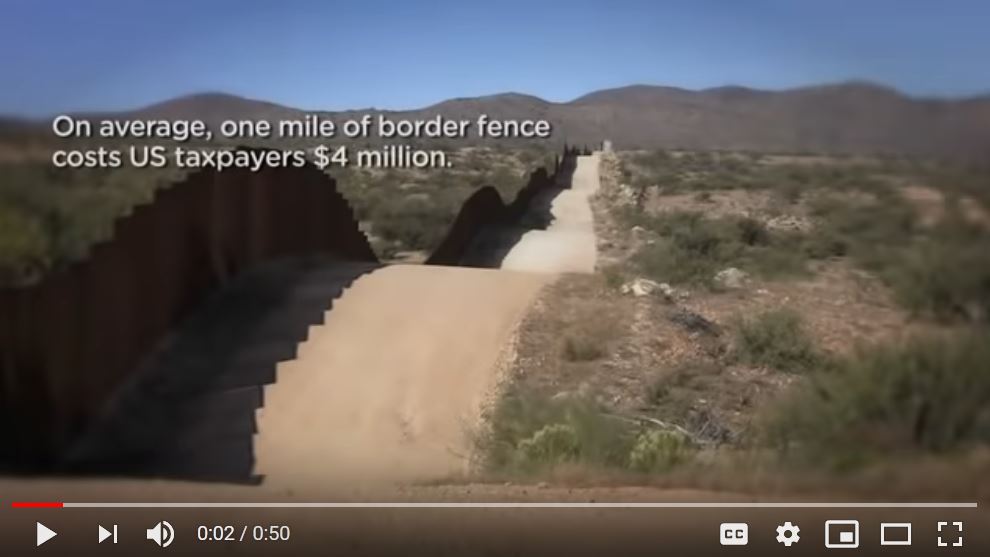 Watch here.
Based on over 700 interviews in Mexican towns where about half the population has left to work in the United States,
The Other Side of Immigration
asks why so many Mexicans come to the U.S. and what happens to the families and communities they leave behind. Through an approach that is both subtle and thought-provoking, this documentary provides a perspective on undocumented immigration rarely witnessed by American eyes, challenging audiences to imagine more creative and effective solutions. Roy Germano made
The Other Side of Immigration
while conducting Ph.D. fieldwork in rural Mexico with funding from the National Science Foundation.
Learn more. ​
The Other Side of Immigration is now available to stream in its entirety on YouTube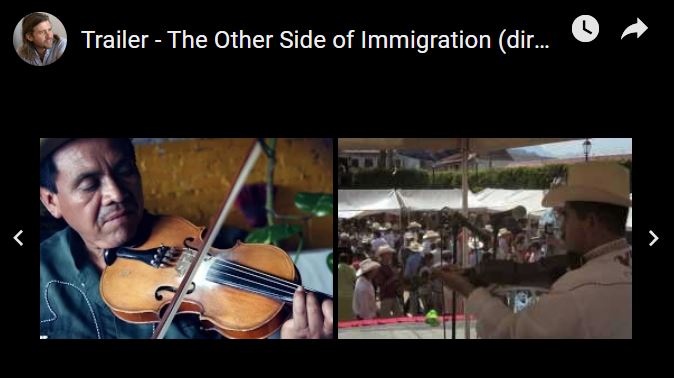 Click here.
The Other Side of Immigration is now available to stream in its entirety on YouTube - 55 minute full movie here.
Questions? Call us at (804) 620-7299
Book Launch: An Indigenous Peoples' History of the United States for Young People with Roxanne Dunbar-Ortiz - New York City - September 27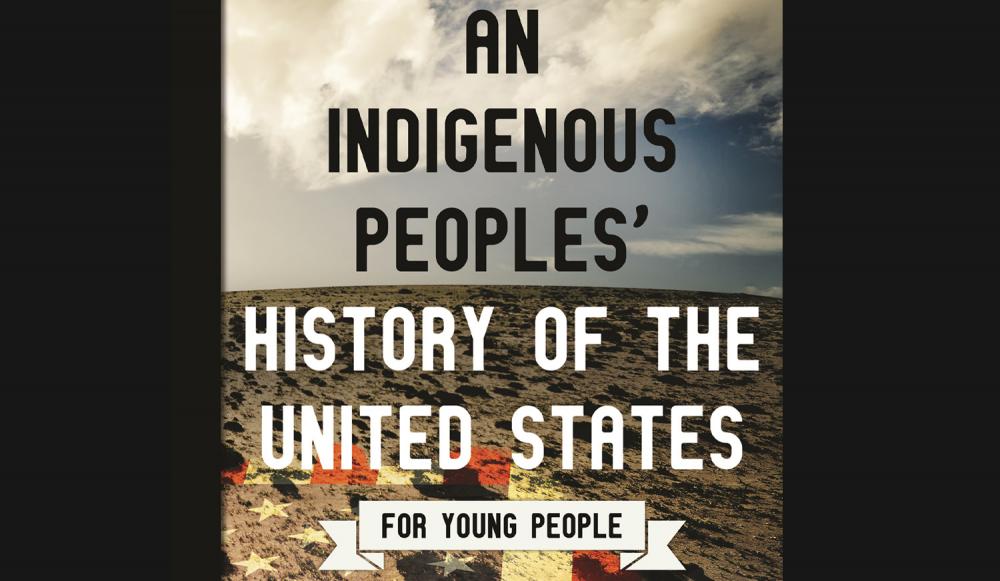 September 27 @ 6:30 pm - 8:30 pm
320 West 37th Street
New York, NY 10018
Spanning more than 400 years, this classic bottom-up history examines the legacy of Indigenous peoples' resistance, resilience, and steadfast fight against imperialism.
Going beyond the story of America as a country "discovered" by a few brave men in the "New World," Indigenous human rights advocate Roxanne Dunbar-Ortiz reveals the roles that settler colonialism and policies of American Indian genocide played in forming our national identity.
The original academic text is fully adapted by renowned curriculum experts Debbie Reese and Jean Mendoza, for middle-grade and young adult readers to include discussion topics, archival images, original maps, recommendations for further reading, and other materials to encourage students, teachers, and general readers to think critically about their own place in history.
[Roxanne Dunbar-Ortiz grew up in rural Oklahoma, the daughter of a tenant farmer and part-Indian mother. She has been active in the international Indigenous movement for more than four decades and is known for her lifelong commitment to national and international social justice issues. Dunbar-Ortiz is the author or editor of seven other books, including Roots of Resistance: A History of Land Tenure in New Mexico. Her book, An Indigenous Peoples' History of the United States (Beacon Press, 2014) was the 2015 Recipient of the American Book Award and the winner of the 2015 PEN Oakland-Josephine Miles Award for Excellence in Literature. She lives in San Francisco.]
An Indigenous People's History of the U.S. for Young People is available from Beacon Press.
Plowshares "Festival of Hope" with Amy Goodman, Jeremy Scahill - New York City - September 29 (Kings Bay Plowshares 7)
Sunday, Sept. 29  --  3 PM – 5 PM
Holyrood Episcopal Church / Iglesia Santa Cruz
715 W 179th Street
New York, New York 10033
Join Amy Goodman,Jeremy Scahill & Friends in Celebration with the Kings Bay Plowshares 7 defendants facing Oct. 21 trial in Brunswick, GA. & 25 yrs
Amy Goodman, Host of Democracy Now!
Jeremy Scahill, former D.N. producer, author/filmmaker, Dirty Wars
Kings Bay Plowshares 7 defendants who nonviolently, symbolically disarmed the Trident nuclear weapon system at Kings Bay Trident submarine base, face 25 yrs. (go to https://kingsbayplowshares7.org/ for more information) Carmen, Clare, Martha, and Patrick will speak, and hear from Mark, Liz, and Steve, the 3 jailed defendants in GA. 
Padre Luis Barrios, activist & pastor of Holyrood Episcopal Church will be a part of an interfaith blessing ceremony. 
Latin Music & Singer Tom Chapin! More details TBA.
Contact: Bill Ofenloch 212-369-1590 / Mary Anne Grady Flores 607-280-8797. For more information click here.
El Festival de la Esperanza es una celebración de los activistas no-violentos que luchan contra las armas nucleares, el grupo demandado Kings Bay Plowshares 7. Ellos simbólicamente desactivaron el arma nuclear/submarino Trident.
Invitados: Amy Goodman, presentadora de Democracy NOW! Y Jeremy Scahill, ex-productor de Democracy NOW! Y autor/director de Dirty Wars, van a hablar.
El grupo de 7 activistas demandados (ver information en KBP7 mas abajo) Carmen, Clare, Martha, y Patrick iran también a hablar, junto con Mark, Liz, y Steve, desde la cárcel en Georgia. El Padre Barrios, activista y pastor de Holyrood Episcopal Church, ira a hablar y hacer parte de la ceremonia ecuménica de bendición, junto con otros. Musica Latina (grupos anunciados en seguida) y el grupo cantante Tom Chapin Y Hermanas Chapin! Mas detalles en seguida.
Honoring the Social Justice Career of Prexy Nesbitt - Chicago - October 2 (Social Justice Initiative)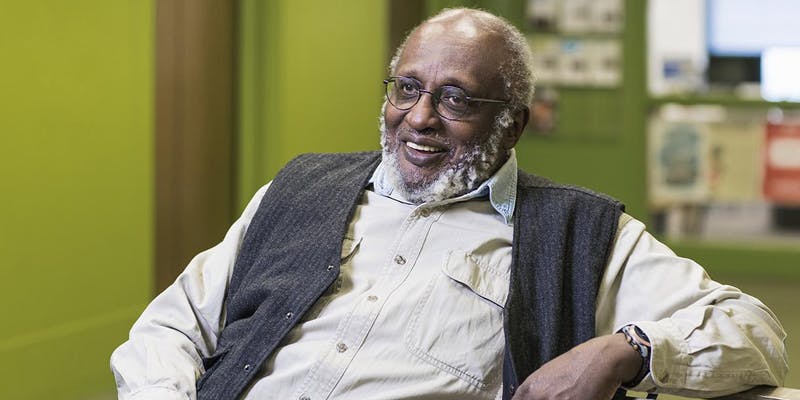 Wednesday, October 2, 2019  -  1:00 PM – 7:30 PM
Student Center East - University of Illinois in Chicago
750 South Halsted Street
Cardinal Room
Chicago, IL 60607
Join the Social Justice Initiative at UIC and community leaders for a symposium and reception in honor of Prexy Nesbitt's exemplary career of service and activism. As Prexy Nesbitt plans to leave Chicago for California, we are gathering together to celebrate his international work and far reaching impact.
Chicagoan Prexy Nesbitt has spent more than five decades as an educator, activist, and speaker on Africa, foreign policy, and racism. He was a national and international leader supporting the struggle to end apartheid in South Africa. Closer to home, he worked as an educator, activist and union organizer and served as special assistant to Chicago's Mayor, the late Harold Washington.
He is a beloved educator, international delegation coordinator, and social justice leader who has traveled to Africa over a hundred times and has taught and mentored hundreds of students and activists.
The program for the day is as follows:
1:00 p.m. "Prexy's Chicago: MLK Jr. to Harold Washington"
2:45 p.m. "Solidarity with Southern African: A Lifelong Commitment"
4:15 p.m. Tributes to Prexy from mentees, students and friends
4:45 p.m. Closing remarks from Prexy Nesbitt
5:00 p.m. Reception
Symposium Tickets at HonoringPrexy.eventbrite.com
Free & Open to the Public
Labor 2019 Book Symposium - Solidarity: Latin America and the US Left in the Era of Human Rights - Washington, DC - October 4 (Kalmanovitz Initiative for Labor and the Working Poor)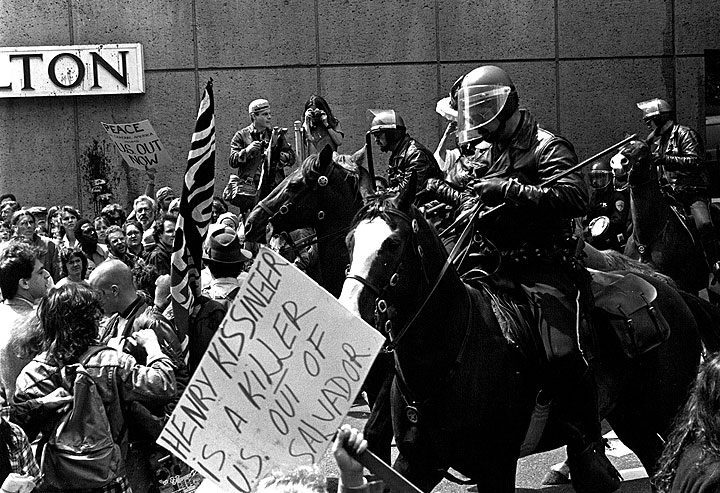 A discussion with author Steve Striffler and a Distinguished Panel 
Friday, Oct. 4, 2019  --  1:00 PM to 3:30 PM
Coffee and pastries will be served
Intercultural Center (ICC)
37th and O Streets NW
ICC 450
Washington, DC 20057
Kalmanovitz Initiative for Labor and the Working Poor
invites you to the LABOR: Studies in Working-Class History 2019 Book Symposium, where we will discuss Steve Striffler's Solidarity: Latin America and the US Left in the Era of Human Rights.
How and why has solidarity with Latin America changed over time? What are the political strengths and weaknesses of the solidarity impulse? And how has solidarity shaped the US left?  
A distinguished panel of commentators will discuss Solidarity.
Steve Stiffler (Author). Director of the Labor Resource Center and Professor of Anthropology, University of Massachusetts-Boston.
Bryan McCann. Professor of History, Georgetown University.
Nancy Raquel Mirabal. Associate Professor of History and Director of U.S. Latina/o Studies Program, University of Maryland, College Park.
Janet Shenk. Former Co-Director, North American Congress on Latin America.
Eric Arnesen. Professor of History, George Washington University
Kalmanovitz Initiative for Labor and the Working Poor
Georgetown University 
Maguire Hall 209
37 and O Streets, NW
Washington, D.C., 20057
Booktalk:  Dockworkers and Black Internationalism with Peter Cole - New York City - October 10 (University of Illinois Press)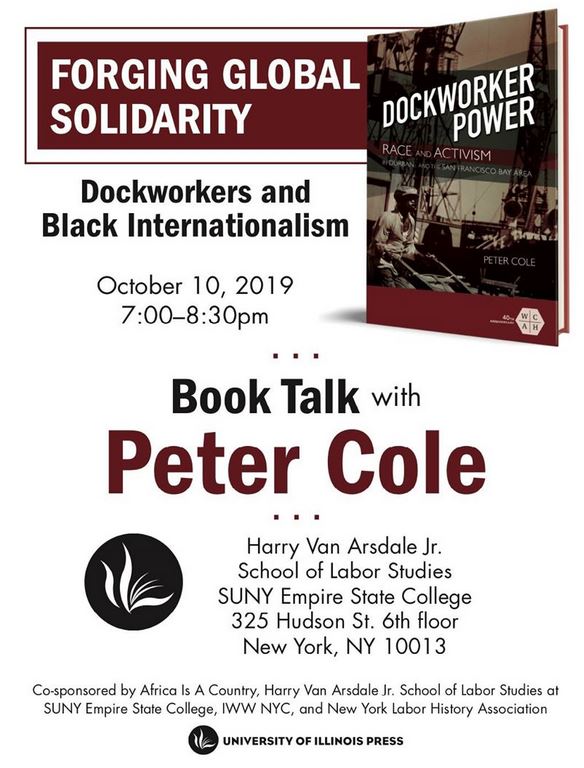 Celebrate 250 Issues of a Free Paper For Free People - New York City - October 19 (The Indypendent)
 

Saturday, October 19, 2019  --  7:30 PM – 1 AM
Sixth Street Community Center
638 E 6th Street
New York, New York 10009
For going on two decades, The Indypendent has been the voice of movements for social justice, underground culture and the place New Yorkers turn for hard-hitting reporting that pulls no punches. This fall we published our 250th issue. 
We're teaming up with Reverend Billy and his rowdy 40-voice choir to celebrate corporate-free media that amplifies the voices of the dispossessed and holds those in power to account.
Join us at Sixth Street Community Center Saturday, Oct. 19. 
Performers include:
They'll be a live auction, plus drink specials (including an exclusive Indypendent-inspired cocktail).
$10–$20 at the door. All proceeds go toward producing the next 250 Indy issues. Doors open at 7:30 p.m. 
Center for Economic and Policy Research - 20th Anniversary Party - Washington, DC - October 29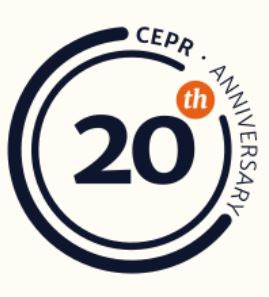 October 29, 2019  --  6:30 - 9:00 PM
Host:  The Center for Economic and Policy Research
AFL-CIO
815 16th St NW
Washington, DC 20005
You're invited to help CEPR commemorate 20 years as "a professional thorn in the side of orthodoxy" with a celebration featuring food, drink, and special guests! Read about our history here, and get your tickets now!
Program
6:30 pm - Event open, with music by Hassan El-Tayyab
7:30 to 8:30 pm - Hear from our featured speakers
9:00 pm - Close
Speakers
Sandra E. Black, Professor, Columbia University
Sandra E.Black is Professor of Economics and International and Public Affairs at Columbia University. She received her B.A. from UC Berkeley and her Ph.D. in Economics from Harvard University.  Since that time, she worked as an Economist at the Federal Reserve Bank of New York, and an Assistant, Associate, and ultimately Professor in the Department of Economics at UCLA, and held the Audre and Bernard Centennial Chair in Economics and Public Affairs in the Department of Economics at the University of Texas at Austin before arriving at Columbia University. She is currently an Editor of the Journal of Labor Economics and was previously a Co-Editor and Editor of the Journal of Human Resources.  Dr. Black is a Research Associate at the National Bureau of Economic Research (NBER), a Research Affiliate at IZA, and a Nonresident Senior Fellow at Brookings Institution.  She served as a Member of Obama's Council of Economic Advisers from August 2015-January 2017.  Her research focuses on the role of early life experiences on the long-run outcomes of children, as well as issues of gender and discrimination.
Rep. Pramila Jayapal, Representative from Washington 

Rep. Henry C. "Hank" Johnson Jr., Representative from Georgia

Sen. Elizabeth Warren, Senator from Massachusetts (invited)

Sen. Bernie Sanders, Senator from Vermont (invited)

Rep. Raul Grijalva, Representative from Arizona (invited)

Rep. Mark Pocan, Representative from Wisconsin (invited)

Rep. Ro Khanna, Representative from California (invited)

Dr. Jeffrey Sachs, Professor and Director of the Center for Sustainable Development, Columbia University (invited)

Katherine McFate, President and CEO, Center for Effective Government, CEPR Board Member

Heather Boushey, President & CEO, Washington Center for Equitable Growth

Keane Bhatt, Communications Director and Policy Advisor, Office of Senator Sanders

Becky Ray, Postdoctoral Associate, Boston University Global Development Policy Center

William E. Spriggs, Chief Economist, AFL-CIO

Mike Darner, Executive Director, Congressional Progressive Caucus

Alan Barber, Policy Director, Congressional Progressive Caucus Center

Wendy Chun-Hoon, Co-Director, Family Values @ Work

John Schmitt, Vice President, Economic Policy Institute
Center for Economic and Policy Research
1611 Connecticut Ave., NW
Suite 400
Washington, DC 20009
(202) 293-5380
info@cepr.net
Celebrating the Work of Erik Olin Wright - Madison, WI - November 1-2 (The Havens Center - University of Wisconsin-Madison)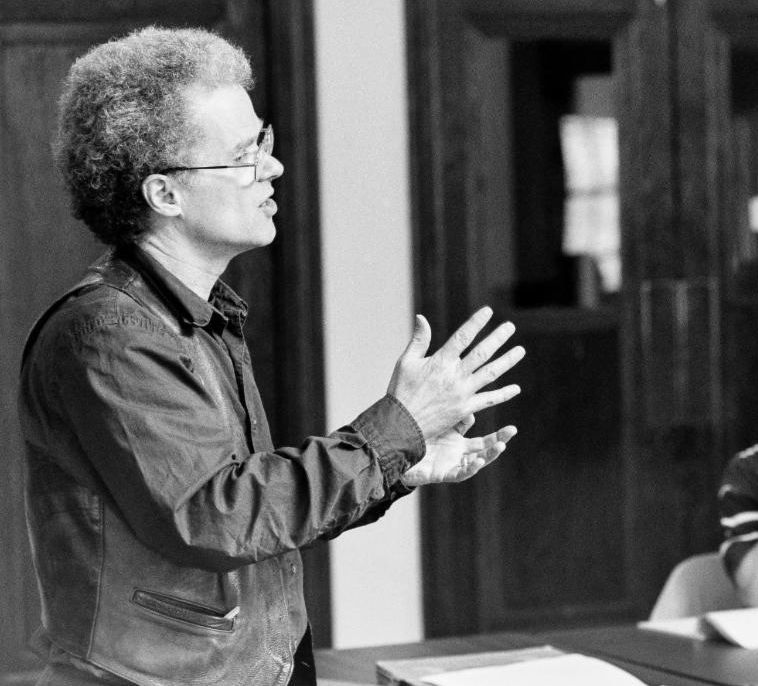 November 1 - 2, 2019
Pyle Center - University of Wisconsin
Room 213, 702 Langdon Street.
Madison, WI
This two-day conference will convene a group of distinguished scholars to celebrate the intellectual legacy of one of the great radical intellectuals of the last half century, the late Erik Olin Wright.
Renowned social scientist Erik Olin Wright has been lauded across the planet as scholar, teacher, colleague, and human being. He left us an intellectual legacy that has two strands: class analysis and the exploration of real utopias.  On the one hand, starting with his dissertation in 1976, he advanced novel Marxist frameworks for the study of class – frameworks that he elaborated and tested in social surveys conducted in more than 15 countries, culminating in 1997 with the book Class Counts. On the other hand, starting in 1991, he began a seemingly different project to discover actually existing institutions, organizations and visions that instantiated socialist values of freedom, equality and solidarity, what he called real utopias.  Over 25 years the project gave rise to a series of empirical investigations of real utopias – based on conferences at the Havens Center (recently renamed the Havens Wright Center) and published by Politics and Society and Verso. Wright wrote two programmatic assessments, one in 2010, Envisioning Real Utopias and a second one, intended as a guide to "strategic logics", completed only a few months before he died: How to be an Anti-Capitalist in the 21st Century (Verso, 2019 forthcoming).
This two-day conference will examine each of these projects separately and together.  One of the abiding paradoxes of Wright's work is the gap between the two projects: the first focuses on class without utopia, while the second focuses on utopia without class. We will, therefore, first examine how the projects were so different, but also how they were connected.  We will do this by exploring two themes that thread through his corpus: first, the relation between Marxism and Sociology and second the ideas behind Analytical Marxism. The challenge of this conference is to explore the tensions in thought reflected in his work, which certainly survive him, and so not to treat his work as finished.
The conference consists of four panels: Marxism and Sociology, Class Analysis, Analytical Marxism, and Real Utopias. Each panel will be defined by the presentation of a paper followed by three discussants.  The event is sponsored by the Havens Wright Center for Social Justice at the University of Wisconsin, Madison where Wright spent 42 years.  It will take place November 1-2, 2019.
Friday, November 1, 2019
3:00 pm. Vivek Chibber (New York University): Introductory Remarks
3:10 – 3:30 pm. John Roemer (Yale University): Opening Address
3:30 – 5:30 pm. Marxism & Sociology
Paper by Michael Burawoy (University of California, Berkeley)
Discussants: Dylan Riley (University of California, Berkeley), Greta Krippner (University of Michigan), Ivan Ermakoff (University of Wisconsin-Madison)
General Discussion
Saturday, November 2, 2019.
9:00 – 11:00 am. Class Analysis
Paper by Göran Therborn (Cambridge University)
Discussants: Rachel Dwyer (Ohio State University), William P. Jones (University of Minnesota), Jane Collins (University of Wisconsin-Madison)
General Discussion
11:15 am – 1:15 pm. Analytical Marxism
Paper by Nancy Folbre (University of Massachusetts Amherst)
Discussants: Debra Satz (Stanford University), Julia Adams (Yale University), Roberto Veneziani (Queen Mary University of London)
General Discussion
1:15 pm. Lunch
2:15 – 4:15 pm. Real Utopias
Paper by Leo Panitch (York University)
Discussants: Joel Rogers (University of Wisconsin-Madison), Juliet Schor (Boston College), Harry Brighouse (University of Wisconsin-Madison)
General Discussion
4:30 – 5:00 pm. Joel Rogers: Closing Remarks and What Next?
Activist Scholarship Conference - Call for Presentations - Proposals due by October 15 (Conference June 5-7, 2020 - East Side Freedom Library)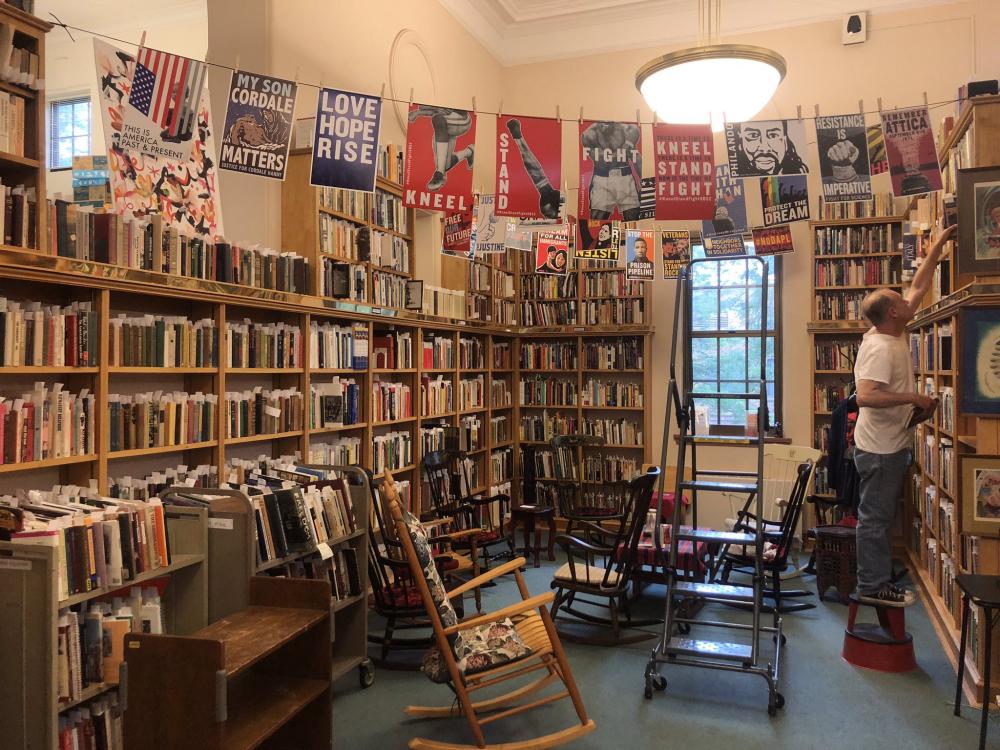 CFP: East Side Freedom Library
by Caroline Waldron
CALL FOR PRESENTATIONS
2nd Biennial Conference of Activist Scholars
East Side Freedom Library, Saint Paul, Minnesota
June 5-6-7, 2020
The United States and the world are in crisis, from our climate to our political structures. This "moment" of crisis is hardly new to many of us, who have carried our economic and political system on our backs for generations. Yet, the disdain for humanity expressed by our leaders and tolerated by so many must alert us to the profound character of the crisis in which we are mired. And we see that, part and parcel of this political, economic, and social crisis, there is a crisis in the production of knowledge – how to think critically; how to bring together our neighbors who hold parts of the answers but are separated from each other; how to inform activism with analytical insight; how to place the present in a conversation with the past; how to share knowledge across generations.
The East Side Freedom Library strives to be a space where such knowledge can be produced, shared, and deployed. Our mission is to inspire solidarity, advocate for justice, and work towards equity for all. ESFL has collected and cataloged 20,000 books on the histories of labor, immigrants, and LGBTQIA and feminist experiences, popular education and the arts, and the ways these stories have been told in poetry, fiction, theater, visual art, and more. We are also in a partnership with the Hmong Archives. We have become an educational and cultural gathering place, where students and scholars use our resources and participate in our programs, and where members of diverse communities build bridges with each other.
We invite you to send proposals for presentations of all sorts – papers, panels, poetry, video, performances, workshops – through which you are able to share your practice of activist scholarship. All fields are welcome. Keep in mind that you will be presenting to an engaged audience of activists, academics, NGO workers, artists, librarians, and community learners. We will not host simultaneous sessions, so that all participants can share their work and ideas together. We discovered at our first conference, in June 2018, that presenters valued how much they learned from each other and from audience members. You can find a pdf of our 2018 program on our website.
We consider activist scholarship to include:
University and community based research that offers critical perspective and/or actionable knowledge on issues of social equity, the climate emergency, and racial justice.
Knowledge generated through direct student and faculty engagement with labor, community, identity, and issue-based and social movement organizations.
Community-based and participatory research that involves workers, immigrants, LGBTQIA, and communities in the definition and redress of critical social issues.
Pedagogical strategies that engage students in critical reflection and open dialogue on key social issues and developments.
Theater, dance, poetry, spoken word, and other forms of artistic presentation that explore, express and embody social agency and human dignity.
Creation of public forums and spaces for critical dialogue on issues of social, racial, and economic equity.
We imagine that proposals might address:
U.S. and international case studies of im/migration flows, perils, and resistance;
Transnational, multi-lingual networks against fascism;
New analyses and strategies of climate emergency activists;
Alternative formations and solidarities in labor organizing and workplace actions;
How to expand shrinking bandwidth for structural/systemic analyses in the noise of celebrity culture;
Instances, community-building benefits and/or tactics of arts activism;
Historical instances of taking on Goliath, with lessons for today;
Reports from slow, local, lazy, non-aligned, and other refusenik movements;
Contingent labor, precarious labor, and other forms
Public Health projects
Science for the People project
And many others
Please send 250 word proposals for your presentations, as individuals or as groups, to info@eastsidefreedomlibrary.org. Include short presenter bios. Send by October 15, 2019. You will hear from us by December 1. We are working on raising funds so that we can subsidize travel and lodging for participants who need it. We do not want your finances to be an obstacle to your participation. We will keep you informed of developments on this front.
1105 Greenbrier Street
St. Paul, MN 55106
651.207.4926
info@eastsidefreedomlibrary.org
Vito Marcantonio Forum Announces Fall Schedule - New York - November 11 and December 7
 

Sat. November 11, 2019: A screening of Pane Amaro (Bitter Bread): A People's History of the Italian American Experience. 
The director, Gianfranco: Norelli and producer, Suma Kirien, will lead a post-screening Q & A. 
Sat. December 7, 2019: "Paul Robeson and Vito Marcantonio: Martyrs of McCarthyism. 
This multimedia event will bring dramatic presentations, film, and music to cast light on a shameful persecution of two great Americans.
Mulberry Street Public Library
10 Jersey Street
(Corner of Mulberry and Prince Streets; near Lafayette Street, one block south of East Houston Street)
Manhattan
Wheelchair accessible
Call to Refound the National Alliance Against Racist and Political Repression (NAARPR) - Chicago - November 22 - 24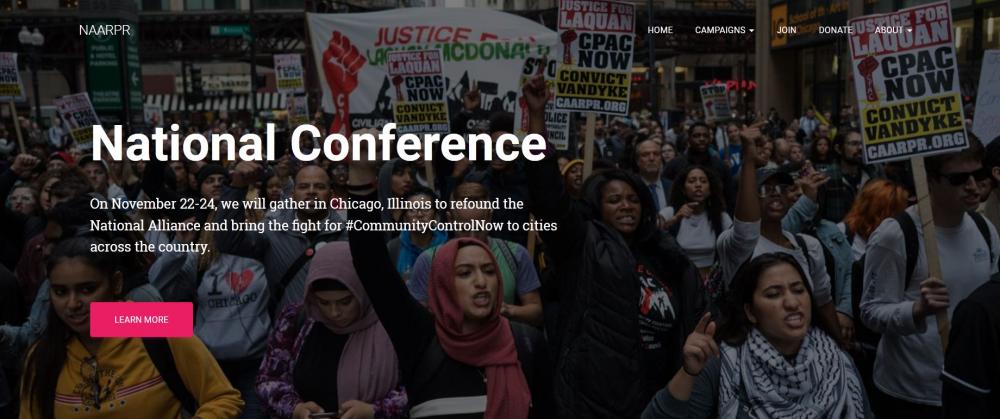 The Refounding Conference of the National Alliance Against Racist & Political Repression will take place in Chicago, Illinois on November 22-24. Activists and organizers from across the country will gather to refound NAARPR and coordinate nation-wide actions against state sponsored racial violence.
On November 22-24, we will gather in Chicago, Illinois to refound the National Alliance and bring the fight for #CommunityControlNow to cities across the country.
We issue this Call in a sense of outrage in the face of increasing racist violence and political repression towards working class and Black and Brown communities.
We are currently facing a national epidemic of state-sponsored violence perpetrated by police and vigilantes targeting the oppressed Black, Latinx, immigrant, indigenous, LGBTQ, non-binary, gender non-conforming, and gender fluid communities. Black Trans women are also being harassed and killed at record rates.
We are outraged that a detainment-to-deportation pipeline persists and grows, featuring local police working side-by-side with ICE to racially profile, hunt, and detain immigrants and then subject them to unlawful deportation with impunity. An unprecedented level of state violence has been unleashed on our Southern border with Mexico forcing masses of children, their parents and all adults to live in wretched concentration camp like conditions. Trans asylum-seekers and members of LGBTQ caravans have also been hurt and killed by border patrol police.
We see blatant police occupation in such major urban areas as Baltimore, Chicago, Cleveland, Detroit, Los Angeles, Milwaukee, Minneapolis, New York, Oakland, St. Paul, St. Louis and Washington, D.C. with police being permitted by city government to commit unspeakable crimes against the people.  Murders by the police, even when video-recorded, go unpunished.
We are witnessing and fighting against the institutionalization of a U.S. police state fusing local, state and federal law enforcement in the name of countering terror under the so-called "Patriot Act".  More money goes toward police budgets while the Black community suffers from severe underdevelopment.
We continue to struggle for our comrades who still languish in U.S. prisons after 40 years of incarceration or in exile, including: Leonard Peltier, Mumia Abu Jamal, Jalil Muntaqim, Mutulu Shakur, Assata Shakur and Pete O'Neal, among others.
We continue to fight for the pardoning of all torture survivors who were framed and kidnapped by Chicago Police officers, tortured into "confessing" and wrongfully convicted.
In our forty-six years of existence, we have never dropped our banner demanding an end to police crimes and terror. In Chicago, our campaign for an all elected Civilian Police Accountability Council (CPAC) has become a mass demand of the people advancing the struggle for community control of the police like never before. In the City-wide elections recently held in the winter, we had 68 candidates running with a plank in their platform for community control of the police. In total, 17 pro-CPAC candidates were elected.
We continue to stand in unconditional solidarity with the Black Lives Matter movement, who is currently facing blatant racist repression through the attacks by the Department of Justice branding them "Black Identity Extremists."
The Islamophobia unleashed across the country after September 11th is now being ramped up to new heights under Trump. His presidency is the domestic reflection of the so-called War on Terror. We have stood together with Arabs and Muslims here, including in defense of our Palestinian sister, Rasmea Odeh, against deportation; at the airports against the Muslim Ban; and we have rallied around Ilhan Omar and Rashida Tlaib as they speak out against racism and Zionism.
Militarization of our Southern border with Mexico is no longer a question of policy debated back and forth between Democrats and Republicans. It is an accomplished fact that must be confronted and changed by our movement.
We continue to stand in unconditional solidarity with the national liberation movements of Palestine, Puerto Rico, and the Philippines, as well as the anti-imperialist struggles of South Africa, Venezuela, and all progressive, democratic forces against imperialism.         
Consequently, we are reaching out to you, our comrades in struggle, to join us in our renewed effort to create a Black-led, Left-led, multi-racial, multi-national movement to stop police crimes, mass incarceration and to end racist and political repression.
National Alliance Against Racist and Political Repression (NAARPR)