Global Left Midweek - November 20, 2019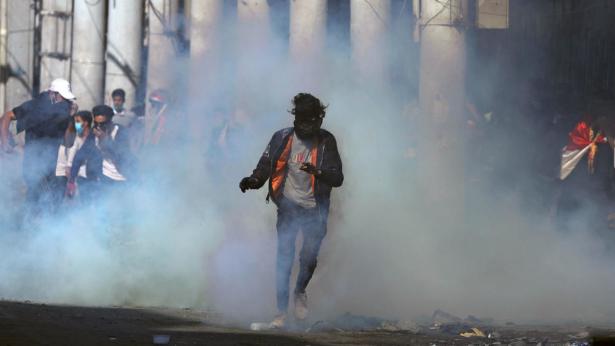 An Iraqi demonstrator runs from tear gas during anti-government protests in Baghdad on November 17, 2019, Photo: Abdullah Dhiaa al-Deen, REUTERS
__________
Bolivia Past and Present
Origins of the Crisis  Robert Cavooris / Viewpoint Magazine (Brooklyn)
The Eighteenth Brumaire of Macho Camacho  Jeffery R. Webber and Forrest Hylton / Verso Books (New York)

Bolivia's Tragic Turmoil  Linda Farthing and Olivia Arigho-Stiles / NACLA Report (New York)
Fighting Back  Zoe PC / Peoples Dispatch (New Delhi)
Counterrevolution and China  Walden Bello / Jacobin (New York)
Lessons from Brazil's Workers Party  Patrick Bond / CounterPunch (Petrolia CA)
Notes from the First Pink Tide  Marta Harnecker (2015) / Monthly Review (New York)
__________ 
General Strike in Iraq 
Striking Iraqis sealed off key bridges and avenues in Baghdad and across the south Sunday, boosting a weeks-long street movement that is demanding a government overhaul.
__________ 
A Pink Tide in the North?
Derek Royden / Nation of Change (Costa Mesa CA)
Jeremy Corbyn and Bernie Sanders have used movement-building to different degrees to create campaigns that are very different both from those opposing them now but also from any that came before.
__________
Yellow Vests' Year of Insurgency
Benjamin Dodman / France 24 
November 17 marks the first anniversary of France's Yellow Vest movement, a potent, unconventional insurgency that has been widely caricatured and misunderstood, and is set to leave a lasting imprint on French society and politics.
__________
Hong Kong Protests Six Months In
Cannix Yau / South China Morning Post (Hong Kong)
Protesters have escalated their actions, blocking thoroughfares across the city, disrupting train services and engaging in intense clashes with police. Government supporters find the situation increasingly unacceptable.