Global Left Midweek - November 25, 2020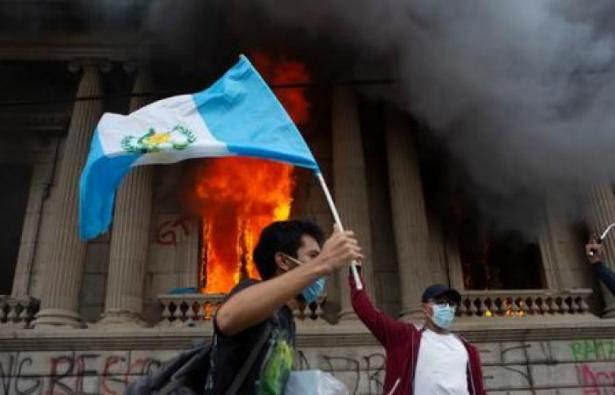 A protester waves a national flag as a part of the Guatemalan Congress building burns in the background. Credit,AP: Oliver De Ros
__________
Guatemala: Rage in the Streets
Zoe PC interviews Carlos Barrientos / NewsClick (New Delhi)

Hundreds of thousands of people have taken to the streets in Guatemala against the corruption of the political elites. A leader and founder of the Committee for Peasant Unity, an Indigenous and peasant organization, gives details.
__________
Repression in France
Putting Down the Yellow Vests  André Kapsas / Jacobin (New York)
Target: 'Islamo-Leftism'  Susan Ram / Counterfire (London)
Security Law Protests  David Walsh / Euronews (Lyon)
__________
The Return of the Puerto Rican Left
Jorge M. Farinacci-Fernós / Jacobin
In the November 3 general election, progressives in Puerto Rico dealt a serious blow to the two-party system. The PNP-PPD's combined vote total plummeted, the PIP and a new left party attracted broad support, and neoliberalism was put on notice.
__________
Thirteen Theses of Marxism-Feminism
Frigga Haug / transform! (Vienna)
"To organize a Marxist-Feminist Congress, and to reflect our modes of cooperation and conflict within it, is a means to translate our resistance into the development of a continuous Marxist-Feminist movement."
__________
Left Media in the PRC
Interview with Blizzard / Lausan (Hong Kong)
Masses 多数派 is a platform for a group of anti-capitalist, anti-imperial, and anti-patriarchal youth, focused on the exchange of ideas in social movements and civil society. The editors speak to Blizzard (pseudonym), a volunteer at a left media outlet (unspecified due to security concerns) in mainland China.
__________
National Strike in Colombia
Tanya Wadhwa / Peoples Dispatch (New Delhi)
Under the banner of "For Life, Peace, Democracy and Negotiation of an Emergency Plan", workers, peasants, teachers, students, doctors, women, Indigenous and Afro-descendant communities as well as the members of left-wing political parties took to the streets across the country.
__________
Quebec: Decolonialism and Indigenous Rights
Pierre Beaudet and Dalie Giroux / Socialist Project (Toronto)
The journal Nouveaux Cahiers du Socialisme revisits the Quebec national question in light of the mounting struggle against climate catastrophe, the growth of Indigenous resistance, and the crisis of Quebec's national movement. 
__________
Australia: Step to a Green New Deal
Sue Bolton / Green Left (Sydney)
The passing of the Greens-initiated motion for a Green New Deal in Victoria in the Legislative Council, is the first time that an Australian parliament has supported a plan to create jobs and address urgent social needs while responding to the climate emergency.
__________
Legacies
Carlos "Taso" Zenón, Puerto Rico / Democracy Now! (New York)
Lee Hyo-jae, Korea / New York Times
Mohamed Melehi, Morocco / Guardian (London)
Fikile Ntshangase, South Africa / Mongabay (Menlo Park CA)
Kishore Boodram, Trinidad / Trinidad and Tobago Guardian (Port of Spain)
Park Soon-kyung, Korea / Korea Times (Seoul)
Hanan Al-Barassi, Libya / Middle East Monitor (London)