Global Left Midweek - December 30, 2020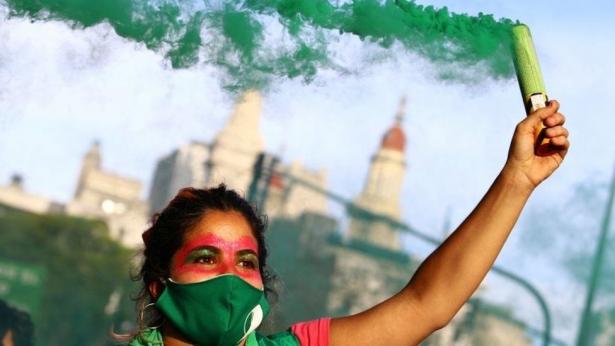 Green is the color of Argentina's successful abortion rights movement. Credit,Reuters
__________
Greta's Year End Video
Greta Thunberg / The Guardian (London)
The 17-year-old activist calls on leaders to account for failing to reverse rising carbon emissions, but concluded: 'There is hope … we are the hope – we, the people'.

__________
Workers in the Global South
China Labour Bulletin (Hong Kong)
Both the Chinese and Indian governments have unveiled their own series of relief measures to combat the economic impact of the pandemic. However, many of the measures introduced so far represent a serious threat to the interests of the working class.
__________
Women Take Action and Win
Argentina Legalizes Abortion  Tom Phillips, Amy Booth and Uki Goñi / The Guardian
Free Loujain al-Hathloul  Amandla Thomas-Johnson / Middle East Eye (London)
Turkey: We Won't Keep Quiet Ülker Sözen / Rosa Luxemburg Stiftung (Berlin)
Sudanese Women in the Peace Process Nazik Awad / openDemocracy (London)
Indigenous Women Lead in Northern Europe Mara Santilli / Marie Claire (New York)
__________
Climate Populism and Its Limits
Kai Bosworth / Progressive International (Athens)
What have been the consequences of the left-populist orientation of climate justice politics? What strategic lessons can we draw from this movement's successes and failures?
__________
Who's Anti-Semitic? The Politics of the New Witch Hunt
Masking a Reign of Terror  Jonathan Cook et al. / Israel-Palestine News (Menifee CA)
A South African Voice  Ronnie Kasrils / Morning Star (London)
Who's Against the IHRA Definition  Corey Balsam / Times of Israel (Jerusalem)
__________
Greece: Repression and Resistance
ReAkt Berlin / The Left Berlin
The Greek government is using the Corona pandemic to suppress freedom of assembly. But protests and civil disobedience are continuing.
__________
Reports from Kerala
The Coronavirus Slayer  Vijay Prashad / Tricontinental
Left Front Sweeps Elections  Peoples Dispatch (New Delhi)
__________
What's Next for Chile
Victor Figueroa Clark / Progressive International
Chile's referendum result is a cry for progressive change, but the struggle to translate mass social mobilisation into the drafting of a new constitution remains.
__________
11 Historic Peace Organizations Still Active Today
Taylor O'Connor / SkillUp
Of the 200+ year history of the modern peace movement, we are fortunate to have several historic organizations still active today. Learning about the challenges they faced, and of the monumental figures associated with them, we gain insight into practical strategies to build a more peaceful and just world.
__________
The Legacy of Ujamaa
Jaclyn Ashly / African Arguments (London)
Julius Nyerere and his African socialist policies are regarded with great pride in Tanzania, but not by all who experienced them first-hand.