Tidbits - Feb. 11, 2021 - Reader Comments: Impeachment, Now Conviction; Marjorie Taylor Greene; Fascism, Fascist Propaganda; Amazon Workers; Karen Lewis; Anne Feeney; Abortion; Medicare for All; Tipped Workers; Announcements; and more....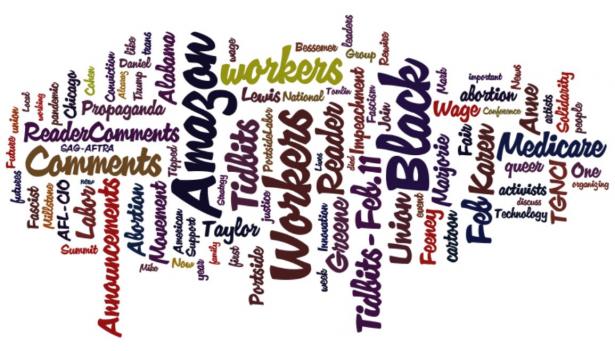 Tidbits - Reader Comments, Resources, Announcements, AND cartoons - Feb. 11, 2021,Portside
Resources:
Announcements:
Impeachment Exception  --  cartoon by Lalo Alcaraz
Lalo Alcaraz
February 10, 2021

Re: What Trump's Prosecution Omits
 
Great summary. We get in-depth analysis of American politics in Australia [yet] find it hard to understand the stupidity of the other side!
Peter Gerdsen
Posted on Portside's Facebook page
QOP The New Greene Party  --  cartoon by Dave Whamond
 
Dave Whamond
February 3, 2021
Re: Marjorie Taylor Greene Gets Punished by House and Disavows QAnon
Trevor Noah blasts away, painfully and hysterically funny. Jewish Space Laser's? Meet Marjorie Taylor Greene, U.S. representative from northwest Georgia. Wow!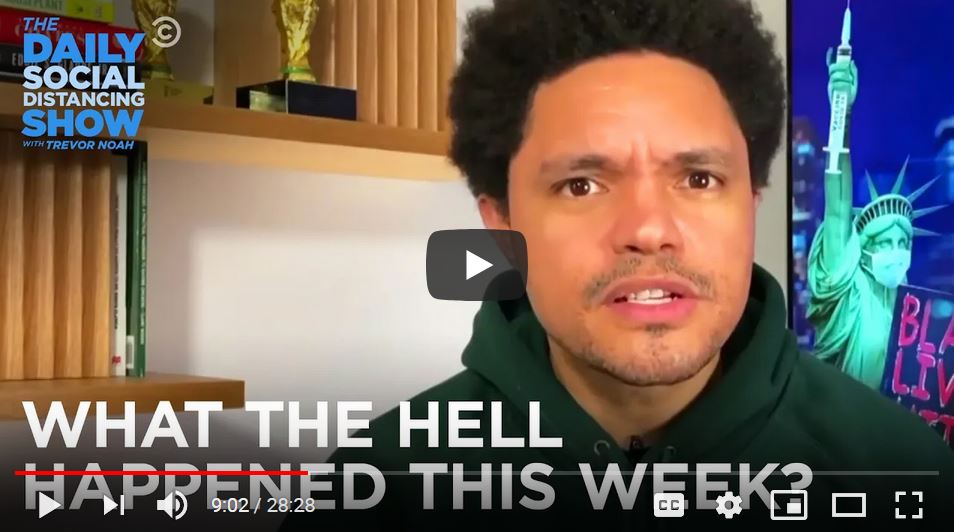 Watch here
Mitchell Cohen
Re: Movie at the Ellipse: A Study in Fascist Propaganda
 
This is quite sophisticated fascist propaganda. A must see.
Michael Steven Smith
Posted on Portside's Facebook page
     =====
This is an analysis steeped in philosophical idealism rather than a dialectical-materialist point of view. GThe realities of political economy should come first: the  increasingly military appropriation of capital by specific social forces. The ideological flourishes are worked out and improvised as the fascist force competes for power.
Aiming first at mythology and deploying analogies like that used here -- e.g., of a woman debasing herself before a beloved abuser -- betrays a frame of mind captivated by petty-bourgeois fantasies.
John Woodford
Unseen  --  cartoon by Mike Luckovich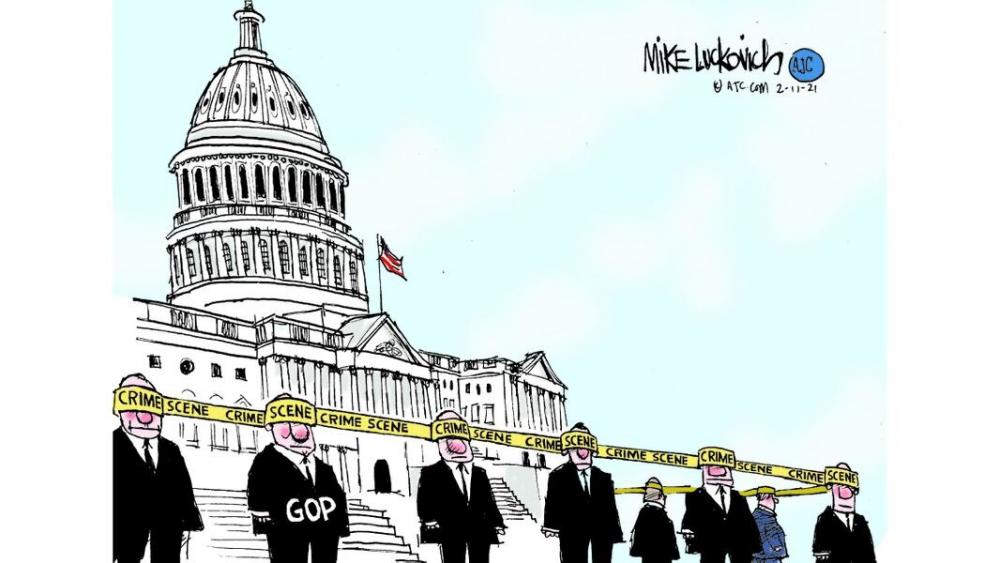 Mike Luckovich
February 11, 2021
Atlanta Journal-Constitution
Re: Epidemic of Despair Could Haunt America Long After COVID
 
Researchers worry the pandemic may have severe after-effects, with deaths of despair impacting more distressed and newly-vulnerable populations. Only a serious reform of American capitalism can address the kind of distress and insecurity so severe that it kills.
George Lessard
Posted on Portside's Facebook page
Re: Slave-built Infrastructure and Reparations
 
Recognizing that enslaved men, women and children built many of the cities, rail lines and ports that fuel the American economy is a necessary part of any accounting for the legacy of slavery.
Kentucky Alliance Against Racist and Political Repression
Posted on Portside's Facebook page
     =====
Nearly our entire initial infrastructure was built by the ancestors of POC that were enslaved.
Riotheart
Posted on Portside's Facebook page
Re: Union Solidarity on Eve of Historic Amazon Warehouse Election
(posting on Portside Labor)
 
Solidarity with Amazon workers in Alabama!
LaborFest Hawai'i
Posted on Portside's Facebook page
Re: Investors Tell Amazon to Stop Interfering in Union Vote
(posting on Portside Labor)
 
Best way to tell Amazon to stop interfering in union votes? Do no business with Amazon. And bring back an NLRB with teeth. And repeal Taft-Hartley.
Eleanor Roosevelt
Posted on Portside's Facebook page
Re: The Real Winners of Pandemic Super Bowl 2021
 
"On the eve of the big game, and after 10-plus months of the pandemic, 64 billionaire owners of major league sports franchises—including the AFC champion Kansas City Chiefs' Hunt family and the NFC champion Tampa Bay Buccaneers' Glazer family—have enjoyed a $98.5 billion rise in their collective net worth, a 30 percent increase, even as millions of fans have fallen ill, lost jobs, neared eviction, gone hungry and died due to the coronavirus."
David Lott
Posted on Portside's Facebook page
Re: 'Karen Did Not Just Lead Our Movement. Karen Was Our Movement.'
(posting on Portside Labor)
 
Safe journey to a great leader, President Emerita Karen GJ Lewis of the Chicago Teachers Union.
Patricia Dowling
Posted on Portside's Facebook page
     =====
A giant among us, Karen Jennings Lewis has died. Her genius for creating unity among teachers, parents and Chicago residents propelled her first to the head of the Chicago Teachers Union (AFT Local 1) and into the maelstrom of Chicago and Illinois progressive politics. Her successes were the harbinger of the newly reinvigorated teacher movements across the US. Remember her work.
Daniel Millstone
Posted on Portside's Facebook page
Re: Rest in Power, Anne Feeney (1951-2021)
(posting on Portside Labor)
 
Well between Covid and pneumonia, Anne Feeney died. I loved her raucous good humor, her musicality and her commitment to social justice. Some of her songs in the comments. My condolences and best wishes to her family friends followers and fans. We have to hold up the blood-stained banner, we have to hold it up until we die.
Daniel Millstone
Posted on Portside's Facebook page
     =====
I hadn't seen Anne for years, but I knew her in People's Music Network, a relentless activist and a wonderful singer-songwriter...
Judy Cohen
Posted on Portside's Facebook page
Special Edition: The Future of Abortion (Rewire News Group)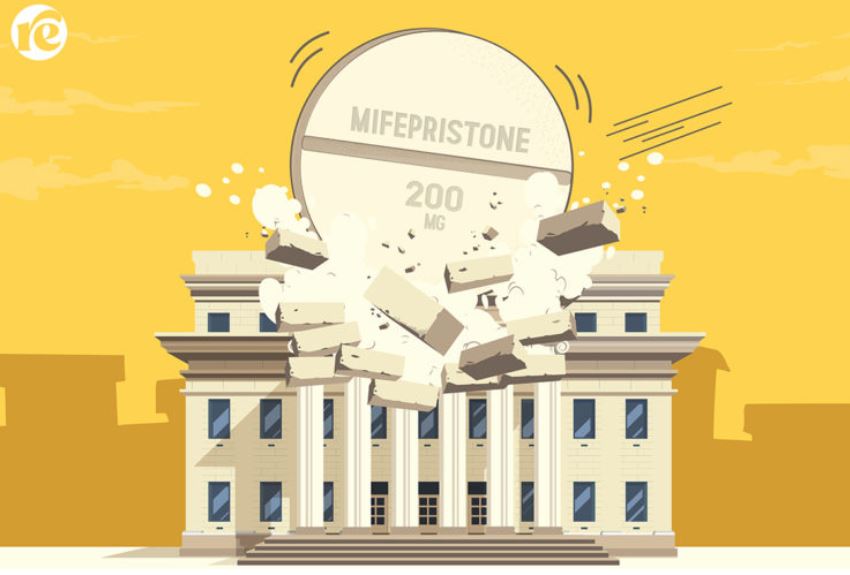 It certainly feels like we're heading in a new direction, doesn't it? With a new administration in office, the increasing availability of COVID-19 vaccines, and a revitalized push toward progressive issues, the months ahead seem likely to bring some long-overdue changes.
That's certainly true when it comes to reproductive health. As we detail in our first special edition of 2021, The Future of Abortion, the time is now for rewriting the rules of abortion access and care. And thanks to a potent mix of medical innovation and patient ingenuity, our multistory, multiplatform package reveals that abortion care is slowly being wrested from the hands of those who seek to politicize it, placing decision-making back where it belongs: in the hands of pregnant people and their doctors.
There are some exciting abortion breakthroughs happening on the international front as well—and in a March 4th Rewire News Group event, we'll be bringing together a virtual panel of activists leading the fight for abortion rights in Africa, Asia, and Latin America. It's sure to be an inspiring discussion about what it will take for abortion to be seen as good medicine all over the world, and we'll be sending you an exclusive invite soon, so keep an eye out!
There's no doubt that 2021 is going to be a big year for abortion access, and we're glad to have you supporting our journalism.
Rewire News Group
1765 Greensboro Station Place
Suite 900
McLean, VA 22102
Everything You Ever Wanted to Know About Our January Medicare for All (M4A) Strategy Conference (Labor Campaign for Single Payer)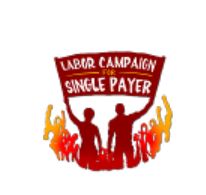 Mark Dudzic,
National Coordinator
Labor Campaign for Single Payer
P.O Box 34262
Washington, DC 20043
Contact us at laborcampaignforsinglepayer@gmail.com or 201-314-2653.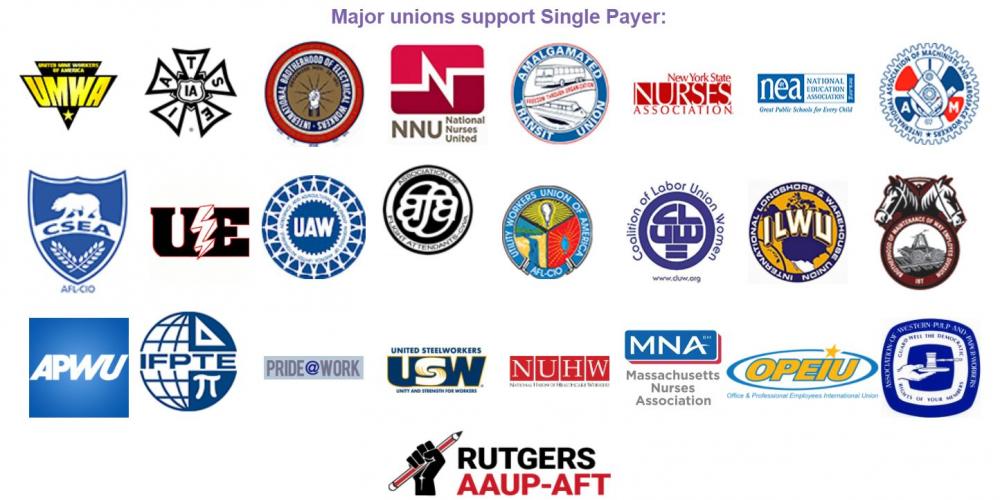 How Can We Support the Bessemer Alabama Workers' Union - Organizing Meeting - Tomorrow, Friday, February 12 (Support Alabama Amazon Workers)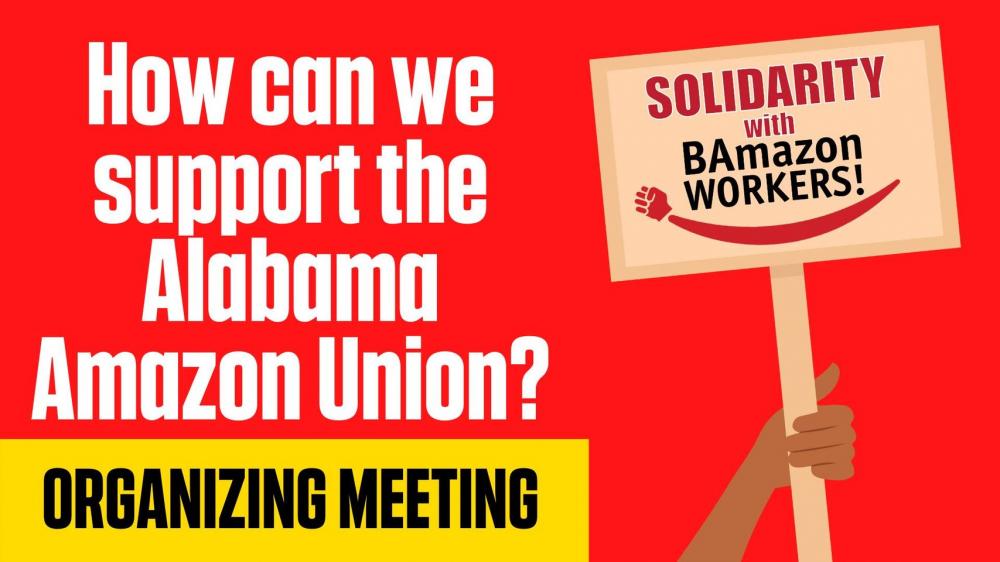 Between Feb 8, and March 29, approximately 6,000 Amazon workers at a warehouse in Bessemer, Alabama will begin voting by mail on whether to be represented by the Retail, Wholesale Department Store Workers Union. The harsh working conditions at Amazon warehouses, along with Amazon's refusal to adopt measures that protect workers from COVID 19, have pushed Amazon and Whole Foods workers every- where to step up organizing and fighting back.
These predominantly Black Amazon workers, who have in recent months formed the BAmazon Workers Union, are on the cusp of launching a history-changing workers organization against one of the biggest and most powerful transnational corporations in the world, and its super rich union busting owner, Jeff Bezos.  In addition, these workers are standing up to the racist, anti-union laws that suppress labor across the south. No matter what the outcome of the vote, this fight for a union in Alabama is already rocking Wall Street and energizing a much needed national explosion of worker organizing.
On this virtual organizing meeting, we will hear important updates on this campaign and we will discuss how a campaign of mass solidarity can be organized during the seven week long voting period for the union in Bessemer and beyond. Please register today and invite others!
Endorsed by:
Martha Grevatt, Founding member, former Executive Board Member, Pride At Work, AFL-CIO*
Chris Silvera, Secretary-Treasurer Local 808 IBT NYC*
Charles Jenkins, Pres. NY Coalition Of Black Trade Unionist*
Ava Biery Workers Assembly Against Racism*
Steve Kirschbaum, Vice Pres. Boston School Bus Drivers Local 8751 USW*
Dante Strobino, Southern Workers Assembly*  
Chris Smalls, Essential Workers Congress*  
(*for ID only)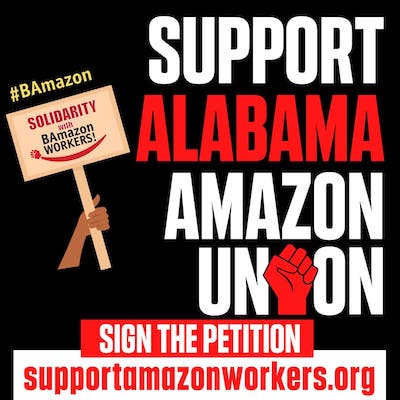 Celebrating Black TGNCI Futures - this Friday, February 12 (Movement 4 Black Lives - M4BL)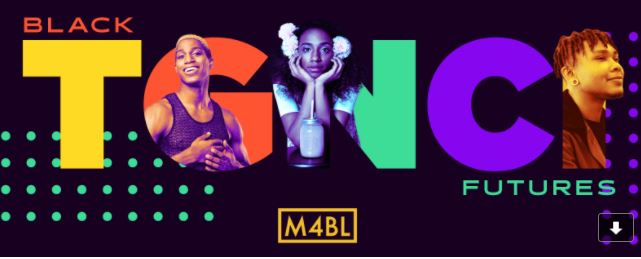 The future is Black, trans, gender non-conforming, queer, and beyond all the binaries and boundaries that oppression tries to box us into. Across all we do, and during Black Futures Month, we center Black, queer, and transfeminist perspectives.
Join us this week to dream and manifest our TGNCI futures—a beautiful one in which all Black people thrive, shine, and love, free from violence, harm, and hate.
Get on Clubhouse with us this Friday, February 12 at 8pm ET for an exclusive gathering with B. Cole, Texas Isaiah, Tunde Olanarin, Niv Acosta, Sasha Alexander, and Olympia Perez.
These and other Black queer, trans, gender non-conforming and intersex actvists, storytellers, writers, artists, and community leaders will discuss what a world looks like that centers Black, queer, and transfeminist lives.
Black queer and trans artists, activists, working people, and others have always been at the forefront of dreaming and expanding what is possible for our movements. So we affirm, celebrate, and defend all Black lives.
There are multiple ways to tap into our TGNCI futures this week. Don't miss M4BL on Twitter, Instagram, and Facebook. We'll be featuring the movement impact, stories, and creations of Black TGNCI visionaries. And we will revisit last summer's Black National Convention to hear from TGNCI artists and activists who dropped knowledge and political education we can all learn from.
Join us throughout the week on social and on Clubhouse this Friday at 8pm ET to connect with the brilliance of Black queer, trans, gender non-conforming artists and activists leading us into our futures.
Honoring Black TGNCI futures, today and always.
Servers Are Stars!  --  Join Jane Fonda, Lily Tomlin, Mark Ruffalo and MORE this Saturday, February 13! (One Fair Wage)
 
This Saturday at 2:00pm EST you can hang out with Jane Fonda, Lily Tomlin, Amy Poehler, Alyssa Milano, Andrew Zimmern, Chelsea Handler, Daryl Hannah, Chef JJ Johnson, Leslie Odom, Mark Ruffalo, Matthew Modine, Sandra Bernhard… and more!   Because they're joining One Fair Wage, The Representation Project and We Stand United for a special Digital Storytelling Event.
February 13 (ahem… 2.13!) is our annual National Day of Action to bring awareness to the fact that the federal sub-minimum wage for tipped workers is just $2.13 an hour. This year, we are so honored to be joined by celebrities who were servers, plus current servers and star chefs for #NationalTippedWorkerDay.
 
We will be hearing what it's like to work in the industry from current service industry workers and from celebrities who've had the experience of trying to live off tips. This is more important than ever.  The Raise The Wage Act — which includes a $15 federal minimum wage and full elimination of the sub-minimum wage for tipped workers, differently abled workers, and youth — has a real chance at becoming law.  It's currently in President Biden's pandemic relief package and is an integral step in pulling working people out of poverty and jumpstarting economic recovery.   You might want to check out this USA Today essay, featuring One Fair Wage members talking about the racism and sexism of the subminimum wage.
We hope you can join us on Saturday 2.13 at 11:00am PST / 2:00pm EST to hang out with the stars while celebrating the real stars of this pandemic, the service workers keeping us nurtured and fed.  And lend your voice to the fight for fair wages, dignity and respect for the essential workers who put food on our table. 
The One Fair Wage team
One Fair Wage Inc
45 Mt Auburn St
Cambridge, MA 02138
Labor Innovation & Technology Summit 2021 - February 19 (SAG-AFTRA and AFL-CIO)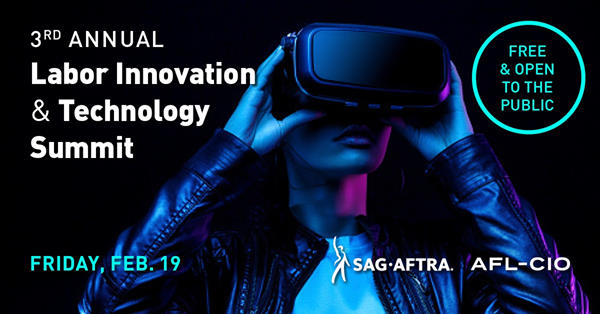 Hosted by: SAG-AFTRA and AFL-CIO
SAG-AFTRA's 3rd Annual Labor Innovation & Technology Summit to be held virtually on Friday, February 19 in partnership with the AFL-CIO. This full-day event is free and open to the public. 
An all-digital event that brings together leaders from across the labor, entertainment, and technology sectors to discuss 
the future of work.
This year's Summit will include discussions with key industry leaders & influencers on:
Rise of Streaming Services
Changing Business Model for Content Distribution
Emerging Uses for Volumetric Video
An Update on Deepfakes
How Innovation and COVID-19 are Impacting Workers
Labor Organizing in the Technology Sector
…and more.
For info on keynote addresses, sessions and panels please visit our website.
RSVP here
Screen Actors Guild - American Federation of Television and Radio Artists
5757 Wilshire Boulevard, 7th Floor
Los Angeles, California 90036
(855) SAG-AFTRA / (855) 724-2387
info@sagaftra.org