Global Left Midweek - Think Pieces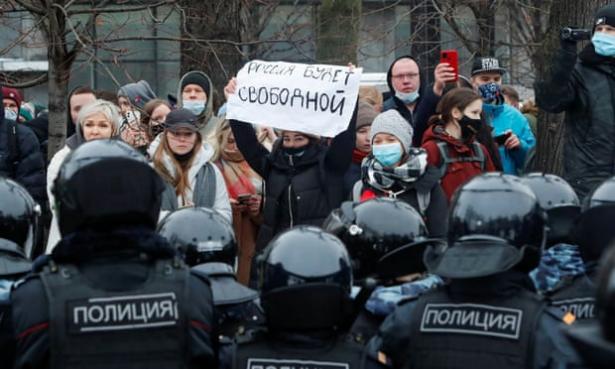 Moscow protester: "Russia will be free." Credit,Maxim Shemetov/Reuters
__________
Organizing in the Face of Crisis
John Clarke / Canadian Dimension (Winnipeg)

The pandemic-triggered crisis effectively places on the political agenda the vital question of who will pay. The answer to this will be decided by means of social struggles and these are emerging in various forms.
__________
Dear Joe Biden
José Antonio Ocampo et al. / Project Syndicate (Prague)
Your administration should engage actively in ongoing efforts to overhaul the international tax system to ensure fair taxation of multinationals. An ambitious global minimum tax could be a game changer in the fight against tax avoidance. 
__________
Two Views of Imperialism Today
Defining Contemporary Imperialism  Claudio Katz / Textos de ciencias sociales, economía y marxismo (Buenos Aires)
The Ideology of Late Imperialism  Zhun Xu / Monthly Review (New York)
__________
More China Debate
Progressive Internationalist Strategy  Tobita Chow and Jake Werner / Rosa Luxemburg Stiftung (New York)
Uighurs, Ethnic Cleansing and Imperialism  Azad Essa / Middle East Eye (London)
Hysteria in Australia  Dave Holmes / Links (Sydney)
Is War a Possibility?  Francesco Sisci / Asia Times (Hong Kong)
__________
Russia: More on Navalny Protests 
Liza Smirnova, Georgiy Komarov, Katya Kazbek, Kirill Medvedev, Ilya Matveev, Ilya Budraitskis, Sean Guillory, Rossen Djagalov, Sergey Solovyov / LeftEast (Bucharest)
__________
Populism and the Precariat
Guy Standing / openDemocracy (London)
A contribution to debate urging the mainstream left not to be distracted by populism. Aim instead for what we know about the near Future.
__________
Multiple Left Parties in Catalonian Election
Phil Butland, Fer Cornella and David Karvala / The Left Berlin
The election saw rival left candidatures, most notably from the CUP and Comuns. The clearest problem to a joint slate is the national question. The Comuns try to avoid it. CUP is anti-capitalist, pro-independence, but also has problems with sectarianism.
__________
Syria: The Jinwar Commune
Bethan McKernan / The Guardian (London)
Jinwar is a female-only community, set up by the women of the local Kurdish-run administration to create a space where women can live "free of the constraints of the oppressive power structures of patriarchy and capitalism". 
__________
Philippines: Deadly Red-Tagging
Joel Rocamora / Rappler (Manila)
Many activists have been brushed with a "red tag" putting them in danger of arrest, worse murder. The military would have the political parties under the Makabayan banner dismantled, disqualified from holding congressional positions they were elected to.
__________
El Salvador: Bloody Hands
Committee in Solidarity with the People of El Salvador (Washington DC)
President Bukele's party swept March 1 legislative elections. Prior to and throughout the campaign period, the FMLN suffered violence and false allegations of fraud made by Bukele and company intended to undermine confidence in Salvadoran democracy.