Global Left Midweek - More on China, Solidarity and Anti-Imperialism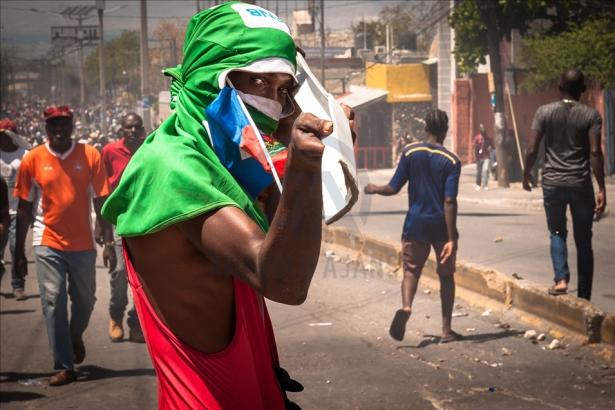 Haitians demonstrate during a protest to denounce the draft constitutional referendum carried by the President Jovenel Moise on March 28, 2021 in Port-au-Prince. Credit,Sabin Johnson - Anadolu Agency
__________
China is Anti-Imperialist

Michael Dunford / Canadian Dimension (Winnipeg)
Instead of adopting Western norms and values, China is asserting its right to promote its own vision of mutual benefit.
__________
...Not Anymore
Kehinde Andrews / The Nation (New York)
China has no interest in destroying the system on which its success was built.
__________
...In Fact It's State Capitalist
John Clarke (Toronto)
Given the existence of a capitalist class, the enormous role of foreign investment, the place within the neoliberal supply chain and the predatory role on a global scale, I feel that China must be viewed as a capitalist society.
__________
...No, It's Building Socialism
Ken Hammond / MR Online (New York)
The Chinese state is led by the Communist Party, the management committee for the building of a new social order, at least aspirationally, and to a significant extent, practically, based on the interests and wishes of the working class. 
__________
Sympathy with Syria?
Demand Democracy  Ahmad Aisha et al. / New Politics (New York)
Defend Sovereignty  / Syria Solidarity Movement (El Cerrito)
The Left and the US  Edward Hunt / Jacobin (New York)
__________
Tunisia: The Marginalized Are Moving
Sami Zemni / MERIP Middle East Report (Chicago)
More than ever, Tunisia is witnessing the growing activism and anger of its marginalized populations, who were the first to rise up against Ben Ali and his regime. The post-revolutionary governments have, however, failed to address the root causes of their anger.
__________
Haiti: We Have Dared to Be Free
Camille Chalmers / The People's Forum (New York)
A conversation with Chalmers, a founding member of the socialist party Rasin Kan Pèp La. In 2019, along with other democratic and progressive forces, Rasin Kan Pèp La initiated the People's Patriotic Front to mobilize against the Jovenel Moïse regime.
__________
Mexico
Indigenous Arm Themselves  Columba Gonzalez-Duarte and Manuel Ureste / NACLA Report (New York)
Outrage After Police Murder Salvadoran Woman  María Verza and Marcos Aleman / Associated Press (New York)
__________
Italy's Amazon Workers
Massimo Franchi / Il Manifesto Global (Rome)
If the meaning of a union is that of an "association for justice," on strike FILT CGIL, FIT CISL and UILT offered a masterful example of a return to the roots by bringing together the struggles of 40,000 employees in Italy, united by the fact that they are enriching the giant Jeff Bezos more and more.
__________
The Struggle for Water Justice
Susan Spronk / Socialist Project (Toronto)
The COVID-19 pandemic and its social and economic impacts have created a global crisis unparalleled in a century – and one which requires a holistic response to match its sheer scale and complexity. But this response, whether at the national or international level, will be significantly weakened if it does not factor in the ways in which inequalities have made all of us more vulnerable to the impacts of the crisis.