Tidbits - Aug. 12, 2021 - Reader Comments: Covid Upsurge; Hiroshima and Nagasaki Remembered; Trump Planning Next Coup; Remembering Rich Trumka; Andrew Cuomo; Cuba; Ben & Jerry's Boycott in Occupied Palestinian Territory; Resources, Announcements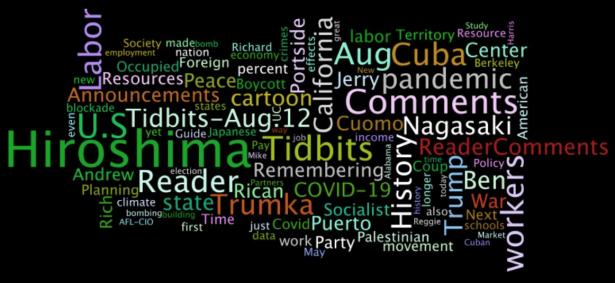 Tidbits - Reader Comments, Resources, Announcements, AND cartoons - Aug. 12, 2021,Portside
Resources: 
Announcements:
Re: Breakthrough Cases Aren't Causing the Covid Surge
How can we get the other half of us vaccinated? Here, via Portside, FYI, a useful look at the virus outcomes among vaccinated and unvaccinated people. The data are useful and, IMO, could help persuade anti-vaxxers.
Daniel Millstone
Posted on Portside's Facebook page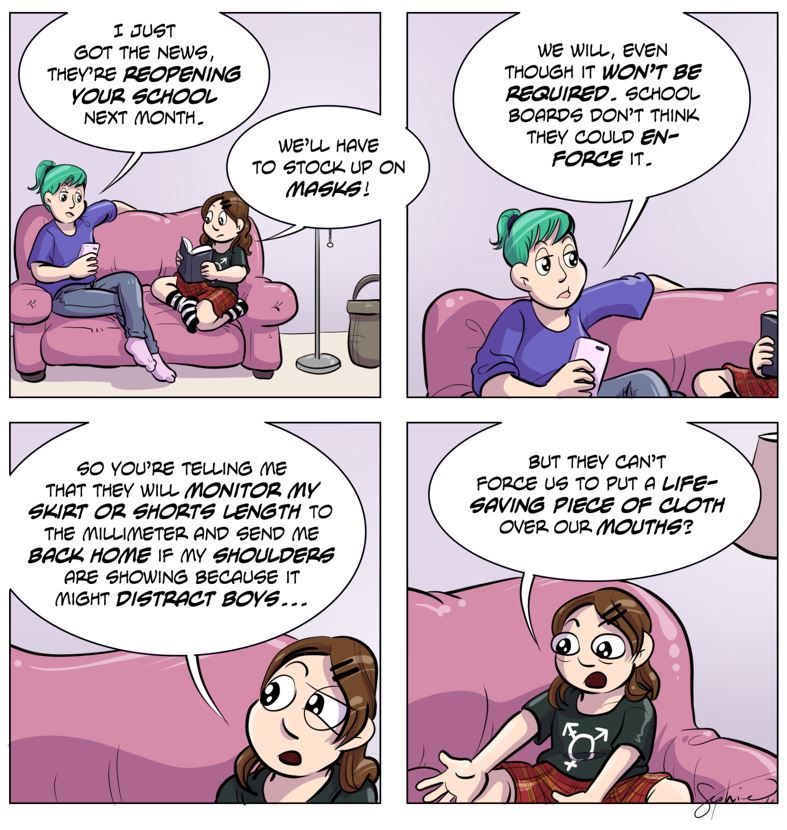 Re: Cori Bush Steers Progressives to Win on Eviction Crisis
An American Hero!
National Jobs for All Coalition
Posted on Portside's Facebook page
Re: Since 1978, CEO Pay Has Risen 1,322%. Typical Worker Pay? Just 18%
Ahhhh capitalism! (Bastards!)
Joanna Levine
Posted on Portside's Facebook page
Re: Learn from the Forests - Remembering Hiroshima and Nagasaki
Thanks for publishing for Hiroshima Day. Born in 1950, for many years I have worn a black armband on the 6th and the 9th of August.
Practically no one in U.S. media memorializes these crimes any longer.
Andrew Wilson
Re: Trump Is Planning a Much More Respectable Coup Next Time
WE SHOULD NOT PRESUME THAT LIBERAL DEMOCRACY WILL LAST
European Americans seek to destroy it.
"But there has been a subtle shift in how Trump and his allies have talked about the supposed "rigging" of the 2020 election in a way that will make such claims more appealing to the conservative judges and politicians that held the line last time around. 
Come 2024, crass and boorish unsubstantiated claims of stealing are likely to give way to arcane legal arguments about the awesome power of state legislatures to run elections as they see fit. 
Forget bonkers accusations about Italy using lasers to manipulate American vote totals and expect white-shoe lawyers with Federalist Society bona fides to argue next time about application of the "independent state legislature" doctrine in an attempt to turn any Republican presidential defeat into victory."
Van Caldwell
Posted on Portside's Facebook page
      =====
Are you an activist yet?  Do you agree with these interpretations of states' controls?
Gina Klein
Posted on Portside's Facebook page
Voters Will Not Replace Us  --  cartoon by Mike Luckovich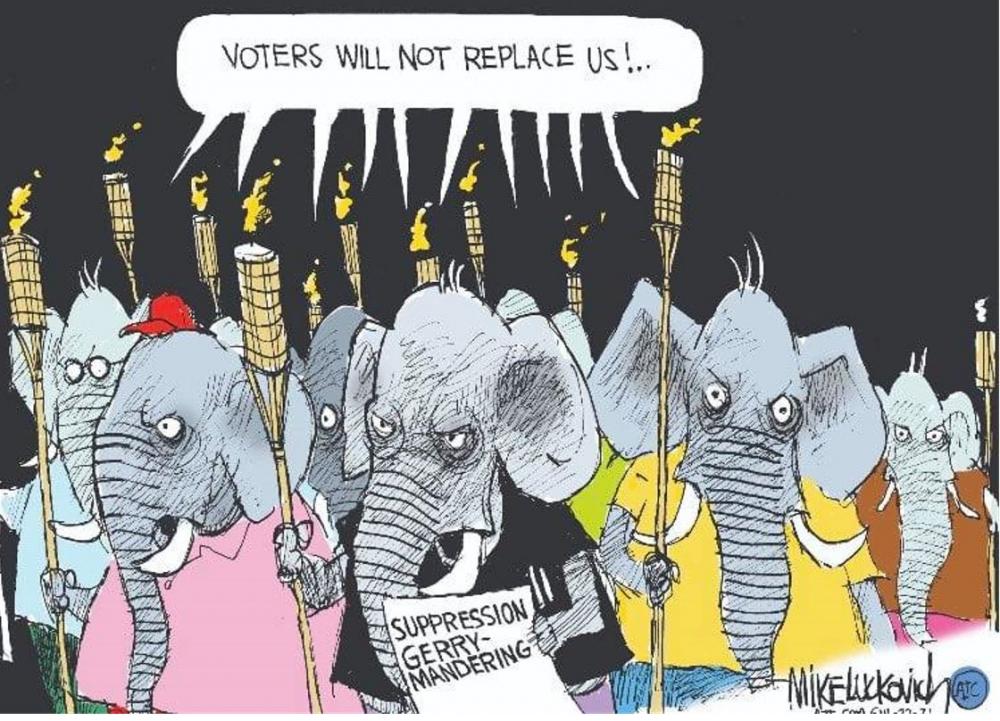 Mike Luckovich
April 22, 2021
Atlanta Journal-Constitution
Re: Alabama Amazon Workers Are Likely Getting a Second Shot at a Union
A federal official has recommended that the results of the union election at Amazon's Bessemer, Alabama warehouse be thrown out and a second election be held, due to the company's illegal anti-union tactics.
US Progressive Activists' Update
Posted on Portside's Facebook page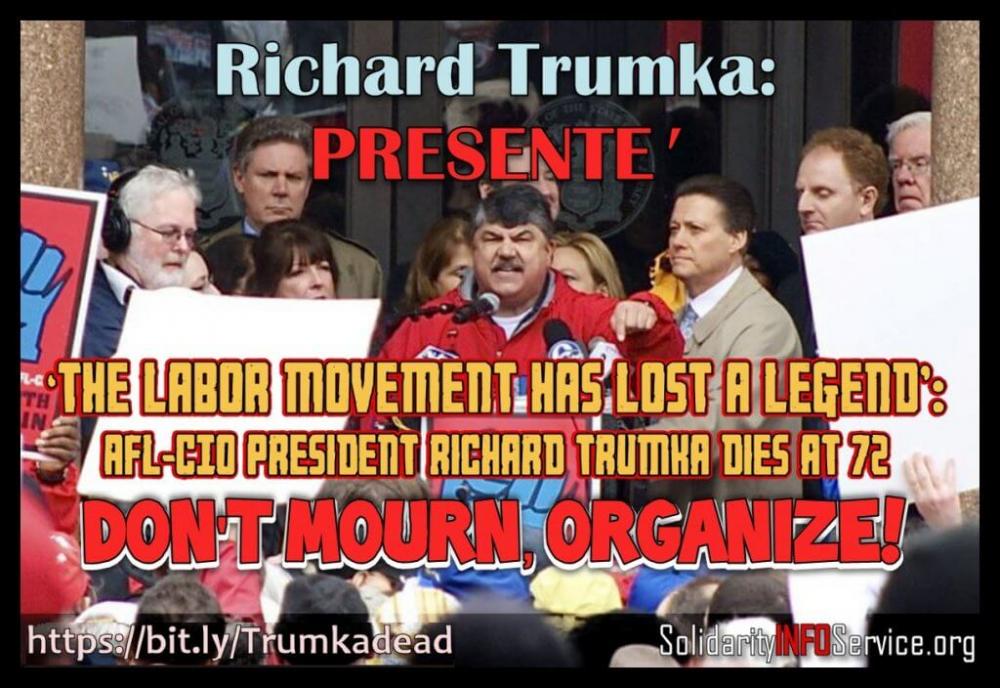 =====
Richard Trumka was a remarkable leader - he fought tirelessly not just for his union's many members but also for the broader movement. On climate, he had the very tough job of trying to bring fossil-industry workers into the fight to save our planet, and he made every effort. I definitely didn't agree with all of his choices but I could tell he was coming from the heart and with honor; something definitely not always true of leaders with his level of power.
Here he is in 2012: "A stable climate is the foundation of our global civilization, of our global economy ... As long as Congress is effectively controlled by climate change deniers, all of us... must take action ourselves."
A different type of AFL-CIO head would have vigorously defended the catastrophic Keystone XL pipeline on behalf of the pipefitters - but Trumka kept AFL-CIO from taking an official position. It really can't be overstated how important that was.
Trumka personally endorsed Occupy Wall Street. 
He backed the youth climate movement, speaking at Power Shift in 2011.
And he was a *coal miner*! 
Rich Trumka was a rare, good man.
Brad Johnson
climatebrad tweet
History Repeats Itself  --  cartoon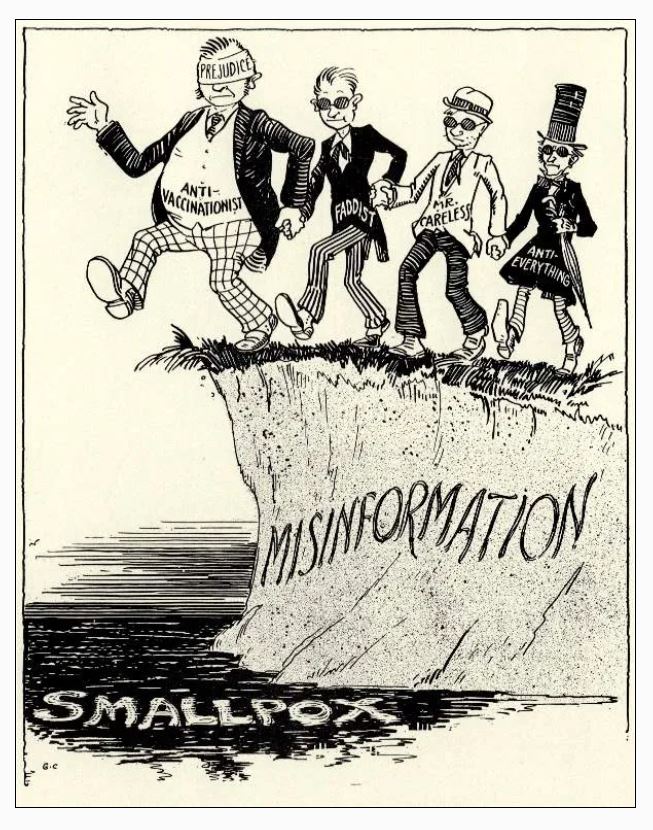 A tweet showing the cartoon bearing the caption "Comic made in the 1930s. History repeats over and over" has been shared several thousand times on the platform since being published on May 2 2021.
The cartoon's history, however, dates back longer. The International Team of Comics Historians first featured it in October 2012 on their now-defunct blog Super I.T.C.H, identifying it as a piece first published in the booklet "Health in Pictures" in 1930.
Truth or Fiction (Seeking Truth and exposing fiction since 1999)
Re: Cuomo Leaves, But a Corrupt Political Culture Remains in New York
Andrew Cuomo's behavior is totally unacceptable. But why are the Democrats falling all over themselves to indict Cuomo when they have NEVER launched or called for an investigation of Donald Trump's sex crimes. Trump is a rapist who almost brags about his exploits and he has never been charged even though dozens of women have publicly accused him of rape or attempted rape. No one has accused Cuomo of anything like the crimes Trump has committed. And how about Matt Gaetz? Why do their crimes get a free pass?
Could it be that the Democrats only go after their own because they know the white supremacists will support them? Remember Al Franken? He should never have resigned.
Ted Pearson
Now, the first analysis of enrollment at 70,000 public schools across 33 states offers a detailed portrait of these kindergartners. It shows that just as the pandemic lay bare vast disparities in health care and income, it also hardened inequities in education, setting back some of the most vulnerable students before they spent even one day in a classroom.
The analysis by The New York Times in conjunction with Stanford University shows that in those 33 states, 10,000 local public schools lost at least 20 percent of their kindergartners. In 2019 and in 2018, only 4,000 or so schools experienced such steep drops.
The months of closed classrooms took a toll on nearly all students, and families of all levels of income and education scrambled to help their children make up for the gaps. But the most startling declines were in neighborhoods below and just above the poverty line, where the average household income for a family of four was $35,000 or less. The drop was 28 percent larger in schools in those communities than in the rest of the country.
Dave Lott
Posted on Portside's Facebook page
Re: If Biden Wants to "Stand With the Cuban People," He Can Ease the Cruel Blockade
In 1997, the American Association for World Health concluded that the blockade had "dramatically harmed the health and nutrition of large numbers of ordinary Cuban citizens" and "caused a significant rise in suffering — and even deaths — in Cuba" as a result of "critical shortages of even the most basic medicines and medical hardware."
Over the past six decades, the blockade has caused more than $134 billion in quantifiable losses as of 2018.
The blockade violates the U.N. Charter, which enshrines the right to self-determination of sovereign states and prohibits forcible regime change.
Besides its cruel blockade, the U.S. government has encouraged and facilitated terrorism against Cuba while calling Cuba a "state sponsor of terrorism."
Labor Community Alliance of South Florida
Posted on Portside's Facebook page
      =====
US embargoes, blockades, boycotts, sanctions, invades, bombs, or occupies all nations it cannot control, from North Korea and Vietnam to Venezuela and Iran. It is disgraceful, unlawful, and abhorrent conduct, yet the Amerikan Sheeple seem to be sanguine about it all. And yet they wonder why gun violence plagues us at home!
Terry McNally
Posted on Portside's Facebook page
Re: If the US Really Cared About Freedom in Cuba, It Would End Its Punishing Sanctions
Helen's recent articles from Cuba have been a big contribution to answering the lies that are so predominant in the U.S. media.
Geoff Mirelowitz
Posted on Portside's Facebook page
      =====
Thanks for sharing this.  We no longer have an objective press with fair and accurate reporting and journalism--We have a steady stream of propaganda--This is rank imperialist propaganda set to pounce on nations building an independent society free of the yoke of imperialism.
We have to go after the press and hold them to account for these attacks on Nicaragua, Venezuela, Cuba and any other nation that resist imperialism.
In Solidarity
Bob DeMatteo
Re: Don't Let the Generals Dictate the Afghan War's Legacy, Make Them Answer for It
We learn nothing from Vietnam.
Todd Allen
Posted on Portside's Facebook page
Hypocritical Race Theory  --  meme by Reggie Harris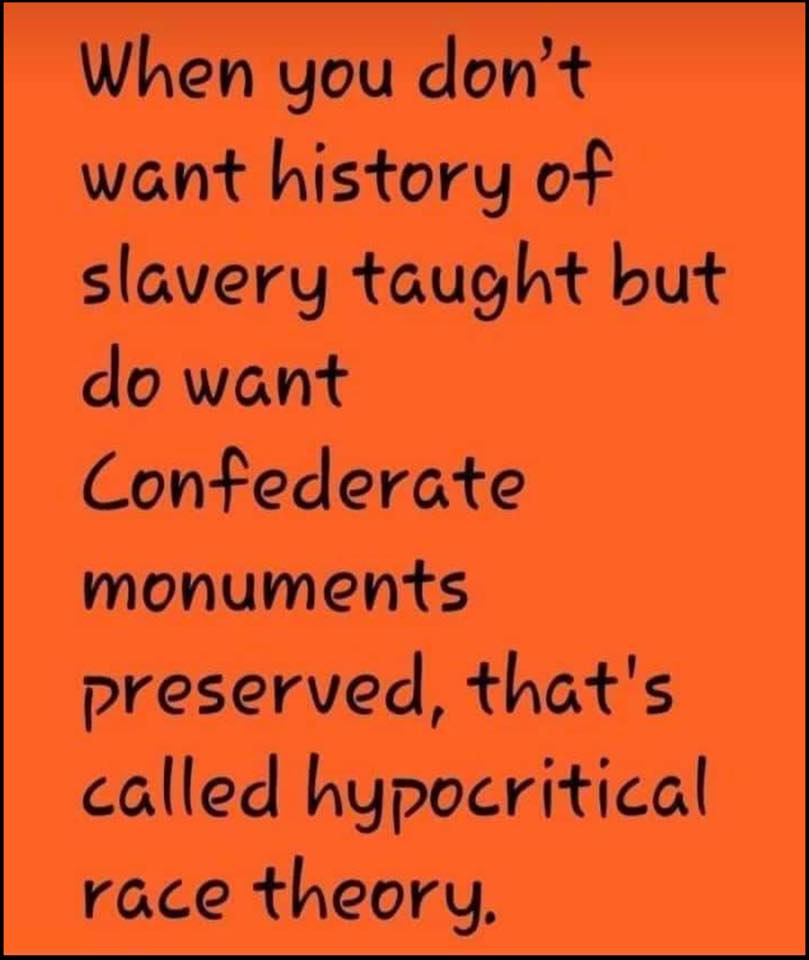 Reggie Harris
post on Facebook
Re: Israel Lashes Out at Ben & Jerry's for Boycott in Occupied Palestinian Territory
Support Ben and Jerry's , buy lots of great ice cream.
Richard Lee Deaton
Posted on Portside's Facebook page
      =====
Ben & Jerry are right. There ice cream is great.
Ruth Gauzza
Posted on Portside's Facebook page
      =====
Thank you Ben and Jerry.
Marlena Santoyo
Posted on Portside's Facebook page
U.S. Foreign Policy History & Resource Guide (Peace History Society)

I am the initiator and coordinator of the website, U.S. Foreign Policy History & Resource Guide, sponsored by the Peace History Society. 
Essays cover the nation's wars and major foreign policies, from the War of 1812 to the War on Terror. You will find here multiple perspectives, critiques of policy choices, peace movement activities and arguments, the true costs of wars, lots of images and photos, and expert scholarship. 
Recent essays include "Introduction: The Fifth Estate," "The U.S. and World War II," and "Africa and the War on Terror." One of the most popular pages is "Protest music of the Vietnam War." Please consider using this open educational resource in your work, listing it in your own resources, and sharing it with others.
Thank you, 
Roger Peace
PhD American Foreign Relations
Website coordinator, U.S. Foreign Policy History & Resource Guide
http://peacehistory-usfp.org/
California's Labor Market in the Time of COVID-19 (UC Berkeley Labor Center)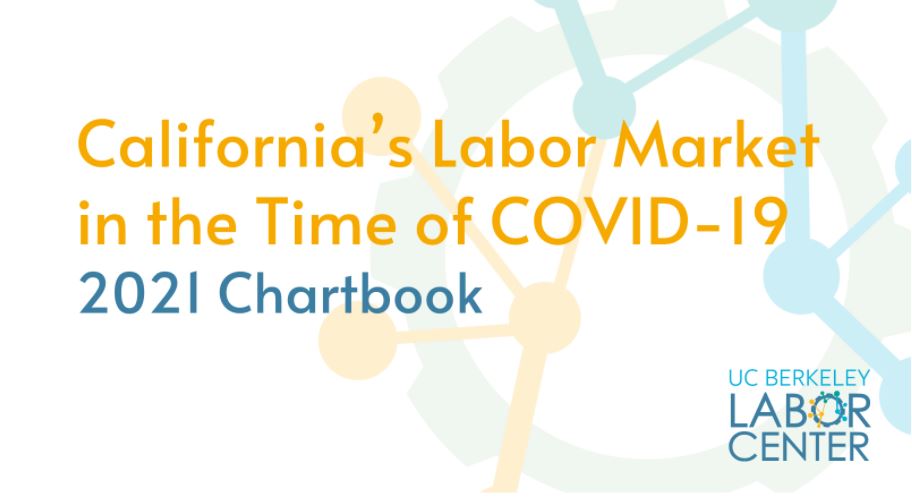 California's Labor Market in the Time of COVID-19:  2021 Chartbook
This data tool tracks the effects of the COVID-19 pandemic on workers in California, and how the state is recovering from these effects.
This new data tool from the UC Berkeley Labor Center tracks the effects of the COVID-19 pandemic on workers in California, and how the state is recovering from these effects. The pandemic left millions of Californians out of work, and while the economy has begun to recover in recent months, some workers continue to struggle.
This resource will be updated periodically, as new data becomes available, to allow users to monitor the progress of labor markets in the state.
 
Key highlights:
California's economy experienced massive job losses from the pandemic, and it is still a long way from fully recovering. Compared to the nation as a whole, California lost a greater proportion of jobs during the pandemic. Although California's employment hasn't fully recovered yet, the state has accounted for most of the job gains nationwide over the last four months.
While employment in the private sector is beginning to recover, employment in the public sector is largely stagnant, especially for local governments.
California's labor markets also experienced a significant loss of workers. As the pandemic began, the portion of the population either working or looking for work in California decreased substantially compared to the United States as a whole. Early into the state's recovery, hundreds of thousands of workers remain on the sidelines.
The impact of COVID-19 extends beyond the labor market. Many workers, especially workers of color and low-wage workers, continue to experience economic, housing, and food insecurities and challenges in accessing medical care.
2521 Channing Way #5555
Berkeley, CA 94720
Phone: (510) 642-0323
Fax:     (510) 643-4673
Email: laborcenter@berkeley.edu
A Burnt and Festering Hiroshima — Poster of the Week (Center for the Study of Political Graphics)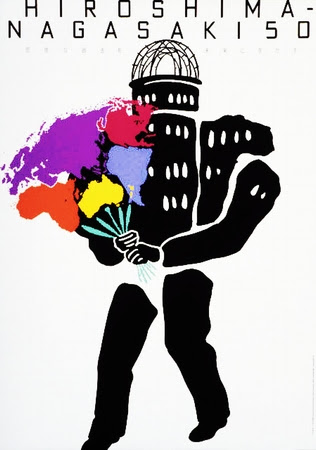 "from the dimly flickering flames of a burnt and festering Hiroshima"
–TŌGE Sankichi, "At a Field-Dressing Station"
Last weekend marked the end of the 2021 Summer Olympics in Tokyo, Japan and the 76th anniversary of the US atomic bombing of Hiroshima and Nagasaki.
On August 6, 1945, at 8:15 AM, the US dropped the world's first nuclear bomb over Hiroshima, Japan. The bomb, given the code name "little boy," exploded about 2,000 feet above the city, killing an estimated 140,000 Japanese civilians. The US dropped a second bomb three days later on Nagasaki, killing another 70,000 Japanese civilians.The majority of deaths occurred on the day of the bombing; however, ongoing nuclear radiation in both cities, combined with the U.S occupation of Japan resulted in countless more deaths.
The explosion destroyed nearly every building within a mile of the explosion. Of the few surviving buildings, the Hiroshima Dome, also known as the A-Bomb Dome, and Hiroshima Peace Memorial, serves a particular purpose towards historical memory and peace making. The site commemorates the location of the US nuclear attack and is often used as a place of prayer for Japanese victims of the US bombing.
Hiroshima-Nagasaki by Japanese artist U.G. Sato renders this building into a human-like figure, who is holding onto a bouquet made of a world map. The work speaks directly to the process of disaster and rebuilding, specifically urging the global community to unify in the name of an anti-nuclear world.
–Saúl Ontiveros
Getty Marrow Undergraduate Archive and Research Intern
Center for the Study of Political Graphics
3916 Sepulveda Blvd, Suite 103
Culver City, CA 90230
The Puerto Rican Socialist Party -- an oral history - August 19 (May First Movement Technology)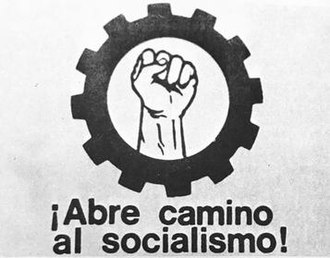 Organizers from the Puerto Rican Socialist Party during the 1970s share experiences relevant to activists today.
During the 1970's the Puerto Rican Socialist Party was the largest and most powerful Puerto Rican revolutionary organization in the U.S. and a major force within the U.S. Left. 
We're very excited to bring you this topic -- presented by Carmen Vivian Rivera, Maritza Arrastía, Andrés Torres and Alfredo López -- all PSP leaders during that period and current May First members. Information about their book - _Revolution Around the Corner: Voices from the Puerto Rican Socialist Party in the United States_ is available here http://tupress.temple.edu/book/20000000010029
This is an event every person interested in changing this country should attend. The lessons of that period and that organization are of great value today.
August 19  --  3:00 PM through  4:30 PM EDT
Creating the Path Forward for a Vibrant Labor Future: Perspectives from the Front Lines - September 8 (Democracy Partners)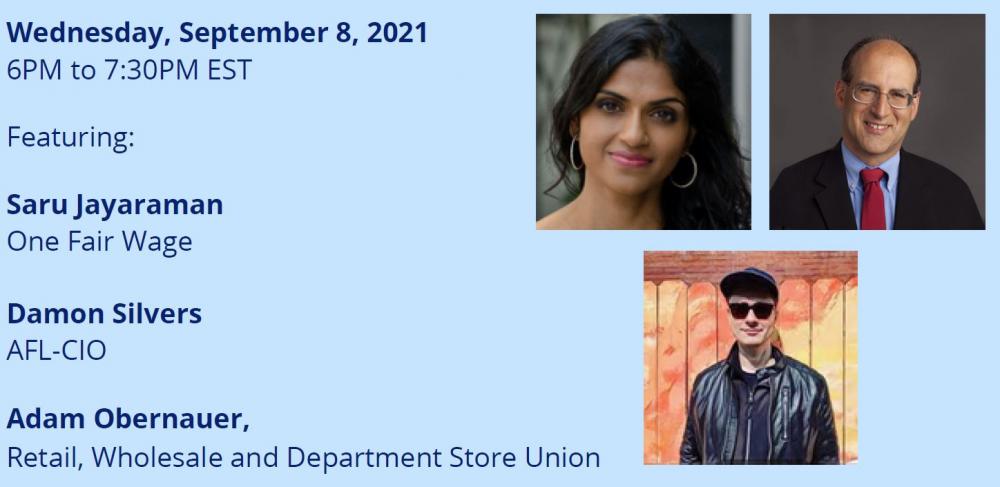 The pandemic put the ironies and the changes of the American economy and of the Americanworkforce in stark relief. For those who looked at the situation or lived it, it became clear that much of the goods we needed were no longer made in the United States and the most important people to our daily lives – from farm workers to truck drivers, from nurses and orderlies to warehouse workers –were often the most poorly compensated.
For 30 years Billionaires and Corporate CEO's have been on the attack against America's Unions. At the same time, union membership has dropped from 26.7% of the work force in 1973 to only 13.1%today. While the numbers and fortunes of billionaires have grown exponentially, the share of America's income going to wages has plummeted. From 1980 to 2017, average incomes for the bottom 90percent of households increased just 1.1 percent, while average incomes for the wealthiest 1 percent increased more than 184 percent. From 1979 to 2014 the nation's output of goods and services has skyrocketed by 64% -- but inflation adjusted wages have risen only 6%.
As the world emerges (we hope) from the pandemic there are new opportunities and new challenges for the labor movement – whether the challenges can be met and the opportunities seized is the discussion we hope to engender.
September 8  --  6:00 PM EDT
Phone : 866-532-3367
Email : Info@democracypartners.com