Dispatches From the Culture Wars - October 12, 2021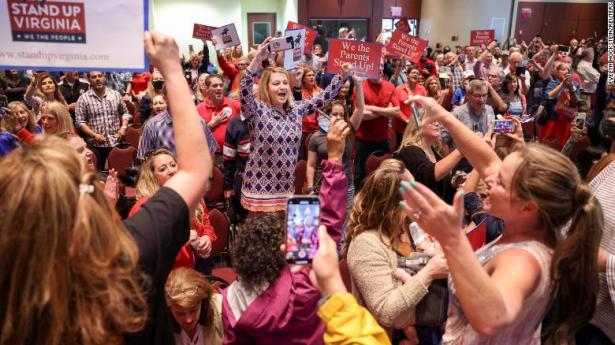 Pandemonium at a school board meeting in Ashburn, Virginia. Credit,CNN
By Margaret Talbot
The New Yorker
Parental ire over masks and anti-racism education, stoked by national figures such as Tucker Carlson, on Fox, and Charlie Kirk, of Turning Point USA, has helped galvanize school-board recall efforts, promote new candidates for the boards and for other local offices, and push legislative bills. 
Squid Game and The Rise Of Anti-Capitalist Entertainment
By Laura Pitcher
Refinery29
Squid Game perfectly mirrors our social realities, exploring themes like class struggle and economic anxieties through one dramatic competition. It follows a series of movies and television shows that have gained success recently for their critiques of capitalist society.
By Bhakti Shringarpure
Africa is a Country
Abdulrazak Gurnah's Nobel Prize for Literature win raises questions about the role of the LitNobel and how they construct what we think of and buy as African literature.
Disabled Comedian Rosie Jones and the Trolls 
By Liam O'Dell
The Independent
When comedian Rosie Jones, who has ataxic cerebral palsy, appeared on BBC to talk about how unsafe she feels as a gay, disabled woman, ableist trolls took to Twitter to mock how she was speaking, not what she was speaking about.
The museum union movement represents a major shift in the self-conception of workers in museums and the nonprofit sector more broadly, a refusal to accept unsustainable conditions as the trade-off for working in a creative or prestigious field.
Co-ops have got to be more active and engaged, work with others and collaborate with social movements as well as really try to show how the co-operative model can be relevant for addressing climate change.
A Classical Violinist Stands Up for Jimi Hendrix
Fresh from a bust-up with 'Jurassic FM' over playing Hendrix, Nigel Kennedy talks about musical snobbery, going on strike and his lifelong regret at turning Duke Ellington down.
A Texas Treasure: Rediscovering Gertrude Beasley
By Michael Agresta
Texas Monthly
A searingly feminist 1925 memoir of life in small-town Texas rises from the dustbin of patriarchy.
Women Demand Size Diversity in Fashion World – and They're Getting It
By Ansley Morgan
Teen Vogue
fashion was hit hard by the pandemic and it quickly became a concern that this would bring the growth of size inclusivity within the industry to a halt. From looks we've never seen on fat bodies to what is actually shoppable in extended sizes, here are the best plus-size looks from New York Fashion Week.
San Jose Repents for Anti-Chinese Legacy
By Natasha Chen
CNN
San Jose formally apologized in late September, for an 1887 arson that destroyed the city's Chinatown. This marked the first time in about 130 years the city has documented its historical role in passing anti-Chinese policies.