Tidbits - Oct. 21, 2021 - Reader Comments: Worker Strike Wave, John Deere; Dismantle Missile Systems; India Walton Sabotaged by Dems; Socialists and 50s Civil Rights Movement; CUNY's Alleged Wrong Doings; Black and Puerto Rican History;
Tidbits - Reader Comments, Announcements, AND cartoons - Oct. 21, 2021,Portside
Announcements:
Re: The John Deere Strike Shows the Tight Labor Market Is Ready to Pop
(posting on Portside Labor)
 
Highlights the greed of a CEO making 16 million an offering a chickenshit $1.84 over 5 years . These arrogant CEO's think the union doesn't know they made record profits
Earl Marty Price
Posted on Portside's Facebook page
      =====
Central Labor Council of Memphis & West TN
Posting on Facebook
Local businesses support striking UAW workers with discounts
October 19, 2021
KWWL (NBC-TV Waterloo, Iowa)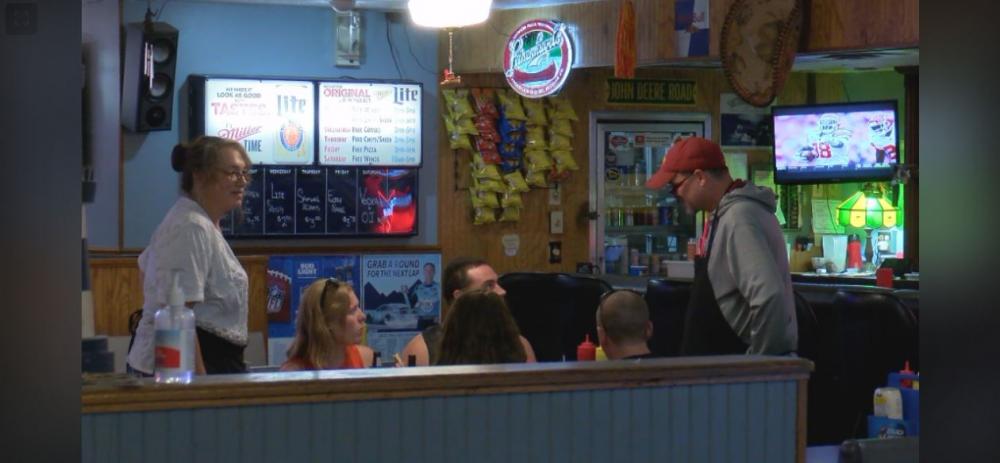 "Businesses across the state are supporting UAW members as they go on strike. One restaurant owner in Waterloo says he wanted to repay these workers for their supporting during the onset of the pandemic."
Re: To Avoid Armageddon, Don't Modernize Missiles—Eliminate Them
Missile modernization is just one of many useless projects initiated to maintain America's defense industry. If they don't pour money into this sewer, America might lose its all important "full spectrum dominance" of the world.
"An America without full spectrum dominance is an America I don't want to live in." -- Bob Loblaw, unemployed Rust Belt resident and tourist at the US Capitol last January 6.
Lee Zaslofsky
Posted on Portside's Facebook page
      =====
One close call is too many close calls.  And we've had more than one.
Time to get rid of them all.
John Dietzel
Posted on Portside's Facebook page
      =====
Cognitive dissonance:
When a nation bans the draft, but keeps on killing.
Lawrence Rockwood
Posted on Portside's Facebook page
      =====
The weapons change but the movie, "Dr. Strangelove; How I Stopped Worrying and Love the Bomb" remains relevant after all these many years.
Arlene Halfon
Washington, CC (Colony of Colombia)
      =====
The advance of technology, and public consciousness. They learned in Vietnam that if you force people into the military to fight colonial wars, the armed forces will disintegrate. Technology has allowed them to nourish the illusion that you can avoid political trouble, and have most of the casualties be taken by the locals, not our troops, and it causes less political trouble at home.
They are moving in the direction of autonomous robot drones, that can make up their own minds who to kill, based on a library of appropriate target parameters planted in their electronic brains. No human on or in the loop.
Jack Radey
Posted on Portside's Facebook page
Re: 'Resign or Be Removed': Outrage After Top NY Dem Compares Buffalo's India Walton to David Duke
Jacobs must resign! How can he be the leader of a group that he does not even understand? Another example of how political hacks are more interested in career over principle. A political party's leadership must reflect the principles of the party's voters, not just the goals of the party insiders, or the risk losing election support by those voters.
Gina Klein
Posted on Portside's Facebook page
      =====
By the way India Walton handled this attack she showed she has the political skills to be mayor of Buffalo. The main point is to elect her mayor. Let Jay Jacobs stew in his own bile until the election is won by India Walton. As Democratic party chair he is Governor Kathy Hochul's problem.
Jay Mazur
Posted on Portside's Facebook page
Re: Manchin's Means-Testing and Work Requirements Are a Recipe for Building Back Worse
Manchin is a bought and paid for SOB who couldn't care less about his constituents. The joke will be on him and Sinema if they succeed in blocking their president and party's success to please their overlords and the failure to pass anything significant hands the midterms to the GOP. Democrats will hate their guts and a GOP majority Senate under McConnell won't have any use or respect for them either. They'll be irrelevant, their fifteen minutes of super power over for good and their place in history right up there with Hitler's enablers if the presidency returns to the anti-democracy , authoritarian Party of Trump in 2024 which will erase our constitutional, democratically elected government for good.
Felice Sage
Posted on Portside's Facebook page
Bannon's Subpoena  --  cartoon by Rob Rogers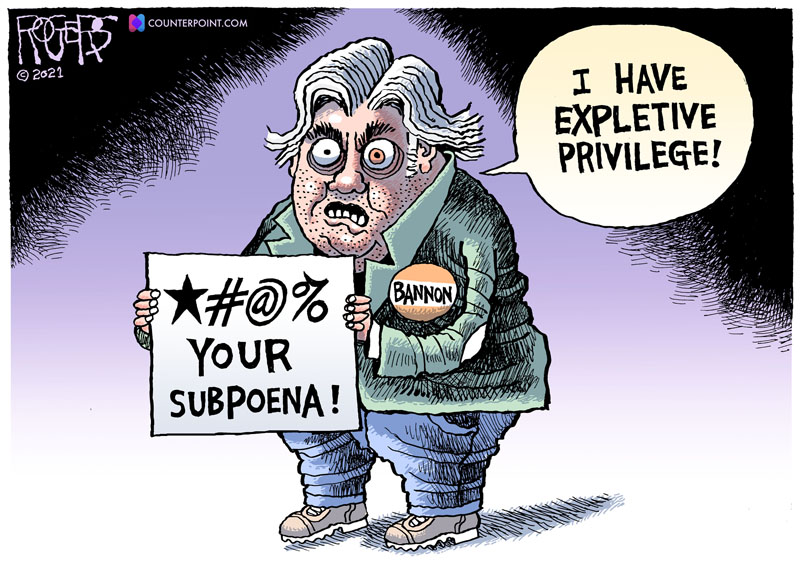 Steve Bannon, Trump's former chief strategist and conspiracy guru, has been found in criminal contempt for ignoring a subpoena by the January 6th committee. Bannon is claiming that Trump gave him executive privilege. Sorry, Steve, it's no longer his to give.
Rob Rogers
October 19, 2021
robrogers.com
Re: How TV Lied About Abortion
For decades, dramatized plot lines about unwanted and unexpected pregnancies helped create our real-world abortion discourse.
Jose Luis Medina
Posted on Portside's Facebook page
Re: Socialists Organized in the 1950s Civil Rights Movement
All this is worthy of noting, but truth be told, it greatly underestimates the CPUSA's work, from Jack O'Dell down to many of the students who went to the Deep South, and paid heavy prices.
Carl Davidson
Posted on Portside's Facebook page
      =====
Very interesting and right as far as it goes.  But I also remember some nasty attacks by YPSL activists (including former YSLers) against other socialists active in the Civil Rights movement--1st YSA (& the NY Youth Committee for Integration) and later SDS. I can understand why Joel Geier might prefer to have left that part of the history out, but it wasn't all solidarity, sweetness and light.
Stan Nadel
      =====
To: Joel Geier
Fascinating.  Thank you.--Maybe 15 years ago I read about and researched Rustin.  Found him brilliant, having made extraordinary contributions to the Black freedom struggle.  But found next to nothing abt his ties to Freedom House and SD'ers in the labor movement who did so much damage at home and especially in the global south.  I understand that phase is now being reported on.  BUT I DO NOT UNDERSTAND HOW RUSTIN COULD HAVE SUPPORTED THAT WORK GIVEN HIS VALUES, ACCOMPLISHMENTS ETC.  THAT HE PREVIOUSLY WORKED WITH KAHN & HOROWITZ EXPLAINS LITTLE IN ITSELF.
PLEASE RESPOND.  THANKS.
Joy Ann Grune
      =====
Joel Geier's article on the Civil Rights Movement, full of facts, is interesting from the start. What it is not, however, is fair. My first doubts were aroused by his description of the "Hungarian Revolution" (of 1956) as "part of the world-revolutionary drive for liberation." Regardless of one's views on that tragic event, I found this description worse than simplistic.
But the article deals with Black Americans' struggle and his support of it as a member of several small Trotsky-inspired organizations. If they did help out in this basic struggle, good for them! But his entire article credits only the Communists of the 1920s, before his own brand broke with the "Stalinists," clearly implying that after that breakup, nothing much happened until the bus boycott inMontgomery, which he calls "a renaissance, the rebirth of hope overcoming years of desperate quiet." For Joel Geier and his comrades, "the bus boycott of1955–56 opened a new phase in the centuries-long struggle for black freedom and inspired a rebirth of activism and militancy."
It did indeed mark anew phase, also new hope. But "a rebirth"? Geier seems to forget the many people, actions and struggles upsetting his "years of desperate quiet" and "acceptance." The explanation for his omissions, I surmise, is simple; many if not most of those involved, dismissed by him as "Stalinists", called themselves - and considered themselves -pro-Communists or Communists.
Yes, blunders we remade, tactics were altered; some issues are angrily disputed to this day, most of them easy to judge in hindsight. But some facts should not be forgotten, byJoel Geier or anyone else.
The fight to save the nine black "Scottsboro boys" from a frame-up rape charge in Alabama in 1931 was taken up by the International Labor Defense – connected with the Comintern'sRed Aid – and was fought at first almost alone, then by people around the world. It was a tough fight, it took years to free all nine, but they were not executed, basically thanks to Communists. Black Americans' fight for freedom was brought to world attention as never before.
Also in 1931 AngeloHerndon, a 19-year-old Black Communist, was arrested in Atlanta after leading nearly 1000 Black and white jobless workers to demand a resumption of relief payments. The fight against a long prison term, twice reaching the SupremeCourt, was led by a young Black lawyer, Benjamin Davis Jr., who then joined theCommunist Party and was elected three times to the City Council of New York until he was himself tried and sentenced to five years in prison – for his politics.
In the mid-1930s it was Communists who played a leading part in creating the industrial unions of the CIO.  Geier does tip his hat just a bit in their direction: "…the labor movement, under communist and socialist influence in its finest moments, fought racism on and off the job."But he soon qualifies that:
"The theoretical approach pioneered by the CP of the 1920s prior to its Stalinization was transmitted to the Trotskyist movement of the 1930s."
Yes, it is true thatSocialists, Trotskyists and Musteists did organize strikes - in Toledo, the Truckers' Strike in Minneapolis, and a few other spots. But it was Communists or their close friends like Harry Bridges who led the San Francisco general strike, andWyndham Mortimer in the crucial sit-in strike in Flint in 1937. It was blackCommunists like Fred Marrero who overcame Southern white prejudices to build the model democratic, anti-racist, Communist-led Farm Equipment Workers Union inLouisville, and the Mine, Mill and Smelters union in Bessemer, Alabama, where80% of the workers were black. Communists played major roles in building up the United Auto Workers, the UE for electrical appliance workers, many key locals of the United Steel Workers - nearly all CIO unions, and broke with AFL practice to oppose racism. It wasJamaica-born Ferdinand Smith who co-founded the National Maritime Union; Trinidad-bornClaudia Jones was a major fighter for the rights of women, especially Black women workers. It was Communist organizers, local or from the north, who led dangerous trailblazer efforts in textile factories and the tobacco industry in the South, daring to defy Jim Crow laws and traditions.
After avoiding strike actions during the war so as to beat the fascists (was this course almost disparaged by Geier?), it was they who  tried to step up the fight against racism with the National Negro Labor Council in 1951, founded by 1100 delegates at convention in Cincinnati. It fought some good battles until the HUAC crushed it– with the help of the newly amalgamated AFL-CIO and men like Walter Reuther. 
Nor was there the "desperate quiet" of Joel Geier when the Civil Rights Congress, also denigrated as "a Communist front" organization (and it was indeed an heir of the "International Red Aid"), which waged brave battles to save frame-up victims; Rosa Ingram and her sons (1948),the Trenton Six (1948-52), the "Martinsville Seven," (1951), Willie McGee, also in 1951. Of course, most of the media ignored these fights, and some were lost, but I think it a pity for leftists to overlook their stories, possibly because it was largely black and white "Stalinists" who fought so hard to save them - untiI the CivilRights Congress was also crushed by the HUAC,  with the silence or the approval of various anti-Communists on the right or the pseudo-liberal left.
Similarly treated with silence in most of the USA, but making big waves in parts of Africa, Asia andEurope, was the submission of a "We Charge Genocide" petition to the UN in1951, largely compiled and written byProfessor DuBois (who became a Communist), supported by Paul Robeson, a close friend of the Communists, and William Patterson, always a devoted Communist.When most copies were barred or "lost" by the post office and he was unable to get the petition published in the USA or France, Patterson finally took it to Hungary to get it published at all before the State Dept. could catch him and take away his passport, like those of DuBois and Robeson. (That was before Hungary was so gloriously "liberated").
Just as rarely mentioned in the mass media, until today, is the long hard fight to get Black players signed up in the Major Leagues, a fight led since 1936 by Lester Rodney on the sport page of the "Daily Worker" and finally won in 1947, thanks also to untiring efforts by the great black singer, actor (and one-time top athlete)Paul Robeson.
Mr. Geier is welcome to choose his personal heroes, most notably A. Philip Randolph and Bayard Rustin.Both of them undoubtedly fought hard in their way to break barriers. They were also noted for opposing, like Joel Geier, the "Stalinists."(Rustin, sadly, even extended his aversions to rejecting those who marched against the Vietnam War). But to somehow ignore the years of immense effort by people like Claudia Jones, Ferdinand Smith, Ben Davis and above all Paul Robeson, and disregard the long struggle of so many good people, as if it was not until Montgomery, in 1955-56, that all true leftists'"political assumptions and horizons changed overnight. We threw ourselves into civil rights activity nonstop.." seems to me, at the very least, to be one-sided and unfair. 
Victor Grossman
I Don't Want Scabs in My Cereal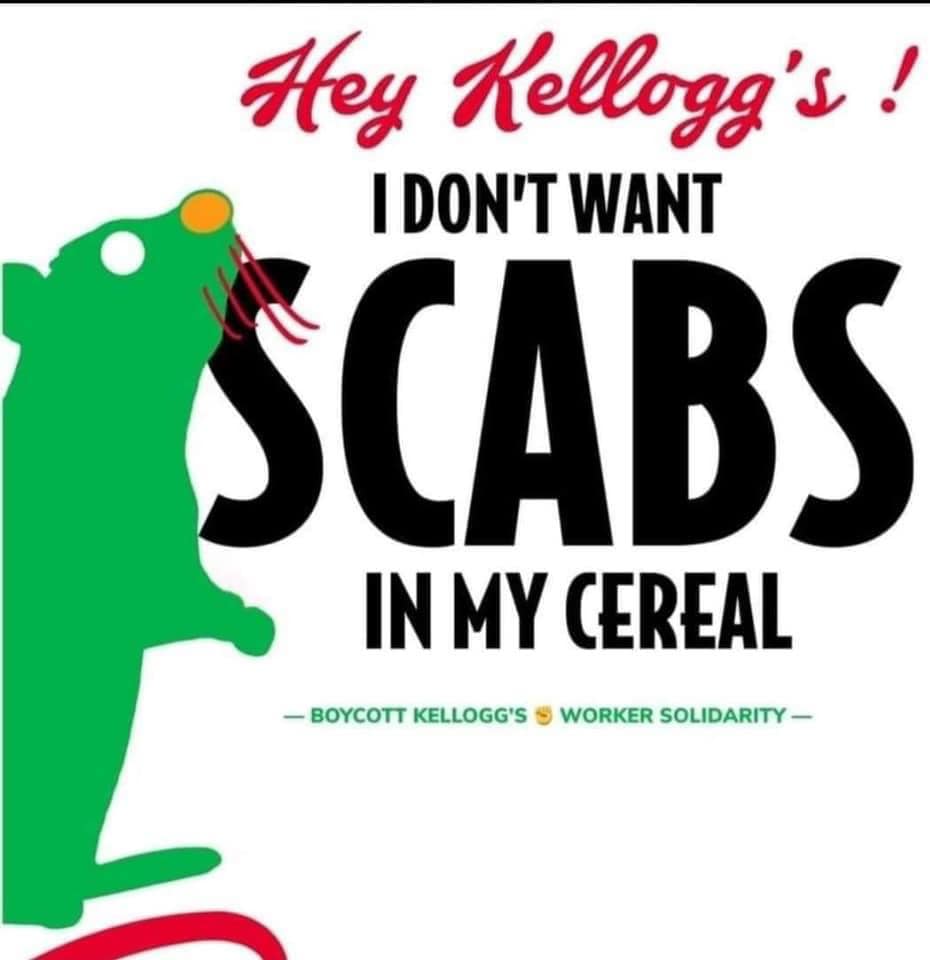 Re: Toni Gilpin on Her New Book, The Long Deep Grudge
Very interesting interview with labor historian Toni Gilpin about the CP-led Farm Equipment workers union and its long war with McCormick Reapers: "...the ideological orientation of a union leadership makes a difference, and by that I don't simply mean a propensity toward toughness or militancy, as labor leaders of varying political leanings can possess those characteristics – think John L. Lewis, Jimmy Hoffa, or, on many levels, Walter Reuther as well. Yet as opposed to the post-WW II labor establishment, which had shackled itself to the notion that increasing productivity was universally beneficial, the Communist, Marxist FE leadership embraced an understanding of surplus value that made resistance to corporate profit-taking, both during contract negotiations but also every day on the shop floor, an imperative."
Meredith Tax
Posted on Portside's Facebook page
If the People Stand, the Game is Over  --  meme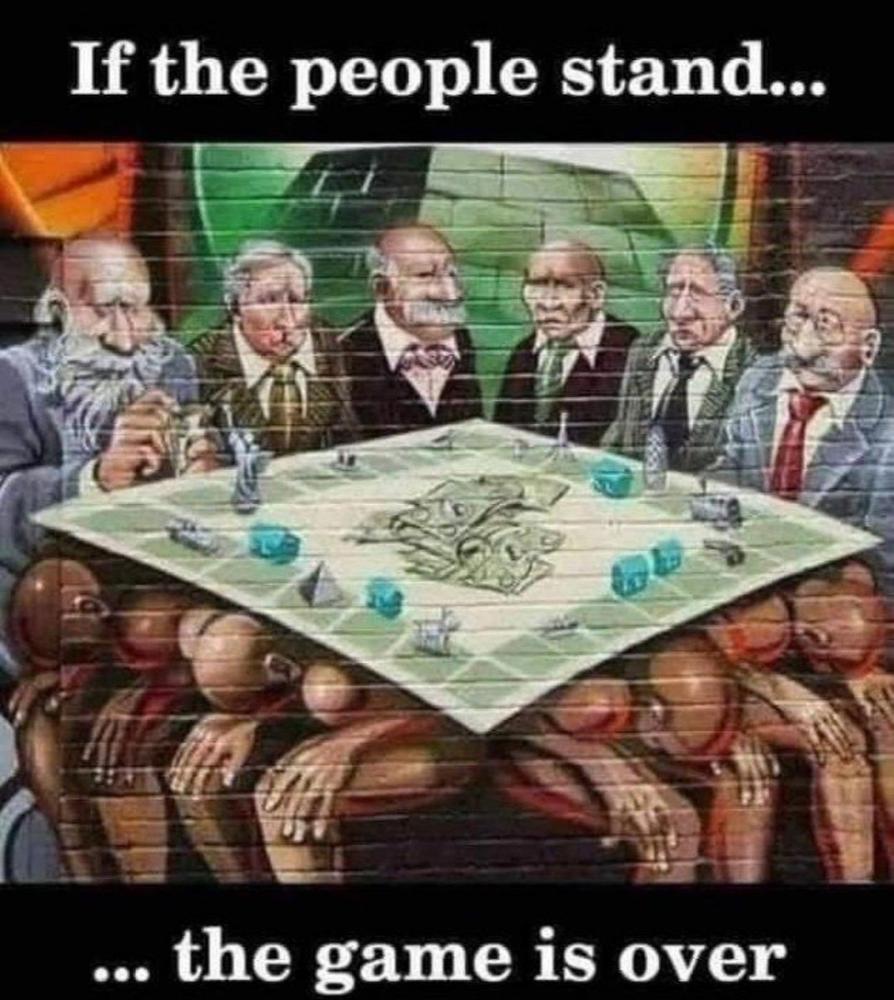 Re: Starbucks Workers Are Organizing — and Management Is Worried
(posting on Portside Labor)
Paternalism is a guise that gets the owners only so far.
Charles Ford
Posted on Portside's Facebook page
Re: CUNY's Alleged Wrong Doings – How Rumors and Wrongdoings Smeared Dr. Joseph Wilson
In addition to being a fine scholar, Joseph Wilson was a great mentor to his overwhelmingly working class and minority students. He represented the best academic tradition CUNY of relevant scholarship and student achievement so rarely present in an under resources, over crowded system
Jay Mazur
Posted on Portside's Facebook page
      =====
I don't think I've seen "alleged" on a Portside posting before -- 
Chuck Levenstein
      =====
OMG I had not heard about this. A group of us hospital workers had Dr. Joe Wilson speak to us on several occasions.
Marilyn Albert
Posted on Portside's Facebook page
      =====
What the..?!?
William H. Foster III
Posted on Portside's Facebook page
Jan. 6 Capitol Coup Sentencing Guidelines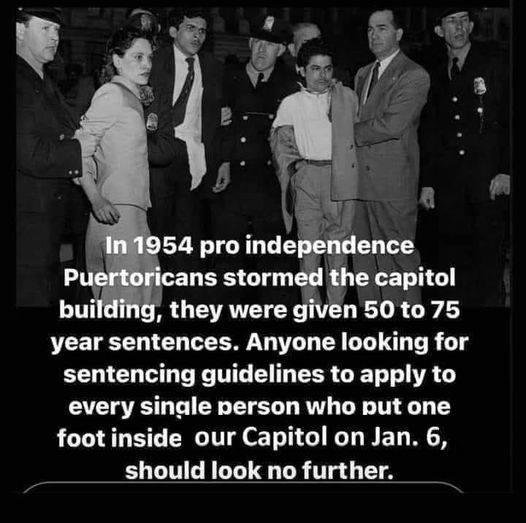 Re: The Brutal Slave Trade in the US Has Been Largely Whitewashed From History
Mountains of material expose the depravity of the men who ran the largest domestic slave trading operation in American history and reveal the fortitude of the enslaved people they trafficked as merchandise.
Kentucky Alliance Against Racist and Political Repression
Posted on Portside's Facebook page
 
Superman Motto Changed - dropping "the American Way" 
DC Changes Superman's Motto: No Longer Fights for "The American Way"
Superman is still about Truth and Justice ... but the American Way? Not so much.
"Truth, Justice, and a Better Tomorrow" - #Superman has officially changed his motto, dropping "the American Way" 
James Hibberd
The Hollywood Reporter
October 16, 2021
Thanks for this.  Sharing this heavy duty material with those who will appreciate that Freire's influence still lives!!
Joe Grogan
Caledon, Ontario, Canada
Re: Global Left Midweek - October 20, 2021
This feature is my main work now. I edit and moderate. The news and analysis comes from all over the place. Our main goal is to make folks more aware of how much is jumping off on the left, broadly defined, good and bad, in every continent not temporarily covered with ice. I'm finding out about general strikes, urban and rural fights, the unprecedented worldwide indigenous movement, and theory that actually informs and stimulates thinking. So read it, every Wednesday pm. Free.
Ethan Young
Posted on Portside's Facebook page
      =====
I have appreciated these posts for maybe a few years now. Is there any good analysis on the struggle In Eswatini?
David Roddy
Posted on Portside's Facebook page
Afternoon Tertulia - Decolonizing Solidarity: Black and Puerto Rican History In Action - October 27 (Friends of Puerto Rico, Boricuas Unidos en La Diáspora & Centro de Estudios Puertorriqueños, Hunter College, CUNY)
Grab your snacks and join us for another Afternoon Tertulia on October 27th at 5PM EST! October 27th, 1974 marks a historical event at Madison Square Garden between the African American community and the Puerto Rican community in support of decolonizing Puerto Rico. These communities have worked together in the past and continue to work together today in their collective struggles against oppression and colonization.
Join Juan Gonzalez, Ana Irma Rivera Lassén, James Early, and Centro Directora Yarimar Bonilla to celebrate this anniversary & in continuing the discussion that started in the 70s.
October 27, 2021 at 5:00pm - 6pm
Juan González has been a prominent social activist, journalist, and scholar for more than fifty years. A staff columnist for New York's Daily News from 1987 until 2016, he has also been the familiar co-host of the progressive daily news show Democracy Now for the past twenty-five years, and is currently the Richard D. Heffner Professor of Communications and Public Policy at Rutgers University. During the 1960s and 1970s, he was a founder and leader of the New York Young Lords, and was chief organizer and the first president of the National Congress for Puerto Rican Rights.  Born in Ponce, Puerto Rico, he was raised in East Harlem and received his B.A. degree from Columbia University, where he was a leader of the historic 1968 Columbia student strike against the Vietnam War.
Ana Irma Rivera Lassén, is a lawyer, feminist activist, and human rights advocate. Her activism has been focused on the fight against racism and discrimination against women, sexual orientation and gender identity, among others. Her trajectory includes being a co-founder of several important organizations dedicated to these causes.  She earned a Juris Doctor from the University of Puerto Rico and has been an adjunct professor at the Interamerican University Law School in San Juan.  She is a member of the Consultative Council of the Latin American and Caribbean Committee for the Defense of Women's Human Rights and the Consultative Council for the Afro Latin American, Afro Caribbean, and Diaspora Women's Network. President of the Colegio de Abogados y Abogadas de Puerto Rico (Puerto Rico Bar Association) for the years 2012-2014.  Former President of the Movimiento Victoria Ciudadana political party for which she is currently Minority Whip and Senator at Large in the Puerto Rico Senate and President of the Senate Committee for Human Rights and Labor Matters.
James Counts Early, Consultant/Social Justice Organizing, Cultural Democracy and Statecraft Heritage Policy in Capitalist and Socialist movements and countries,The African Diaspora. Former Smithsonian Institution: Assistant Secretary for Education and Public Service; Director Cultural Heritage Policy Center for Folklife and Cultural Heritage; Interim Director of the Smithsonian Anacostia Museum; Past Chair and current Board Member Institute for Policy Studies
Yarimar Bonilla is the Director of the Center for Puerto Rican Studies at Hunter College. She is also a Professor in the Department of Africana, Puerto Rican, and Latino Studies at Hunter College and in the Ph.D. Program in Anthropology at the Graduate Center of the City University of New York. She is the author of Non-Sovereign Futures: French Caribbean Politics in the Wake of Disenchantment (2015) co-editor of Aftershocks of Disaster: Puerto Rico Before and After the Storm. (2019) and a founder of the Puerto Rico Syllabus Project.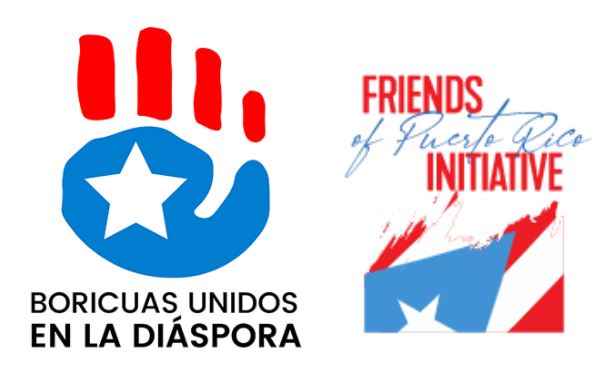 This event is put on in partnership with Friends of Puerto Rico & Boricuas Unidos en La Diaspora
China, The U.S., and Taiwan: The World's Most Dangerous Flashpoint? - October 27 (Back from the Brink of Western Massachusetts, Committee for a Sane U.S.-China Policy, Physicians for Social Responsibility/Pioneer Valley, Campaign for Peace, Disarmament and Common Security)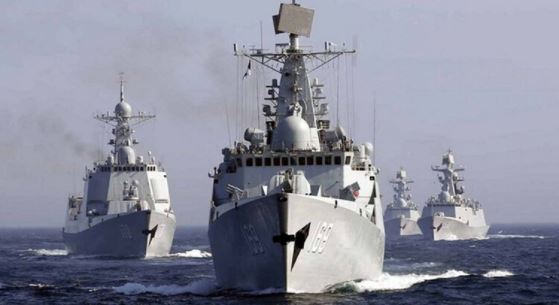 A panel discussion with Professor Zhiqun Zhu of Bucknell University, Brian Chee Shing-Hioe of New Bloom in Taiwan, and Michael Klare of the Arms Control Association and the Committee for a Sane U.S.-China Policy. Professor Avi Chomsky of Salem State University will host the webinar. 
Wednesday, October 27, 2021, 7:30 PM – 9:00 PM
As tensions between the U.S. and China have ratcheted up, Taiwan has emerged as a major flashpoint in world affairs. China has threatened to invade Taiwan if it declares independence, while American officials have suggested that such a move could trigger U.S. military intervention - igniting a three-way conflict that might easily escalate into a nuclear conflagration. Caught in the middle of all this are the people of Taiwan themselves. This panel will examine the roots of the Taiwan dilemma, the risks of a U.S.-China war over Taiwan, and alternatives to conflict.
Prof. Zhiqun Zhu - Professor of Political Science and International Relations and Chair of Dept of Int'l Relations at Bucknell University.
Brian Chee Sing-Hioe - Founding Editor of New Bloom and a freelance writer living in Taiwan with a focus on social movements and politics.
Prof. Michael Klare - The Nation's Defense Correspondent & Senior Visiting Fellow at the Arms Control Association in Washington, D.C.
Prof. Aviva Chomsky - Professor of History at Salem State University and steering committee member of the Committee for a Sane U.S.-China Policy.
Sponsors: Committee for a Sane U.S.-China Policy, Physicians for Social Responsibility/Pioneer Valley, Working Group to Prevent Nuclear War, Campaign for Peace, Disarmament and Common Security
Learning About a Just Transition - October 28 (Climate Center, Labor Network for Sustainability)

Learning About a Just Transition
Thursday, October 28, 2021 at 10 AM to 11 AM PST
Presented in Partnership with Labor Network for Sustainability
This webinar will explore lessons from past economic transitions and offer recommendations for how to approach the transition away from fossil fuel production and toward a clean energy economy. We will hear from co-authors of Workers and Communities in Transition, a report from the Just Transition Listening Project, and representatives from the labor and environmental justice movements on how to support workers and communities impacted by the decline of the fossil fuel industry.
Vivian Price is Professor of Interdisciplinary and Labor Studies at California State University Dominguez Hills. She is a former factory and refinery worker and union electrician. Her published research centers on gender, race and labor in construction as well as labor and climate justice. Her current projects include climate literacy with Canada's Building Trades Unions (CBTU) and research for Research Council of Norway's collaborative international study "WAGE: Work and Labor in a Greening Economy". She is also a filmmaker, most recently co-director of Harvest of Loneliness on the Bracero Program with Gilbert G. Gutierrez (Films.com).
Aiko Schaefer directs the national Just Solutions Collective (formerly the 100% Network) which works to broaden and deepen the understanding of justice-centered policies and programs so BIPOC and frontline communities can better create, replicate, scale and build support for justice-centered solutions.  Aiko has worked for nearly 30 years on public policy campaigns around the US on anti-poverty, consumer protection and environmental conservation, as well as state and federal partisan campaigns. Prior to her role with the Just Solutions Collective, she was the Founding Director of Front and Centered, a BIPOC-frontline coalition in Washington State. In that role she co-chaired the state climate coalition of organized labor, environmental groups, Tribal Nations and others, that together drafted and qualified a just climate ballot measure in 2018 that was defeated by a $30 million campaign by the oil industry.  Aiko has been a union member or part of a union household for most of her life, as a daughter of an immigrant factory worker she understands first-hand the important role unions play.
Veronica Wilson joined Labor Network for Sustainability in 2018 when she organized the network's first Los Angeles Labor Convergence on Climate Change. She now supports unions across the state that are strengthening the labor-climate movement and advocating for an equitable transition for workers and communities. Before joining LNS, Veronica studied Zapotec language and land reform in Oaxaca, Mexico, and worked in labor education with a concentration on global solidarity. She has been a union member as a teacher and an ocean lifeguard, and is currently a member of UPTE-CWA 9119. Veronica volunteers for the Many Winters Gathering of Elders, an annual event to listen and learn about Native American cultural sustainability, self-determination, and sovereignty for future generations.
Michael Leon Guerrero has served as Executive Director of the Labor Network for Sustainability since 2016 after serving as the National Coordinator of the Climate Justice Alliance. Michael co-founded and served as the National Coordinator of the Grassroots Global Justice Alliance from 2004-2012, playing a leadership role in organizing the World and US Social Forums. Bringing more than 30 years of community organizing and alliance building experience to LNS, Michael served as a field organizer and Executive Director at SouthWest Organizing Project (SWOP) for 17 years, leading successful environmental and economic justice campaigns. He helped strengthen environmental policy and enforcement in low-income Chicano communities. Of Chamorro and Filipino descent, Michael also served as Executive Director of UNITY, an alliance of national alliances organizing in different sectors of working-class communities of color in the U.S., Michael serves on the boards of directors of Greenpeace, Inc. and the SWOP Action Fund, and is a former board member of Jobs with Justice.
Hunter Stern plays a key role for IBEW Local 1245 members by developing and coordinating local, state and federal energy and worker friendly policy. Mr. Stern is responsible for protecting the interests of his members employed by Pacific Gas and Electric Company, NV Energy, Sacramento Municipal Utility District and 35 other utilities in California and Nevada, as well as workers for line and line clearance tree trimming contractors employed by these utilities.  Stern joined Local 1245 in 1994, and has built an extensive knowledge of state and federal legislative and regulatory issues and the design and implementation of clean energy policies.  In addition, he works with a wide variety of organizations to facilitate stakeholder and grassroots support for initiatives that create and support good paying jobs, while providing clean, reliable and affordable energy to California and Nevada utility customers.Recently, Stern served as a Co-Chair of the Resilience Subcommittee of the Biden for President Policy Committee on Climate, Energy and the Environment.
The Climate Center
1275 - 4th St. #191
Santa Rosa, CA 95404
707-525-1665
CHALLENGING MONOPOLY: Antitrust Reform, Worker Rights & Economic Democracy - November 4 (CUNY School of Labor and Urban Studies)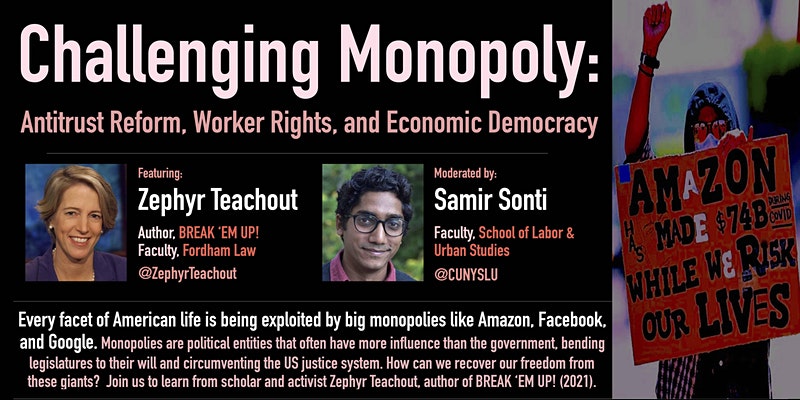 Every facet of American life is being exploited by big monopolies like Amazon, Facebook, and Google.
Monopolies have become political entities that often have more influence than the government, bending legislatures to their will and circumventing the US justice system.
How can we recover our freedom from these giants?
Join us on Thursday, November 4 at 12pm ET to learn from Zephyr Teachout, anti-corruption scholar and author of the new book, Break 'Em Up!
Click here to RSVP for this timely program.
CUNY School of Labor and Urban Studies
25 West 43rd Street, 18th Floor
New York, NY 10036