Global Left Midweek - October 20, 2021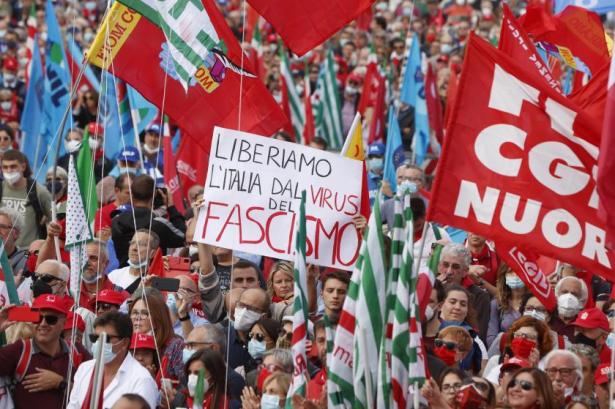 "We free Italy from the virus of fascism..." at mass rally in Rome. Credit,Evrensel
__________
COP26 Global Day of Action

Susan Price / Green Left (Sydney)
The COP26 Coalition involves more than 100 trade unions, grassroots organisations, NGOs and faith groups. The COP26 Peoples Summit program will feature 90 events grouped around four themes: "Multiple Crises"; "Strategies and Tactics"; "The More than Human World"; and "Visions for the Future".
__________
Climate Action on Two Fronts
Kenya  Maina Waruru / Equal Times (Brussels)
Balkans  Artan Rama / Rosa Luxemburg Stiftung (Berlin)
__________
No Future Without Food Sovereignty
La Via Campesina (Harare)
Food Sovereignty presents a radical overhaul to notions of "food security." It recognizes people and local communities as the principal actors in the fight against poverty and hunger. It calls for strong local communities and defends their right to produce and consume before trading the surplus. 
__________
Politics in the Street and in the Voting Booth
Italy's Answer to Fascist Violence  TRT World (Istanbul)
Behind the Attack on CGIL  Maurizio Coppola / Peoples Dispatch (New Delhi)
The Election According to Il Manifesto  Norma Rangeri / il manifesto Global (Rome)
__________
Half a Million to Strike in South Korea
Jia Hong and Ju-Hyun Park / Truthout (Sacramento)
The Korean Confederation of Trade Unions (KCTU), the country's largest labor union umbrella with 1.1 million members, is organizing a massive strike and street action in a broad-based front with South Korea's urban poor and farmers.
__________
Reversal in Perú
MercoPress (Montevideo)
Perú Libre leader Vladimir Cerron announced that his organization decided not to give the vote of confidence to President Pedro Castillo's new ministerial cabinet, which is lead by Mirtha Vasquez. Cerron pointed out that this Cabinet is a demonstration of the Castillo administration's political turn towards the center-right side.
__________
ANC Election Worries
Dennis Webster / New Frame (Johannesburg)
An independent candidate is contesting the local government elections in a former Eastern Cape Bantustan, revealing deep fault lines in the party's ward candidate nomination process.
__________
Chile's Camila Vallejo 
Octavio García Soto / Jacobin (New York)
Chile's Constitutional Convention promises to shift the balance of power in a society long prey to neoliberal dogmas. But Communist MP Camila Vallejo says the Chilean right will stop at nothing to defend ruling-class interests.
__________
Puerto Ricans Demand People's Control of Energy
Paola Rosa-Aquino / New York magazine
Thousands of Puerto Ricans marched down a main highway in the capital of San Juan on Friday to protest the privatization of the island's public electricity grid, which has left them with unprecedented outages, longer than normal restoration times, and billing increases.
__________
Political Education and Theory
From Africa: The Root of the Problem  Nanjala Nyabola / African Arguments (London)
1200 Marxist Bookstalls in West Bengal  Sandip Chakraborty / NewsClick (New Delhi)
Marxism in Japan  Gavin Walker / Jacobin