Tidbits - Dec. 2, 2021 - Reader Comments-Lots: Ahmaud Arbery Murder, Charlottesville, Rittenhouse; Democrats in Congress; Health Care Workers Quitting; JFK Murder; Chile, Venezuela, India, Cuba; Russia; Dr. Marty Nathan - RIP; Your Action Needed; more...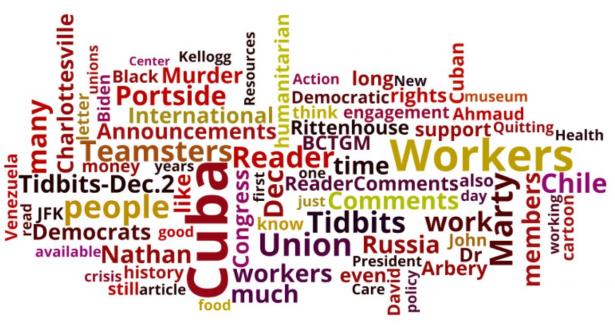 Tidbits - Reader Comments, Resources, Announcements, AND cartoons - Dec. 2, 2021,Portside
Take Action:
Resources:
Announcements:
Re: How the Murder of Ahmaud Arbery Further Exposes America's Broken and Racist Legal System
We are not finished, look at all the recent releases of Black men held for year in prison, now found to be innocent, that's because of systemic racism, for those who need a definition,
Craig Gauthier
Posted on Portside's Facebook page
Put on your mask  --  cartoon by Adam Zyglis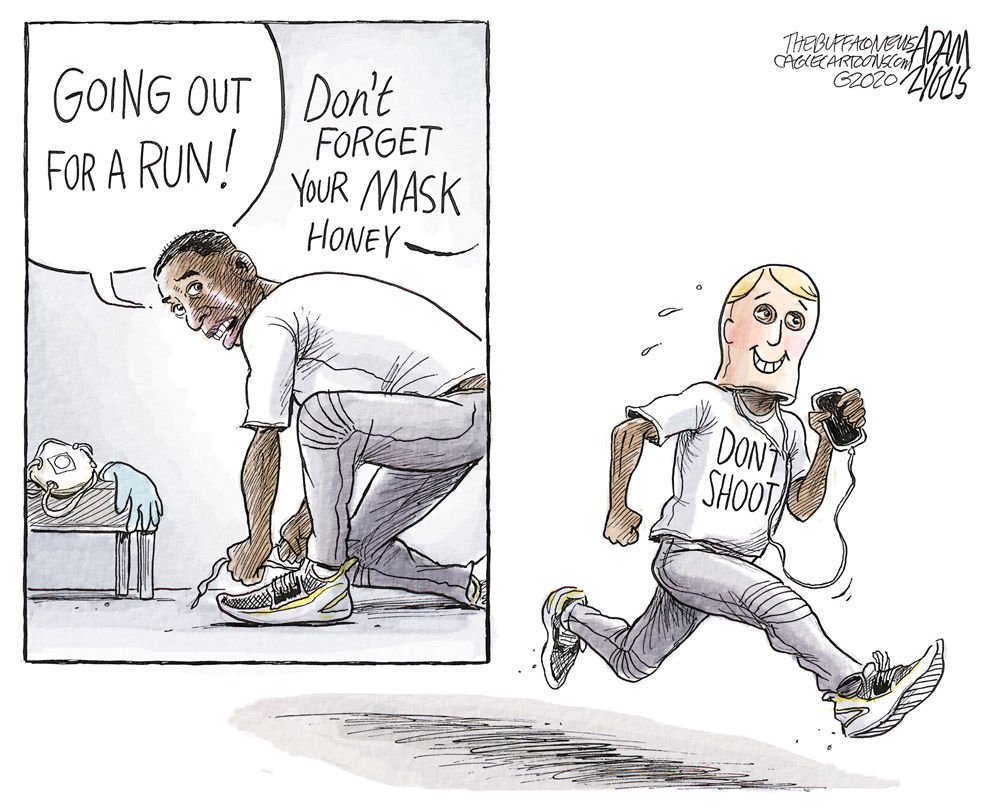 Adam Zyglis
May 9, 2020
The Buffalo News
Giving Thanks 2021  --  cartoon by Michael de Adder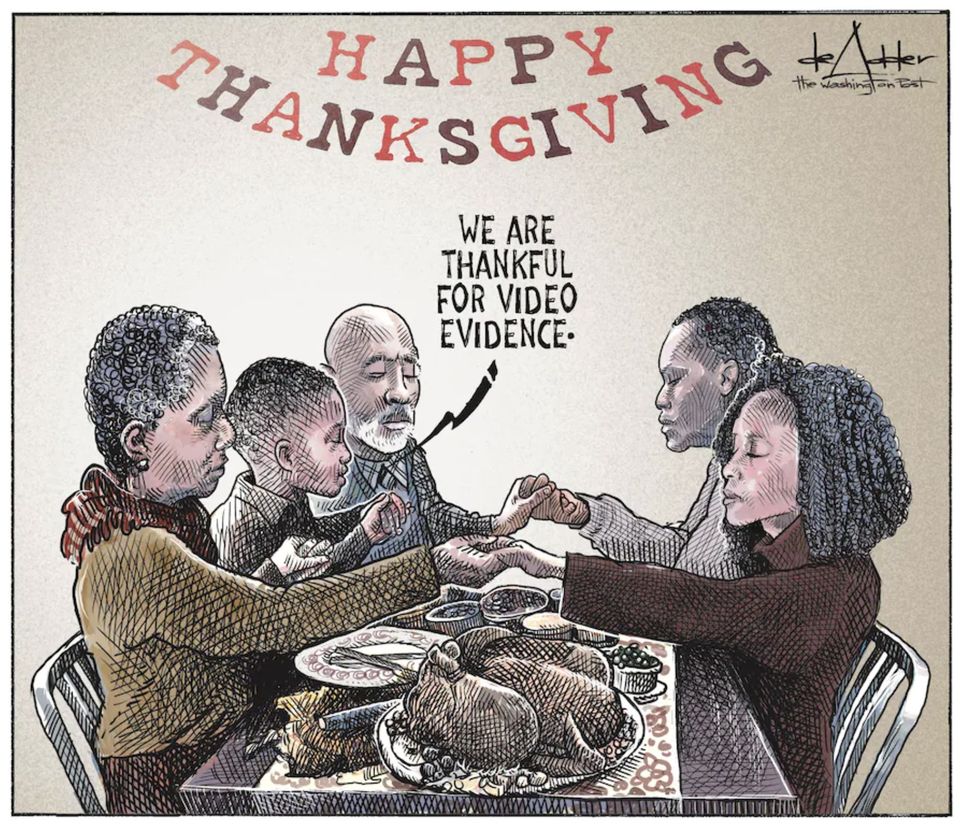 Michael de Adder
November 24, 2021
Washington Post
Re: Jury Finds Rally Organizers Responsible for Charlottesville Violence
So many people were focusing on the Arbery trial and the Kyle Rittenhouse trial, They didn't give as much attention to this case.
Gaddies E Lee
Posted on Portside's Facebook page
Re: Experts Describe 'Surrealistic' Process Of Putting Charlottesville's Nazis On Trial
I agree! This is an unprecedented danger to our Republic. And most people are indifferent to it.
Charles Ford
Posted on Portside's Facebook page
Re: 'Heartbroken & Angry': Anthony Huber's Parents React to Kyle Rittenhouse Verdict
I am awaiting civil charges that I hope are soon be placed against that Brownshirt wannabe who crossed state lines with his military style assault rifle to kill two men and injure a third in "self defense."
Robert Wisehart
Posted on Portside's Facebook page
Who's the Threat  --  cartoon by Mike Luckovich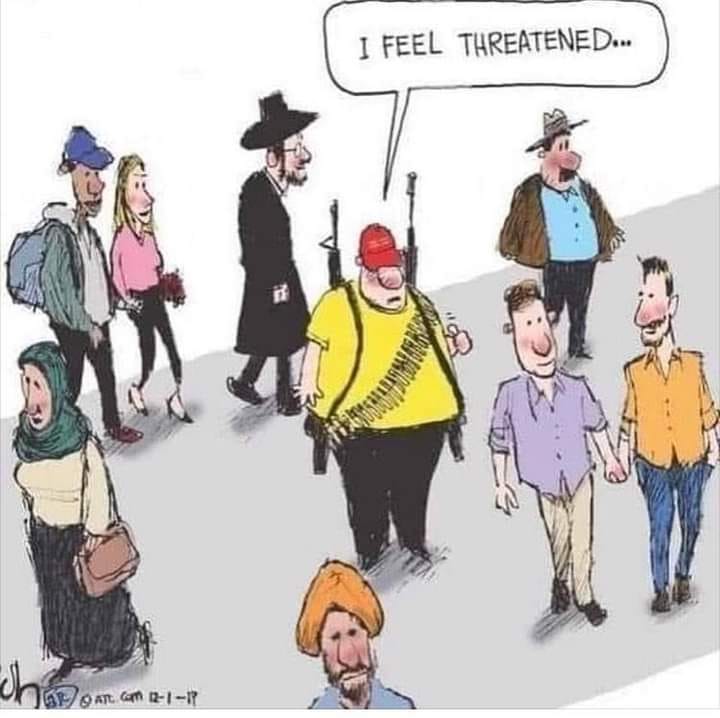 Mike Luckovich
December 1, 2019
Atlanta Journal-Constitution
Can't Believe We're Fighting About Teachers Being Able to Tell the Truth in Class  --  meme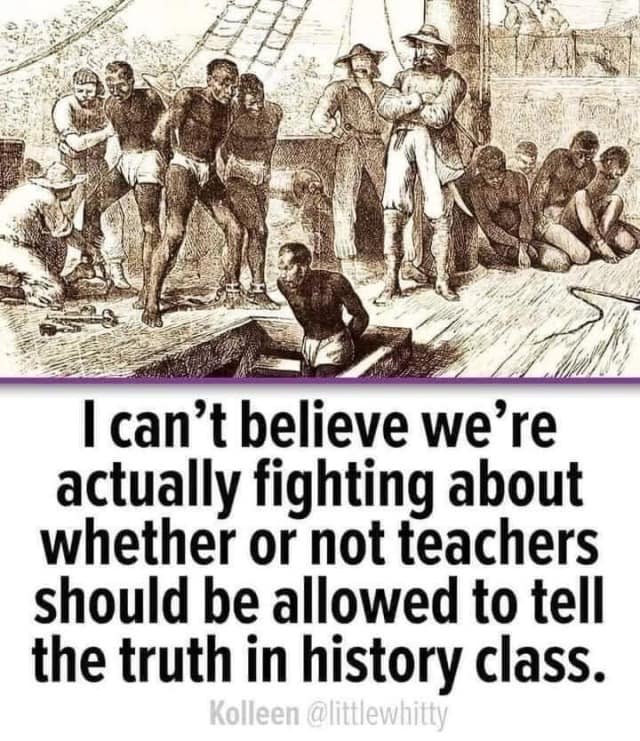 Re: AOC Warns Democratic Leaders to Pass BBB if They Want to Keep Getting Progressives' Votes
And I don't think people who are taking money from drug companies should be blocking Medicare from negotiating drug prices (yes, you, Sen. Sinema!)
Joshua Freeman
Posted on Portside's Facebook page
Re: The Dangerous Extremism That's Killing the Democrats
Materialism is the work of the devil!
Sadly, the reality may well be that the conservative Democrats will still support Wall Street, big corporations, and the super rich. The demise of Democracy will create a third-world existence for our middle and lower classes. Just follow the money for the far right and the DINOs (Democrats in name only). 2022 and 2024 will be a victory for the GOP and a heinous loss for the majority of Americans. This, if ever reversed, probably will require many decades to rid the USA of excessive inequality and inequities.
Jerry Neal
Posted on Portside's Facebook page
Re: It's International Food Workers Week—Support Organizing That Centers Those Who Feed Us
(posting on Portside Labor)
Corporate greed has long been at the root of human rights violations in workplaces along the supply chain. Throughout the COVID-19 pandemic, big food companies that control much of the U.S. food supply and its infrastructure have posted record profits. Meanwhile, food and farmworkers were deemed "essential"—even as they struggled to get basic protections and fair pay at work. What we have witnessed throughout the pandemic is nothing new. There's a long history of over-exploiting and under paying the people who do the vital, yet too often unseen, work that keeps grocery stores stocked with food. But there's an equally long history of resistance led by those same people.
Jose Luis Medina
Posted on Portside's Facebook page
Re: If Merrick Garland Doesn't Charge Trump and His Coup Plotters, Our Democracy Is Toast
My concern is the inequality the process is exemplifying.
What moral standard which permits such hesitation in treatment of the well-placed powerful ought not be applied in the cases of hundreds of thousands of federal and other prosecutions of the relatively powerless?
That is not a statement favoring or opposing any particular indictment. The difference in treatment exposes the judicial system as a sponsor of social inequality.
If that cannot be cured under the present plea-bargaining threat-soaked system, and it appears it cannot be, then the situation becomes an argument for a harm-reduction, non-punitive, safety-based, restorative system (which does not exclude the use of custody when that can be justified on the basis of safety).
I asked a similar question when Obama stated his "look to the future, not to the past" principle.  Aren't all prosecutions about past behavior?  So if we look as Obama was willing to in the case of mass killing, torture, etc., what justification is there for the treatment of, say, burglary?
Long ago just after my arrival at the first of my several federal prisons to do my time for rejecting a student draft deferment to which I was entitled (in law) and refusing all orders of the system, I considered the sentences and treatment of the many I had already met in a few jails.  What of the planners and endorsers and enablers and performers of harm, such as at that time LBJ?  I didn't want him to join me in prison (I thought it would damage the moral atmosphere, and that his removal from power would suffice for world safety).  Restitution would be a good idea to go along with that.
If that standard of safety, harm reduction, and repair was good for the big ones, it ought to be good for all.
Joseph Maizlish, 
Los Angeles
Re: Lincoln's Invention of Thanksgiving Was All About How Black Lives Matter
Let's give up on the Pilgrim myth and celebrate Lincoln's idea of Thanksgiving!
Judy Atkins
Posted on Portside's Facebook page
Re:When Benjamin Franklin Shocked Himself While Attempting to Electrocute a Turkey
Never know until you try
Of the founding fathers, he's one of the few that isn't overwhelmed with baggage.
Ed Violette
Posted on Portside's Facebook page
Re: Why Health-Care Workers Are Quitting in Droves
Good article. I worked in hospitals for decades and noticed the trend. For many years hospitals have been working with a business model that reduces staff, lays off front line workers, burdens the remaining workers with additional tasks at no additional pay, pleads poverty when it comes to staff raises, and then generously rewards management for cutting costs. I am in the shop a lot, and doctors have told me they too are fed up as are support workers. Covid has exacerbated and exposed the shaky structure created by such policies. One thing that could be done immediately is to cap salaries for administrators in any hospital that gets government funds, which is almost all of them.
Sonia Cobbins
Posted on Portside's Facebook page
      =====
The Atlantic article is a hit piece bought-and-paid-for by Big Pharma. It's sad to see The Atlantic and Portside supporting this kind of "reporting." There's a Pulitzer or two awaiting the science reporters who can read the medical research appropriately, in the spirit of informed debate and exchange of ideas. The Atlantic isn't in the running.
Susan Carkin
      =====
Now they are being forced to work in Covid cesspools with other employees who refuse vaccination
Patricia Dranginis Shulman
Posted on Portside's Facebook page
Re: A Look at How Unions Lift Workers
(posting on Portside Labor)
Many of the references in this article date back to the 1930s and what was happening at the time for unionization. One problem today with organizing unions is that the paradigm hasn't changed for 100 years. Unions were, and still try to be, organizations that differ by industry, location, work site and other factors. The country, however, needs a structure that ties the rights of all labor into one.
One example of this is unions acting like major corporate entities that are more interested in their own well-being than the rights of workers. They compete with each other instead of working together. How else would you explain any organization that claims to be interested in workers, but that opposes Universal Health Care. Their claim is that this is a benefit they provide by negotiations with management. But it not only ignores workers who are not in the specific union but also hinders their own members from changing careers or locations or industries where they work because it will raise havoc with their healthcare.
Similarly, unless and until an industry (e.g., migrant workers or maids) develop unions, they are not covered by these benefits. Where were the worker supporters when the meat packing industry was operating on near-slave labor during the COVID lockdown? It was even rare for unions to use their own "language" to describe those who wouldn't return to work until they received better wages, working conditions and benefits. Society was allowed to describe them as lazy and wanting welfare instead of stating that these people were on strike. Such examples are numerous.
There are other types of organizations that cover everyone in the same way. ACLU has chapters around the country that deal with local problems and local issues but some basics, like free speech, no matter where it is needed and whether the complainant is a member of ACLU, or even a supporter or not because they are interested in protecting certain "rights"; not just the rights of certain people. Planned Parenthood similarly works for everyone, even opponents of Planned Parenthood, and what it stands for. But unions consider those who benefit from unions, but are not members, to be "moochers" when even members would have more rights guaranteed if they applied to everyone
Unions could be structured like other organizations that support such large populations: Become a national organization that supports the rights of ALL workers in terms of salaries and wages, safe and healthy working conditions, benefits, etc. Stop acting like the corporations and other employers they claim to be opposing.
Arlene Halfon,
Washington, CC
Re: Oliver Stone Talks About JFK's Killing
"After Kennedy was killed, there's been no American president — none! — who has been able to challenge the authority of intelligence agencies or the military. Their budgets keep growing, and they have carte blanche. In other words, no one can change what they're doing, and they're on a course to protect our national security — which, of course, they define in the most unrealistic terms. So, under that aegis, you can do pretty much whatever you want. You cannot touch national security as president — it's a third rail in politics."
Jay Schaffner
Posted on Portside's Facebook page
      =====
The military budget is so big and out of control, no politician has the back bone or support to challenge them, they can't even audit them,????????
Craig 
      =====
Thank you.  Sharing this with some people who will appreciate your thoughts and their partial basis in some facts. If some of the records still are under lock and key, what does that show?
Joe Grogan,
Bolton, Ontario, Canada
Re: The Fight for Chile's Future
The disappearance of center left and right parties in the Chilean election is noteworthy as is the low voter turnout
Jay Mazur
Posted on Portside's Facebook page
      =====
An article analyzing the current Chilean election and the tension between progressive forces and  reactionary neo liberalism. Between hope and fear.
David Marley
Posted on Portside's Facebook page
Re: Donald Duck Quacks Again as Chile Elects a New President
Thank you for this important analysis.  Yes, cartoon characters do communicate certain values and that was and is the case with Donald Duck.  I was always amazed by the violence associated with this character which certainly seems to explain its appeal among some people.  I am circulating your relevant and timely comments as they relate to Chile but also other places.
Joe
      =====
I still have my original copy of this "handbook of decolonization."
Daphne Muse
Posted on Portside's Facebook page
      =====
The tract—conceived in 10 feverish days—caused furor and fury when it appeared. A second massive printing was soon published the next year, and a third one was ready to go on sale when General Augusto Pinochet overthrew Allende in September 1973, and all those copies were cast into the bay of Valparaíso. First water, then fire. Forty years after the Nazis had incinerated so many "degenerate" volumes, it was Chile's turn. Days after the coup, in a safe house where I was hiding, I saw, on television, no less, a group of soldiers throwing hundreds of subversive texts into a bonfire. Among them was Para Leer al Pato Donald.
David Marley
Posted on Portside's Facebook page
Re: Five Reasons the Left Won in Venezuela
I never know what is actually accurate on most anything based on South America.  I personally think  Maduro is an inept politician but if this many people vote for the party he represents there must be a reason.  I personally believe that if we Canada and the US kept their nose out of other countries business they for sure would be much better off.  Why are we constantly placing sanctions on countries that elect  Socialist governments.  I believe it is to destabilize them and steal their resources.  Just my thought.  I don't know where one could actually obtain accurate information. We don't put sanctions on European Socialist governments.
William Friesen
Re: The Indian Farmers' Movement Has Shattered Narendra Modi's Strongman Image
Well this is good…..
Rick Fantasia
Posted on Portside's Facebook page
Re: The Russia Connection Wasn't a Hoax
Thanks for this. I argued these points all along the line, seeking truth from facts. A good number agreed. But far too many on the left attacked my analysis as 'Russia phobia' or even a resurrection of Cold War anti-communism. It was neither. I think many of my critics were caught in a time warp, thinking 'Russia' was still something of the old USSR. It was not.
Carl Davidson
Posted on Portside's Facebook page
      =====
Are you fucking kidding me?
Fucking war monger David Frum?
So so disappointing?
Shame on you??
Karen Bednarek
For a very well informed rebuttal of the Russiagate narrative, I urge you to post this fundamentally different take on the whole matter. He provides a point by point response.
Aaron Mate's Show Debut: Russiagate reckoning?
In the premiere of AM Live, I'll discuss why the media's Russiagate reckoning should go far beyond Steele dossier stories to include Pulitzer winners as well. I'll also debunk the excuses that Russiagate dead-enders like David Corn, David Frum, Max Boot, and Jonathan Chait are making to salvage their Trump-Russia fantasies after Steele's collapse. Plus, your questions and comments. Debate strongly encouraged.
Why is a piece from GWB's speechwriter in Portside? I thought this was a collection of left takes.
Eric Herde
      =====
Russia has 3 priorities. rebuilding its economy after its pillaging by western interests and not during the Yeltsin years, protecting its borders against constant NATO provocation, and ensuring the security of ethnic Russians in the former republics
Frank Hughes
Posted on Portside's Facebook page
      =====
For a very well informed rebuttal of the Russiagate narrative, I urge you to post this fundamentally different take on the whole matter. He provides a point by point response.
Aaron Mate's Show Debut: Russiagate reckoning?
In the premiere of AM Live, I'll discuss why the media's Russiagate reckoning should go far beyond Steele dossier stories to include Pulitzer winners as well. I'll also debunk the excuses that Russiagate dead-enders like David Corn, David Frum, Max Boot, and Jonathan Chait are making to salvage their Trump-Russia fantasies after Steele's collapse. Plus, your questions and comments. Debate strongly encouraged.
Podcast:
https://www.callin.com/episode/show-debut-russiagate-reckoning-QHaNiKMJNj
Sid Shniad
Re: Congress 'Asleep at the Switch' as Biden Continues Trump-Era Ploy to Privatize Medicare
Is congress asleep at the switch or complicit?
Sterling Vinson, Ph.D. 
Re: Public-Private Partnerships Are Quietly Hollowing Out Our Public Libraries
Public-Private partnerships will be the end of everything you know and love. But your representatives in government - local, state and national - just love them.
Because those private entities do everything they can to avoid paying taxes, governments don't have enough money to pay for services - like libraries. Then the folks who created that situation step in as heroes to save the day and make off with as much of your tax money as they can.
Pretty sweet deal - don't pay taxes, but collect ours.
Susan Collier Lamont
Posted on Portside's Facebook page
Re: How the Mexican Revolution Made John Reed a Red
Shame on Meagan Day and Jacobin for not fact checking that Reed joined the Industrial Workers of the World, not the International Workers of the World. (which would have been a redundant name)
And the movie "Reds" was not critically acclaimed, it was panned by many critics for sentimentalizing Reed's life and fixating on his love life more than his politics.
John Berman
      =====
Very nice, except for one real clanger. John Reed did not join the International Workers of the World. That would be the Industrial Workers of the World, the IWW. The former, used by the author, is redundant, and ignorant.
Jack Radey
Re: Interview: Jazz Star Charles Lloyd: 'Miles Davis Wanted All the Girls and Money'
Great story.
Gratitude  !!
Magnolia Osborne
      =====
Do read this, amazing story of jazzman who played with Howlin Wolf, The Beach Boys, and Lucinda.
Ted R. Swedenburg
Re: Stephen Sondheim: A Daring and Dazzling Musical Theatre Icon
Wonderful article about a great artist.
Suzanne Brown
Posted on Portside's Facebook page
Re: Dark Capitalism Is the Biggest Trend in TV
(posting on Portside Culture)
A bit off topic except as re: Succession. Has anyone else had an uneasy if not disturbed impression regarding the zeal with which Yellowstone and the rest of Taylor Sheridan's stuff is coming across. Yellowstone is a mix of Dynasty and Clint Eastwood at his vengeful worst. Obviously a less influential figure than the latter, but Sheridan carries more that a little (far) right wing zeitgeist in his work....
John Ely
Posted on Portside's Facebook page
Re: Giving Tuesday: A Portside Message: Our Vision for 2022
On "Giving Tuesday," some thoughts and an invitation:
Those of us who care about our planet and the life forms with which we share it, and who care also about the people and peoples whose lives have become so precarious -- we are being bombarded by requests for money for good causes. While we give as much as we can to support those doing the essential work, none of us is going to be able to send as much money as we wish we could to all of the groups we value and who need our help.
My family's list is long and includes a couple of compromises, recognizing some differences in priorities. No organization is getting nearly as much from us as we wish. Sound familiar?
If you would like to call attention to an organization that you think others may not know as much about as you, which you think could be overlooked, please feel free to mention it in the comments here. I am doing that with two groups who quietly make available to us important writing and though-provoking and thinking writings, and do so every day, for free, but not without cost to them. Much of what each of them provides to us finds its way into my posts. I give back what I can to each of them, but wanted you to know of them as well.
One is the Anti-Racism Daily. I find their daily emails to be thought-provoking and full of links for more thought and discussion on essential issues. Today's issue, for example, is titled "Support Black Motherhood" and is introduced: "This issue outlines the intersection of redlining and Black maternal health. We've discussed both issues in our newsletter in the past (you can peruse our archives here). But I like how Dominique touches on in today's newsletter to remind us that the impact of racial oppression is interconnected and complex. And although we cover topics one-by-one, we have to remember all of them when learning about it." You can find a link to their website as the first comment below.
I also call attention to the service that's been essential to many of us for years. Portside, https://www.facebook.com/Portside.PortsideLabor/ every day, sends links to a half dozen or more articles from a wide variety of port-side (ie, "left") publications worthy of note, sometimes on the day of publication, but always current. I have never found a day when I agreed with or even wanted to read every single article, and yet there almost always are a couple from which I find myself learning, gaining perspective, or becoming aware in ways I otherwise would not have. So this post is going to include a direct link to their page, as a way of thanking them and hoping to inspire others to check them out and, if so inclined, offer them some money (or let others know of them).
If you are so inclined, feel free to link ONE organization you think we may not be as aware of as you think we should be, that needs support. THANK YOU.
Portside's fund appeal, and a link to their links, is here.
Kipp Dawson
Posted on Portside's Facebook page
In Memory of Dr. Marty Nathan (The Resistance Center for Peace and Justice)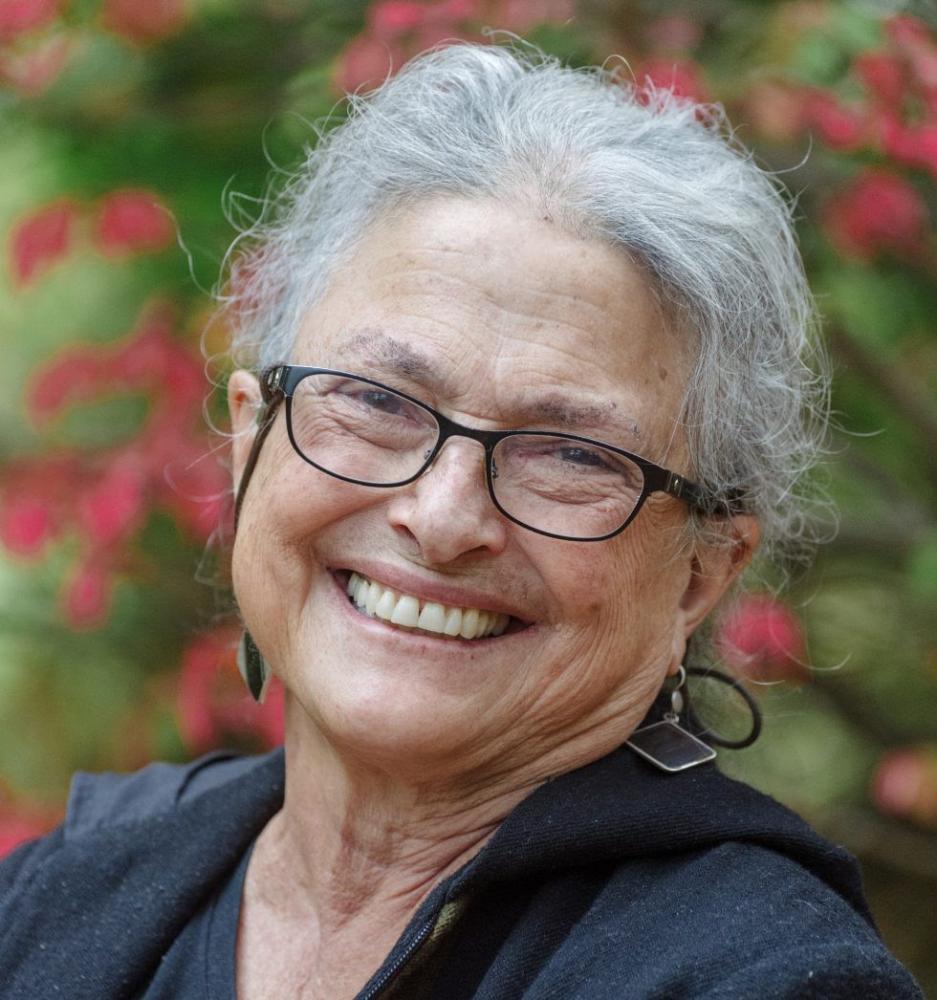 "Yehi zichra mahapecha": May her memory be a revolution. These Hebrew words were the first thing that came to me on hearing about the loss of Marty Nathan, a person who spent such a long time being so steadfastly, defiantly revolutionary. One of my strongest beliefs is that we should listen most carefully to anyone who has spent a long time being consistently on the right side of history. This is exactly where Marty was for about a half century of activism: from health care access to racial justice and addressing the climate crisis she was a shining example of living and acting out the values she had. Just this year she was such a worthy Frances Crowe Award recipient. Frances founded what has become The Resistance Center and set the legacy we continue working to fulfill. At TRC we are deeply grateful for all the ways Marty supported our campaigns for peace, demilitarization, youth advocacy, and migrant justice. 
 
Marty had some real privileges in life. She could've chosen just to be happy with those. Instead she chose to share what she had through working with groups from La Cliniquita to her more recent climate justice work and tireless anti-pipeline organizing. Her activism came at a terrible cost, especially when she lost her husband and was a victim herself of white supremacist terror in the 1979 Greensboro Massacre. Then and so many times since she could've given up but instead only seemed to come back stronger and fiercer. 
As a species we are under serious threats, all of our own making. If we respond to the escalating climate crises we continue to cause with our same old tools of racist and white supremacist violence, xenophobia, nationalism, increasing authoritarianism, and war with weapons of mass destruction then humans may not survive the next century. If we do come together to save ourselves and the planet, it will be because we have the courage to act on the legacy of brave activists like Marty Nathan. May her memory and example inspire all of us to be a part of her revolution!
-Avery J on behalf of The Resistance Center for Peace and Justice
The Resistance Center for Peace and Justice
P.O. Box 1005
Northampton, MA 01061
In-depth news story:
Community recalls impact, contributions of environmental, social justice activist Dr. Marty Nathan
By Brian Steele
November 30, 2021
Daily Hampshire Gazette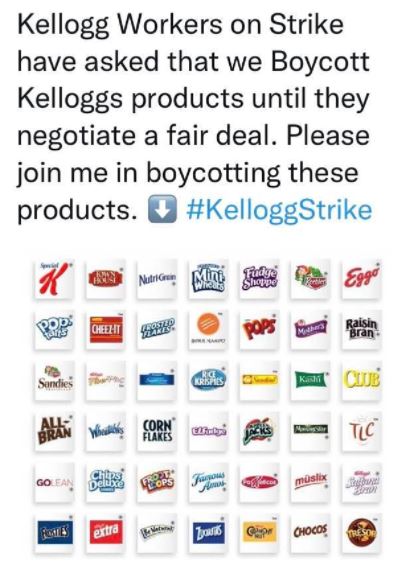 Workers at Kellogg's Cereal Production Plants Continue Strike
Bakery, Confectionery, Tobacco Workers and Grain Millers International Union (BCTGM) issued the following statement in support of 1,400 BCTGM members in Battle Creek, Mich. (Local 3G), Omaha, Neb. (Local 50G), Lancaster, Pa. (Local 374G) and Memphis, Tenn. (Local 252G) who are on strike against the Kellogg Company:
The company's last, best and final offer does not achieve what our members are asking for; a predictable pathway to fully vested, fully benefitted employment for all employees with no concessions.
Kellogg's continues to insist on takeaways.  The company came to the table insisting that there will only be an agreement if the Union accepts the company proposal exactly as it has been written.  The company's proposal was filled with conditions and terms as to what was acceptable to Kellogg's.  These terms and conditions are unacceptable to our members.
Therefore, the BCTGM Bargaining Committee rejected the proposal.  The strike by 1,400 BCTGM Kellogg's members at the company's four U.S. cereal plants continues.
Contact: Corrina Christensen, BCTGM Director of Communications (301) 692-2874
Interviews with striking Kellogg's workers and negotiating committee members available upon request.
10401 Connecticut Ave., Floor 4
Kensington, Maryland
Phone: 301-933-8600
Please CALL, WRITE, FORWARD. Deadline extended to Dec. 3 to Lift Sanctions on Cuba (National Network on Cuba)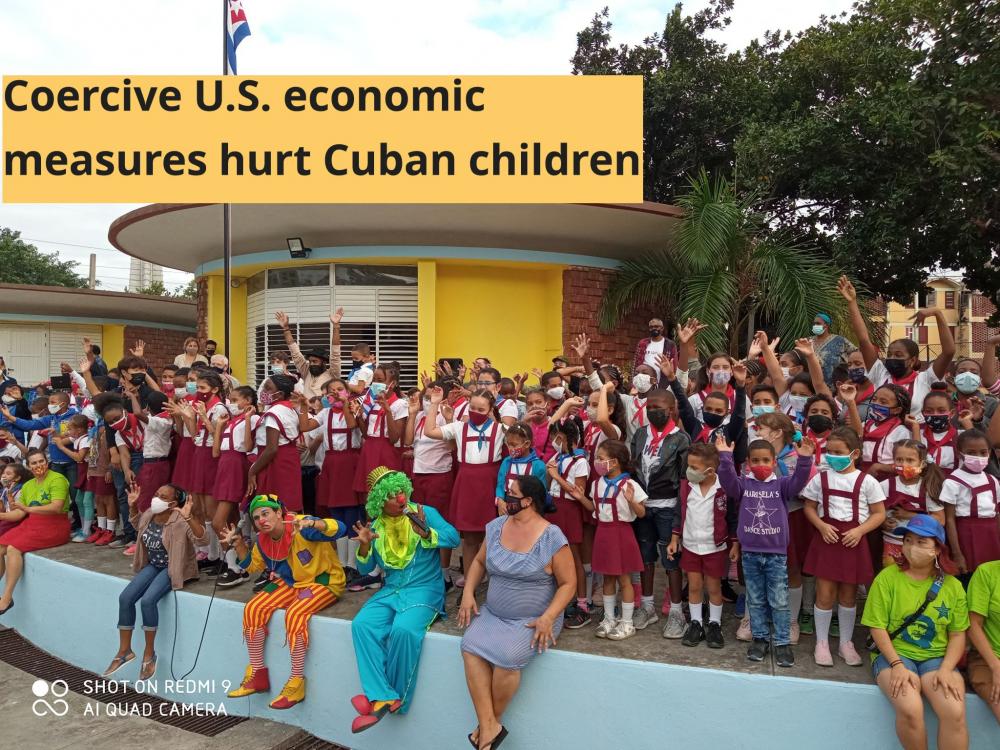 We still have time to get Congressional signatures to the Dear Colleague letter to Pres Biden for lifting sanctions on Cuba.  This 'Dear Colleague' letter is a virtual picket line -- let's push our elected representatives to join us by signing. The deadline has been extended to Friday, December 3rd! See if your representative has already signed on here.
Please read and follow the instructions below!
Although Cuba again has quashed COVID-19 by its successful vaccines allowing for tourism-based economic opening and growth, Cubans are still facing a dire humanitarian situation. Residual food shortages, long lines, and a lack of medical supplies to address the COVID-19 pandemic are symptoms of the worst economic and humanitarian crisis it has faced in recent history. It is critical, now more than ever, that the United States take immediate action to allow -- i.e. stop blocking -- humanitarian assistance to reach the Cuban people and take concrete steps to foster constructive engagement with Cuba, leading to the normalization of U.S.-Cuba relations.
What's Going On?
Representatives James P. McGovern (D-MA), Barbara Lee (D-CA), Gregory W. Meeks (D-NY), and Bobby L. Rush (D-IL) are circulating a Dear Colleague letter to President Biden regarding changing U.S. policy towards Cuba to address the humanitarian and economic crisis and restore engagement with our Caribbean neighbor.
The letter calls for the suspension of U.S. regulations that prevent food, medical supplies, and other humanitarian aid from reaching the Cuban people and for the lifting all restrictions on Cuban Americans sending remittances to their families and on non-family donations, allowing nonprofits and faith groups to provide humanitarian assistance and start-up capital for Cuban small businesses and civil society.
It also urges a rollback of the Trump Administration's travel restrictions to Cuba and calls for a return to a policy of dialogue and engagement. These demands are welcomed by our Cuban family and friends on the island.
 
What You Can Do
We need you to get in touch with your representative and urge them to sign onto the letter NOW! The deadline for sign-ons is Friday, December 3. Find your representative here. Then, here's what you do:
Call!
    Call the number for your representative's DC office.
    Ask to speak to the office's foreign policy aide.
    Once connected, read (or adapt) the script below.
    You might be asked to just leave a message, either with the front desk or on voicemail. Should that happen, read the same script.
Sample script:
"My name is [FIRST AND LAST NAME] and I'm a constituent calling from [CITY, STATE, ZIP CODE]. Cuba is currently facing the worst economic and humanitarian crisis the island has seen in recent history. Food shortages, long lines, and a lack of medical supplies to combat the COVID-19 pandemic have exacerbated the suffering of Cubans on the island and of their families in the United States who are desperate to help but often unable to.
I'm calling you to urge Rep. [YOUR REP'S LAST NAME] to sign onto Rep. Jim McGovern's dear colleague letter to President Biden, urging him to advance a U.S. policy towards Cuba that addresses the humanitarian and economic crisis and restores a policy of engagement. The letter calls for immediate and concrete actions to alleviate the crisis, such as lifting specific licenses required to send medical supplies and ending restrictions on sending family remittances and lifting restrictions on travel. These are just a few actions President Biden can take to improve the quality of life in Cuba. These actions will also guide us down a path of engagement with Cuba in areas such as migration, disaster response, and climate change. Protecting human rights in Cuba, including the right to protest, can only be achieved through engagement, rather than unilateral isolation, which has proven time and time again to be a failed policy.
Is this something Representative [YOUR REP'S LAST NAME] can support? I hope you will consider my request, and thank you for your time."
Write!
Fill out this form to send a message to your representative. We've already written it for you (though feel free to edit)! All you have to do is enter your contact information.
How much longer will we repeat the failed Cuba policies of the past? Time is of the essence, and we cannot keep bargaining with Cuban lives.
Please forward this alert to at least three friends! This is an important opportunity to tell President Biden to come through on his promises to establish dialogue with Cuba.
For more information or to work on legislative messaging and outreach, please contact Alliance for Cuban Engagement | allianceforcuba@acere.org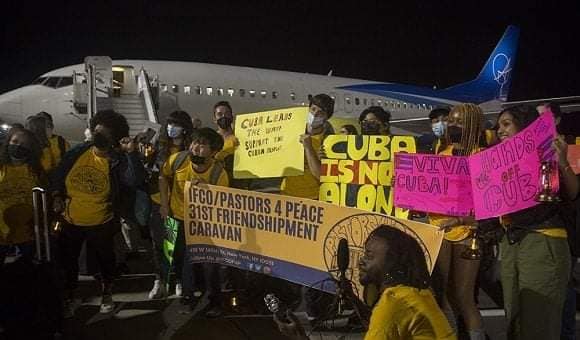 PO Box 22455
Oakland, California 94609
Smithsonian African American museum content now available online
The exhibits on the first floor of the museum are currently available
By Aisha Powell
Nov 27, 2021
The Grio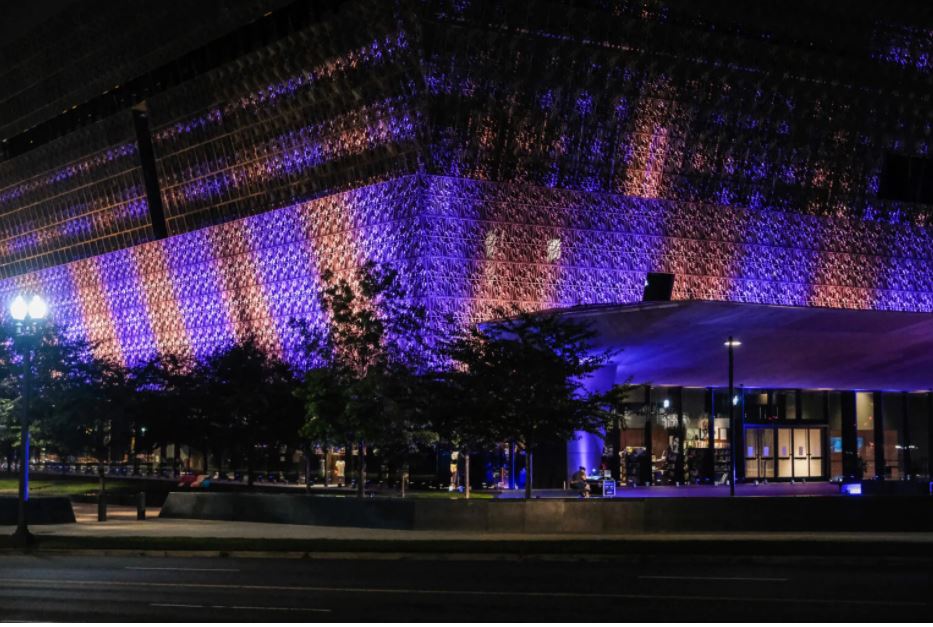 The Smithsonian National Museum of African American History and Culture has gone virtual.
The critically acclaimed museum in Washington D.C., which features 10 floors of Black history from the 15th century to present day, has digitized some of its exhibits so that museumgoers from anywhere can experience the content.
he first floor of the museum which covers the tumultuous era of slavery, called Slavery & Freedom, is the first exhibit to be transferred to the museum's online platform Searchable Museum. It was made available on Thursday.
"History, despite its wrenching pain, cannot be unlived — but if faced with courage, need not be lived again," says Maya Angelou's voice, as she speaks over the opening video on the site, while images from the past 600 years of Black history move across the screen.
VIDEOS: Insurgent Victory in the Teamsters (Teamsters for a Democratic Union)
Teamsters for a Democratic Union
November 18, 2021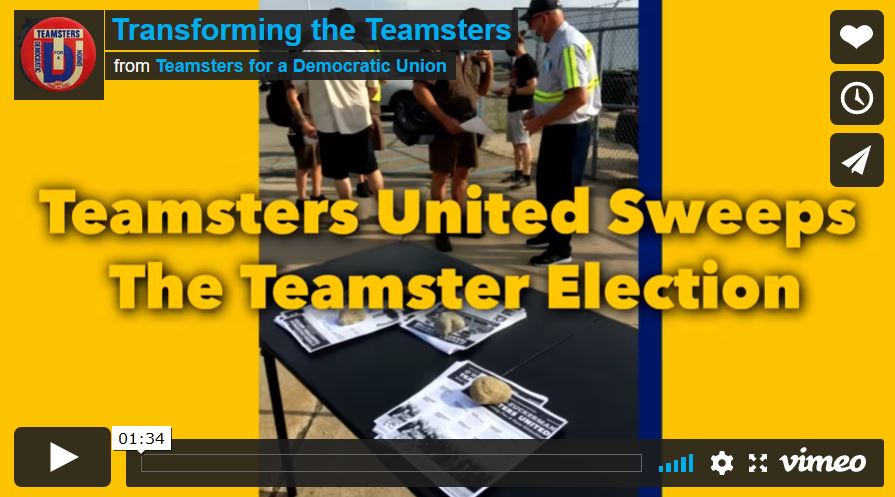 O'Brien-Zuckerman Teamsters United has swept the International Union election by a more than two-to-one margin. Check out must-see videos of the grassroots organizing that helped pave the way and Sean O'Brien's message to TDU and corporate America.
Five Ways to Turn the Election Rout Into Real Union Power
Teamsters for a Democratic Union
November 20, 2021
O'Brien-Zuckerman Teamsters United didn't mince words about the choice in the election. They told members if they liked the union's direction under Hoffa to vote for Vairma and challenged members who want to fight the employers to vote Teamsters United. The result was a two-to-one rout. Here are five ways to turn the election victory into member engagement and union power.
Other videos:
Teamsters for a Democratic Union
PO Box 10128
Detroit, MI 48210
(313) 842-2600  |  info@tdu.org
A New Deal for CUNY - New York City - Demonstration December 11 (Professional Staff Congress (PSC))