Global Left Midweek - March 16, 2022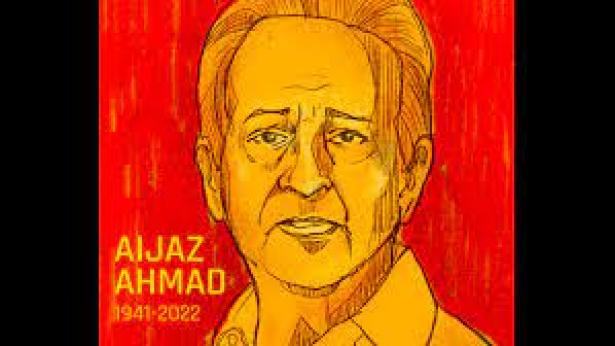 Credit,Peoples Dispatch
__________
Without a Left Alternative, the Right Wins
Tamás Krausz and Attila Antal / transform! Europe (Vienna)
The anti-capitalist left, no matter in which country, must start from the interests of the people in geopolitical matters, from the need to put a stop to the economic and territorial re-division of the world, because that means war, and we want peace. So, the fundamental question is not which great power you are on the side of.
__________
The Split in the Peace Movement
Richard Swift / Canadian Dimension (Winnipeg)
What we desperately need is an unheard level of international cooperation and an end to geopolitics as usual. In the end, it doesn't matter which geopolitical rabbit hole we choose, we won't be able to escape drowning in the tsunami of climate collapse.
__________
Remembering Aijaz Ahmad
Vijay Prashad / Peoples Dispatch (New Delhi)
When Marxism was under attack, Aijaz was one of the few thinkers who produced a sophisticated account not of its relevance, but of its necessity. In Theory was a book that taught an entire generation about how to think about and write theory. It was from this book, and in essays published by Monthly Review, that Aijaz mounted an important defense of the Marxist tradition. 
__________
Guatemalan Women vs Sexist Laws
Dánae Vílchez / NACLA Report (New York)
Dozens of feminist groups commemorated International Women's Day with demonstrations across the country, as well as a farmers' market and a music festival in Guatemala City. Protests in the capital's streets continued on 9 March, and several groups are calling for more demonstrations against the law and the 'pro-life' declaration in days to come. 
__________
How UK Activists Stopped Deportation Flights
Sophie K Rosa / Novara Media (London)
Campaigners trying to end airline TUI's involvement in deportation charter flights announced their victory earlier this month. Following a little over a year of organising by the StopTUI campaign, TUI has not run a deportation flight in over six months.
__________
Workers' Party in Turkey
Suat Alper Orhan and Dogukan Demircioglu / Jacobin (New York)
For decades, military repression and oligarchic control have kept the Left on the margins of Turkish public life. But the recently created Workers' Party of Turkey has brought the far left back into parliament for the first time in half a century.
__________
More on the War
The Stakes for Democracy   John Feffer / Foreign Policy in Focus (Washington DC)
Arbitrary Resistance of Average Ukrainians   Sabato Angieri / il manifesto Global (Rome)
At Ground Level   Oksana Dutchak / LeftEast
Antiwar Protests Across Eastern Europe   Gemma Perry / Daily Mail (London)
A People's Solidarity Needed   Shaun Matsheza, Nick Buxton, Denys Gorbach and Denis Pilash / Transnational Institute (Amsterdam)
Beijing's Headache   Jan Turowski / Rosa Luxemburg Stiftung (Berlin)
Debate: The Role of NATO   Steve Ellner / Links (Sydney)
Debate: The Global South and the War   Taras Bilous / The Commons (Kyiv)
Putin Attacks Independent Media    John Nichols / The Nation (New York) 
Myanmar and the Invasion   Mong Palatino / Global Voices (Amsterdam)
Norwegian Rødt Party   Alberte Bekkhus and Chris Dite / Jacobin
__________
Haitian Garment Workers Strike
Frances Madeson / The Real News (Baltimore)
In February, the unions joined the workers in the execution of a number of strategic, multi-day strikes to force the issue of wage theft. Strikers returned to the streets again on February 23, but this time they were met with lethal state violence meant to terrorize them back to their sewing machines at any price.
__________
Socialization in Germany
Mario Candeias, Alex Demirović, Barbara Fried, Rhonda Koch, Thomas Sablowski, Eva Völpel and Moritz Warnke / Rosa Luxemburg Stiftung (Berlin)
Socialization aims for comprehensive access for the many to the conditions of satisfying their own needs. Not only as property, but also the democratic reorganization of production and reproduction. Such a planned economy would have to be built from the bottom up in council structures so that society would not fragment into two parts, whereby one plans and decides for the other.
__________
Amilcar Cabral's Cultural Vision
Billy Anania / Roar (Amsterdam)
Cabral advocated for a socialism rooted in African culture. Art was key to Cabral's understanding of shared struggle across the diaspora, providing an early foundation for the anti-colonial theory he developed with the African Party for the Independence of Guinea and the Cape Verde Islands (PAIGC).