Tidbits – May 19, 2022 – Reader Comments: Buffalo Murders; Replacement Theory; Abortion; Racial Wealth Gap; Left-Wing Populism; Ukraine; Afghanistan; South; Abortion in the 70s – The Janes; Housing Failure; More …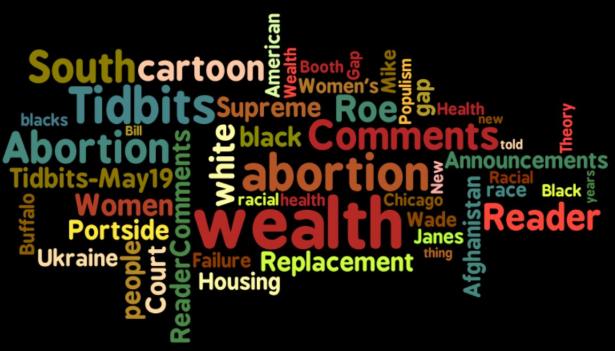 Tidbits - Reader Comments, Resources, Announcements, AND cartoons - May 19, 2022,Portside
Resources:
Announcements:
Embraces  --  cartoon by Bill Bramhall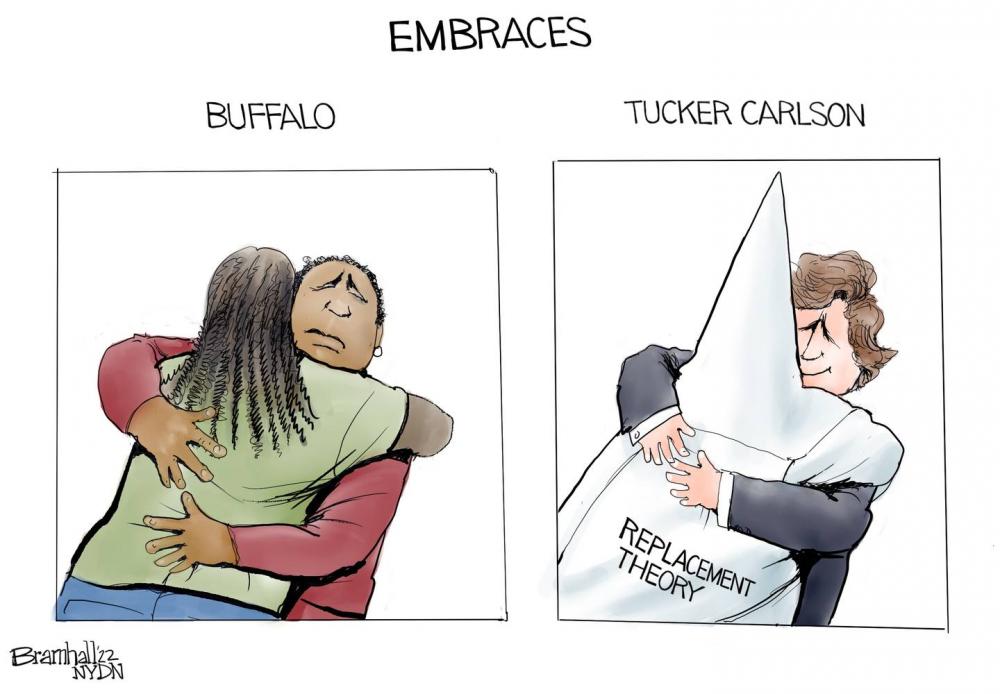 Bill Bramhall's editorial cartoon for Tuesday, May 17, 2022, comparing the embraces between Buffalo shooting victims and Tucker Carlson hugging the "replacement theory."
Bill Bramhall
May 17, 2022
New York Daily News
Re: Left-Wing Populism Can Win in Trump-Voting Areas, Too
 
I continue to believe that the account of the 2020 election promoted by the media is wrong.  We are told that Rep. Clyburn's endorsement swung the election for Biden. If five percent of Democratic voters knew who Clyburn was, I'll eat my hat.
As this article attests, the overwhelming issue for Democratic voters was defeating Trump.  Why then did so many choose Biden?  Because they had been told for four years by Trump himself that the Democrat he feared most was Biden.  They followed Trump's advice; they did not vote for Biden because he had won their hearts and minds. This explains why Biden's precipitous fall in the polls since the election.  Trump was defeated, but what they wanted was not what they got.
Robert Supansic
Re: The Deep Roots of the Racial Wealth Gap—And How We Undo It
 
I'm concerned that Portside consistently runs the standard narrative about the "racial wealth gap," which is really inconsistent with, if not antagonistic to a working-class response to the profound, and growing, economic inequality in the US. As Matt Bruenig's work has shown, the so called racial wealth gap exists only between the richest 10% of white people and the richest 10%  of blacks. As Bruenig points out, the bottom 50% of whites and the bottom 50% of blacks alike have no wealth whatsoever. Moreover, the idea, as I've pointed out elsewhere rests on a grand ideological mystification of racial wealth. There's no such thing:
"the extent of polarization of wealth and income both nationally and within populations classified respectively as white and black should indicate the folly of any such notion. There is no black wealth or white wealth, only wealth held by black or white individuals and households. The differences in wealth between otherwise comparable black and white individuals and households on the average, either median or mean, likely reflect, among a variety of factors, effects of present or past discrimination or exclusion. In principle, "racial wealth gap" could be a shorthand for characterizing those aggregate differences. However, race reductionism, in conflating the distinction between race as a category of social classification and race as an organic group, represents "racial" wealth as if it were owned collectively. This has been a conceptual failing of the wealth gap notion since its emergence in the 1990s. It has gone unchallenged because the hegemony of race relations ideology has implanted as common sense understanding in American society the racist reification of black people as a unitary entity to which distinction between singular and plural does not apply.

"And race reductionists have an interest in perpetrating the sleight-of-hand that obscures the wealth gap's mystified character. Recently, I was on a black nationalist inclined podcast whose host agreed that stratification by occupation, income, and wealth among black Americans is greater than among other populations classified by race/ethnicity and that the bottom half of blacks and whites alike have no wealth. Yet he insisted that the wealth gap framework holds because blacks' "collective" wealth is much lower than whites'. But, of course, there is no black collective wealth, just as there is no white collective wealth. It may be that habituation to positing blacks as a singular entity undermines the ability to recognize that basic fact. If so, imagine a white nurse down on her luck and in danger of eviction trying to dip into the collective pot of white wealth for a subsidy, or maybe texting Elon Musk to pitch in." 

Reed, "Let Me Go Get My Big White Man': The Clientelist Foundation of Antiracist Politics," nonsite.org, May 11, 2022 at https://nonsite.org/let-me-go-get-my-big-white-man/.
It's really distressing to see such arguments for an upper-class centered understanding on inequality rehearsed in Portside. We should do better, and we should recognize how our allies are and aren't.
In solidarity,
Adolph Reed
Re: The Devastating Economic Impacts of an Abortion Ban
 
EXCERPT
A few statistics help clarify how race and class influence who will most be harmed: in 2014, forty-nine per cent of all abortions were obtained by people who were below the federal poverty line. As of 2004, approximately a third were obtained by people who were white, thirty-seven per cent by those who were Black, and twenty-two per cent by Hispanic people. Black women are significantly more likely than white women to experience an unintended pregnancy, owing to disparities in the economy and the health-care system, and other factors; for the same group, childbirth is more dangerous. "Whether you believe abortion is a moral thing or not, the evidence is the evidence," Green told me. "And the overwhelming thrust of the evidence is that this is going to negatively impact women and other pregnant people's economic prospects, their mental health, their physical health, and ultimately their lives. The end of Roe v. Wade is likely going to have devastating fallout."
David Lott
Posted on Portside's Facebook page
Re: I Invented Gilead. The Supreme Court Is Making It Real.
 
Wait, you say: It's not about the organs; it's about the babies. Which raises some questions. Is an acorn an oak tree? Is a hen's egg a chicken? When does a fertilized human egg become a full human being or person? "Our" traditions—let's say those of the ancient Greeks, the Romans, the early Christians—have vacillated on this subject. At "conception"? At "heartbeat"? At "quickening?" The hard line of today's anti-abortion activists is at "conception," which is now supposed to be the moment at which a cluster of cells becomes "ensouled." But any such judgment depends on a religious belief—namely, the belief in souls. Not everyone shares such a belief. But all, it appears, now risk being subjected to laws formulated by those who do. That which is a sin within a certain set of religious beliefs is to be made a crime for all.
George Lessard
Posted on Portside's Facebook page
The Great Replacement  --  cartoon by Nick Anderson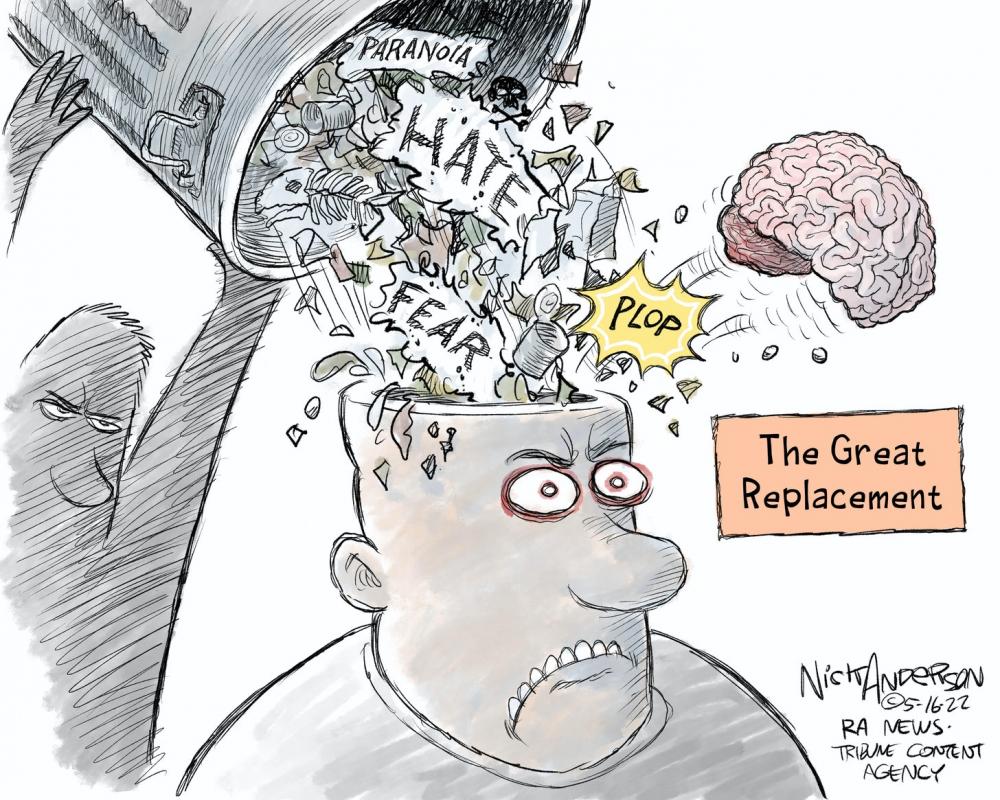 Nick Anderson
May 16, 2022
Pen Strokes
Re: The Long Hand of Slave Breeding, Redux
 
Pillar of strength!!!
Eloise Peterson
Posted on Portside's Facebook page
Replacement Theory  --  cartoon by Mike Thompson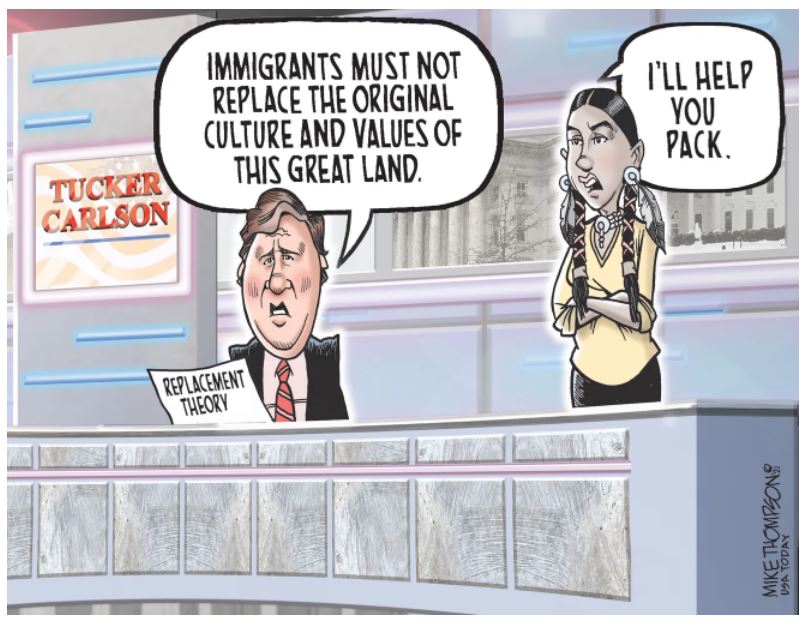 Mike Thompson
April 29, 2021
Akron Beacon Journal
Who's the Threat  --  cartoon by Mike Luckovich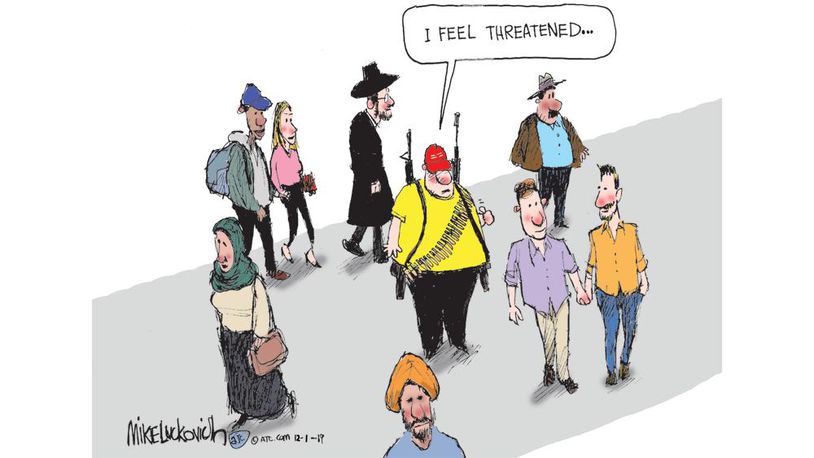 Mike Luckovich
December 1, 2019
Atlanta Journal-Constitution
Re: Ukraine, an Antiwar Dilemma
 
FYI, the USA invasions of Afghanistan, Iraq, Libya, and Syria were each more ruthless than Russia's invasion of Ukraine. There is no such thing as an anti-war left in the USA any more, at least one that is organized enough to be recognized by the corporate pro-war media. 
Alan Gregory Wonderwheel
Posted on Portside's Facebook page
      =====
Alan Gregory Wonderwheel:  at least you admit you aren't anti-war. You're only against the US and oppose them in any war, irrespective of the rights or wrongs of it. You're totally delighted for the Russians to be slaughtering Ukrainians and destroying their cities, and you don't want anyone to stop them. Because according to you, Putin is a great guy and the Ukrainians are all a bunch of Nazis. This of course is nonsense. The actual reason you support Putin is because he opposes the US, and it seems clear you are glad for any amount of death and destruction if it is advantageous to him.
Ken Cunkle
Posted on Portside's Facebook page
Re: Afghanistan Is Starving, but the Taliban Can Only Govern Women's Clothing
 
Tragic.
Everyone knew what would transpire, and the *men* that were trained to prevent a Taliban takeover should have known better than anybody. It is their country, it was their responsibility. They even got the public assurances from the Pentagon of limitless funding for military support for the Afghan military. The Defense department coined a new phrase for the level of combat support; "Over the Horizon", air support. Something that the US military has perfected doing over the years in that region.
It's too bad. But they never lifted a finger for themselves for their own Country. The 'President' was the first one to flee; I guess planning to return years in the future when people there begin to seek a change to...Democracy, or some form of representative Government perhaps.
It's sad, all they can do is seek charity for 40 million starving mouths.
Amiel Summers
Posted on Portside's Facebook page
      =====
"Afghanistan is starving ..." but no note that the USA has robbed the country of its currency reserves. Up to $10 Billion dollars, part of US sanctions. The IMF also refuses to give the government money. As men, women and children starve. 
U.S. has no plans to release billions in Afghan assets, Treasury says
Dan Morgan
Posted on Portside's Facebook page
Merit Badges  --  cartoon by Dwayne Booth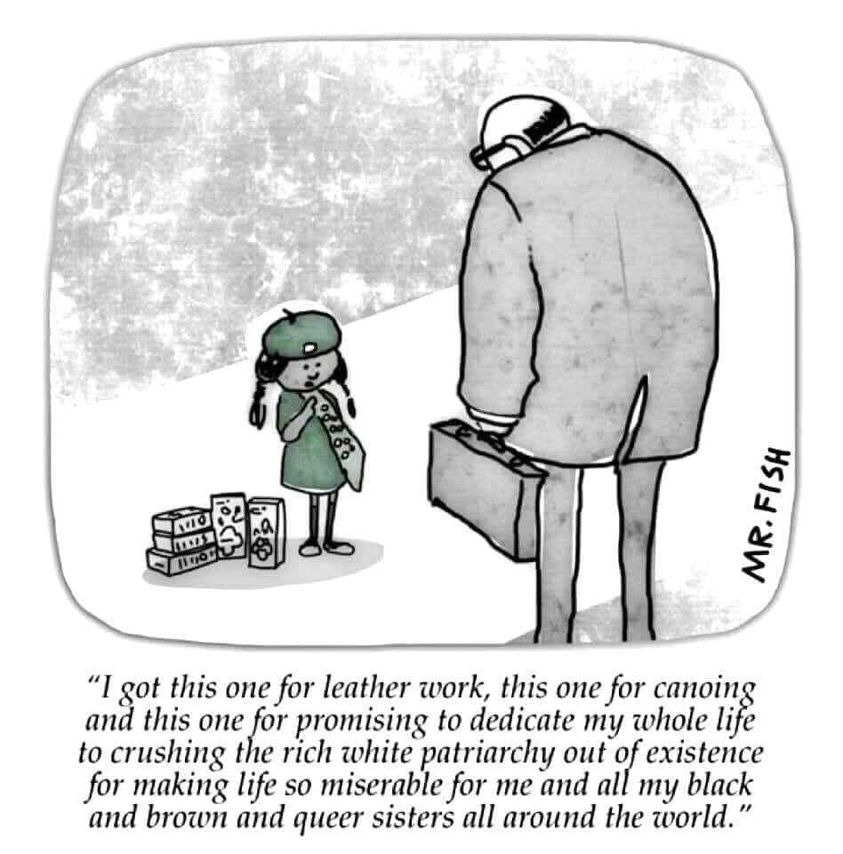 Dwayne Booth
Mr Fish Cartoons
Where Abortion Would Remain Accessible in a Post-Roe South (Elisha Brown in Facing South)
 
By Elisha Brown
May 12, 2022
Facing South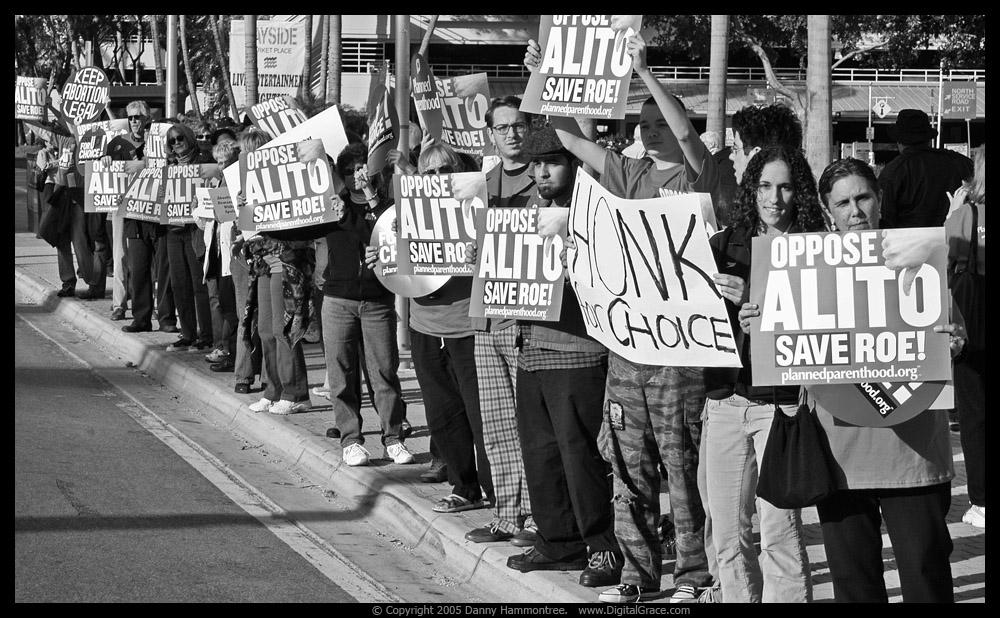 Protesters in Miami demonstrated against Samuel Alito ahead of his confirmation to the U.S. Supreme Court in 2006. Justice Alito authored a draft opinion leaked this month, calling Roe v. Wade "egregiously wrong." (Photo by Danny Hammontree via Flickr  //  Facing South)
A U.S. Supreme Court draft opinion, obtained by Politico and published last week, signals that the court will soon overturn Roe v. Wade, the landmark 1973 ruling that legalized abortion. The leaked court documents concern Dobbs v. Jackson Women's Health Organization, a high-profile case over the constitutionality of Mississippi's 15-week abortion ban. The final ruling is expected in June. 
If the draft opinion stands and the high court undoes the half-century precedent set by Roe and reaffirmed by Planned Parenthood v. Casey — a 1992 decision that affirmed the right to abortion until fetal viability — North Carolina and Virginia would be the only two states in the South where abortion would remain widely accessible. 
Of the 13 Southern states, six currently have in place so-called "trigger laws" — restrictions on abortion at nearly any time during a pregnancy that would be enacted immediately or soon after Roe is overturned. They are Arkansas, Kentucky, Louisiana, Tennessee, Texas, and Mississippi. All six states have exceptions if the pregnant person's life is at risk; Mississippi also has an exception for rape.
Alabama, Florida, Georgia, South Carolina, and West Virginia do not have trigger bans on the books. However, they do have other draconian abortion restrictions in place, such as six-week or 15-week bans, according to the Guttmacher Institute, a reproductive health research nonprofit.
As recently as December, Florida was considered a state where abortion would remain accessible if Roe fell. But the Republican-controlled legislature recently passed HB5, which prohibits abortion after 15 weeks of pregnancy except to save a pregnant person's life or if there is a "fatal fetal abnormality." Signed last month by Republican Gov. Ron DeSantis, the law takes effect July 1 and has yet to be directly challenged in court. The Florida Constitution has a privacy clause that in the past has been interpreted as protecting the right to abortion.
And in Georgia, a six-week abortion ban with exceptions for rape and incest has been blocked by the courts since 2019. "The six-week ban could go into effect if the injunction was lifted, so that's probably the first thing that would happen" there if the Supreme Court overturns Roe, said Florida State University College of Law professor Mary Ziegler, author of the book "Abortion and the Law in America: A Legal History, Roe v. Wade to the Present."
The various abortion bans in the South will have a disproportionate effect on some of the region's most vulnerable residents. Black and Hispanic people account for 13.4% and 18.5% of the U.S. population respectively, according to the most recent census data. However, 38.4% of Americans of who had legal abortions in 2019 were Black while 21% were Hispanic, according to the latest federal data released by the Centers for Disease Control and Prevention. Census data also shows that Southern states where anti-abortion politicians have passed draconian abortion restrictions have grown more racially diverse over the past decade. Meanwhile, a study from the Guttmacher Institute found that in 2014 75% of U.S. abortion patients had incomes below the federal poverty line.  
The screening of the HBO documentary The Janes  -  Chicago - May 19
Chicago on May 19 at l7:15 at the Davis Theater. And here are social media links for the film (which will be broadly publicly available June 8):
Facebook - https://bit.ly/38hpDte
Instagram - https://bit.ly/3yoNhPj
YouTube - https://bit.ly/3L9J5G0
Twitter - https://bit.ly/3L2IllJ
Facebook - https://bit.ly/3kWSHZN
May 23: Webinar: Honor Women, Defend Women's Healthcare: Protect Women's Right to Choose (CCDS Socialist Education Project)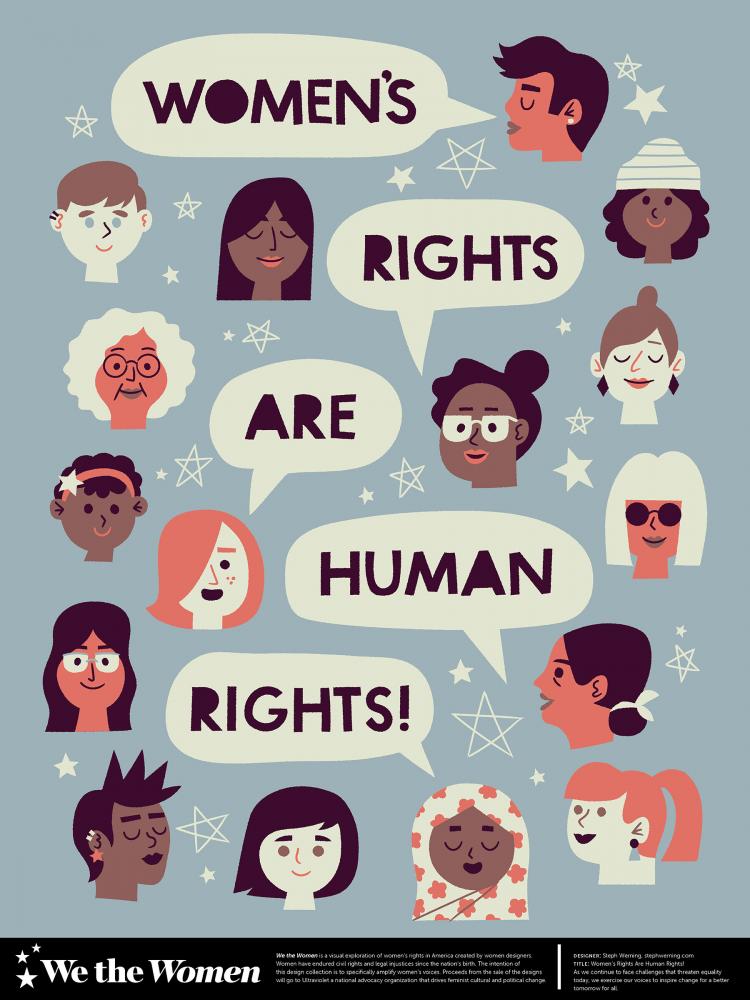 Protect Women's Right to Choose
May 23rd 9pm ET, 8pm CT, 6pm PT
Sponsored by CCDS Socialist Education Project
Join us for this important discussion. The far right and the rightwing justices on the Supreme Court are attempting to overturn Roe vs. Wade.  Make no mistake, this is an attack on everyone. By using arguments they directly threaten legal protections for homosexuality, contraception, interracial marriage, and much more.
Register in advance for this meeting
Speakers:
Mildred Williamson, PhD, MSW - Right to Life and Reproductive Justice for Black Women - has spent her career in public service with human rights/social justice as her passion. She has more than 30 years of experience in developing and leading public health safety net programs for vulnerable populations. She recently retired as Executive Director of HIV Services for Cook County Health and continues to serve as Adjunct Assistant Professor the University of Illinois at Chicago School of Public Health (UIC-SPH). She served as HIV/AIDS Section Chief for the Illinois Department of Public Health from 2008-2015 and began her public health career at Cook County (now John H. Stroger) Hospital in 1989 as the first administrator of the Women & Children HIV Program, which today, is part of the Ruth M. Rothstein CORE Center - the largest provider of comprehensive HIV services in the Midwest. Dr. Williamson obtained her Master's and Doctoral degrees in Social Work at the School of Social Service Administration/University of Chicago.
Heather Booth is one of the country's leading strategists about progressive issue campaigns and driving issues in elections. She started organizing in the civil rights, anti-Vietnam war and women's movements of the 1960s. She started JANE, an underground abortion service in 1965, before Roe. There is a new HBO documentary about this called The JANES, and there is a new Hollywood film version of the story, Call JANE.
She was the founding Director and is now President of the Midwest Academy, training social change leaders and organizers. She has been involved in and managed political campaigns and was the Training Director of the Democratic National Committee. In 2000, she was the Director of the NAACP National Voter Fund, which helped to increase African American election turnout. She was the lead consultant, directing the founding of the Campaign for Comprehensive Immigration Reform in 2005.
In 2008, she was the director of the Health Care Campaign for the AFL-CIO. In 2009, she directed the campaign passing President Obama's first budget. In 2010 she was the founding director of Americans for Financial Reform, fighting to regulate the financial industry. She was the national coordinator for the coalition around marriage equality and the 2013 Supreme Court decision. She was strategic advisor to the Alliance for Citizenship (the largest coalition of the immigration reform campaign). She was the field director for the 2017 campaign to stop the tax giveaways to millionaires and billionaires She directed Progressive and Seniors Outreach for the Biden/Harris campaign. She has been a consultant on many other issues and with many other organizations. She is a member of the consulting firm Democracy Partners.
There is a film about her life in organizing, "Heather Booth: Changing the World." It has been shown on PBS/World Channel stations around the country.
Marilyn Katz is a long-time women's rights advocate going back to the new left of the 1960s. She was part of SDS and the New American Movement. As a communications specialist, she play a major role in the campaigns of Mayor Harold Washington and Senator Carol Mosely Braun. She was a founder of Chicagoans Against War and Injustice.
You are invited to a Zoom meeting.
When: May 23, 2022 09:00 PM Eastern Time (US and Canada)
Register in advance for this meeting
After registering, you will receive a confirmation email containing information about joining the meeting.
Conversation with the Author - SUNBELT BLUES: The Failure of American Housing - Andrew Ross - June 9 (New Labor Forum)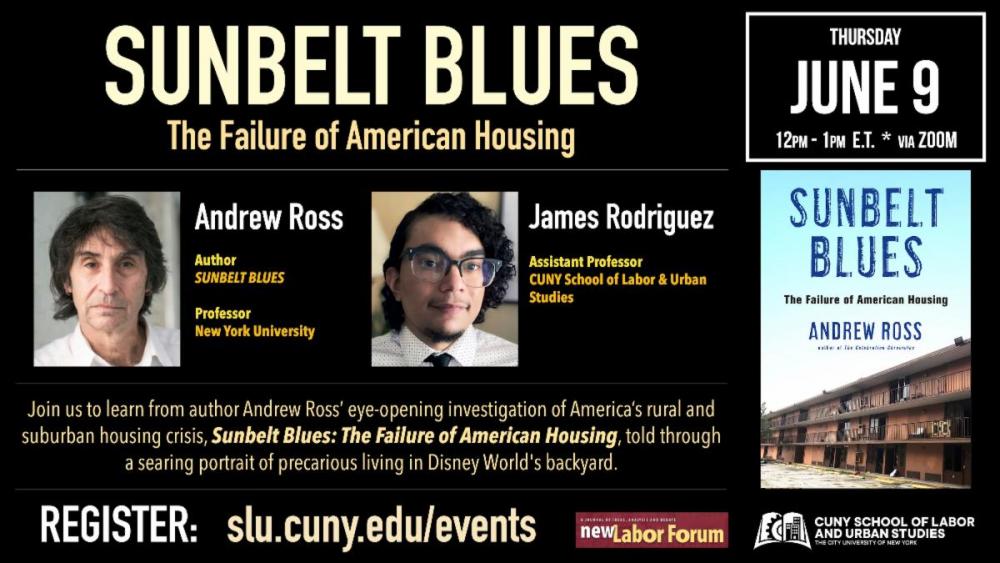 SUNBELT BLUES: The Failure of American Housing
A New Labor Forum conversation with author Andrew Ross
 
Thursday, June 9, 2022
12:00 PM - 1:00 PM E.T. * via Zoom
Register for the June 9 author event
Join us to learn from author Andrew Ross and his eye-opening investigation of America's rural and suburban housing crisis, Sunbelt Blues, told through a searing portrait of precarious living in Disney World's backyard. Moderated by SLU Professor James Rodriguez.