Dispatches From the Culture Wars – August 30, 2022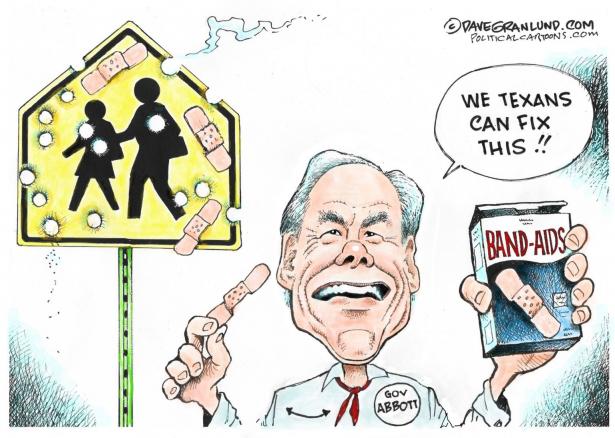 Credit,Dave Granlund
Nobody Wants to Teach Anymore
By Jessica Wildfire
Medium
Teacher shortages have been a long time coming. They've been losing us for a solid ten years now, maybe longer. The  solutions to every year's teacher shortage makes the problem even worse. The teachers who stay wind up doing more work for less pay. We grind up our souls, and we're rewarded with post-it notes and chocolate bars.
The Menace of Patriot Mobile
By Mike Hixenbaugh
NBC News
This spring, Patriot Mobile, a Texas-based cellphone company, blanketed communities with thousands of political mailers warning that sitting school board members were endangering students with critical race theory and other "woke" ideologies. Patriot Mobile presented its candidates as patriots who would "keep political agendas out of the classroom."
Biden Says It: MAGA is "Semi-Fascist"
By Amanda Marcotte
Salon
Even with all the heavy caveating, it's smart for Biden to get that word "fascist" out there. It's crucial for getting Americans to truly understand the threat we're facing from Trump and his fascist goons. The first step to getting people to wake up is chipping away at the wall of denial that fascism could happen in America.
Pro-Life is a Lie
By Harold Meyerson
The American Prospect
The self-proclaimed pro-life movement's chief defining feature is a raging contempt for life. Only seven states are so "pro-life" that they would likely vote against the creation or preservation of abortion rights. The provisions these states have made for protecting both mother and child during childbirth and thereafter, however, are the worst in the nation.
Politics by the Scoop
By Sarah Todd
Quartz
Ben & Jerry's attempt to stop the sale of its products in the West Bank is in keeping with the company's long history of taking strong political stances. 
Women in Baseball Rediscovered
By Peter Dreier
Ms.
The 1992 film A League of Their Own made no mention of the fact that many of the athletes in the All American Girls Professional Baseball League (AAGPBL) were gay—although none of them were open about their sexuality except to close friends and some teammates. Now a new cable series, also called A League of Their Own, includes openly lesbian AAGPBL players.
What MAGA Has in Mind
By David Anderson
Boulder Weekly
MAGA Republicans have a solution—make the U.S. less and less democratic. They are learning from autocratic figures like Bolsonaro in Brazil, Modi in India, Erdogan in Turkey, Netanyahu in Israel. They particularly like Viktor Orbán, the Prime Minister of Hungary. 
Cops' Lynch Mob Texts
By Brooke Leigh Howard
The Daily Beast
Even more repulsive, racist text messages shared between officers in California's Torrance Police Department have surfaced, causing local residents to say the force is too biased to keep the town safe. The City of Torrance and the Torrance Police Department revealed that in June 2022, they'd agreed to an investigation led by California's Office of the Attorney General.
Crusade Against Human Sexuality
By Kenn Orphan
CounterPunch
The intent is to terrify and silence those who dissent from a very narrow understanding of human sexuality. And this smear tactic has been employed against a wide spectrum of people, from teachers, to librarians, to healthcare providers, to drag queens. This has one reason: rigid social control.