How the Working Families Party Helped the Dems Defy Gravity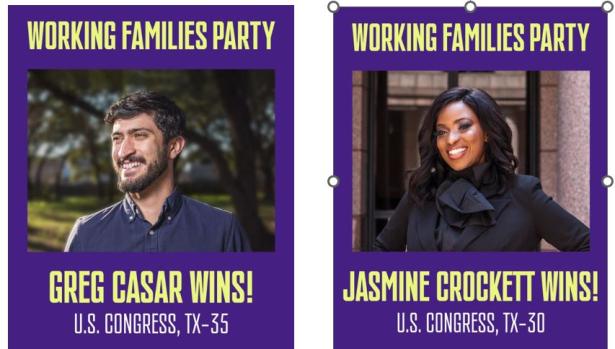 Newly elected members of Congress from Texas, Greg Casar (Texas-35) and Jasmine Crockett (Texas-30), join the ranks of Working Families Party members in the House of Representatives.,Working Families Party photos
One thing is certain: the red wave that most pundits predicted did not materialize. Did we defy gravity? At least a little.
Many races are still up in the air, and over the coming days and weeks we'll analyze the results. But we believe two factors kept the midterms close:

The reaction to the Republican Supreme Court's attack on abortion rights, which drove high Democratic turnout, especially among women and young voters, and saw Democrats overperform polls in many places, just as in summer special elections in New York and Alaska.
The Democrats' success at passing a legislative agenda: while voters are feeling the impact of higher costs, Democrats could claim credit as the party taking action to solve problems through the Inflation Reduction Act; and Democrats could mobilize young voters because of actually taking action on student debt. Both were very popular measures.
National Democrats got some things right: the importance of abortion rights, the need to remind voters of the GOP's extremism and disdain for democracy; and the need to actually deliver on material gains like through the Inflation Recovery Act.
But national Democrats also made errors. From the beginning of this cycle they were convinced that crime and policing was their main vulnerability, despite polls showing it lagged in importance behind the economy and abortion. Further, research consistently finds that voters agree with progressives on many questions about public safety. But in their desperation to distance themselves from progressives, too many Democrats mirrored GOP talking points — a strategy that never fails to fail. They also convinced themselves that progressive candidates could not win in competitive races. Though key races remain too close to call, we believe Democratic strategists' panic over this issue contributed to leaving votes on the table.
Getting right into it, here's how WFP endorsed candidates did:
DEMOCRATS APPEAR POISED TO HOLD THE SENATE
This is a significant accomplishment for the party out of power. WFP ran a major field mobilization in four crucial Senate battlegrounds.
PA: FETTERMAN — WIN!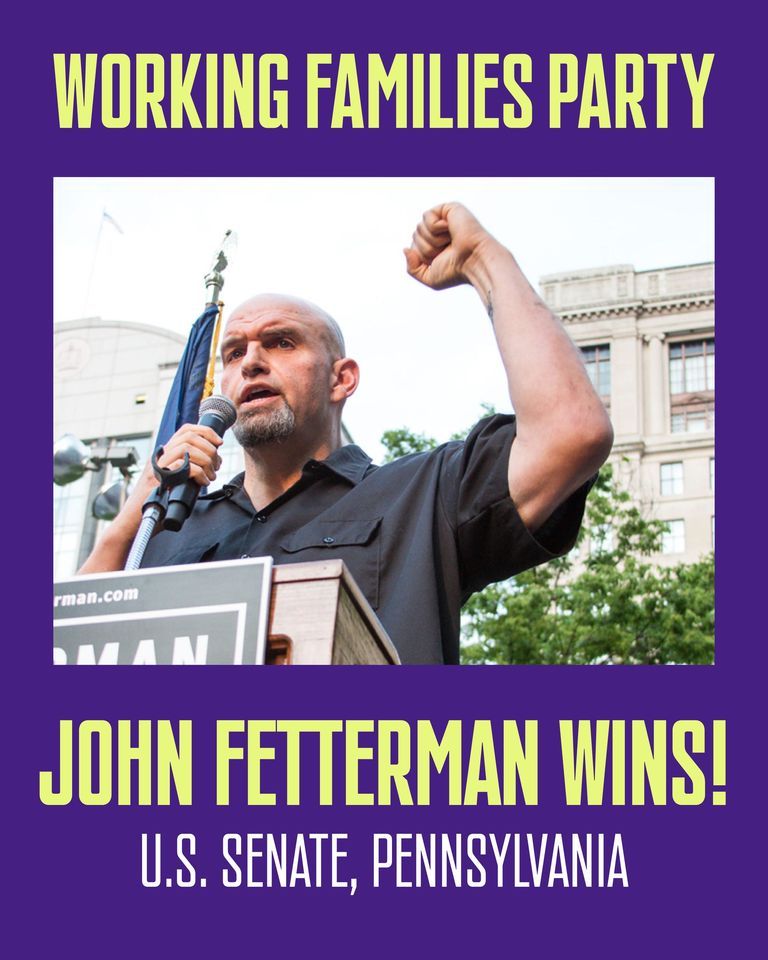 WFP ran one of the largest field campaigns in the state for Fetterman. We knocked on 400,000 doors in Pennsylvania to drive Democratic participation, focused on Philadelphia and other communities of color. On Election Day, WFP held a 1,000-person phone bank to cure ballots. Fetterman was heavily attacked for his progressive criminal justice record. Picking up a state in a midterm was always going to be tough, and we're proud to have helped do it.
WI: BARNES TRAILS.
Mandela Barnes is a WFP champion and founding member of the Wisconsin WFP. We endorsed him the day he announced his campaign, and helped him win his primary over several better funded rivals. When smug pundits and consultants claimed Mandela could never win, Democratic donors pulled back. Now, Mandela trails incumbent insurrectionist Republican Ron Johnson in what was clearly a winnable race.
This should be a wakeup call. In the crucial weeks after Mandela's primary win, Republican super PACs dumped millions into negative ads against Barnes to define him. They outspent Democrats in that window by roughly 3–1 — and that lopsided spending was tremendously damaging. If more major national donors had stepped up to keep the spending closer to even and attacked Ron Johnson's huge liabilities, they could have helped us change history.
AZ+NV: LEAN DEM HOLD.
Arizona was a WFP priority, where we focused a major grassroots mobilization on turning out Democratic voters for a number of down ballot races, including Maricopa DA, state legislative races and Corp Commission. Those outcomes are mainly too close to call but helped contribute to Senator Mark Kelly's narrow lead, though the race remains up in the air. (WFP did not run a Nevada program but Senator Catherine Cortez Masto's race seems too close to call at this moment, though we believe the remaining ballots slightly favor her.)
GEORGIA: TO A RUNOFF.
As in 2020, Raphael Warnock is headed to a run-off. And just like two years ago, we're going to bring everything we have to the race to secure the win. But this time, the run-off is only four weeks away, so we're going to have to sprint into action. If the numbers in Arizona and Nevada hold, Democrats retain the Senate majority even without Georgia — however for WFP, the difference between 50 and 51 Democratic Senators is significant given the track record of Democrats like Manchin and Sinema. One wildcard to watch for: if Trump announces his Presidential campaign, that could supercharge turnout on both sides, even without the Senate balance in play.
THE HOUSE MARGIN WILL BE CLOSE
Despite signs in their own polling, this isn't an outcome most forecasters foresaw: control of the House is still up in the air. The most likely result is Republicans will hold a narrow and chaotic and fractious majority, where MAGA extremists are likely to hold the balance of power. Though make no mistake: a slim Republican majority can still do real harm and we're not about to rest easy.
Some takeaways:
SUMMER LEE: WFP secures a sixth WFP champ.
A perfect storm could have derailed Summer Lee: a Republican candidate with the same name as the Democratic incumbent we had defeated in the primary; a local Democratic party that was slow to consolidate; millions spent attacking Summer on Pittsburgh broadcast through the fall; and a late million dollars added by AIPAC's Super PAC. WFP made a final media buy and brought the coalition back together from the primary, in order to bring Democratic voters home, and it worked.
Summer Lee is the sixth WFP primary winner for the cycle to be headed to Congress, along with Greg Casar (TX-35), Delia Ramirez (IL-3), Jasmine Crockett (TX-30), Maxwell Frost (FL-10) and Becca Balint (VT-AL), comprising the biggest new class of WFP members ever sent to Congress.
One final closing detail, Democrat Chris DeLuzio who is in a neighboring toss-up district, PA-17, was hit with millions of dollars in negative spending attacking him for his connection to Summer Lee, also appears to be leading.
WFP PLAYS KEY ROLE IN BATTLEGROUND DISTRICTS.
WFP supported progressives in a number of closely competitive districts, most of which were labeled toss-ups or lean-Republican by Election Day. These were the kind of seats we'd have to win to have a hope of retaining a Democratic majority. At the moment, a number of those WFP-endorsed candidates are narrowly leading, including Pat Ryan (NY-18), where the WFP ballot line votes seem to be providing the margin of victory; Jahana Hayes (CT-5) where WFP hit Republican George Logan's record as a utility lobbyist; Gabe Vazquez (NM-2) where WFP coordinated a significant grassroots IE table; and Andrea Salinas (OR-6) who won her primary with the support of Oregon WFP over a candidate favored by both crypto-currency super PACs and the House Majority PAC.
WFP-endorsed incumbent progressive Andy Kim (NJ-07) appears to be leading by a healthy margin as does South Texas' Vicente Gonzalez (TX-34) where WFP engaged in some late TV spending jointly for Gonzalez and Michelle Vallejo (TX-15), who share a media market.
NATIONAL DEMOCRATIC PACS HUNG PURPLE DISTRICT PROGRESSIVES OUT TO DRY.
Fearing the worst, national Democratic PACs mainly focused their firepower on incumbent defense. It's an understandable strategy, but it also meant abandoning some viable purple district progressives. In Oregon's fifth Congressional district, WFP's Jamie McLeod-Skinner defeated corporate Democrat Kurt Schrader in the primary. The race is still too close to call. It'll go down to the wire, as Jamie will gain as ballots continue to come in, but we can't say for sure if it'll be enough.
But a close race itself is an impressive accomplishment, given the Republican Congressional Leadership fund spent $6 million on TV in the district, and the Democratic equivalent PAC walked away from the race altogether down the stretch. WFP was the biggest spender for Jamie over the final weeks, and we were outgunned about 10–1 on the IE side.
Schrader ran below the top of the ticket in 2020, but Jamie is running significantly ahead of the top of the ticket in 2022. The national environment is worse, with some Oregon-specific challenges as well. But still: $6 million in national Democratic money couldn't save DCCC chair Sean Patrick Maloney, but could have meant the difference for Jamie McLeod Skinner.
NEW YORK IS A SORE SPOT FOR DEMOCRATS…
…but WFP kept it from being far worse. We see a number of factors at play: first of all, the Cuomo-appointed judges who threw out the Democratic redistricting plan late in the cycle and carved up Democratic seats. Second, a number of Democratic retirements, including an ill-advised run for Governor from Rep. Tom Suozzi who departed NY-3, and Gov. Hochul's selection of Antonio Delgado for Lieutenant Governor, creating a vacancy in NY-19. Third, the chaos created by DCCC chair Sean Patrick Maloney, abandoning the district he represented to head for pastures he assumed were greener one district south; and fourth, the overall weakness at the top of the ticket. More on that topic below. Democrats trail in four competitive districts, and though the final count could change in some of them, we're not confident.
WFP PLAYS A ROLE IN HOTLY CONTESTED GOVERNOR'S RACES
Both purple and blue states saw competitive Governor's races.
THE BULWARK IN WISCONSIN.
WFP's major field program helped turn out voters for Governor Tony Evers. Holding that seat means retaining a veto against the gerrymandered extreme Republican legislative majorities.
PENNSYLVANIA, ARIZONA, GEORGIA.
Our major field program in PA was part of a healthy win for Gov. Josh Shapiro over Trumpist Doug Mastriano. At this moment the results in Arizona are up in the air, but if Democratic Secretary of State Katie Hobbs holds onto her narrow lead over far-right TV personality Kari Lake, our voter turnout program will have played a meaningful role. We also invested significantly in Georgia, where WFP-endorsed Stacey Abrams came up short.
WFP'S GOTV PROGRAM FILLS A KEY GAP IN NEW YORK.
Governor Kathy Hochul became Governor in the wake of Cuomo's scandal. Last night she was elected in her own right, but with the worst showing for a Democrat in a statewide race since 2002. The state Democratic Party was nowhere to be found. The Kings County Democratic Party — which should be turning out votes in the most Democratic vote-rich part of the state — didn't spend a penny. At the same time Mayor Eric Adams has been using his bully pulpit to fearmonger about crime in New York for almost two years now, but it hasn't made people feel safer; it's only left them on edge. And it effectively made him Lee Zeldin's top surrogate. The message many voters pick up is that Democrats and Republicans agree that you can't trust Democrats. (And messages like Sean Patrick Maloney's advertising denouncing "defund the police" clearly failed.)
WFP played a crucial role in turning out voters, especially young voters, and Black and brown voters in New York City, as well as mobilizing progressive elected officials to turn out their supporters as well. In the end, Kathy Hochul will win by roughly 5% — a close call in New York — and the votes on the WFP are virtually equal to her margin of victory. WFP also outperformed by roughly double the new, higher ballot-line threshold imposed by Governor Cuomo to crush WFP.
OREGON'S LOOKING GOOD.
One of the early signs that caused pundits to think Democrats were in trouble nationwide was the tight Oregon Governor's race; but the race was actually tight because a corporate Democrat, Senator Betsy Johnson, largely backed by corporate executives, was running as an attempted spoiler. Oregon WFP came in with a late six figure ad buy for the endorsed Democrat Tina Kotek on TV and streaming platforms. If her narrow lead holds up, Oregon WFP can be proud to have played a role in the victory. (Hat tip to Way to Win: the ads derived from their excellent message content this cycle.)
ATTACKS ON WFP IN CONNECTICUT FALL FLAT.
2022 in Connecticut was a rematch of the 2018 race where WFP-endorsed Governor Ned Lamont defeated Republican candidate Bob Stefanowski. This year, amidst the right-wing fear-mongering on public safety, Stefanowski made attacking Lamont for accepting the WFP endorsement a central part of his negative message. It was echoed in swing races across the state. Despite the attacks and the tougher national environment in 2022 compared to the Democratic wave year in 2018, Lamont appears to have outperformed his 2018 margin, expanding a 3 point win in 2018 to a roughly 12 point win in 2022. CTWFP seems poised to reclaim Row C, the third ballot line, while the Independent "Party," that ran their own candidate for Governor, could lose ballot access in the state.
MORE RESULTS
We're still collecting results from all around the country and we'll have more to report and more analysis to come. But some initial bright spots include:
WFP-endorsed ballot initiatives win big, including funding for early childhood education in New Mexico, a big victory in which WFP played a central role, marijuana legalization in Maryland, and defending abortion rights in Michigan. The Michigan amendment in particular also appears to have significantly driven Democratic turnout, potentially leading to the first Democratic trifecta in the state in a generation. (Not what you expect to see in a Republican wave year!)
WFP District Attorney and Sheriff candidates had a strong night too: WFP-endorsed Mary Moriarty is on track to win in Hennepin County, MN; Paul Heroux has been called the winner for Sheriff in Bristol County, MA; and Julie Gunnigle in Maricopa County, AZ appears to be holding onto a narrow lead, on the strength of her pledge not to prosecute abortions.
Many WFP-endorsed state legislative candidates running in tough purple districts are in a strong position, including Jan Hochadel, the president of AFT CT picking up a purple district in Connecticut, Betsy Coffia, a leader in We The People Michigan winning a red district in Michigan, Lorena Austin, who came through the WFP Campaign Camp training program, currently in the lead in a purple state house district in Arizona, and Nabilah Islam, a WFP progressive who appears to have won a state senate seat in Gwinnet Couty, Georgia. Caroline Menjivar and Tina McKinnor are two WFP state legislative candidates who are currently leading centrist Democratic rivals under CA's top-two system.
Though it will be a while before results are finalized, WFP-endorsed candidate for Los Angeles Mayor Karen Bass has an early lead, which we expect to expand; and down ballot our WFP city council slate looks strong as well.
77 Sands St. #6
Brooklyn, NY 11201