Global Left Midweek – November 23, 2022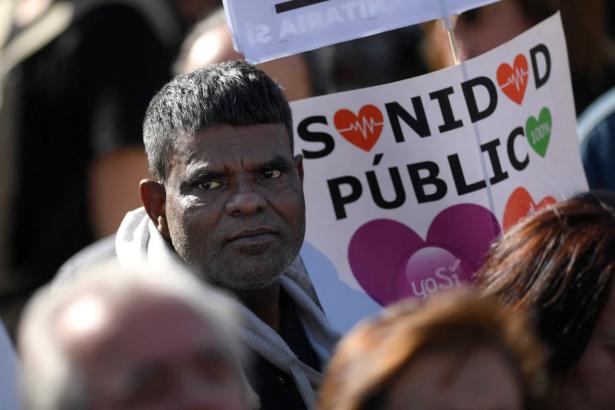 A protester holds a sign supporting public healthcare during a demonstration called by citizens under the slogan "Madrid stands up for its public health". Credit, Oscar Del Pozo/AFP
__________
An Ecosocialist Strategy to Win the Future
Sabrina Fernandes / Rosa Luxemburg Stiftung (Berlin)
The ecological transition needs to make sense for workers everywhere. A conversation around uneven and combined degrowth can actually improve demands for socially necessary, good green jobs and the kind of living arrangements that communities may desire — if, that is, we centre our strategy on alternative frameworks of sufficiency, solidarity, and justice.
__________
ITUC World Congress: Unions Building Peace
International Trade Union Confederation
International humanitarian trade union solidarity, such as the major efforts to support workers in Ukraine, Myanmar and elsewhere, is part of a broader framework of union efforts to build and sustain peace and to avoid conflicts and rebuild in their aftermath. This Freedom Report and its case studies remind us of the critical role unions play in opposing conflict, authoritarianism, and oppression.  
__________
Eastern Europe Focus
__________
Street and Workplace Action 
__________
Sexism in Kenya's Justice Movement
Lena Anyuolo / African Arguments (London)
Despite calling for liberation and social justice, activist spaces are far from immune to aspects of patriarchy and its toxic effects. Female activists in Kenya frequently suffer from mental stress and burnout as their contributions are taken for granted, their work goes uncredited, and their voices go unheard. 
__________
Labour Party Leaders Trying to Lose the Left
__________
Imprisoned Sandinistas
Dick Nichols / Green Left (Sydney)
Ortega and Murillo continue to scapegoat political prisoners as "agents of the Empire", cracking down on any form of civic activity independent of their regime's structures. This even includes Sandinista organisations such as the Association of Retired Fighters of the Sandinista People's Army. Imprisoned former FSLN leader Dora María Téllez is on hunger strike.
__________
Red Valkyries
Rachel Collett / Red Pepper (London)
Accessibly written and extensively researched, Red Valkyries recovers the stories of five socialist women, offering a welcome alternative history of 20th-century feminism from the perspective of eastern European revolutionary politics.
__________
Is the ANC Doomed?
Raymond Suttner / Polity (Johannesburg)
The notion of who are criminals has been reconfigured under ANC leadership. Criminality is no longer an isolated activity of a criminal class, but is now part of being in the political class or leadership that grants opportunities to steal and commit a range of other crimes (and this is not restricted to the ANC, although other parties have had less access to the levers of power).
__________
Legacies