Dispatches From the Culture Wars – Education Special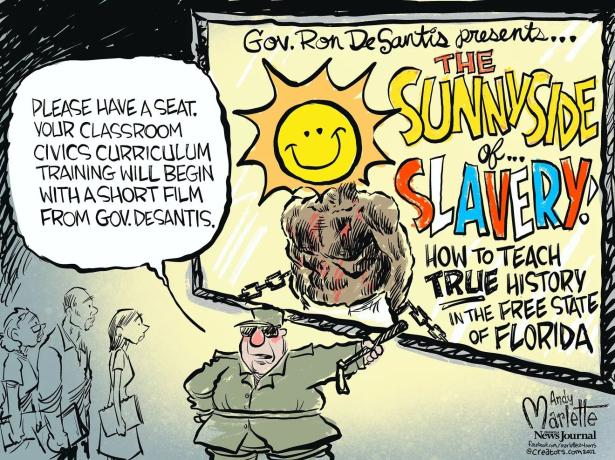 Andy Marlette/USA Today Network-Florida
Rethinking Schools
The "learning loss" narrative shrouds itself in moment-in-time data from standardized tests, but it is not really about this moment. Rather, it is a weapon wielded against the past, to shift blame for pandemic school closures, and against the future, to narrowly frame the policy choices ahead. 
War on Emotions in the Classroom
Social-emotional learning has been a basic — and uncontroversial — part of education for decades. So why are conservatives waging a war against it?
DeSantis: Marketizing Education
By Chrissy Stroop
openDemocracy
DeSantis threatened that Florida would simply drop AP courses altogether. The way DeSantis framed his threat is quite telling – not only regarding what's wrong with Florida and Republicans, but also what's wrong with the US education system more broadly. He thinks of education as an industry rather than as a public good that should be insulated from markets.
Education and the Chicago Election
By Becky Vevea
Block Club Chicago
Chicago voters will head to the polls on April 4 to vote for a new mayor, choosing between two candidates who are vastly different when it comes to public education. Brandon Johnson is an organizer with the Chicago Teachers Union and Paul Vallas is the former CEO of Chicago Public Schools. Their views vary on everything from school choice to measuring academic performance. 
__________
GOP Culture Wars at School
By Jarod Facundo
The American Prospect
Conservative screaming about wokeness is a substitute for the old priorities of school vouchers and weakening of public education. Polls show that parents don't agree.
__________
High School Student Steps Up After Assault Over Pledge of Allegiance
By Alexa Hurado
The State
A 15-year-old student at River Bluff High School in Lexington SC says she was physically assaulted by a teacher for refusing the Pledge of Allegiance. Now her parents are suing Lexington School District One, Superintendent Gerrita Postlewait, River Bluff Prito recitencipal Jacob Smith, River Bluff teacher Nicole Livingston and the S.C. Department of Education on her behalf.
__________
MAGA's Vanguard
By Andy Krol, Andrea Bernstein and Nick Surgey
ProPublica
Leonard Leo, the longtime Federalist Society leader, helped create a conservative supermajority on the Supreme Court, and then received more than a billion dollars from a wealthy Chicago business owner to disburse to conservative causes. Now, Leo declared in a slick but private video to potential donors, he planned to "crush liberal dominance" across American life. 
__________
Oscar the Union Buster
By Sophie Hayssen
TeenVogue
The Academy was initially designed to seem like an advocate for employees, effectively trying to replace the need for a union. The awards were designed so talent would think of themselves as artists rather than laborers, thereby driving a wedge between them and technical, union workers.
__________
Fear of a Female Body
By Jill Filipovic
Substack
A liberal arts college is in the news after a handful of Muslim students claimed offense at an on-campus art exhibition by an Iranian-American feminist artist. A petition calls it offensive — and says that because it's offensive, it should never have been displayed in the first place, and should now be taken down.
__________
Slavery Scenes That 'Went With the Wind'
By David Vincent Kimel
The Ankler
A civil war roiled the production of Gone With the Wind internally over the issue of slavery, with one group of screenwriters insisting on depicting the brutality of that institution, and another faction, which included F. Scott Fitzgerald, trying to wash it away.