Global Left Midweek – March 22, 2023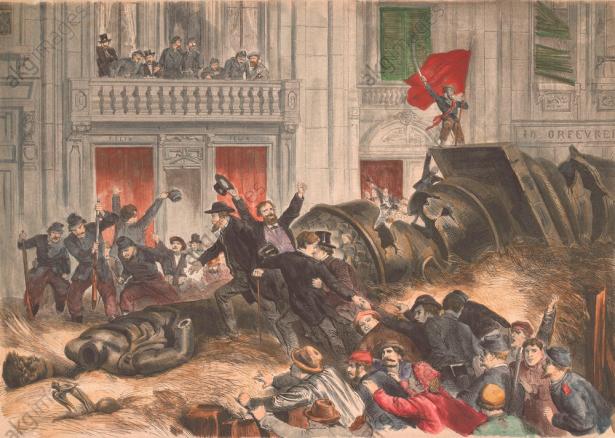 "The toppling of the Vendome Column" by Paris communards (16 May 1871). Woodcut, 1872, coloured later. Credit, Berlin, Sammlung Archiv für Kunst und Geschichte. Artist unknown
__________
The One-State Solution

Mazin Qumsiyeh and Alain Alameddine / Palestine Chronicle (Mountlake Terrace WA)
This is a moment of truth where we have a choice: To identify Zionism's politicization of identity and its endeavor to establish a state exclusive to Jews, and to put our boycotting and awareness-raising efforts in the context of a political vision that depoliticizes identity and proposes the transition to One Democratic State, from the river to the sea.
__________
France Ignites
__________
New Face in Vietnam Leadership
Hai Hong Nguyen / The Diplomat (Washington DC)
In early March, Communist Party Poliburo member Vo Van Thuong, who was also then the standing member of the Secretariat, was elected by the National Assembly to the presidency. Thuong's appointment is part of a recent political shake-up at the highest rungs of Vietnamese politics.
__________
International Migrants' Rights Movement
As governments borrow from each other to expand anti-migrant agendas and regimes globally, movements to defend migrants' rights must likewise share strategies of resistance.
__________
Sinn Féin Leader on Unity Referendum
Ronan Burtenshaw / Tribune (London)
Sinn Féin President Mary Lou McDonald discusses her party's 'big political project': to lead Ireland's first left-wing government, secure a right to housing, win a unity referendum – and overcome the 'tail ends' of colonisation.
__________
Brazil CUT on Energy Policy
Trade Unions for Energy Democracy (New York)
We anticipate a return to "publicness" in the Lula government in the form of public investment in social energy programmes that fulfil the public mandate. The Lula government will also have to work to recover the privatisations carried out under Bolsonaro's provincial and state governments in the transmission and distribution sectors. 
__________
Italy's Amazon Strike: An International Model
Riccardo Chiari / il manifesto Global (Rome)
The multinational company was forced to come to the negotiating table. FILT CGIL secured the regulatory and wage improvements demanded by the employees, on the basis of the national logistics and freight contract. The mobilization of the 14,000 subcontracted workers in distribution led to extended economic and regulatory improvements to temporary and subcontracted workers. 
__________
LASTESIS: Set Fear on Fire
Naomi Larsson Piñeda / openDemocracy (London)
Back in November 2019, a group of women took over the streets of Valparaiso, Chile. Moving their bodies in unison, they chanted words that would go on to resonate with hundreds of thousands of people across the world. This performance by the collective LASTESIS (The Thesis) became a global feminist anthem within days. 
__________
Freedom Fighters Remembered
__________
Iran: Minimum Demands
Niloofar Golkar / Socialist Project (Toronto)
On February 15th, twenty workers' unions, feminists, students, and one human rights organization in Iran published the Charter of Minimum Demands of Independent Civil and Trade Unions of Iran, the first collective document from within the country, voicing their demands for a democratic and just future without dictatorship and oppression.