Dispatches From the Culture Wars – May 23, 2023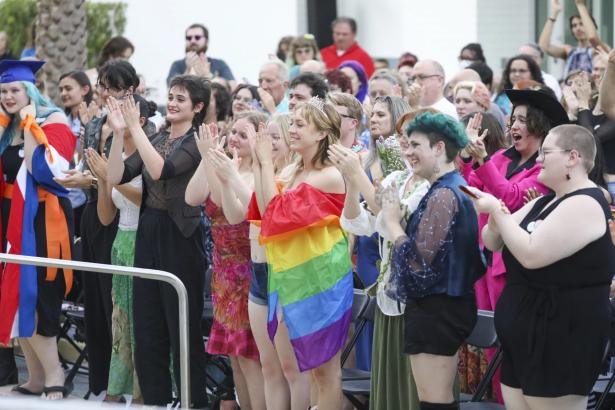 New College of Florida graduating students attend the college's "alternative commencement" on May 18, 2023, in Sarasota. Credit, Douglas R. Clifford / Tampa Bay Times/Pool Photo
Florida New College Grads: Up Yours, DeSantis
By Meghan Bowman
WUSF Public Media
Sarasota Art Museum became a bastion of hope and celebration Thursday evening as New College of Florida graduates attended an Alternative Commencement they called "On Our Terms." The student-organized ceremony was held in protest of the Trump administration's COVID advisor, Dr. Scott Atlas, who is the keynote speaker at the official graduation. [See the response to Atlas here.]
North Carolina Stripmines Abortion Rights
By Natasha Marcus
Newsweek
Now that Republicans used their veto-proof majority in the North Carolina General Assembly to enact severe abortion restrictions, many women and girls here will be forced to remain pregnant against their will and/or face near insurmountable hurdles in order to get reproductive health care.
Dodgers Pay a Price for Bowing to the Right
By Ben Blanchet
Huffpost
Two California LGBTQ+ groups dropped out of the Los Angeles Dodgers' annual Pride Night event due to the team disinviting The Sisters of Perpetual Indulgence, a charity whose members dress in drag. The group had been denounced by Sen. Marco Rubio (R-Fla.), the Catholic League and CatholicVote.
By Scott Waldman
Climate-wire
The long shot presidential candidate and onetime crusader for environmental protections has transformed into a font of anti-vaccine misinformation and conspiracies. In the first weeks of his presidential campaign, Kennedy now claims that climate policy is part of an international conspiracy involving Bill Gates and the World Economic Forum. 
By Tyler McCall
Fashionista
Major fashion brands — particularly those owned by public companies — are limited in their ability to ever be true changemakers in society. So long as financial gains are the ultimate bottom line — and, under late-stage capitalism, they always will be — the brands are not our allies. They're just brands.
Child Labor Abuses in Fast Food
By Ariana Bindman
SFGATE
Two high school students alleged that management at a Popeyes in East Oakland forced them to work long hours late into the night, violating California's child labor laws. One employee was just 13 years old when they first started working at Popeyes and toiled at the establishment for up to 45 hours per week. Employees went on strike Thursday, temporarily shutting down the restaurant. 
By Ray Hartmann
Raw Story
Texas Attorney General Ken Paxton has been accused of citing illegally leaked children's medical records as part of a vendetta against trans kids and their families. The Texas Legislature recently passed a bill that would bar minors from receiving puberty blockers, hormone therapy and related surgery — though such surgery is rare for minors.
By Edwin Rios
The Guardian
Unlike the white supremacists who rioted in Charlottesville in 2017, men of color attracted to white supremacist ideologies believe less in a white ethnostate and more that the state has failed them in the past and it will take violence to suppress threats and restore their perceived sense of order.
By Tim Dickinson
Rolling Stone
Trump's Miami property played host to a one-two punch of reunions for Pastors For Trump — the charismatic evangelical body hyping up the Trump '24 campaign as a gift from the Lord — and the Re-Awaken America tour, the traveling MAGA circus that platforms retired Gen. Mike Flynn and an unhinged band of shofar-bleaters, conspiracy theorists, and zealots who relate their visions of the spirit world.
The Great Debate: Race and Class