Tidbits – June 29, 2023 – Reader Comments: Supreme Court: Diversity Not a Compelling Interest; Pay the Writers (and Actors); Outrage Over Medicaid Purge; German Left; Remembering Gus Newport; Charlene Mitchell; Cartoons; More…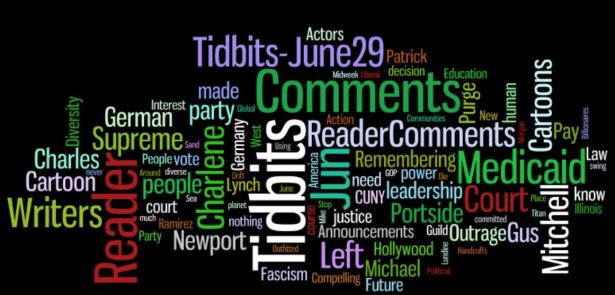 Tidbits - Reader Comments AND cartoons - Jun 29, 2023,Portside
CUNY Law Will Continue to Be a Place That Invests in a Future Built Around the Inclusion of People and Communities Historically and Presently Excluded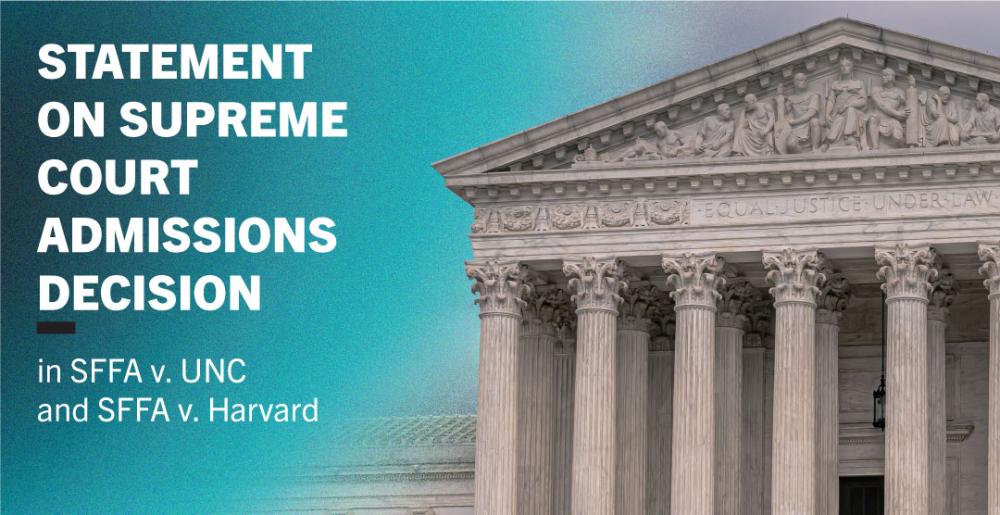 Today, the Supreme Court overturned 45 years of its own precedent by deciding that racial and ethnic diversity is not a compelling interest for colleges and universities. We disagree with the decision and reasoning of the Court but will, of course, abide by the law.
What you need to know is that nothing in this opinion undercuts our mission to recruit and train outstanding public service lawyers to diversify the legal profession and transform the idea of what the justice system does. Our commitment to this mission has been and continues to be the core of our institution, our vision, and our community. In furtherance of that, we have long been committed to an admissions process that recruits widely from diverse communities in New York City and across the nation and engages in a holistic admissions approach that evaluates each applicant beyond a label or a checked box on a form. It is these practices that have made CUNY Law the most diverse law school in the nation, which brings us immense pride.
We know that justice is neither color-blind nor race-neutral, but rather calls for investment in and inclusion of people and communities most impacted by the justice system, both historically and in the present. CUNY Law will continue to be a place that invests in a future built around these values.
Everyone Deserves To Be Saved At Sea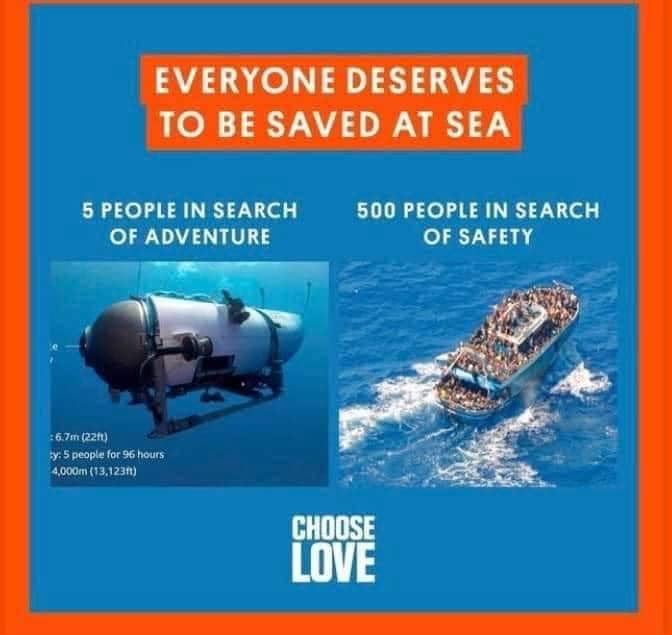 Suppressing Suppressors  --  Cartoon by Clay Jones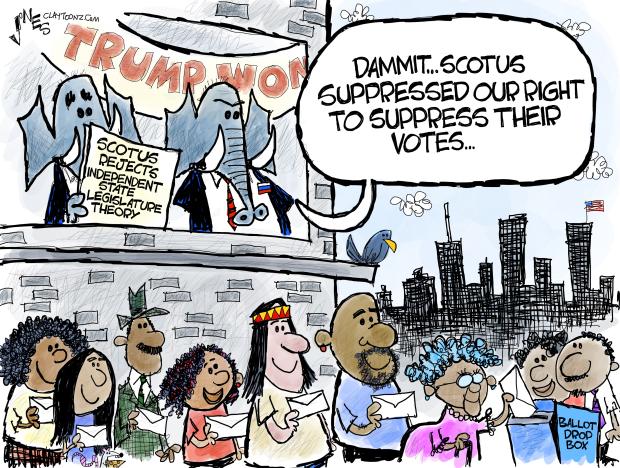 Clay Jones
June 28, 2023
Free Press
Re: GOP Targets Researchers Who Study Disinformation Ahead of 2024 Election  
Another Republican failure; they were sent to D.C. to do the people's business not to practice revenge politics! To date McCarthy has accomplished exactly nothing for the people!
Joel C. McClurg
Posted on Portside's Facebook page
      =====
These people are doing nothing for the citizens of America. All they're doing is giving to their corporate owners, taking help from people that need it, and practicing "revenge politics!"
Philip Bray
Posted on Portside's Facebook page
Pay The Writers  --  New Sign in Hollywood Hills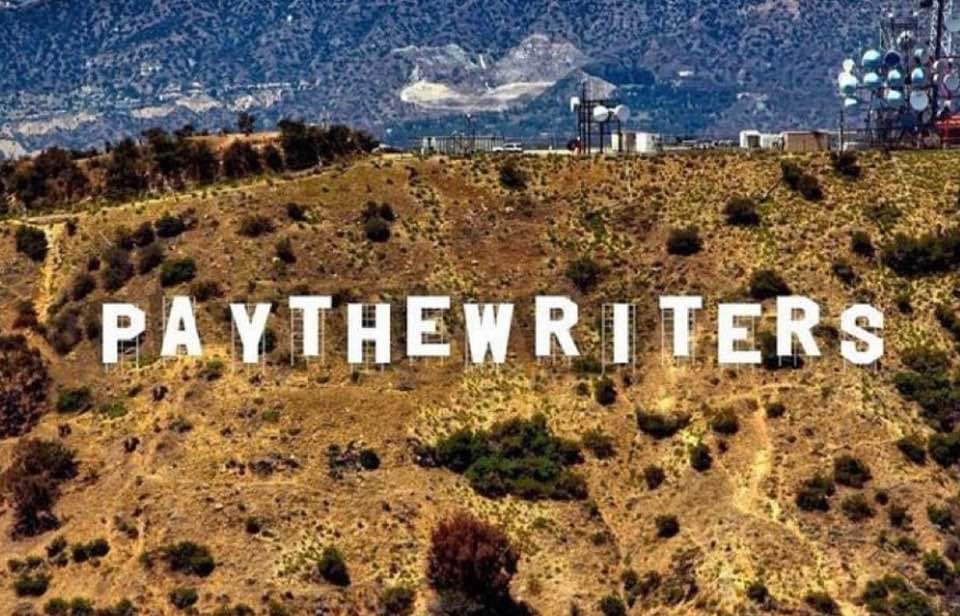 The IEA stands in solidarity with Writers Guild of America West https://www.facebook.com/WGAWest and Writers Guild of America, East! https://www.facebook.com/WGAEast Pay the writers ✊ #WGAStrike
Illinois Education Association
June 14, 2023
Illinois Political Action Committee for Education
100 E Edwards St
Springfield, IL
ieaconnect@ieanea.org
Supreme Court Sugar Daddies  --  Cartoon by Mike Luckovich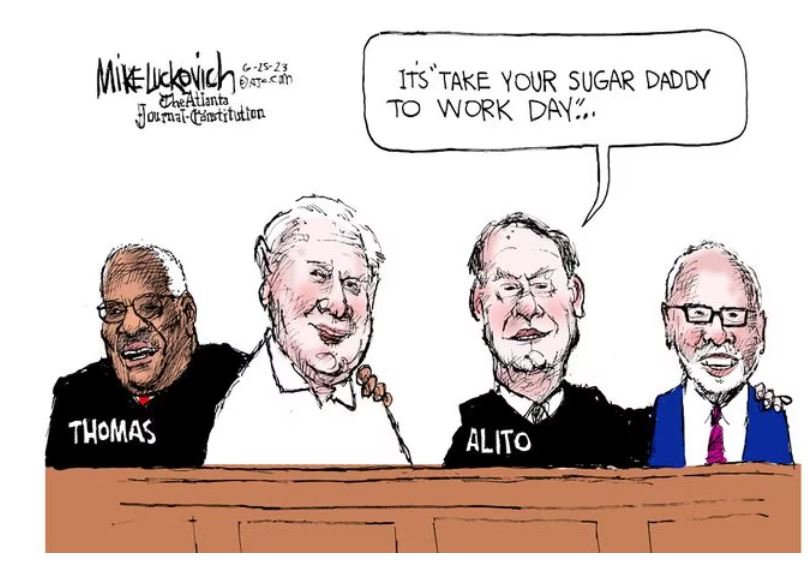 Mike Luckovich
June 25, 2023
Atlanta Journal-Constitution
Re: A True Scandal, and Should Be Covered As Such': Outrage Over Medicaid Purge Grows  
Advocates, policy experts, and lawmakers are growing increasingly outraged as data and anecdotes emerging from states across the U.S. indicate that hundreds of thousands of people—including children and seniors—are being thrown off Medicaid for failing to submit paperwork on time and other bureaucratic reasons.
State figures obtained by the Associated Press show that at least 1.5 million people in roughly two dozen states have been removed from Medicaid since April, when state governments were given a green light by Congress and the Biden administration to resume eligibility checks that were halted during the coronavirus pandemic.
Norm Littlejohn
Posted on Portside's Facebook page
Re: The Unfolding Medicaid Disaster  
Oh, just say it isn't so!! We can and should do/BE much better than this.
Linda Gillison
Posted on Portside's Facebook page
Re: Fighting Fire and Fascism in the American West
Our Planet
This planet we call Earth
turns its way from day to day in orbital certainty,
unconcerned with the plights and passions
of its human inhabitants, who grope and cope
with life's uncertainties.
We were made to deal with those uncertainties.
Nature's crowning achievement — the human brain —
has brought us from the confines of the cave
to the unlimited reaches of space.
Yet human ingenuity has also been used
to turn Nature against itself.
The horrendous floods, fires and storms of recent years
have a human hand. Men with power refuse to compromise
that power with the certainty of global catastrophe,
toward which we are approaching the precipice.
This planet is ours to serve and save,
as it serves and saves the species upon it.
We have the power; we need the will.  
Seymour Joseph
Re: Have Billionaires Outfitted Justices With Golden Handcuffs To Stop "Liberal Drift"?  
Of course they have, why is this even a question?
One of the more serious consequences of presidential elections is the potential for nominating politically and ideology oriented justices to the supreme court, consequences of which we are already witnessing.
These supreme court appointments really need to be revised, as no longer being appointments for life, which may have made sense 2 1/2 centuries ago, but is completely out of sync with the current reality.
Charles
Re: 'Change Is Possible': How Campaigners Are Using Deep Canvassing To Build a Just Future  
He has Clarence Thomas as the swing vote on the court that gave the 2000 election to George W, Bush. He wasn't on the court then. Bush nominated Thomas in 2001.
The swing vote was Sandra Day O'Connor, who later described it as the worst vote she ever cast. She too became more progressive as her tenure lengthened.
And Thomas's Senate sponsor, John Danforth, R-MO., described that recommendation as the worst he ever made, too.
MAKE THE CORRECTION.
Mark Gruenberg
Editor
Press Associates Union News Service
      =====
Very good article, should be part of discussions about using elections to achieve power.
Charles Patrick Lynch
Posted on Portside's Facebook page
Re: Kurt Vonnegut Warned Us About the Dangers of Automation  
…computers are our new best friends 🐕 and likewise hazardous in packs unsupervised ✌️leashes
William Lundine
Posted on Portside's Facebook page
Re: Global Left Midweek – Euro Focus - Germany  
Re: Germany: Die Linke and Sahra Wagenknecht Part Ways
Headline on the piece about the German Left Party: "German Left Party plunges into crisis, declares party icon persona non grata Party splits over leadership's call for Sahra Wagenknecht to resign her Bundestag mandate."
But: "Parliamentary group leader Amira Mohamed Ali spoke out against the leadership's statement. She considered the decision a "big mistake and unworthy of a party that is committed to solidarity and plurality," Mohamed Ali said Saturday evening.
Former leader Klaus Ernst and current chief whip Alexander Ulrich on Sunday called on the party leadership to resign en masse, accusing them of dividing the party and leading it into irrelevance, FAZ reported.
Sevim Dağdelen, a senior lawmaker, told Tagesspiegel newspaper that the leadership's decision would further exacerbate the party's course toward becoming a meaningless sect. "This path is self-destructive," she said, adding that instead of dealing with the massive problems in the country, they are trying to force out a popular politician, dissolve the Bundestag faction and split their party.
Dan Morgan
Posted on Portside's Facebook page
The Operation  --  Cartoon by Michael Ramirez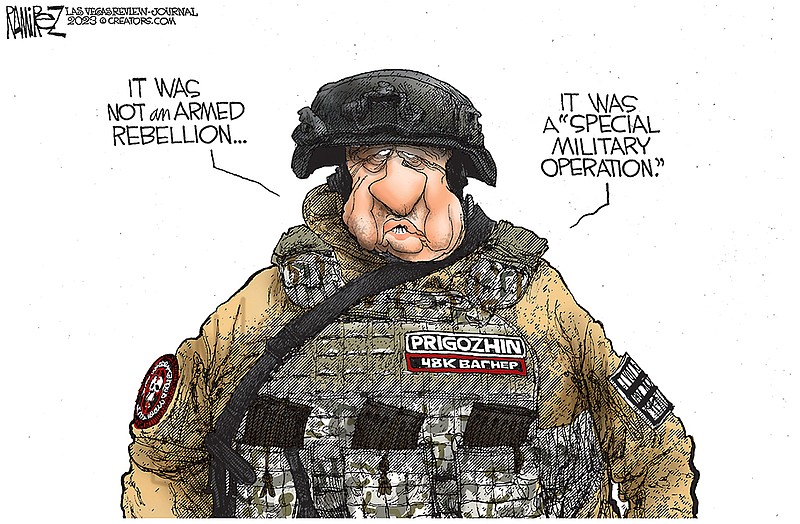 Michael Ramirez
June 29, 2023
Chattanooga Times Free Press
Re: From Colonialism to Fascism: A History of Spain's Elite Forces  
By forgetting history the old wounds never heal.
Michael O'Rourke
Posted on Portside's Facebook page
Re: Remembering Gus Newport, a Progressive Titan  
Oh I did not know he died!  I did not know him - met him a few times. He was very loved.
Sand Brim
Re: Celebrating the Leadership and Comradeship of Charlene Mitchell
(posting on Portside Culture)  
"People who truly believe in justice and equality, and peace and socialism, should not actually really care whether their contributions are individually noted," Angela Davis asserted at a tribute to her friend and mentor, Charlene Mitchell, in 2009.
Shawna McKellar
Posted on Portside's Facebook page
      =====
She was a giant. I never knew her personally, but worked with the National Alliance to free Benjamin Chavis and the Wilmington Ten, and then to organize the campaign against the death penalty in MA. We lost, but we made it close enough that politicians could vote their conscience, so we won by losing. And the example and leadership of Charlene Mitchell always inspired us. Great lady. Missed much!
Charles Patrick Lynch
Posted on Portside's Facebook page