Global Left Midweek – July 12, 2023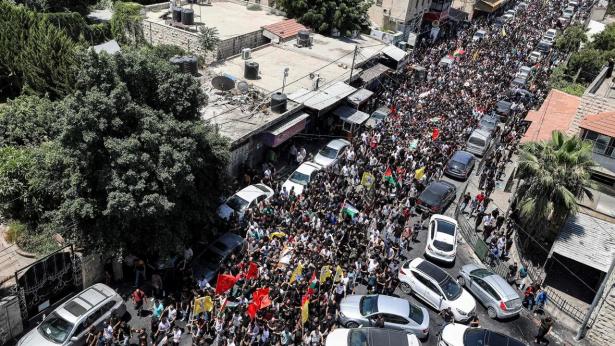 Angry Palestinians mourn 12 killed in Israeli military operation in Jenin. Credit, Jaafar Ashtiyeh/AFP/Getty Images
__________
New Stage After Jenin Raid
Palestine Chronicle
The 2002 invasion of major Palestinian cities and population centers left hundreds of Palestinians dead and thousands wounded. From Jenin to Nablus to elsewhere, Israel killed, wounded, or arrested most of the Resistance fighters. Two decades later, the armed resistance in the West Bank is resurfacing, is decentralized and is operating in complete independence from the PA.  
__________
Center-Leftist Upsets Guatemalan Presidential Race
Lorena Arroyo / EL PAÍS (Madrid)
Bernardo Arévalo, the candidate for the Seed Movement – a center-left political party – affirms that, in the runoff election scheduled for August, he will seek alliances with 'all who have a constructive attitude and who are against corruption'. 
__________
French Left: Mournful and Angry
CGT et al. / International Viewpoint (Paris)
The shooting of Nahel by a police officer at point-blank range in Nanterre has laid bare the effects of decades of discriminatory and security-based public policies targeting working-class neighbourhoods and the young people who grow up there. We need to start from new foundations, create broad forums for discussion and learn from the mistakes of decades of public policy.
__________
The Amazon Hangs in the Balance
__________
Report from Sydney Ecosocialism 2023 Meeting
Sue Bull / Green Left (Sydney)
The Ecosocialism 2023: A World Beyond Capitalism conference, hosted by Green Left and co-sponsored by Socialist Alliance, drew hundreds to Victorian Trades Hall over July 1–2. Socialists from India, Pakistan, the Philippines, Malaysia and Singapore spoke on their struggles to oppose militarism, fight for climate justice and organizing experiences.
__________
Spain: Taking On the Rising Right
Eoghan Gilmartin / Novara Media (London)
In an election campaign dominated by the threat of post-fascist Vox advancing from parliament to cabinet, Sumar's universal inheritance proposal finally moved the debate onto the left's terms. The electoral coalition's overall program concentrates on guaranteeing a series of tangible new rights around work, housing and healthcare, to counter the appeal of far right xenophobia. 
__________
Myanmar's Urban Resistance
Mong Palatino / Global Voices (Amsterdam)
Despite mass arrests and violence, opposition against the junta continues to garner public support as seen in the coordinated "silent strike" across the country. Activists either joined the armed resistance in rural communities or sustained the opposition in urban centers. Global Voices interviewed the Yangon Revolution Force and the Artists Collective about the status and prospect of the urban struggle. 
__________
Housing and Land Occupation in Brazil
Nazaret Castro and Helena Silvestre / Equal Times (Brussels)
I'm from the favela and I was active in neighbourhoods that emerged from past occupations that took root and went on to become urban peripheries. Occupations of this kind meant being involved in the birth of a neighbourhood and being able to think about new ways of living together, with a blank canvas, without the geography and its dynamic of precariousness imposing limits on us.  
__________
UK: Uniting Four Teachers' Unions
Richard Adams / The Guardian (London)
Teachers could launch the biggest strikes in a decade from September as part of a "united front" by all four education unions in England, the next head of the biggest union has warned. The new general secretary of the National Education Union, Daniel Kebede predicted that overruling the results of an independent pay review body would spark outrage among teachers and further strikes.
__________
On the ANC and the Future
Raymond Suttner / Polity (Johannesburg)
With apparently no possibility of rebuilding the ANC into an organisation that cares for the people and no alternative political party electorally that can be looked to for an answer, what does one do? There needs to be some form of organised power to buttress democratic rights, to ensure that there is pressure to ensure that these rights are realised and carried out by elected representatives.