labor
Biden's Climate Bill Leaves Workers Behind in Shift to Electric Cars, Union Says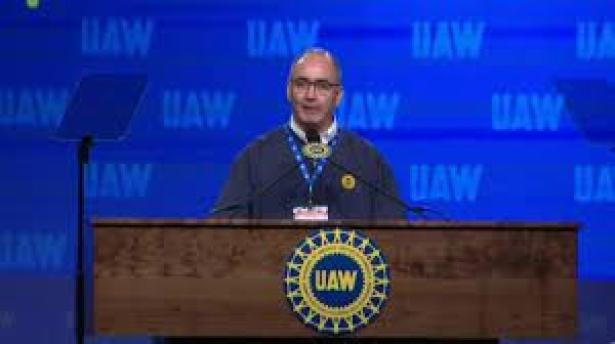 UAW President Shawn Fain,UAW via YouTube
Joe Biden's landmark climate legislation has been "disappointing" and failed to deliver protections to car industry workers confronted by the transition to electric vehicles, according to the head of the US's leading autoworkers union, which has pointedly withheld is endorsement of the president for next year's election.
The Inflation Reduction Act (IRA), signed by Biden a year ago this week, has bestowed huge incentives to car companies to manufacture electric vehicles without any accompanying guarantees over worker pay and conditions, Shawn Fain, president of the United Auto Workers (UAW), told the Guardian.
"So far it's been disappointing. If the IRA continues to bring sweatshops and a continued race to the bottom it will be a tragedy," Fain said.

"This is our generation's defining moment with electric vehicles. The government should invest in US manufacturing but money can't go to companies with no strings attached. Labor needs a seat at the table. There should be labor standards built in, this is the future of the car industry at stake."
The UAW, which is based in the car-making heartland of Detroit and has about 400,000 members, has so far refused to endorse Biden for next year's presidential election, a major political headache for a president who has called himself a "union guy" and counts upon organized labor as a key part of his base, particularly in crucial midwest states such as Michigan.
"We aren't against a green economy – global warming isn't a hoax, it's a real thing that you just have to step outside to notice," said Fain. "But in the transition to EVs the workers can't be left behind, it needs to be a just transition.
"I do believe the president's heart is in the right place but we have to make sure endorsements are earned and not freely given. Politicians have to prove they are in the fight with us, which is the only way to win back the working class in the midwest. We don't have to endorse anyone at all."
The ire of unions has been a thorny problem in the Biden administration's attempts to speed the proliferation of electric vehicles and cut planet-heating emissions from transportation, the largest source of US carbon pollution.
The White House has set a target for half of all new car sales to be electric by 2030, a scenario it maintains will provide well-paid union jobs. "A lot of my friends in organized labor know when I think climate, I think jobs," Biden said at an event last month.
The IRA is loaded with tax breaks and loans to bolster EV manufacturing in the US, as well as hefty rebates for people who choose to buy an electric car. This has helped spur a surge in new EV plants and battery-making facilities, while sales of electric vehicles in the US are set to hit 1 million for the first time this year.
But the UAW is unhappy that public money – such as a $9.2bn loan given to Ford last month that it called "corporate greed" – has been handed out without accompanying agreements over worker conditions, with many of the new plants springing up in states such as Kentucky and Tennessee that have comparatively few worker protections.
Unions are also wary about what a future dominated by electric cars means for the workforce given that they require fewer parts, and therefore workers, to assemble than gasoline or diesel cars. "It's power train work rather than engine work but the standards should be the same," Fain said. "You have workers at Ultium [the General Motors battery technology] on $16.50 an hour, which is less than what you'd get working for Waffle House. It's criminal."
Biden held a meeting with Fain last month to try to smooth over the difficulties with what is normally a bulwark of Democratic support. The UAW is separately in the midst of negotiations with the "big three" automakers – Ford, General Motors and Stellantis – over a new agreement for pay and conditions.
On Monday, Biden called on union auto workers and the "big three" automakers to come together on a new agreement, saying: "As we move forward in this transition to new technologies, the UAW deserves a contract that sustains the middle class."
Last week, John Podesta, Biden's chief clean energy adviser, told the Guardian: "I think the union has legitimate concerns about the way that those plants will be organized. What they want to see is that that be done in a way that respects the right to organize, and that respects the fact that they're going to bargain for good jobs, and we respect that and support that.
"I don't know a president in modern history that's been more friendly to unions than President Biden. We're all in on making sure that these jobs are good jobs."
Donald Trump has attempted to seize upon Biden's ructions with the union by promising to scrap the president's electric vehicle policies. Trump, the former president and frontrunner to be Republican nominee despite his many and varied criminal charges, has explicitly called for the UAW's endorsement.
"This ridiculous Green New Deal crusade is causing car prices to skyrocket while setting the stage for the destruction of American auto production," Trump said in a video aired last month.
"If Biden's assault is not stopped, American auto production will be totally dead. I hope United Auto Workers is listening to this, because I think you'd better endorse Trump, because I am going to grow your business and they are destroying your business."
Such an endorsement appears unlikely, however, given that Fain has said that Trump is a "disaster" and not a firm favorite of the union's membership.