Media Bits & Bytes - Summer Beach Reading Edition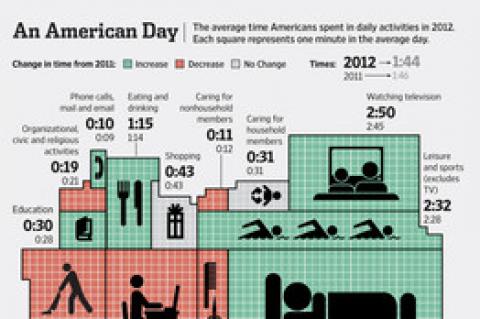 The average time Americans spent in daily activities in 2012. Each square represents one minute in the average day., Wall Street Journal
US Army Blocks Access to Guardian Website to Preserve 'Network Hygiene'
By Spencer Ackerman and Dan Roberts
June 28, 2013
The Guardian (UK)
The US army has admitted to blocking access to parts of the Guardian website for thousands of defence personnel across the country.
A spokesman said the military was filtering out reports and content relating to government surveillance programs to preserve "network hygiene" and prevent any classified material appearing on unclassified parts of its computer systems.
The confirmation follows reports in the Monterey Herald that staff at the Presidio military base south of San Francisco had complained of not being able to access the Guardian's UK site at all, and had only partial access to the US site, following publication of leaks from whistleblower Edward Snowden.
Americans Worked Less, Watched More TV in 2012
By Neil Shah
June 20, 2013
Wall Street Journal
With the economy struggling to find its footing, Americans spent less time at work last year and found more time for leisure activities such as watching television, a new government survey finds.  The survey, which has been conducted annually since 2003 and includes both employed and unemployed persons, suggests America's sluggish recovery continues to hamper workers. The number of part-time workers was higher in 2012 than the year before, for example.
"The recovery has basically been a recovery for a tiny fraction of the population," said Geoffrey Godbey, professor emeritus at Pennsylvania State University and co-author of "Time For Life: The Surprising Ways Americans Use Their Time." "What you're seeing is people who might want more work but aren't getting it," he said.
Why Ed Snowden Asked his Guests to Hide their Phones in the Fridge
By Miles Klee 
June 26, 2013
The Daily Dot
Before departing Hong Kong, NSA whistleblower Edward Snowden was asking visitors to his hideout to place their cell phones in the refrigerator, hoping to prevent traces of surveillance.
Today, The New York Times' The Lede blog went into some detail  http://thelede.blogs.nytimes.com/2013/06/25/why-snowdens-visitors-put-t…   about how this security measure might work. The answer? The thick metal and insulation of your common refrigerator could make it a kind of Faraday cage, "a space where radio waves cannot pass and therefore data cannot be transmitted." The Lede went on to report that a martini shaker might be used the same way.
Sounds plausible enough, right? Wrong. Engineers and other assorted nerds began to debunk this line of thinking, and a few people went so far as to test Snowden's refrigerator theory for themselves.  The findings?  While fridges can block sound, it has no such effect on radio frequencies. "In fact," one commenter noted, " the seal gap may even have some of the properties of an antenna." Whoops!  Instead, the microwave is now in the front-running as a go-to Faraday cage for hot phones.  But the stainless steel martini shaker worked best overall.
Paula Deen Reportedly Hires Fixer Judy Smith (The Inspiration For 'Scandal's' Olivia Pope)
By Tambay A. Obenson
June 26, 2013
indiewire.con
So word on the street is that Paula Deen has retained the services of D.C. crisis firm Smith & Co., which is run by one Judy Smith, the real life crises manager that the lead character in Shonda Rhimes' hit ABC series, Scandal, is based on - aka Olivia Pope, played by Kerry Washington.
Since admitting she used racial slurs during a recent lawsuit deposition, the southern celebrity cook and restaurateur has seen a slew of lucrative deals she once had, slip away rapidly, including her contract with the Food Network, and her deal with Smithfield Foods, Caesars Entertainment and more. So clearly Deen is in desperate need of a "fixer" who can "handle it." And who better than Judy Smith, the former White House press aide under President George H. Bush, who also counseled Monica Lewinsky, Michael Vick, Senator Larry Craig, worked on the prosecution of former D.C. Mayor Marion Barry, the Clarence Thomas Supreme Court hearings, the Chandra Levy investigation and the Enron Congressional inquiry, amongst others.
Big Tech and Gay Rights Have Evolved Together
By Steve Friess
June 25, 2013
Politico.com
No state let same-sex couples wed until 2004. The military kept its gays in the closet until 2011. And only last year did most Americans tell Gallup they support marriage equality — just in time for Wednesday's much-anticipated Supreme Court rulings on the matter.
But Big Tech and gay rights have had a longer-term relationship — with huge benefits for both.
Apple, for instance, sanctioned a gay employee group as far back as 1986. Lotus was the first publicly traded company to provide health benefits to the partners of gay employees. Fortunes made by the gay entrepreneurs behind Quark, GeoCities and WordPerfect bankrolled numerous lesbian, gay, bisexual and transgender advocacy groups in their infancies.  The dramatic increase in acceptance of gay people over the past quarter-century has many causes, including the social impact of thousands of people coming out and pop culture's attitude-changing embrace. Yet it's also not a coincidence, experts say, that the meteoric trajectories of the LGBT movement and the tech industry occurred simultaneously.
Fire Island – Cherished Retreat of Well-Heeled Manhattanites – Finds Itself On The Wrong Side Of The Digital Divide
By Elise Ackerman
June 23, 2013
Forbes
When the sidewalks start to sizzle and the summer sun beats down, New Yorkers with the wherewithal head for seaside retreats like Fire Island, a 32-mile-long barrier island off the coast of Long Island. Free of cars, congestion and traffic fumes, Fire Island is the perfect place to get away from the steamy chaos of the big city. Not only does Fire Island lack paved roads, but thanks to Hurricane Sandy, this summer it will become one of the first places in the United States to turn off the pesky, old public switched telephone network.
Early this month, residents got a letter from Verizon, which is the sole landline provider on the island, letting them know it would be replacing the storm-ravaged, copper-based network on the western part of the island with a wireless service called Voice Link. In places where the network was not damaged, customers could continue receiving wireline service as long as the copper worked. If the copper stopped working, however, it would not be repaired.
Long-time consumer advocates warn that the downgrading of communications on Fire Island and other beach communities is a harbinger of what could be in store for consumers as carriers like Verizon and AT&T abandon traditional copper networks and lobby for relief from the regulations that governed them. "Voice Link is supposed to have been a temporary fix but it is now a permanent downgrade," Bruce Kushnick, the executive director of New Networks Institute, wrote in a blog post this week. "This is part of a larger plan Verizon and AT&T have put in motion to 'abandon' whole areas of the U.S. and force them onto their wireless service—or not get service."