Tidbits - July 18, 2013 - Happy Birthday Nelson Mandela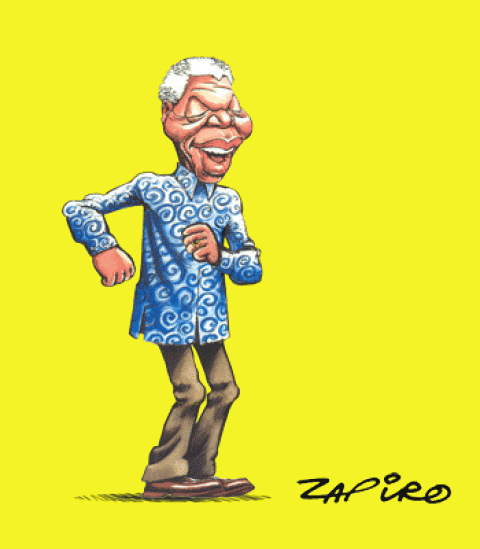 Happy 95th Birthday, Comrade Nelson Mandela. Political cartoon by Zapiro, South Africa,artist: Jonathan Shapiro (Zapiro) credit / The Black Commentator
I notice that the review of the book does not mention either of two Marches on Washington for Integrated Schools; they took place in 1957 and 1958, I believe.  Thousands of people came from around the country to participate, and I believe they were also a key part in the development of the 1963 March on Washington.
Marian Gordon
Danny
Almost missing from the Occupy Movement (remember that?) was a discussion of Democracy and Transparency and the LMRDA in the Labor Movement. Occupy your Union!
Scott Shuster 
Chris Hedges writes like an angel, and his essay on Ahab and the US's maniacal course is perceptive and accurate. But: the indictment of "we" - as always in every Hedges column - is one I object to. I, and many others, are fighting as best we can against the US plutocracy. Some of us have pledged, for instance, to be arrested in future demonstrations against the Keystone XL. Some of us were arrested in the past. If Hedges has a suggestion about how we can unite and organize forward, let him make it. If not, he's like all the rest of us, lamenting the obvious, trying his best, but seeing little hope.
Ellen Cantarow
Instead of bracing for "impact", and I think it would be more profitable for labor to prepare for the opportunities for broad and at-large self-organization and collective representation of workers who will be seeking coverage, seeking needed services, and seeking to protect their rights under the ACA. The law does have considerable enforcement and dispute resolution features that would best be exploited by concerted activity. 
Enrolling 20 million people into Obama care is the best path, IMO,  to demolishing the right wing attempts to derail implementation of universal coverage; it is also the best, and I think only, path to rectifying the inefficiencies, under-coverage, and loose cost controls in the projected exchanges, a path that, under the pressure of millions of enrollees, must  move steadily closer to Medicare for All basic health services.
And that does not even cover the potential political benefits to the working class, and to the coalition that elected Obama and his successors,  from learning how a major new right (health care) is established, understanding who were its enemies, its friends, The Republicans know this better than the progressives, at times. They KNOW what happened to Democratic power in the wake of achieving social security. They have never given up hope of reversing it. Johnson, Medicaid, and Medicare, and Voting Rights would have left the same political legacy had it not been for that @#$%$#$#@% war in Vietnam. A warning on the costs of flirting with your nation's imperial ambitions. Nonetheless, If universal coverage is achieved, AND sustained, it will be a major achievement, even as it continues to be a work in progress. It is up to the people from the bottom up to make enrollment AND performance of the system HAPPEN.
It would be nice to get out from under the BOOT of corporate-rightwing domination that's been setting the agenda most of the time since Reagan. Organizing half of those 20 to 30 million uninsured as a patient-consumer lobby and association to protect benefits and rights under the ACA -- would double the size of the labor movement.
John Case
Since there has not been shown a way to regulate this process a ban seems to be the more rational path to follow.
Claire Stern
Gotta love Portside this article made my heart sing. 
Eda Hallinan
The problem is with Obama and many "moderate" Democrats!!! They are ready to sell out. Lying-dying-and spying- Bush/Obama--any questions?
State Senator Jim Ferlo 
D-Pa-38th District 
Another bonehead spewing lies, bumps into the truth!
Sebastian Milito
See what happens under the pernicious practice of hiring outside contractors!
Sterling Vinson 
Frederic N. Hicks died July 9, in Louisville, KY, at the age of 85, a few months after being diagnosed with lung cancer.  A University of Louisville professor emeritus in the department of anthropology, a scholarship for foreign study in anthropology was established by the university in his honor upon his retirement in 1996.
Dr. Hicks was born in New Orleans but spent his youth in Connecticut and graduated from the Putney School in Vermont.  He was a veteran of the Korean war and a graduate of the University of New Mexico before moving to UCLA where he received his PhD in 1963.  Dr. Hicks was active in the American Anthropological Association and Society for Economic Anthropology and is known for his study of social stratification in Paraguay and Aztec Mexico.  He wrote or contributed to numerous academic journals, is the co-author of El Códice Vergara with Dr. Barbara J. Williams, and a contributor to the Handbook of the Aztecs, which will be published by the Oxford University Press.
Active in Louisville's open housing movement in the 1960s and a long time resident of the West End, Dr. Hicks served in leadership positions with the Committee of Correspondence for Democracy and Socialism, the Kentucky Alliance Against Racist and Political Repression, the Southern Organizing Committee, and the Kentucky Interfaith Taskforce on Latin America and the Caribbean (KITLAC), among others.  He is remembered fondly as a lover of the opera and chamber music, a fine cook, and a superb storyteller.
Fred's wife, Dr. Judith Joel, an anthropologist and linguist whose work detailed the language of the Paipai of northern Baja California, was an anti-racist activist who died of breast cancer in 1996.  He is survived by his brother and sister-in-law, Warren and Emma Hicks, of Georgetown, Connecticut, many colleagues in anthropology, and a broad circle of friends in the movements for peace and justice.  His was cremated and a memorial service will be held in the future.
At his request, memorial gifts can be made to Oxfam America, the American Civil Liberties Foundation, Doctors without Borders, or the Davis-Putter Scholarship Fund.
July 18, 2013
French journalist and Communist Henri Alleg, who was the first to reveal the full extent of torture by French forces during Algeria's war of independence, has died aged 91.
Alleg, whose 1958 memoir "La Question" was banned by French authorities for revealing his torture in Algeria, died in Paris on Wednesday, left-wing newspaper l'Humanite said.
Born Henri Salem to a Jewish-Polish family in London in 1921, Alleg was raised in Paris and set off in his late teens for Algeria, then one of France's key overseas territories.
He joined its Communist Party and ran the party's newspaper, "Alger Republicain," which pushed for Algerian independence.
Alleg was arrested in 1957, at the height of Algeria's war of independence from France, tortured and sentenced to 10 years of forced labour on the French mainland.
He later recalled spending a month being tortured in a villa outside Algiers, where he was subjected to beatings, electric shocks and waterboarding.
"The worst thing was the cries of the Algerians who were suffering the same as I was. This is the memory that lingers," he told a Paris court in 2001.
In prison he wrote "La Question", which raised an outcry in France and sparked debate over the actions of French military forces.
The book, with a preface by Jean-Paul Sartre, was banned under French censorship laws related to the conflict in Algeria, but continued to circulate clandestinely and had a significant impact on attitudes toward the war.
Alleg escaped from prison in 1961 and returned to Algeria, which won its independence in 1962. He returned to France after new authorities banned his newspaper in 1965.
He remained a committed Communist Party activist and was a journalist with "l'Humanite" from 1966 to 1980. He became a well-known anti-torture activist, most recently denouncing the use of waterboarding by US forces.
In a statement, President Francois Hollande said Alleg had "alerted our country to the reality of torture in Algeria" and hailed the journalist for "fighting for the truth".
"La Question" was made into a French film by director Laurent Heynemann, released in 1977.
July 17, 2013
Mexico - Wearing T-shirts with images of U.S. Reverend Martin Luther King and teacher Jose Marti, the members of the Pastors for Peace Friendship Caravan will arrive in Cuba today.
"Let's keep the dream alive" is the emblem that takes us this time to Cuba, the Buddhist church pastor and president of the Interreligious Foundation for Community Organization/Pastors for Peace, Thomas Smith, told Prensa Latina.
The caravan arrived in Mexico yesterday, heading for Cuba, divided into two groups on Wednesday and Thursday, with the usual solidarity aid towards that people, but especially with the moral support of those who defend their cause in the United States.
Every trip to Cuba, each crossing from Canada, the United States to Mexico, and finally Havana has one goal for Pastors for Peace: join caravan members on the road against the blockade with which the U.S. government has tried in vain to fade that revolution, Smith said.
Father Luis Barrios, of the Episcopal Church in New York, also told this agency the gratitude to the Mexican government for always allowing the passage of the caravan through his country, despite the U.S. pressure which reflects the respect and love of the Mexicans to the Cuban people, he said.
"The blockade is immoral, illegal, but God did not put it, and if it is a problem of a people such as Cuba, then that problem is mine, and I always say we will pray, light candles, we do procession, but let's take the street, and that's what the Pastors for Peace group is doing," said Barrios. 
"Celebrate International Nelson Mandela Day!"
This free community event is a special birthday celebration to honor the life, legacy and values of Nelson Mandela on the occasion of his 95th birthday, and is being hosted by Alameda County Sup. Keith Carson, Oakland Mayor Jean Quan, and Oakland Dep. Mayor Sandre Swanson, in cooperation with Cong. Barbara Lee.  There will be songs by Vukani Mawethu Choir, special remarks and presentations, and a big birthday cake for all!
Confronting the Climate Crisis: Environmental, labor, social justice, and health perspectives on building a winning movement.
On August 2nd, 350.org co-founder Bill McKibben will be in San Francisco to talk about climate change, the growing movement to stop it and the campaign to stop Chevron's deadly pollution from poisoning Richmond. He'll be joined by movement leaders like Gopal Dayeni of Movement Generation, and others.
At the event, we will discuss the Richmond Summer Heat action, planned for August 3rd, and get folks fired up for what's next.
This is a crucial moment to grow our movement and protect our communities from the worst parts of the fossil fuel industry.