Tidbits - August 14, 2014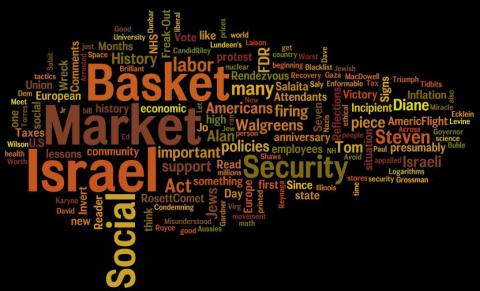 Tidbits, Reader Comments, and Shorts - August 14, 2014, Portside
Re: Victory for Americans: Walgreens Won't "Invert" to Avoid U.S. Taxes (Tom Gardner)
Re: Rosetta Comet Rendezvous is a Triumph for the European Space Agency (Karl Grossman)
Re: Reflections on My Seven Months in Israel (Kathy Worth, Alan Saly, Paul Buhle, Karyne Dunbar, David A Reynaga, Diane Simpao, Meredith Tax)
Re: How the Incipient Inflation Freak-Out Could Wreck the Recovery (Ed Royce)
Re: Meet the Jew Who Was Arrested for Condemning Israel (Laurel MacDowell)
Re: Is the firing of Steven Salaita the beginning of a new Blacklist? (Candida Riley, Carlos Munoz Jr., Diane Laison, Parson Stewart)
Re: Antisemitism on Rise Across Europe 'in Worst Times Since the Nazis' (Alan Levine)
Re: Virgin America Flight Attendants Vote To Join Union (Jeanne C Majors)
Re: Brits, Don't be Fooled: the NHS is Brilliant. And Aussies? Don't Let Your Guard Down (Tom Wilson)
Re: Celebrating a Misunderstood Math Miracle: Logarithms Turn 400 (Luis R Torres)
Market Basket lessons? (Dave Ecklein)
On This Day in History - FDR Signs Social Security Act
Re: Victory for Americans: Walgreens Won't "Invert" to Avoid U.S. Taxes
Nice work, Roger Hickey and CAF. Guess I will do more shopping at Walgreen's now. Outrageous that so many corp's are getting away with tax evasion.
Tom Gardner
Posted on Portside's Facebook page
Re: Rosetta Comet Rendezvous is a Triumph for the European Space Agency
Here's a major breakthrough involving Rosetta that the piece from the Guardian that you ran did not report on -- and most of mainstream media are not reporting on: how Rosetta is solar-powered and has gone to a point in space, more than 300 million miles out, at which for decades nuclear boosters have insisted that only nuclear power could energize spacecraft. I'm sure Lucas Hixson of Enformable would be delighted if you used my piece on Enformable. It also ran on the Ecologist website.
Karl Grossman
Re: Reflections on My Seven Months in Israel
Good to see a post that reflects reality rather than stoking the fires of controversy and idiotic thinking...when Bush committed genocide in Iraq it WAS NOT as proxy for this country's population...many people were mortified and incredulous and finally found a collective voice in spite of the catcalls of "anti patriot ", "traitor", etc.
Kathy Worth
Posted on Portside's Facebook page
     ====
Very profound and important article. This woman's views should inform policy. Let's make it happen.
Alan Saly
Posted on Portside's Facebook page
     ====
a very, very thoughtful statement
Paul Buhle
Posted on Portside's Facebook page
     ====
"Never again" has evolved into tyrannical, insular land lust
Karyne Dunbar
Posted on Portside's Facebook page
     ====
     
Albert Einstein decline the offer to become the first president of the State of Israel when he saw who woould be behind it and what tactics it would use to survive, so he forsaw what was coming and said "no thanks"..
David A Reynaga
Posted on Portside's Facebook page
     ====
So thankful for souls such as these who act in unconditional love of truth.
Diane Simpao
Posted on Portside's Facebook page
     ====
This is a good letter. Read.
Meredith Tax
Posted on Portside's Facebook page
Re: How the Incipient Inflation Freak-Out Could Wreck the Recovery
Good analysis here. You already know the story, but they put things together nicely.
Ed Royce
Re: Meet the Jew Who Was Arrested for Condemning Israel
It is so important to hear of North American Jews standing up for peace between Israel and the Palestinians. I support a state of Israel and I don't think Hamas should be firing rockets. But I am appalled at how Israel has developed and I attribute its brutal policies to a right wing Israeli government that has no compunction about throwing its weight around. I am also appalled that the US continues to sell Israel arms in a situation like the present one.
The world through the UN has repeatedly condemned the inhumanity of Israel's policies but it does not listen. To watch the news of the situation this summer has been stressful. I applaud JVP for their courage. More people need to speak up.
Laurel MacDowell
Re: Is the firing of Steven Salaita the beginning of a new Blacklist?
Yes , but it's not new,makes me sick....
Candida Riley
Posted on Portside's Facebook page

     ====
     
The list is a continuing one.
Carlos Munoz Jr.
Posted on Portside's Facebook page
     ====
Please protest this firing in any way you can.
Steven Salaita, and Arab-American Professor of American Indian Studies, was just fired by the University of Illinois for tweeting criticisms of the Israeli massacre in Gaza.
Diane Laison
Posted on Portside's Facebook page
     ====
     
The Israel Lobby has been expending great effort, spending and manipulatively witholding millions of dollars, for some time to blacklist those professors who fulfill intellectual and ethical obligations and teach against the crimes of the Israeli state. It is not possible for an ethical or intellectually honest person to support the continued existence of an ethnic-privilege state in Israel. (The only bigotted professors I knew were both members of Chadassah, something I regard as a terrorist front--was too bad because they were otherwise sane).
Parson Stewart
Posted on Portside's Facebook page
Re: Antisemitism on Rise Across Europe 'in Worst Times Since the Nazis'
The piece you printed accepts uncritically the assertions of the European Jewish community, which is presumably strongly pro-Israel and presumably interested in silencing the critics of Israel by tarring them with the brush of anti-semitism. The piece below by Gideon Levy would be a useful corrective.
Alan Levine
Gevalt, anti-Semitism! Since its establishment, more Jews were hurt in wars and terror attacks in Israel than anywhere else. The war in Gaza endangered world Jews as well, as no other war has before it.
By Gideon Levy
Aug. 14, 2014
Re: Virgin America Flight Attendants Vote To Join Union
(posting on Labor Portside)
Wow!!! Thought it would never happen.
Jeanne C Majors
Posted on Portside's Facebook page
Re: Brits, Don't be Fooled: the NHS is Brilliant. And Aussies? Don't Let Your Guard Down
British health system scores high in comparison to US.
Tom Wilson
Posted on Portside's Facebook page
Re: Celebrating a Misunderstood Math Miracle: Logarithms Turn 400
Hooray for the 400th anniversary. Thanks for the history lesson and the (presumably) simple explanation of just what that is and how it works by Glen Van Brummelen. I'm a reasonably intelligent person. I have a graduate degree from an Ivy League university (not in science or math). But I must say I feel pretty damn dumb. I still don't quite get it.
Luis R Torres
Why do liberal politicians, the labor movement, and the left seem to be so tongue-tied about this Market Basket situation here in the Northeast.  I think something significant is happening here which transcends the "family feud", as Massachusetts Governor Duval Patrick (Dem) trivialized it .  I don't think our New Hampshire Governor Maggie Hassan (Dem) has bothered to say even that much.
I get the AFL-CIO blog, and they have not mentioned it yet.  Surely, when unorganized labor utilizes methods and tactics familiar to the organized labor movement, it is worthy of some comment.  Any comment.
Are there no lessons to be learned?  After all, I suspect that for many Market Basket employees, this is their first involvement in something resembling a "labor action", and for the many customers, the first time for community support of such actions.  Think about it.
I sent a fairly good article from a Maine newspaper on the Market Basket dispute to portside, and it was posted:...the only thing about Market Basket I have seen there so far.  Usually lively discussions follow about a topic like this, but they did not occur.
Meanwhile, if the Arthur S crowd runs Market Basket into the ground, at least in NH we will be faced with a Hannaford monopoly.  Shaws is out of contention, being on the ropes anyway with many of its stores closed, due in part to policies opposite to those of Market Basket.  Shaws, with their high prices, always looked empty compared to Market Basket, which was often so crowded (before the "strike" or whatever you call it) you could hardly move. Other alternatives are overpriced independents where produce is not likely to be as fresh as in stores with big turnovers (like Market Basket).
Despite Market Basket's liberal policies towards its employees, low prices, and high quality groceries, it is among the most profitable supermarket chains in the country.  Could the goose that lays the golden egg meet its storybook fate due to corporate greed?
There is even a website with the theme "We Are Market Basket", where customers and employees give more information from their viewpoint: http://wearemarketbasket.com/
Dave Ecklein
Rumney NH
On This Day in History - FDR Signs Social Security Act

As we celebrate Social Security's 79th anniversary today, it's important to acknowledge the program's vital role in protecting both current and future generations of Americans. Social Security has made a profound improvement in the economic security of millions of families, especially during these tough economic times.
Read more here, on how you can help defend, preserve and strenghten Social Security and Medicare 
On this day in 1935, the Social Security Act was passed. As Howard Zinn said in 1994 in a Rethinking Schools interview: "Emphasizing social and protest movements in the making of history gives students a feeling that they as citizens are the most important actors in history. Students should learn that during the Depression there were strikes and demonstrations all over the country.
And it was that turmoil and protest that created the atmosphere in which Roosevelt and Congress passed the Social Security Act." Read more here.
Cover of one of the many pamphlets produced by the National Joint Action Committee in support of Congressman Ernest Lundeen's social insurance bill. What Every Working Woman Wants was printed by Workers' Library Publishers, New York City, in 1935. Courtesy of the Institute of Social Medicine and Community Health. Lundeen's bill ultimately lost to the more conservative social security legislation.