Dispatches From the Culture Wars - School Daze edition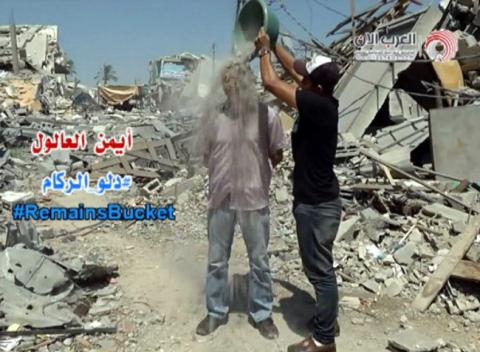 Most people in the world have heard about the ALS Ice Bucket Challenge, still doing the rounds on the social media, but not so many know that a journalist in Gaza has launched a "Rubble Bucket Challenge" to raise awareness to the plight of Palestinians...,Liberty Voice/The Guardian
Gaza Launched `Rubble Bucket Challenge' to Raise Awareness [Video]
By Anne Sewell
August 30, 2014.
Liberty Voice/The Guardian
Ayman Aloul, a journalist based in Gaza, noted the huge success of the recent ALS Ice Bucket Challenge and the idea was born of a Palestinian equivalent in the form of the "Rubble Bucket Challenge."
Aloul states that they looked for a bucket of water, but that the use of water is more important than pouring it over their heads and also that, even if they had the water to spare, it would be impossible to freeze it due to the lack of electricity in most areas of Gaza. This is basically the message that Gaza wishes to get across to raise awareness and why they launched the "Rubble Bucket Challenge" in the first place.
Beloved Illustrator Blasted by Fans Over Ferguson Artwork
By Ben Davis
August 21, 2014
Artnet News
St. Louis artist Mary Engelbreit`s work typically epitomizes "non-controversial" art: She makes comforting cartoon illustrations of apple-cheeked children, often accompanied by cheerful slogans about friendship and family. She has a large and devoted following, both for her art and for Engelbreit-branded products of various types, and she is an official inductee in the St. Louis Walk of Fame. These are not normal times, however, and when Engelbreit posted an image on her Facebook page on Tuesday in response to the current unrest rocking the St. Louis-area town of Ferguson, a section of her fan-base turned on her.
The print in question, called In the USA, depicts an African-American mother and child, in Engelbreit's signature orbicular style, contemplating a newspaper that reads "Hands Up! Don't Shoot." Floating text reads, "No One Should Have to Teach Their Children This In The USA."
Facebook pundits vented racist conspiracy theories, accused Engelbreit of ignoring the plight of law enforcement, and challenged her to "please draw a card that also shows stealing and intimidating store clerks." In a follow-up Facebook post (inexplicably removed and deemed "offensive" by the social media platform), Engelbreit responded to critics, standing by the print as a statement on the "ugly, hard truth of racial profiling."
Inside The World Of White Ferguson On Facebook
By Ellie Hall
August 21, 2014
BuzzFeed News
The public Facebook group "Ferguson, Missouri Friends & Neighbors," is an interesting window into the conversation some residents are having about the unrest in their town.
After the shooting death of Michael Brown, the usual community announcements gave way to an active forum for discussing - and criticizing - the attention Ferguson is receiving.
Report: Tech Creating Black, Hispanic Underclass
By Jessica Guynn
August 25, 2014
USA Today
Blacks and Hispanics in Santa Clara County are 28% of the work force yet make up a tiny percentage of professionals inside technology companies. Where they dominate instead: the ranks of service workers who struggle to make ends meet in pricey Silicon Valley.
Four out of 10 security guards, seven out of 10 janitors and three-quarters of grounds maintenance workers in Silicon Valley are black or Hispanic, according to the report "Tech's Diversity Problem: More Than Meets the Eye" from Working Partnerships USA, a nonprofit that advocates for affordable housing, higher wages and access to health care.
The effects of that two-tiered system - declining wages, eroding health and safety conditions and a lower standard of living - are rippling through the economy, said David Weil, author of The Fissured Workplace.
Cooper Union Tuition Battle Centers on Founder's Flowery Words
By Mike Vilensky
August 25, 2014
Wall Street Journal
The interpretation of a more than 150-year-old document ensconced in a Greenwich Village library is causing a furor in academia as its author's intention is battled over in court.
The document outlines the trust that established Cooper Union for the Advancement of Science and Art, the Manhattan arts-and-engineering college-and is at the heart of a legal fight over the decision by the school's administration to charge undergraduate tuition this fall for the first time in the school's history.
Because of Cooper Union's status as one of the last free institutions of higher education, the issue has garnered the attention of attorneys and scholars across the country, sparking questions about just what an institution owes to its founder more than a century later.
"This is a critical issue," said Richard Epstein, a law professor at New York University. "First, there is an issue of linguistic interpretation-the question of if that interpretation has been consistent-and then the argument that times have changed since it was written."
5 Crucial Lessons for the Left From Naomi Klein's New Book
By Ethan Corey and Jessica Corbett
August 21, 2014
In These Times
In her new book, This Changes Everything: Capitalism vs. the Climate (due in stores September 16), Naomi Klein casts her gaze toward the future, arguing that the dangers of climate change demand radical action now to ward off catastrophe. She certainly isn't alone in pointing out the urgency of the threat, but what sets Klein apart is her argument that it is capitalism-not carbon-that is at the root of climate change, inexorably driving us toward an environmental Armageddon in the pursuit of profit. This Changes Everything is well worth a read (or two) in full, but we've distilled some of its key points here.