Tidbits - February 1, 2018 - Reader Comments: Constitutional Crisis; Tax Cuts Don't Spur Growth; New Charges Against Lac-Mégantic Workers; 'Two-state Solution'; Young Workers and Unions; Football; Students' Right to Vote; Today in history - Start of the s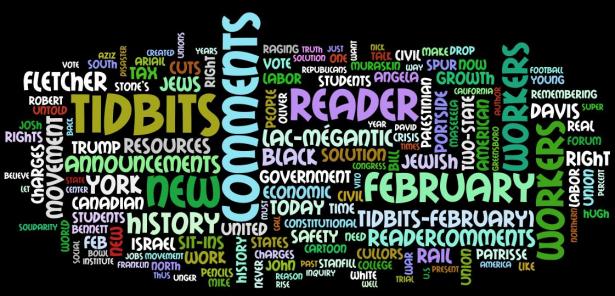 Tidbits - Reader Comments, Resources and Announcements - February 1, 2018,Portside
Resources:
Announcements:
Today in History:
Re: Why Does President Trump Fear the Truth?
Because he knows his presidency is not legitimate.

Victor Villariny
Posted on Portside's Facebook page
Healer-in-Chief - cartoon by Lars Kenseth
 
"I brought back the auto companies, healed our divides, and, at the sound of the bell, you may open your eyes."
Lars Kenseth
January 31, 2018
The New Yorker
Re: Congress Just Passed a Terrible Surveillance Law. Now What?
 
Stand up. Repeat after me, "Zeig Heil"
Dennis Martel
Posted on Portside's Facebook page
Re: Republicans Don't Understand: Tax Cuts Don't Spur Economic Growth
 
Don't understand or don't want to understand
Donald E. Evans
Posted on Portside's Facebook page
     =====
Looking at corporate filings and earnings statements, it seems that A LOT of the corporations who benefit are not likely to ever move jobs back to the USA. THESE corporations increased their profits by shedding good paying jobs and moving their manufacturing facilities to third world countries....they have now "hit a brick wall" on their drive to increase profits yet more. The next step to increasing their profits is lower their other costs....and taxes IS a big one!!!
I say that if the Republicans are actually so uneducated as to believe the lower taxes equals more investment mantra, they should NOT be allowed to hold office!
David Green
Posted on Portside's Facebook page
     =====
These tax cuts have never been about helping out the economy or citizens..they just have to say that to get people to agree to fund them at their own expense. Just take a gander at what folks in Kansas have had to give up to fund their tax cuts for business and the wealthy....education, healthcare, infrastructure and so on.
Jp Kretschmer
Posted on Portside's Facebook page
Re: Faced With Abuse Scandal, U.S.O.C. Does Nothing
Need to make the parents, Olympic leaders AND all those damn corporate sponsors accountable. What a rotten system!
Leanna Noble
Posted on Portside's Facebook page
Need to Drop All Charges - Canadian Jury Acquits Rail Workers in Lac-Mégantic Exlosion Case
 
(posting on Portside Labor)
This Lac-Mégantic article is WRONG! The train workers were acquitted, but the Canadian government is bringing them up on new criminal charges on Feb 5th. Please contact the Harding-Labrie Defense Committee. They are circulating a petition demanding the government Drop ALL The Charges. http://hardingdefense.org/sign-the-petition/ In Solidarity Nick Unger
Nick Unger
     =====
People around the world cheered the acquittal on January 19 of the Lac-Mégantic rail workers on trial for the wreck they didn't cause. They knew the wrong people were on trial.
But on Monday, Feb. 5, Tom Harding and Richard Labrie must return to court to face additional charges, this time federal charges, again being targeted for the Lac-Megántic disaster. Meanwhile the owners and top managers and decision makers for the railroad company have gotten a free pass.  They still run trains and have never been held accountable for the risky and dangerous operation they ran.
It's time to ramp this up and call Prime Minister Trudeau, the Canadian Minister of Justice and her prosecutor to demand they drop ALL charges NOW and start a public inquiry on real rail safety. Click here now. We'll call you and patch you through.
The not-guilty verdict was sought by many relatives of those who died as well as environmental and other groups across North America. They understood that rampant negligent safety practices by the rail company and lack of enforcement by the government were the real culprits...putting hundreds of towns at risk of the same disaster happening again. As a result over the last four years a broad array of groups have called for a formal inquiry into the real rail safety causes of the disaster.
Across North America and even in other countries, rail workers, environmental activists, union members and folks like you, concerned about safety, expressed their solidarity with protests, concerts, and petitions.
But the government has thus far declined to pursue a public inquiry. And this despite the long list of unsafe management policies and practices revealed in testimony during the trial, with almost no oversight by the Canadian government agencies charged with rail safety.
Instead, the Canadian government is still trying to pin the blame on train workers. We'll never get real rail safety this way.
Will you take action to make sure disasters like this don't happen again? Click here now to make the call.
In Solidarity,
Fritz Edler
for the Harding - Labrie Defense Committee
Re: Being 'Transracial' Is Real—But It's Not What Racist White People Claim It Is
 
Brown's article is powerful, clear, definitive and opened my eyes to a complexity of identity relations of which I was unaware. I would only add to her commentary that race is a totally invented entity of social control and has no relation to biology. Only in America do we have a "color code" that is supposed to  be used to define racial hierarchy.
Terence Cannon
Re: The Very American Myth of 'Exceptional Immigrants'
 
You can hear quite a lot of anti-immigrant notions and talk from Black Americans, too. Singling it out as a "white" phenomenon is silly factually and tactically.
John Woodford
Re: The Norwegian Menace: Should We Build a Wall to Keep Them Out?
 
Gott, yah! Dey arrh eine dancherus bunch.
Corinne Sternlieb
Posted on Portside's Facebook page
Cartoon by Mike Stanfill (Raging Pencils)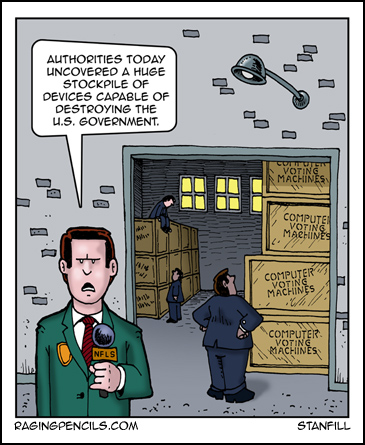 Mike Stanfill
January 26, 2018
Raging Pencils
[Raging Pencils is a thrice-weekly progressive comic developed and created by Dallas-area illustrator Mike Stanfill, sometimes known as "Lefty", sometimes not.]
Re: Remembering the First Communist-Led U.S. Textile Strike, 92 Years On
(posting on Portside Labor)
There is of course no such organization as the International Workers of the World, and never was.
Jon Bekken
Associate Professor of Communication
Albright College
     =====
Apparently NO ONE thought to correct the author's "International" Workers of the World. It's Industrial!
All too common a mistake!
Eric A. Gordon
Re: Remembering Hugh Masekela, South African Jazz Musician and Anti-Apartheid Activist
 
For a long time I only knew of him from his hit Grassing in the Grass.
But some friends from another great band Osibisa exposed me to more of his work, and I became a big fan!
Howie Leveton
Posted on Portside's Facebook page
     =====
One of my favorite instrumental renditions of this great Mexican classic in collaboration with Herb Alpert. I invite you to enjoy the entire album, in case you haven't already.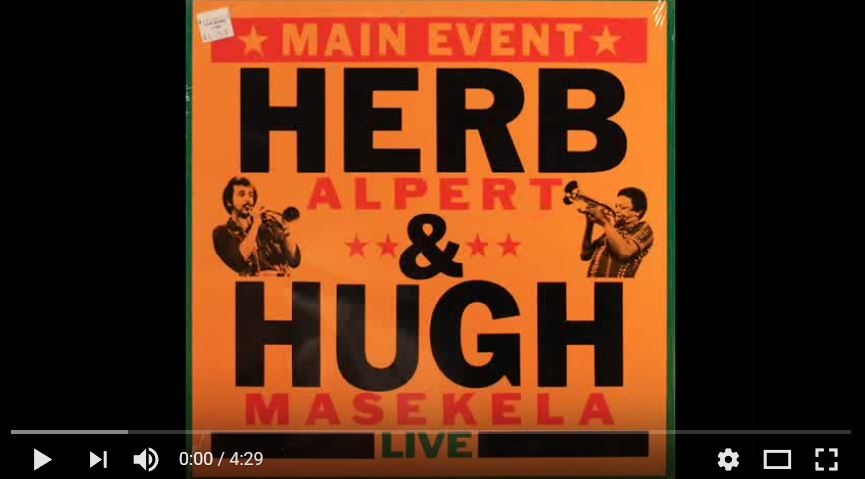 Listen here.
Angel L. Matos
Posted on Portside's Facebook page
Re: The 'Two-state Solution' Only Ever Meant a Big Israel Ruling Over a Palestinian Bantustan. Let It Go
 
The "two-state solution" is no longer viable, if it ever was. It has served as a cover for continuing and expanding apartheid and ethnic cleansing by Israel. The wall, the settlements, the roads, the water and electrical systems, the right of return all make a two-state system impossible. What is needed now is a one-state solution where a new nation-state on the footprint of the existing Israel and Palestine is created. This new nation must be multi-ethnic, multi-religious, secular, and democratic. This means that Israel as it now exists must be disarmed and dismantled.
John Gehan
Posted on Portside's Facebook page
     =====
Jeff Halper says 
"There is no reason to believe this would lead to "endless and bloody civil war", as Yoffie claims. Israeli Jews would have the right to live anywhere including the settlements; Palestinian refugees can come home; a common civil society would emerge; economically, the country would flourish, supported by two parallel affluent and educated Diasporas, Jewish and Palestinian." In a better world Halper would be absolutely right. In the real world of really existing Israel/Palestine Yoffie is right and there is every reason to believe this would lead to "endless and bloody civil war." 
The Palestinian Arabs tried to drive out the Jews before 1948 with pogroms and then civil war.  Since then there have been numerous atrocities from both sides and the hatred engendered thereby has created hard core factions in both polities who can be counted on to engage in further atrocities in a united Israel/Palestine, tit for tat atrocities guaranteed to lead to civil war and ethnic cleansing (if not genocide) by one or both sides. There was a time when leftists prided themselves on hard headed analyses and disparaged pie in the sky utopianism.  These days it looks like the utopians are back in the saddle.
Stan Nadel
     =====
IMO the solution is for people to stop killing each other over the Holy Land just because they have the same God, and thus the same holy sites.
But hey a man can dream
Josh Davis
Posted on Portside's Facebook page
Stormy - cartoon by Robert Ariail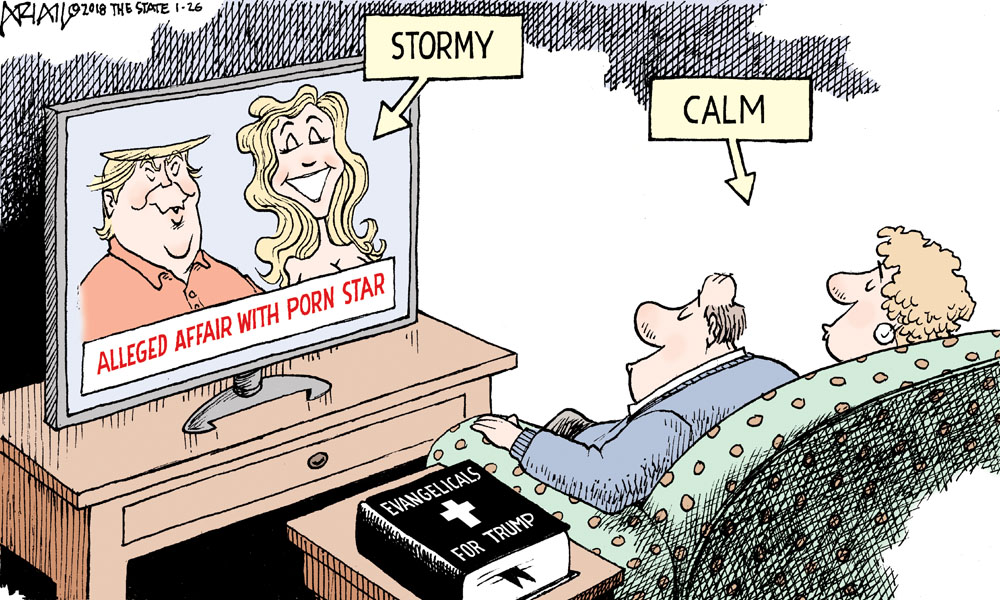 Robert Ariail
January 25, 2018
The State (Columbia, SC)
[Robert Ariail is the editorial cartoonist for The State newspaper in Columbia, South Carolina. His work is published in over 600 newspapers through United Features/Universal Uclick syndicate.]
Re: Allegations Against Aziz Ansari Allow Us to Explore the Ways Women Are Conditioned Not to Say No
 
This conversation should be bigger than Aziz Ansari.
Mark Gallagher
Posted on Portside's Facebook page
Re: The Fearless Cook Who Secretly Fed — And Funded — The Civil Rights Movement
 
(posting on Portside Culture)
https://portside.org/2018-01-22/fearless-cook-who-secretly-fed-and-fund…
An unsung hero
Amparo Ocasio
Posted on Portside's Facebook page
Historical situations may change as well as protagonists, movements and names given to the o called enemies. However, the fact is, in my view, that attributing evil deeds to those who dissent and try to open new routes remains as the main way to paralyze any movement.
Ilia Pagan Rivera
Posted on Portside's Facebook page
Re: Why It Matters That Roseanne and Dan Voted for Trump
 
They became millionaires when they won the lottery, thus rich pigs who would support DT.
Chris Elliott
Posted on Portside's Facebook page
     =====
If they live in Illinois, there would be no pay out. The State is broke.
Debbie Miller
Posted on Portside's Facebook page
Re: Tone-Deaf 'Three Billboards' Tries Absolving White People of Racism. And Oscars Season Loves It
 
Wow! That's quite the review.
Carl McLuhan
Posted on Portside's Facebook page
     =====
Not the first time, Hollywood, work hand in hand with hidden USA agendas, to glorified pathetic criminals as heroes, examples: Rambo, Sniper, among many others....
Ariel Ayala Vera
Posted on Portside's Facebook page
Biggest Gains in Union Membership in 2017 Were for Younger Workers
By John Schmitt
January 25, 2018
Economic Snapshot
Economic Policy Institute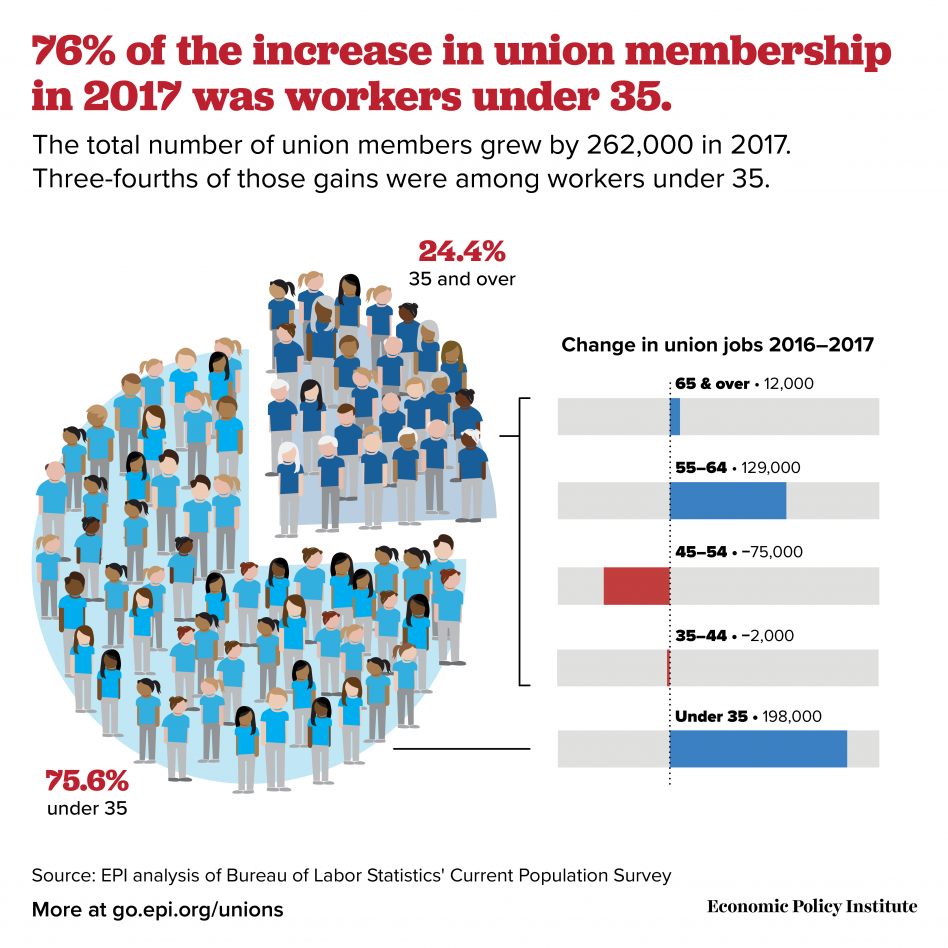 credit - Economic Policy Institute
Historically, younger workers have been less likely than older workers to be a member of union. In 2017 about 7.7 percent of workers 16–34 were members of a union, compared with 12.6 percent of workers age 35 and older.
But last year, of the 858,000 net new jobs for workers under age 35, almost one in four (23 percent) was a union job.
In a recent EPI paper, we explain that one reason younger workers are joining unions is to address current workforce trends that are increasing work insecurity from the rise of part-time work and unpaid internships to increased numbers of contract workers.
The Super Bowl Preview - Here's every concussion in the NFL this year
 
Watch here.
Josh Begley Tweet
Book Talk: Bennett Muraskin on Jews in the American Labor Movement: Past, Present, and Future - New York - February 6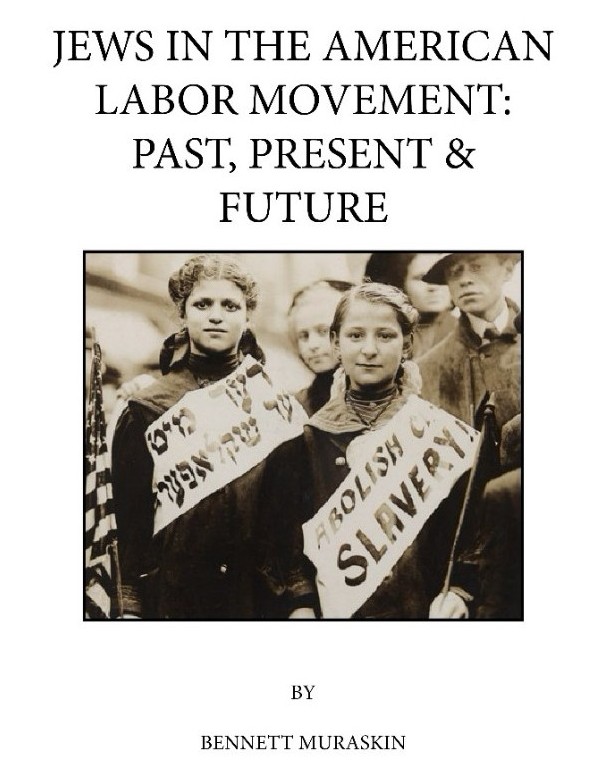 Bennett Muraskin will discuss the pamphlet Jews in the American Labor Movement: Past, Present, and Future (2016). A reception with wine and cheese will follow the lecture. This event is sponsored by the Frederic Ewen Center.
Tuesday, February 6  -  4:30 PM
Tamiment Library & Robert F. Wagner Labor Archives
70 Washington Square South
10th Floor
New York, NY 10012
Bennett Muraskin, a union representative for state college faculty in New Jersey, is the author of Humanist Readings in Jewish Folklore (2001), Let Justice Well Up Like Water: Progressive Jews from Hillel to Helen Suzman (2004), and The Association of Jewish Libraries Guide to Yiddish Short Stories (2011). He is also a columnist for Jewish Currents magazine and a regular contributor to Humanistic Judaism. He frequently speaks on Jewish topics throughout the New York/New Jersey area and has been the ceremonial leader of the Jewish Cultural School and Society.
RSVP: email tamiment.events@nyu.edu with guest name(s) & event title.
Fighting Back Against Right-Wing Populism: More than Choosing between the Lesser of Two Evils - A Conversation with Bill Fletcher - Northern California - February 8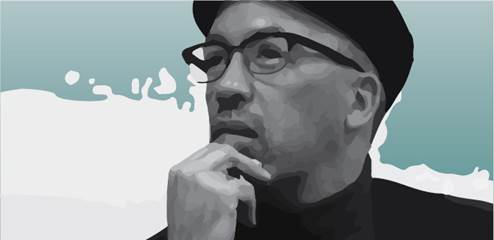 Thursday, February 8, 2018 -- 6:30–8:00 PM
Contra Costa College – Fireside Hall Community Room
2600 Mission Bell Drive 
San Pablo, CA
This country is experiencing a rise in right-wing authoritarianism. Simultaneously, there has been a rise in resistance to the political right in a variety of forms including greater Black activism and the Women's Marches. The tendency to channel much of this energy into the electoral arena raises the question: Is this the best way to fight right-wing authoritarianism? Fletcher, a long-time social activist, will present provocative answers to this question.
This event is free and open to the public. For more information and to register, please visit here.
If you have any questions about this event, please contact Steven Pitts, spitts1@berkeley.edu.
About the Speaker:
Bill Fletcher Jr has been an activist since his teen years. Upon graduating from college he went to work as a welder in a shipyard, thereby entering the labor movement. Over the years he has been active in workplace and community struggles as well as electoral campaigns. He has worked for several labor unions in addition to serving as a senior staffperson in the national AFL-CIO.
Fletcher is the former president of TransAfrica Forum; a senior scholar with the Institute for Policy Studies; an editorial board member of BlackCommentator.com; and in the leadership of several other projects. Fletcher is the co-author (with Peter Agard) of "The Indispensable Ally: Black Workers and the Formation of the Congress of Industrial Organizations, 1934-1941"; the co-author (with Dr. Fernando Gapasin) of "Solidarity Divided: The crisis in organized labor and a new path toward social justice"; and the author of "'They're Bankrupting Us' – And Twenty other Myths about Unions." Fletcher is a syndicated columnist and a regular media commentator on television, radio and the web.
This event is co-sponsored by Contra Costa AFL-CIO Labor Council, Bay Area Black Worker Center, Contra Costa College, Northern California Chapter - Coalition of Black Trade Unionists, and Safe Returns Project. 
Oliver Stone's The Untold History of the United States - New York - February 10
You are invited to join The Vito Marcantonio Forum (VMF) launch of a four-session series of Oliver Stone's multi-part documentary, The Untold History of the United States. WHAT: Screening of Oliver Stone's The Untold History of the United States. Introduced by Gerald Meyer, co-chair of the Vito Marcantonio Forum, and followed by open discussion 
Saturday, February 10, 2018 from 2:00 PM to 4:30 PM 
Community Room at the Mulberry Street Public Library
10 Jersey St. (btw Lafayette and Mulberry Sts.) 
Manhattan
Future sessions take place on March 10th, April 14th, and May 12th; the same place and time.
Light Refreshments / Free Admission 
Vito Marcantonio Forum
VMF Blog  --  Facebook page
Angela Davis and Patrisse Cullors in New York Times Talk - February 20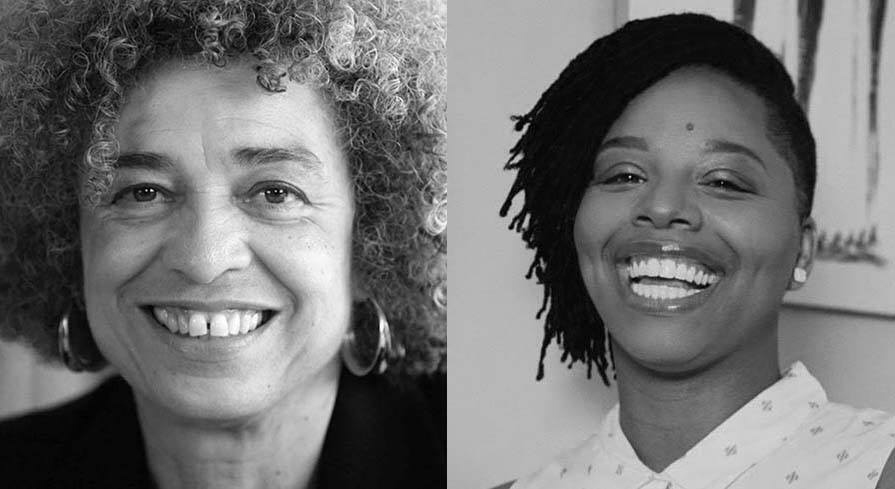 Tuesday, February 20 at 7 PM - 8:15 PM
Merkin Concert Hall at Kaufman Music Center
129 West 67th Street
New York, NY 10023 
Hosted by The New York Times - TimesTalks
Join Patrisse Cullors, artist, freedom fighter and Co–Founder of Black Lives Matter, and Angela Davis, world–renowned activist, academic, and author, for an important and timely conversation about survival, strength, and seeking justice for those victimized by the powerful with Melissa Harris-Perry, professor, television host, political commentator and contributing writer for The New York Times. In honor of Black History Month, and the release of Cullors' latest book "When They Call You a Terrorist, A Black Lives Matter Memoir," they will discuss the continuing violence and racial uprisings currently plaguing our country, how we change the culture that declares innocent black life expendable, and how protest in the interest of the most vulnerable comes from love.
In collaboration with Kaufman Music Center
Tickets: $40.00 - click here.
Defending Students' Right to Vote!  A National Conference - Lancaster (PA) - March 3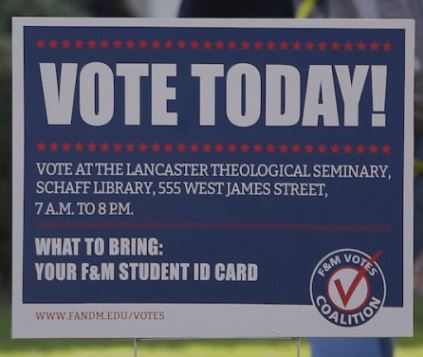 As educators and activists we should defend students' right to vote where they go to school. That right was affirmed by the 1979 Supreme Court Symm v. United States decision but is under continuous attack via familiar methods of voter suppression: the requirement to show a state-approved form of identification.  The special wrinkle here is state legislatures barring the use of college-issued IDs, even from their own public universities!
If you want to learn about how to register and turn-out students in high numbers, come to this national nonpartisan conference.
The conference is organized by "F&M Votes" at Franklin & Marshall College in Pennsylvania, which has been turning out students in high numbers since 2004, using proven grassroots techniques. Many leading national institutions are co-sponsors, and the cost is only $45 per person, all-inclusive, with rooms at a local hotel $119 per night for up to four people.
Please share this information with anyone interested in voting rights, especially undergraduates who want to register students for the 2018 elections.
Van Gosse
Department of History
Franklin & Marshall College
Today in History - Greensboro Sit-in - February 1, 1960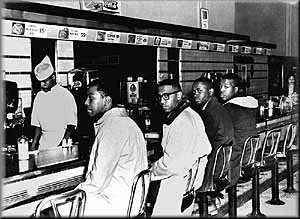 February 1st, 1960, Greensboro NC. Four students from North Carolina A&T sit down at a "whites-only" Woolworth's lunch counter and ask to be served. This action by David Richmond, Franklin McCain, Ezell Blair, and Joseph McNeil ignites a wave of student sit-ins and protests that flash like fire across the South. A fire for justice that no amount of beatings, jails, or firehoses, can extinguish. Within days sit-ins are occurring in dozens of Southern towns, and in the North supporting picket- lines spring up at Woolworth and Kress stores from New York to San Francisco.
[see detailed history of the sit-ins on the Civil Rights Movement Veterans website. The Sit-Ins — Off Campus and Into Movement and The Greensboro Sit-Ins (Feb)]