Tidbits - March 15, 2018 - Reader Comments: Slavery and Modern Capitalism; Stopping Gun Violence and the NRA; Puerto Rico; Viola Desmond; Venezuela; Soviet Union and Stalin; My Lai Massacre; Global Call for Peace; and more...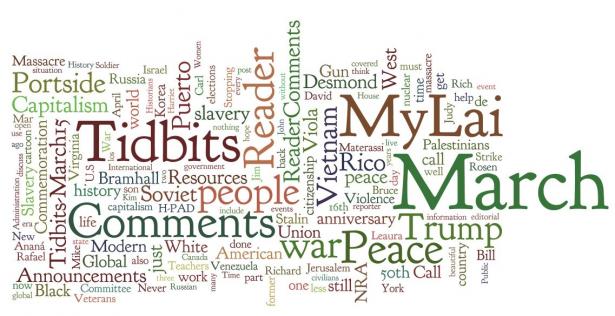 Tidbits - Reader Comments, Resources and Announcements - March 15, 2018, Portside
Resources:
Announcements:
Re: How the West Got Rich and Modern Capitalism Was Born
Thanks for Sven Beckert's essay on slavery. It exactly reflects the new understanding of our 'peculiar institution' and why today we still live under racialized capitalism. The Civil War largely abolished slavery with the 13th Amendment. But it did not abolish the social constructions that supported it, neither the 'white race' and the 'black race', nor the dominance of the former over the latter. With the Counter-Revolution of 1876, and the thwarting of the 14th and 15th Amendments, slave-like relations were restored by other names, up to this day. For a series of downloadable slide shows on three recent books covering the whole span of our history on the matter, visit the 'Study Guides' section of the Online University of the Left at http://ouleft.org 

Carl Davidson
      =====
"Sven Beckert summarizes his thesis on the link between slavery in the South of the US and the industrial revolution in England, as part of the global history approach."- Richard Swedberg
Fred Sperounis
Posted on Portside's Facebook page
      =====
Do you think slavery really died?.What about employees living in poverty while the banks, the government and Wall Street make dally living a nightmare for people all around the world?.Slavery is more alive than ever.
Wilfredo Colon
Posted on Portside's Facebook page
      =====
So true some are working 10 12 hours a day and still can't pay all their bills.
Mary Logwood
Posted on Portside's Facebook page
      =====
Slavery is not dead. I hope it dies soon.
Rafael Rivera
Posted on Portside's Facebook page
      =====
Wait staff in restaurants paid less than three dollars and hour in the hopes that customers will make up the difference by tipping. That's nothing more than slavery.
David Denson
Posted on Portside's Facebook page
      =====
Long read but worth it-thank you
Jill Crouthers
Posted on Portside's Facebook page
      =====
La esclavitud de antes fue reemplazada por el salario mínimo ...
[The Pre-slavery was replaced by the minimum wage...]
Manuel Rodriguez Perazza
Posted on Portside's Facebook page
My son and I just stood alone...Against the NRA and Gun Violence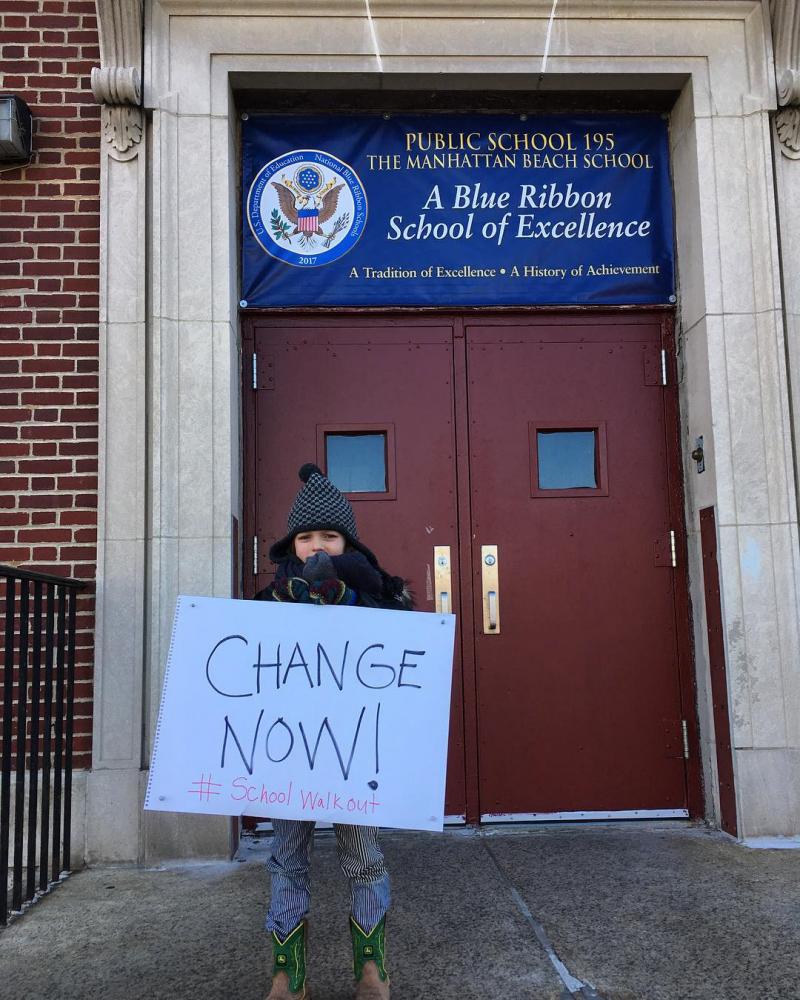 My son and I just stood alone for 17 minutes outside of our school in Manhattan Beach, Brooklyn. I am proud to have a kid who did not give two shits that he was there alone! And now listen up you conservative Russian zombies! There is a stranger among you! #schoolwalkout2018 #powerinnumbers #fuckthenra Not a single teacher wanted to be photographed, not a single person passed by. But this one was for every single mother who lost her baby to this shit.
Alisa Minyukova
March 16, 2018
(posting on Facebook)
Re: They're Walking Five Days Straight to Honor Harriet Tubman—and Black Women Everywhere
Thank you sisters for your actions on behalf of all of US. Women of color throughout the world need to use Harriet Tubman's words as a model for Life . Solidarity from Puerto Rico
Ana M. Serrano-Reyes
Posted on Portside's Facebook page
Re: 50 Years Later: Who Still Rules America?
(posting on Portside Culture)
Perhaps it should be juxtaposed with the Kerner Commission Report....
Bruce Rosen
      =====
I interviewed Domhoff as a young reporter in Santa Cruz. He was brilliant, funny and irreverent.
Richard Cole
Posted on Portside's Facebook page
      =====
The original book was so important to community organizing!
Judy Atkins
Posted on Portside's Facebook page
Re: Unions Show Their Force In Pennsylvania District Won By Trump
(posting on Portside Labor)
Nothing regarding the West Virginia teachers uprising (keyed to 'lifting all boats') literally next door. 
Will they be prepared for political openings brought by teacher strikes in Kentucky, Oklahoma & Arizona - all cynically legislated Right-to-Work states?
Bruce Rosen
Re: The Lesson From West Virginia Teachers? If You Want to Win, Go on Strike
 
Could have ended sooner if all the parents dropped their children off at their state capital !! Would help them see what teachers deal with every day !! Most under paid profession and least respected !! Congratulations Teachers !!
Judy Miller
Posted on Portside's Facebook page
Re: Exodus From Puerto Rico Grows As Island Struggles to Rebound From Hurricane Maria
 
That is so sad, I love Puerto Rico, some of the most beautiful people , I have ever met, inside and out... work colleagues, people just from dancing, and having visited there several times through work, ( magazine photo shoots as a fashion stylist) I saw such natural beauty! And the food ! My heart is breaking from what is happening to the most beautiful people and the most beautiful natural habitat in nature...
Laura Owen
Posted on Portside's Facebook page
      =====
From what I see it's the educated and skilled leaving. Not looking good from a redevelopment standpoint.
Kwayzar Appleguard
Posted on Portside's Facebook page
      =====
now maybe we will be a state and get rid of all the politicians OUT and become an state for the people not for THE thieves that put us in bankruptcy
Rafael Maldonado
Posted on Portside's Facebook page
      =====
Shameful situation there. Well, a little justice might be done if the diaspora were to concentrate in FLA and vote Democratic, after what the present Admin has done to them . . .
John Antonio Spafford
Posted on Portside's Facebook page
Re: America's Forgotten History of Illegal Deportations
 
We got to acknowledge the LONG history of white supremacy, slavery, genocide and anti-worker capitalism AND imperialism of the USA in order to build a new economy and culture for justice and peace. Because we fought for "ethnic and urban studies" way back when and others bravely entered academia and still fight for REAL learning we now have way more access to research and analysis to ARM our movements.
Leanna Noble
Posted on Portside's Facebook page
Trump Gets His Cabinet - cartoon by Bill Bramhall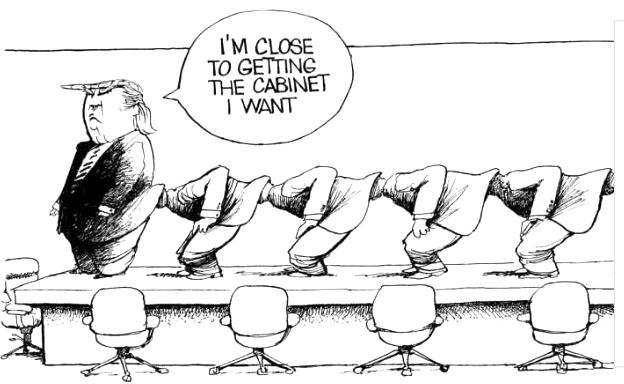 Bill Bramhall
March 14, 2018
New York Daily News
[For the past ten years, Bill Bramhall has drawn editorial cartoons for the New York Daily News. He combines art with current affairs, satire and, of course, comedy in his popular cartoons, with new ones being released nearly every day.
"The cartoon is a vital part of the opinion pages," said colleague and editorial writer Josh Greenman. "I study people on the train. Whether or not they stop and read the editorials or the op-eds, they always stop and digest Bramhall's World."]
    
WATCH: Daily News' Bill Bramhall draws the day's editorial cartoons
Re: Gina Haspel, Trump's Pick for CIA Director, Ran a Black Site for Torture
 
Career advancement. Makes me wonder if Obama had bothered to uphold the law and prosecute torturers... but no, we had to move on, look to the future. Well, here's the future.
Dale Jacobson
Posted on Portside's Facebook page
Re: Viola Desmond, the Black Woman Who Fought Against Segregation in Canada
 
Great story, and Viola Desmond is finally getting attention for her courage.
She's Beautiful When She's Angry
Posted on Portside's Facebook page
      =====
I want to get one of these bills!!! Wonderful, courageous woman!!!
Jude Gluck
Posted on Portside's Facebook page
      =====
Waitaminit. They had segregation HERE, when people were fleeing the States from slavery...?!
What the fuck was the difference between the U.S. and Canada, then...?!
Tonya Liburd
Posted on Portside's Facebook page
      =====
Jerrisa Vazquez
Posted on Portside's Facebook page
Detailed account of the labor resistance in Italy, it's history  and its role in the overthrowing Fascism and Mussolini, and as a catalyst to the Italian resistance. And the beyond to the shaping of post war Italy 
Leaura Materassi
      =====
Fascism = Governmental Power + Corporate and/or Religious Power. Keep 'em separate!
Craig Carl
Posted on Portside's Facebook page
Re: Guns Don't Kill, White Privilege Kills
 
Capitalism and empire kill people. White privilege is bs. See Flint.
Rich Gibson
Posted on Portside's Facebook page
Re: Why Every Progressive Should Read The Good Soldier Svejk
 
I have not gone back to Schweik in ages but Paul Goldberg has persuaded me to go back to it. There's a whole host of Schweik resources online including an homage website. Thanks to Portside for the link.
Daniel Millstone
Posted on Portside's Facebook page
Re: Here's What Kim Really Wants Out of His Meeting With Trump
 
I am appreciative of the sharing of insight into North Korea as most Americans/westerners are oblivious. The Korean war is many decades old and the population has little connection to that era and the devastation wrecked on that country by the US. However, the focus taken by Christine Ahn is the typical reactionary one of the US. It never questions the continued threats against Korea by the US which actually lost that war despite its vast power and the legitimate self-protection of North Korea. 
It is not paranoid as the threat is very real. So that is a very prejudicial characterization of that country. Further, and most importantly, at least to me, is that without nuclear weaponry N.Korea would have been destroyed or subsumed to the US a long time ago. It is the US that needs to rid itself of nuclear weaponry as the world's biggest bully and aggressor today. I for one support N. Korea's nuclear power as the only means for its survival in the face of American hegemony. WE only need to remove blinders and confront the cognitive dissonance that prevails in the US to see the truth to what I say. Wish your political editors had better clarity.
tanya marquette
Re: Trump Administration Tries to Torpedo Venezuelan Elections as It Intensifies "Regime Change" Efforts
 
Stay out of their business. Pretending to be concerned about human rights is a sham ... just look at Puerto Rico and all the evil the Rump has imposed on the poor and you KNOW his interference has nothing to do with concern for humans. He is after their uranium for one thing. Stay out of their elections. AND get busy fighting Russian interference in the US elections.
Aprl Churchill
Posted on Portside's Facebook page
      =====
Its all about the oil, stupid
Olga I. Rodriguez
Posted on Portside's Facebook page
      =====
Let me get this straight. Interfering in U.S.elections....Bad. U.S.interfering in elections.....good?
Jim Friend
Posted on Portside's Facebook page
      =====
Trump should have just hired his good friend Vlad to do the regime change, he is cheap and effective and gets the job done on time as Donald well knows!
Jim Lockwood
Posted on Portside's Facebook page
      =====
The Yankis detest democratic process, when they are against their interest and ambitions. Thus sticking their noses in a foreign countries's elections. How they dare to criticized Russia without actual proves , Yet, at the same time, openly bragged about interfering, and threatening to invade a free country that is celebrating a democratic election process. Hypocrisy of an empire., to its highest limits..." 
Estos yankis detestan los procesos democraticos, y se meten en los procesos politicos de paises soberanos. Los cara de lata 4se atreven hablar de Rusia, cuando ellos se jactan de Violar los procesos eleccionarios ajenos, cuando no son a fines a sus inereses"...
Ariel Ayala Vera
Posted on Portside's Facebook page
      =====
We can't complain about Russian intervention when U.S. intervenes in South America.
Lydia Brady
Posted on Portside's Facebook page
Re: "The Death of Stalin" Captures the Terrifying Absurdity of a Tyrant
(posting on Portside Culture)
Pretty amazed that Portside would post this, ignoring articles about European anti-fascist and anti-Nazi history, as well as our own. "life under Soviet terror"?  "Stalin's reign and its aftermath: that it was both terrifying and ridiculous, and terrifying in its ridiculousness?"  "there are no beliefs or principles driving the behavior of any of the actors. Sixty-five years ago, the American foreign-policy establishment failed to understand this?"  Is this now Portside's summation of life in the Soviet Union, and our own role in the Cold War?
David Bacon
      =====
This review is awkwardly unrealistic and seems more inclined to demonize or chastise Putin than actually review the movie. Russia, before the Soviet Union, Russia during the Soviet era, and Russia during the post Soviet era has been a formidable country and it very likely will continue to be regardless of the banning of books or movies or other art forms. I believe in freedom but not blindly and dare say that in spite of the propaganda, Russia, in all its bizarre and contradictory manifestations has harmed the planet less than Disney world and Big Ben countries that simply do a better job at making the world think they have wiped their noses clean.
Ananá Ananá
Posted on Portside's Facebook page
Re: China Is Turning Ethiopia Into a Giant Fast-Fashion Factory
 
Fascinating and depressing . The oppressed become the oppressors. Our "leaders" are so out of it.
Leaura Materassi
Re: Israel Passes Law to Strip Residency of Jerusalem's Palestinians
 
This is bullshit propaganda from Aljazeera. When it claims that "Despite Israel's claims that occupied East Jerusalem is part of its "eternal, undivided" capital, the Palestinians who are born and live there do not hold Israeli citizenship, unlike their Jewish counterparts." it is totally dishonest.
All Palestinian residents of Jerusalem have been offered the option of choosing either Israeli citizenship or permanent residence and increasing numbers of Palestinians in eastern Jerusalem have been taking the citizenship option lately--it is still open to all of them so this claim suggesting that they are denied citizenship is fundamentally dishonest.  Nor are the article's descriptions of the circumstances under which eastern Jerusalem Palestinians could be stripped of their residency permits any more accurate than was the claim about their right to citizenship. There is more than enough to criticize about the policies of the Israeli government without inventing falsehoods like these, but Israel haters seem to think that any lie is justified in their war against Israel.
Stan Nadel
"Modern *otium *would include a mixture of productive activity (about which more below) as well as a fair amount of lollygagging. Rather than considering supposedly time-wasting pursuits in a negative light, we could assert that they are an essential aspect of human experience to which everyone is entitled, as Paul Lafargue argued over a century ago in "The Right to Be Lazy".
My fundamental observation of everyday life under "really existing socialism" (the former Czechoslovakia) is pretty well described here. People did not work hard, seemed pretty relaxed and spent a lot of their generous leisure time socializing with friends and family in gardens and country shacks. Indeed, once capitalism was restored, employers complained that Czech workers had "learned to be lazy" under socialism.
Mike Munk
Portside provides a valuable service in our present dark ages and  although there are lots of sites out there that I could turn to for information on progressive issues, Port Side is where I get the greatest quantity of news and information that I find most interesting and useful in my life, again, thanks again for all your hard work, I hope in the future I can do more to help, all the best, 
Mike Liston, Beijing 
There will be no Tidbits April 5 and April 12
My Lai:  Never Again  --  A Public Appeal for Moral Responsibility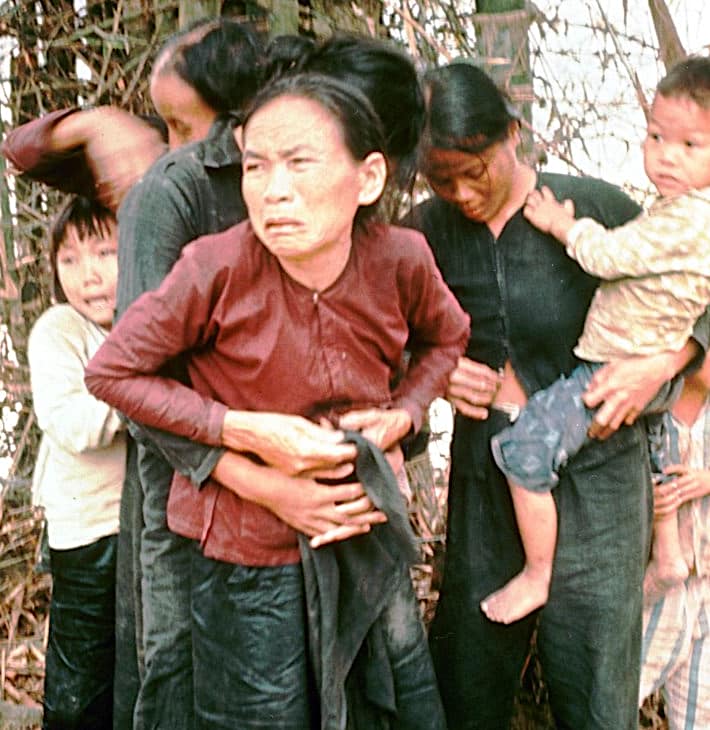 We call upon the moral leaders and elected officials of the United States to take appropriate notice of the 50th anniversary of the My Lai massacre on March 16th, 2018.
 
To their and our enduring shame, US soldiers deliberately killed 504 innocent civilians, including women, children and grandparents. More would have died but for the bravery of a US helicopter crew led by Hugh Thompson. The Pentagon successfully hid the story for twenty months until publicly exposed by Ron Ridenhour and Seymour Hersh. Only Lt. William Calley was held responsible by court martial, but was simply confined to quarters until paroled after three and a half years.
The 50th anniversary of My Lai is an appropriate time not only to honor the victims and the opponents of that infamous event, but also to recall less known and still unknown atrocities of the war. We must also acknowledge the immorality inherent in foreign interventions that continue to impose the mass destruction of modern weaponry and armed forces into traditional village life.
This anniversary is an occasion for our nation to begin to address the millions of deaths of innocent civilians during the American war in Viet Nam, Cambodia and Laos and to take responsibility for the ongoing humanitarian legacies from land mines, unexploded ordnance and the defoliant Agent Orange.
We call for public vigils at noon on Friday, March 16, 2018 nationwide and at the White House.   
Weekend religious services should include attention to My Lai and similar massacres and the moral obligation to heal the enduring wounds of war.     
Educational programs should offer veterans an opportunity to speak of their own experiences as done courageously during the Winter Soldier hearings.     
We urge the United States government to release all archived information about atrocities by US forces that occurred in Vietnam, Laos and Cambodia and to increase humanitarian and medical assistance to help people still affected by the war in Indochina and in the US.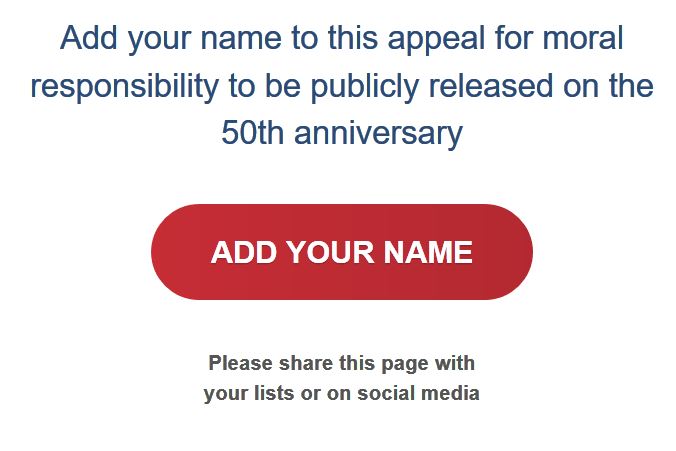 Click here to Add Your Name
Vietnam Peace Commemoration Committee
International My Lai Commemoration - March 16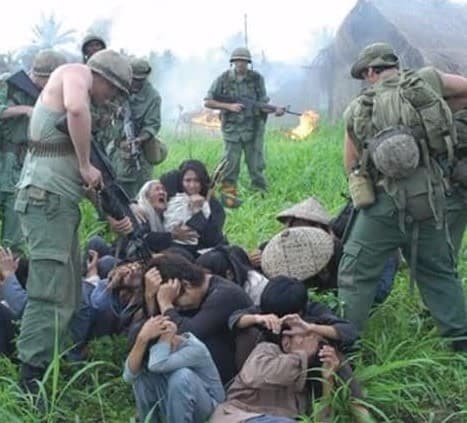 This coming March 16 is the fiftieth anniversary of the massacre of over 500 Vietnamese civilians by U.S. troops at My Lai. H-PAD calls on its supporters to join others in remembering and denouncing  this war crime. Two H-PAD Steering Committee members, Ellen Schrecker and James Swarts (part of the Veterans for Peace delegation) are in Vietnam and will be attending the Memorial Observation in My Lai on March 16th. 
The H-PAD Steering Committee is supporting Vietnam Peace Commemoration Committee's statement, "My Lai:  Never Again -- A Public Appeal for Moral Responsibility".  We wrote in response, "Statement on the 50th anniversary of the My Lai massacre by Historians for Peace and Democracy", which will be read at the Vigil to Commemorate My Lai, Friday, March 16, in Washington, D.C.,  across from the White House.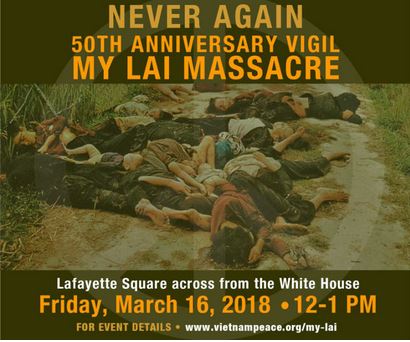 Please consider signing the Commemoration Committee's appeal at, and also the Veterans for Peace statement, "Open Letter to the People of Viet Nam by Veterans for Peace".
Finally, we ask you to participate in events commemorating the 50th Anniversary of the My Lai Massacre on March 16, or, if possible, organize a vigil or other event of your own.
Andor Skotnes, Margaret Power, Van Gosse,  H-PAD Co-Chairs
(Historians for Peace and Democracy)
The My Lai Massacre: Reflections and Lessons, A 50th Anniversary Conference - New York - March 16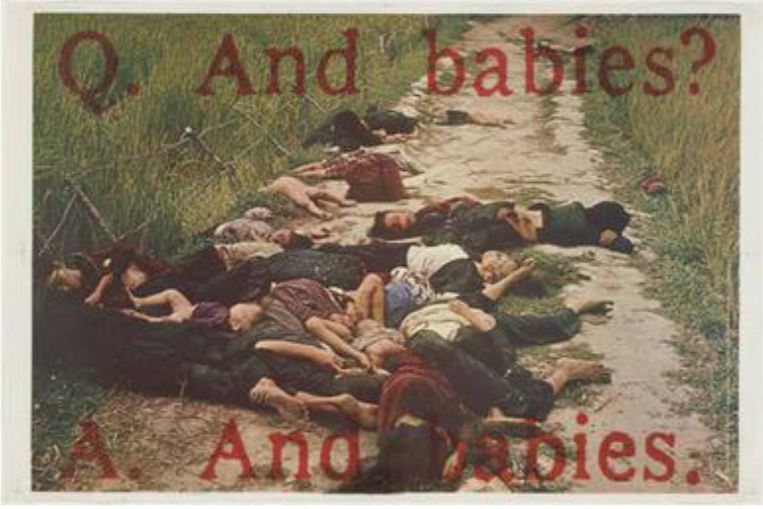 On March 16th, 1968 , over 500 Vietnamese men, women and children were killed in the hamlets of My Lai-4 and My Khe in Quang Ngai Province by American soldiers in what became known as the MY LAI massacre, the most notorious atrocity in the Vietnam War. The events were immediately covered up and were not revealed for over a year. Eventually over two dozen enlisted men and officers up to the rank of Major General were investigated for the killings and cover-up.
On March 16th, 2018, these events will be explored in a conference at Columbia Law School:
THE MY LAI MASSACRE: REFLECTIONS AND LESSONS, A 50TH ANNIVERSARY CONFERENCE
Speakers include: 
Rev. Donald Shriver, president emeritus of the Union Theological Seminary;
Kenneth Raby, military defense counsel for Calley, 
William Eckhardt, lead prosecutor of Captain Ernest Medina;
Howard Jones, Professor Emeritus of the University of Alabama and author of My Lai: Vietnam, 1968, and the Descent into Darkness; 
Richard Hammer, former NY TIMES reporter who covered the My Lai Court trials; 
Peter Stremiskis, member of the PEERS commission investigating the massacres, 
Peter Range, former Time magazine reporter who covered the trials; 
John Prados, National Security Archives, author of Vietnam: The History of an Unwinnable War, 1945-1975; 
Michael MacPherson, Veterans for Peace
and other journalists ,scholars, activists and veterans.
March 16th, 2018
8:30 a.m. (coffee), 9 (panels)
Columbia Law School
room 101 Jerome Greene Hall
435 W. 116th St (corner Amsterdam Ave)
NY, NY 10027
Further information: check the Columbia Law School Events website
The event is free and open to the public
Join the Global Call for Peace - March 18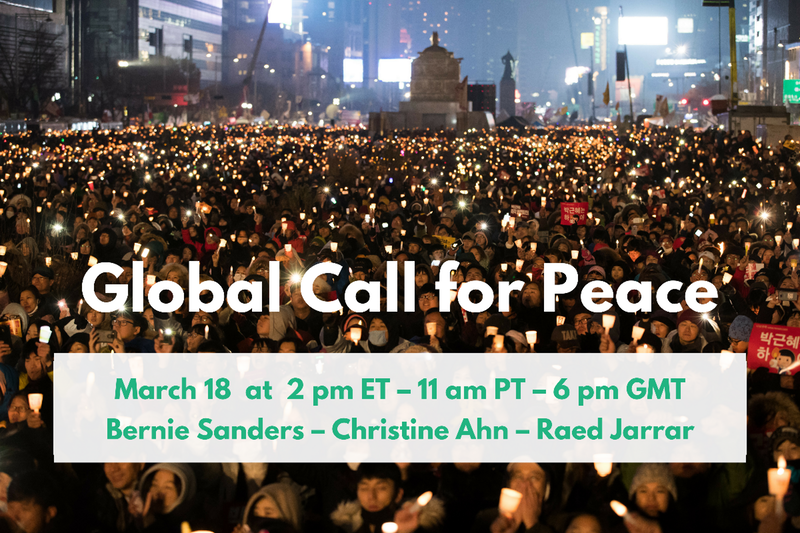 Who will be on the call? Thousands of people from over a dozen countries, with special guests: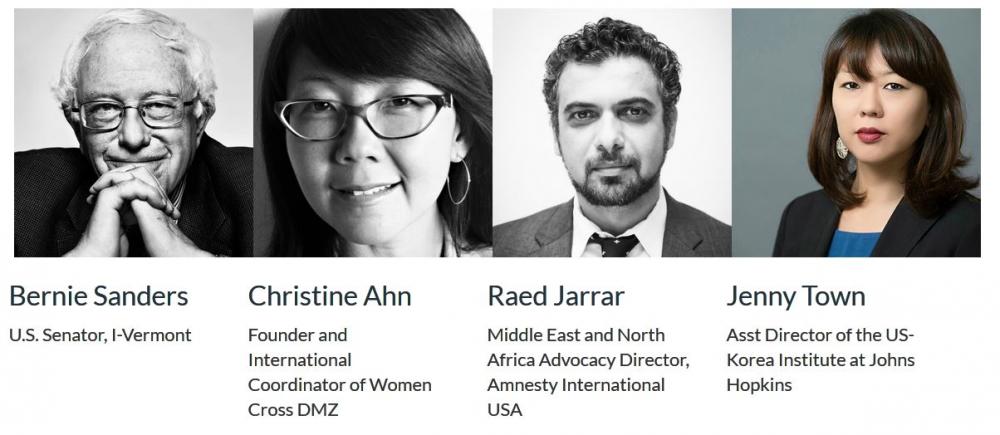 The Emergency
After months of personal insults, military deployments, escalating sanctions, and threats of nuclear war, Donald Trump and Kim Jong-un have suddenly agreed to an unprecedented direct meeting. This unexpected twist fills many of us with both hope and fear. Will Trump really use these historic talks to open up a true path to peace? Or will he use them to provide cover to justify an even more relentless rush to war?  
One thing's certain: The stakes are far too high to sit back and wait for an answer. As the White House staff formulates their approach, the American people must immediately demand nothing less than a sincere diplomatic initiative, which delivers a strong and lasting peace. And people around the world must stand together in solidarity. The threat of war affects us all, and the call for peace must come from everywhere.
The Global Call for Peace 
On March 18—just two days before the 15th anniversary of the invasion of Iraq—thousands of people from many nations will gather for a live video call to discuss our common situation and how we can tip the balance toward peace. Raed Jarrar of Amnesty International will share his lessons watching from Iraq as the "coalition of the willing" rushed into a tragic and preventable war. Christine Ahn, leading activist for peace in Korea, will discuss the situation on the ground in Korea and share insights about what successful diplomacy would require and what people everywhere can do to help. Senator Bernie Sanderswill talk about how American and global people's movements can shift the equation in Washington before it's too late. 
The call is hosted by OPEN, a global network of progressive grassroots campaigning organisations in nearly 20 countries, who will be joined by allied groups around the world. We'll share our message of solidarity and discuss how we can work together in the months ahead.