Interview: 'White People Are So Fragile, Bless 'Em' … Meet Rhiannon Giddens, Banjo Warrior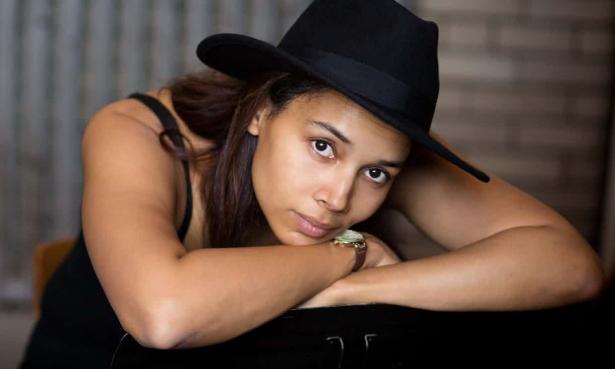 'I'm not here to be famous' … Rhiannon Giddens, who is curating the Cambridge folk festival. ,Photograph: Tanya Rosen-Jones // The Guardian
She pours fire and fury into powerful songs that target everything from police shootings to slavery. The musician reveals all about her mission to put the black back into bluegrass – and Shakespeare.
We're all racist to some degree," says Rhiannon Giddens. "Just like we're all privileged to some degree. I have privilege in my system because I'm light-skinned. I hear people say, 'I didn't have it easy growing up either.' But when did it become a competition?"

As someone on a mission to bridge such divides, Giddens thinks about this stuff a lot. The Grammy-winning singer and songwriter was born to a white father and a black mother in Greensboro, North Carolina, in the late 1970s. Her parents married only three years after the landmark Loving v Virginia decision, which reversed the anti-miscegenation laws that had made interracial marriage illegal. Their union was still shocking enough that her father was disinherited.
While much has changed in the 40 years that Giddens has been alive, her latest album, Freedom Highway, is a powerful testament to the inequality and injustice that remain. It opens with At the Purchaser's Option, a devastating track inspired by an 1830s advert for a female slave whose nine-month-old baby could also be included in the sale. "It was kind of a statement to put that one first," says Giddens. "If you can get past that, you'll probably survive the rest."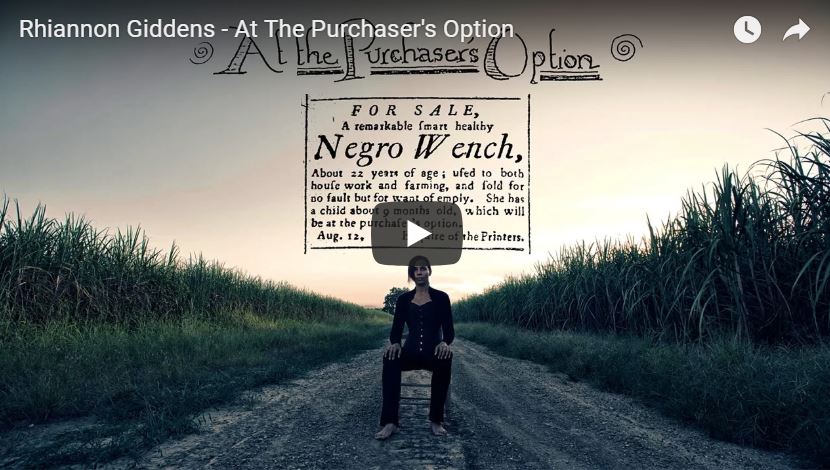 Listen here.
Other songs span various aspects of African American history, from the civil rights era to Black Lives Matter, while revealing the breadth of her musical influences. Soul, blues, gospel, jazz, zydeco – her versatile voice wraps itself around them all. It also proves a wonderful counterpoint to her nephew Justin Harrington's rap on the funky Better Get it Right the First Time, a song she wrote in response to police violence ("Did you stand your ground / is that why they took you down?"). The lyrics came tragically close to home when she performed it in Dallas just a few days after the shooting of 15-year-old Texan Jordan Edwards, who, like the song's protagonist, was a bright young student shot dead as he left a party with friends.
"People say, 'I'm tired of thinking about race, it's a drag.' Yeah, well, welcome to my life! I don't care who you are. We have the time and the headspace for this stuff. The least you can do is take a moment."
Giddens has become known for her brave and articulate works and words. Her group the Carolina Chocolate Drops, in which she plays banjo and fiddle, won a Grammy for their inspired revival of black string-band music, while her combination of musicianship and musical activism has earned her multiple prizes, including comedian Steve Martin's Award for Excellence in Banjo.
In 2015, Giddens' solo album Tomorrow Is My Turn introduced her powerful voice – she trained as an opera singer – to a mainstream audience. That album included only one original song, Angel City, but its compilation of covers showcased her virtuosity. Intimate renditions of folk ballads sat alongside brassy, Broadway belts; and there too, Giddens made a point of recognising forgotten female artists such as Geeshie Wiley and Elizabeth Cotten. It earned her the BBC Folk award for singer of the year.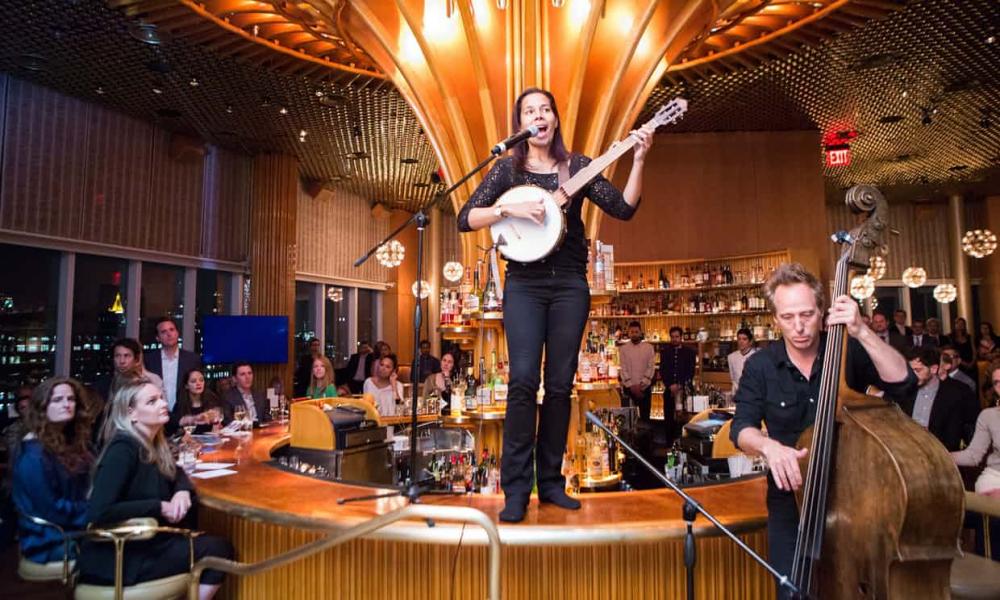 Her fame grew even wider thanks to a recurring role in the TV series Nashville. Now her status is underlined by the fact that she is curating next month's Cambridge folk festival, which will showcase a number of female artists of colour, including Britain's Yola Carter, Canada's Kaia Kater and Tennessee's Amythyst Kiah. Also on the bill is her great hero Peggy Seeger. "She's an amazing example of an uncompromising individual, with unbelievable amounts of compassion."
Giddens' own Cambridge set will be her last live date for some time. Last October, she was awarded a prestigious MacArthur fellowship, which gives "individuals who show exceptional creativity" a no-strings-attached $625,000. This will allow her to spend more time with her five-year-old son and eight-year-old daughter in Limerick, Ireland, where they attend a Gaelic school. She is separated from their Irish father. "My stuff lives in Nashville," says Giddens, "but I live wherever my children are."
We meet less than 24 hours after she has landed at Shannon airport. "That is why it's such a mess," she says, waving at the firetruck and other toys on the living room floor.
The belief in music as a space where people can set aside their differences is sacred to Giddens. The MacArthur grant has allowed her to continue to tell the stories that inspire her – in particular, to reclaim narratives and restore voices to the ignored or silenced. She particularly enjoys collaborations. One recent project came about when choreographer Paul Vasterling, the CEO of Nashville Ballet, introduced her to the poems of Caroline Randall Williams, whose works explore the theory that Shakespeare's dark lady sonnets were written about a black madam in London.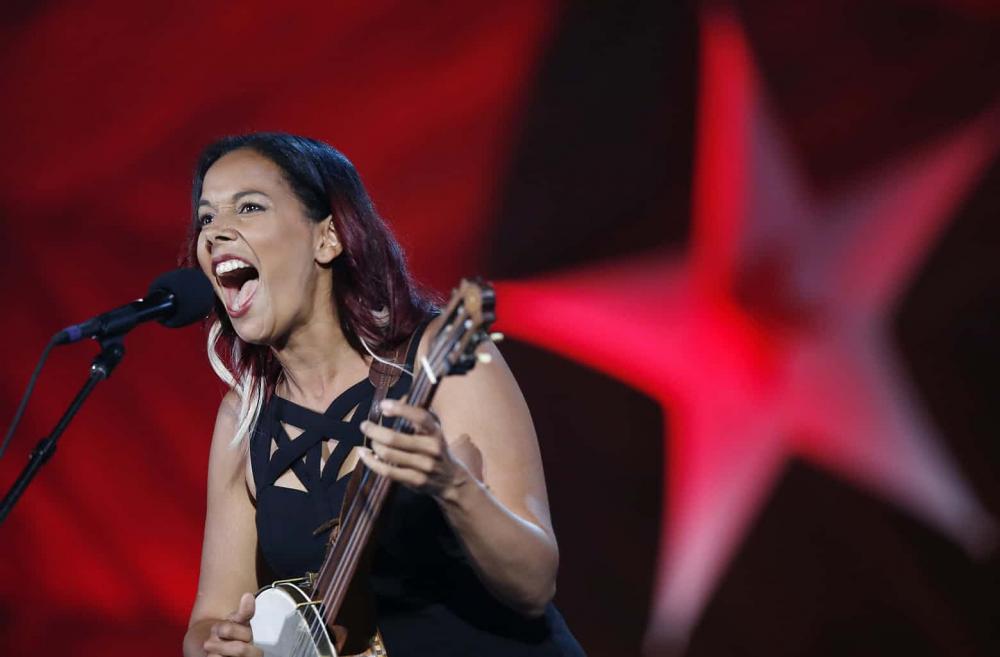 The poetry inspired Vasterling to write a ballet, Lucy Negro Redux, for which Giddens is writing the music. "The ballet includes both the black Lucy character and Shakespeare's fair youth," says Giddens. "So you have a man and a black woman inspiring some of the most beautiful poetry in the English language."
She's also researching minstrelsy, hoping to reclaim a genre that has become associated, in both the US and the UK, with blackface performance. "When you look into the minstrel band in the US and you see banjo, fiddle and tambourine, you might think they're all 'white' instruments. But the banjo is from Africa, there are one-string fiddles all over the world, and the tambourine comes from frame drums that were brought up from north Africa through the Middle East and Italy. That's world music right there. Musical and cultural ideas have been crossing over for ever. My projects are all going towards the theme, 'We're more alike than we're different.'"
Perhaps the most exciting prospect, though, is a musical that will tell the story of the 1898 Wilmington Massacre, when white supremacists in North Carolina murdered the town's black elected leaders in what Giddens describes as "the only successful coup d'etat on American soil". It's a project she is passionate about, and she has enlisted the help of Dirk Powell, her songwriting partner on Freedom Highway. Finding financial backing for the project, which won't be finished before 2020, will be half the struggle, she admits.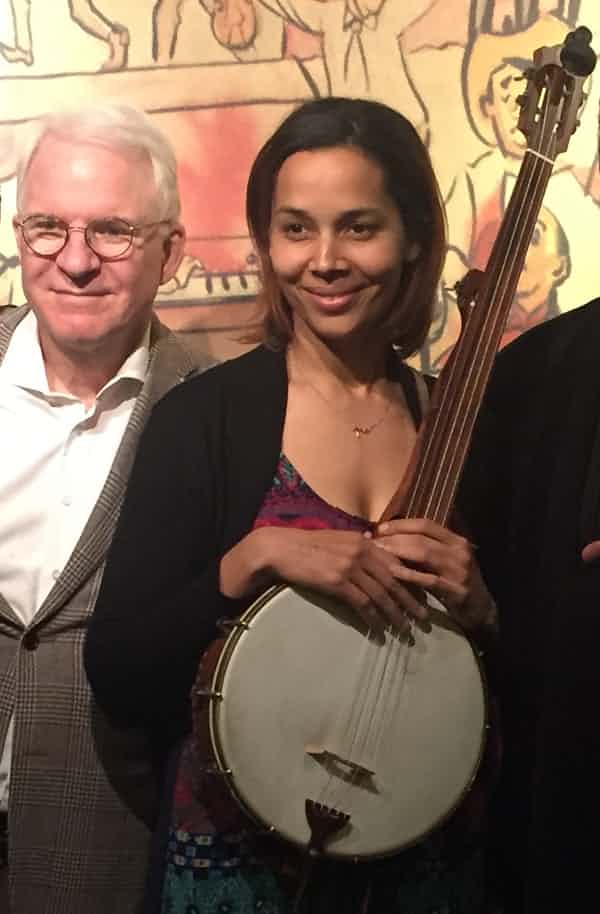 One curious issue for the singer-songwriter is her audience: it's largely white. "Trying to penetrate the black community has been really difficult," she says. "It's not enough to produce the work – you then have to connect it to the audience. Like the ballet: the lead ballerina is black. Here's an opportunity for black girls to connect with someone on stage who looks like themselves. So what can be done to get them among this audience?"
To this end, she hopes to get more involved with the production side of the industry, just as curating the Cambridge folk festival gave her a way to exert some influence. She has often felt that Britain appreciates the breadth of American roots music more than the US. "I love the UK folk scene. In the States, nobody knows what to do with me. There's still a very narrow definition of Americana." 
The term, says Giddens, often simply means "the singer-songwriters who got pushed out of commercial country". Unlike many country stars, Giddens has no intention of plundering her personal life for songs ("Although you can call me out on that in 10 years' time"). Nor does she seem particularly interested in self-glorification. "I don't even wear makeup any more," she says. "When I did the Letterman show, I looked like a barbie doll. The older I get, the more I realise I'm not here to be famous. I'm here because of the mission and the voices."
In a provocative speech at the bluegrass industry's annual awards last September, she asked: "Are we going to acknowledge that the question is not how do we get diversity into bluegrass, but how do we get diversity back into bluegrass?" Giddens believes the true African American experience still isn't taught in schools. "I made it through an entire year of North Carolina history and never heard about the Wilmington Massacre. It's not a story people want to tell, because nobody wants to face the facts of how horrible it was."
She pauses. "White people are so fragile, God bless 'em. 'Well, I didn't own slaves.' No you didn't. Nobody is asking you to take personal responsibility for this. But you're a beneficiary of a system that did. Just own that and move on."
Rhiannon Giddens is the guest curator of the Cambridge folk festival, 2-5 August. 
[Emma John is a former deputy editor of the Observer Magazine. Twitter @em_john]