Tidbits - Nov. 8, 2018 - Reader Comments: 2018 elections, Voter Suppression, Georgia; Racism and Anti-Semitism; Contemporary Music and Theme of Work; Military Budget; US Foreign Policies and Wars; Toward Racial Justice; Announcements...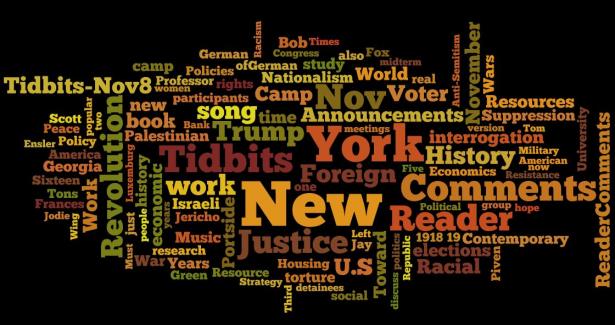 Tidbits - Reader Comments, Resources and Announcements - Nov. 8, 2018,Portside
Resources: 
Announcements:
Meet the new faces of Congress
 
Today, in contrast to the GOP #CultureOfCorruption, America elected candidates who ran on an inspiring vision to make government work for the people again. Here's what some of the new faces of the US House of Representatives will look like: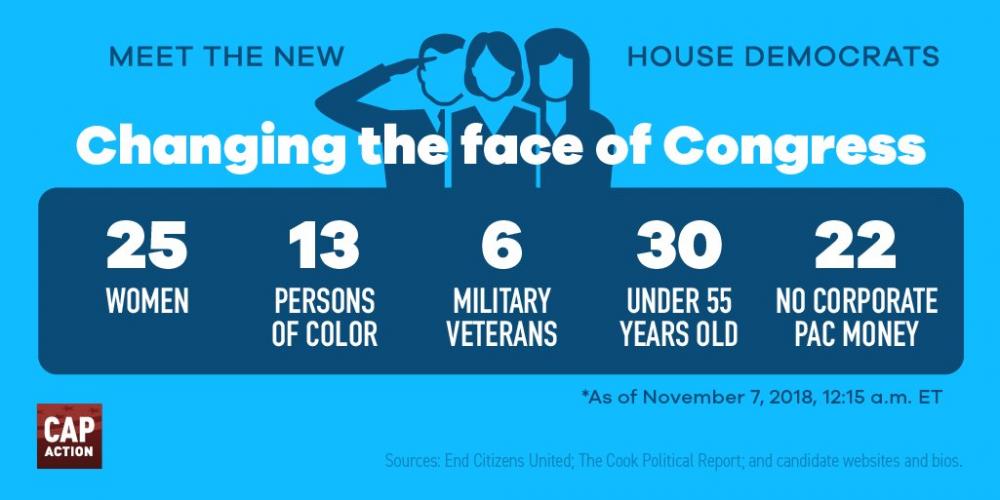 Re: The American Civil War Didn't End. And Trump is a Confederate President
 
The copperhead president
Bill Doar
Re: Voters in Georgia Must Be Allowed to Vote
 
In a just society, this wouldn't even be an issue
Scott Banks
Posted on Portside's Facebook page
Voter suppression 21st century  --  cartoon by Tom Toles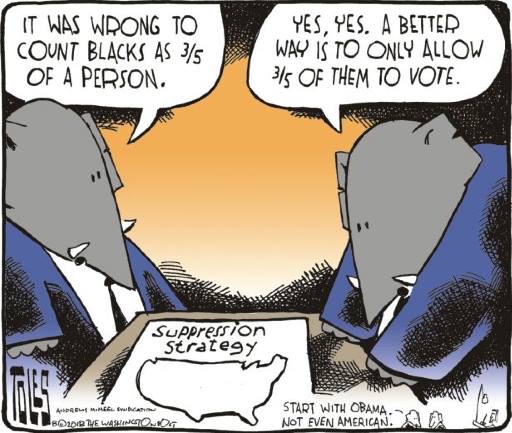 Tom Toles
Washington Post
Re: 55 Years Ago, Someone Blamed a Bombing on a Racist Politician
 
Aside from his spelling and ability to speak in complete sentences, George Wallace was a lot like Donald Trump. His racist rhetoric fueled his constituents. His presidential campaign slogan "Stand Up for America" was the 1968 version of "Make America Great Again." He told followers at his rallies to attack people and had protesters dragged out of his rallies. He claimed he was standing up for his base and white resentment. But most of all, he invoked hate and racism. And the hate and racism he invoked encouraged the perpetrators of the 1963 Birmingham Church bombing that killed 4 children.
Kay Smiley
Posted on Portside's Facebook page
Re: Our Fights are Connected; Our Resistance Must Be Intersectional
 
Thank you so much for this powerful statement.  It speaks to my soul. We are committed to the work.
Nelson Johnson,
Beloved Community Center- Greensboro NC.
Contemporary Music and the Theme of Work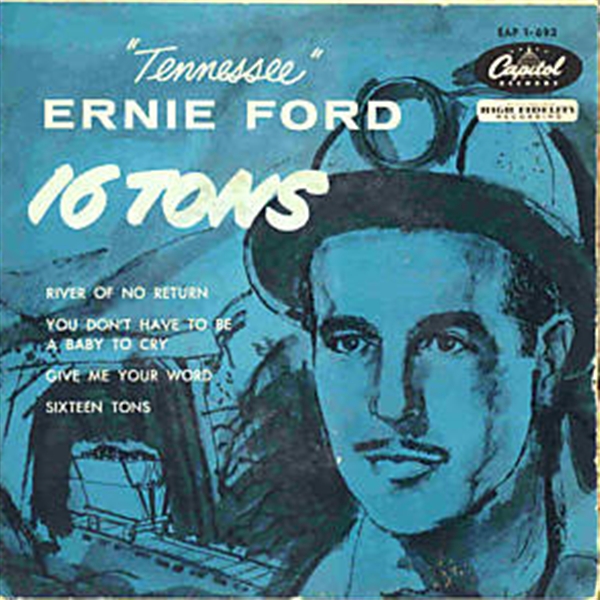 Singing Hard Times: Working Life in Five Songs 
By Constance H. Gemson
Work was once carefully defined with nine to five with the option of overtime. Life seemed set. The fifties were a docile decade. The music of this time featured lilting lyrics but soon different days were in store.
Merle Travis's Sixteen Tons grim coal miners' song was recorded in 1946. Travis used his brother John's phrase, "sixteen tons and what do you get, another day older and deeper in debt." Merle's father often said, "I can't die, I owe my soul to the company store." Merle's song did not feature the dreamy romantic ballads so popular during that time. His tune seemed like a dirge. Tennessee Ernie Ford's somber version became number one on the Billboard's chart in 1955. Frankie Lane's version was popular but only released in western Europe. Elvis Presley sang Sixteen Tons in concerts but never included it in a record. The Weavers sang this selection. Their compelling harmony combined lively spirit and idealistic politics. Ford's mournful quality was missing. Tom Jones chose Sixteen Tons for his album, The Green, Green Grass of Home. Stevie Wonder celebrated his Motown spirit when he recorded this song in his album, Down to Earth. Johnny Cash 's highlighted Sixteen Tons in Johnny Cash is Coming to Town. On March 15, 2015, Ford's version was included in the Library of Congress National Registry.
Allen Reynolds, a song writer and producer wrote the forlorn lyrics of Five O' Clock World. The tune was somehow upbeat. The Vogues were the singing group. This 1965 lyric stated: "Up every morning just to keep my job, gotta find my way through the hustling mob." Like Arthur Miller's Willie Lowman we only have a vague sense about the singer's work. This song finished as the whistle blew and the day's shift ended. Then, a brief freedom begin with "a long-haired girl who waits, I know to ease my troubled mind. In the shelter of her arms, everything's okay. She talks and the world keeps slippin' away. And I know I can go on, when every other reason is gone."
Work was controlled, directed and managed by someone else. Another popular song described the women's side of this work divide. Dolly Parton wrote the angry tune and lyrics in 9 to 5. Unlike the male leads of Sixteen Tons and Five O' Clock World, Dolly sang with gusto. "Working nine to five what a way to earn a living. Barely getting by with all taking and no giving. They just use your mind but never give you credit. It's enough to drive you crazy if you let it." This 1981 popular song was featured in the movie of the same name. There is a possibility that this movie may updated for today's world.
Shelia Easton, from Scotland released a song with the same title, just months before Parton's hit. For the United States market the title changed to Morning Train: Nine to Five, with a passive female waiting endlessly for her man to come home. The words featured a traditional sensibility not present in other selections. Florrie Palmer was the song writer.
Tracy Chapman examined work differently. In her 1988 debut album, she became famous with her wistful song, Fast Car. "You got a fast car. I need a ticket to anywhere. Anywhere is better." Chapman told about a check out girl in a convenience store. Both the singer and her partner lived in a shelter. What were her plans for "something better?" Realism ruled. Her fictional father had a history of drinking "he lives with the bottle that's the way it is. "Drinking was also important to her companion who spent most of the time at a bar. In this song, Chapman still believed in a fast car to arrange for a getaway. These words made the happy future seemed elusive. Chapman's reality was different. She graduated from Tufts University in 1987. She performed at Nelson Mandela's seventieth birthday party. Her music expressed a black and feminist viewpoint.
Current songs emphasized fantasy, dreams and desires. Today's tunes seemed to have less interest in work and its discontents. How can we sing new songs about life today,. How can our music reflect our lives. When can we create our power? 
[Constance H. Gemson is a New York City based writer and an active member of the Professional Staff Congress ]
Illegal to Use Soldiers for Domestic Police Actions - Former Army Counsel Jill Wine-Banks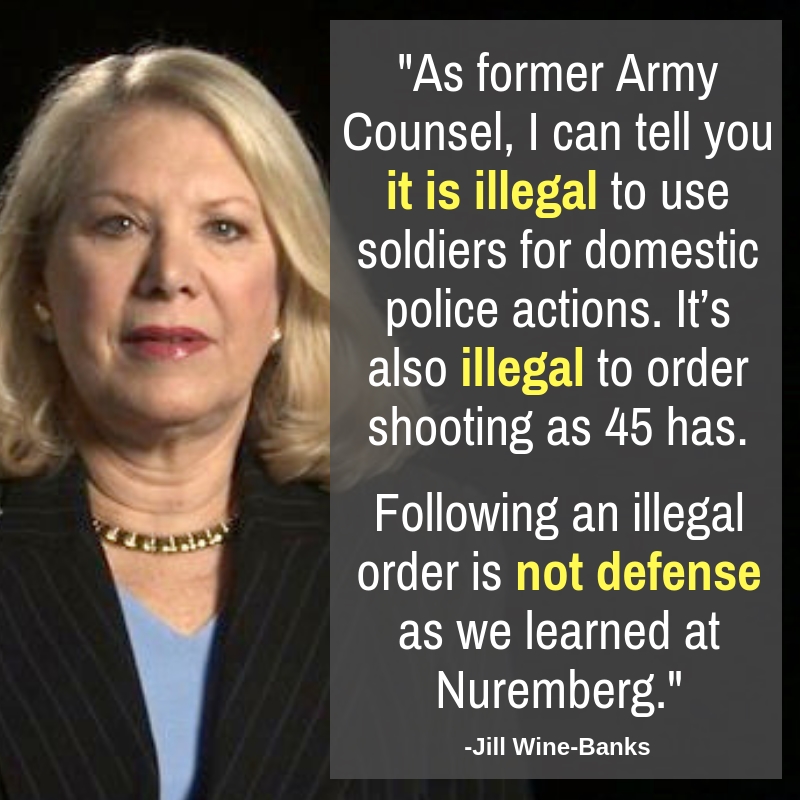 Re: How Democrats Can Reverse Years of Voter Suppression
 
EXCELLENT and THOUGHTFUL article. MUST Reading!
Mike Glick
Posted on Portside's Facebook page
Re: The Pittsburgh Synagogue Shooting Is the Inevitable Result of Trump's Vile Nationalism
 
I watched Trump parody a body slam to a journalist given by a Republican candidate and the audience laughing as he declared "that's my man". He throws out slurs and barely disguised threats and then labels as OUTRAGEOUS any suggestion that he might have had something to do with the violence that follows. Well, if he thinks his words don't have any effect, why is he out campaigning?
Roberta Histed
Posted on Portside's Facebook page
     =====
Good point! Roberta, I am a officially a Republican and a conservative, although I have been moving much closer to the center in recent years. I am horrified by what has happened to the party of Lincoln and other great Republicans, along with what is happening to our country. The alt right puts out fake news daily, then falsely accuses the left and "never Trumper Republicans" of doing the same thing. We have seen neo Nazis coming out of the closet like never before. I am currently reading yet another book about fascism, and I am once again chilled at my core with the realization of what is happening.
Scott Harrington
Posted on Portside's Facebook page
     =====
Scott Harrington yes. It can be a real shock to discover that the gov't that you believed was there to guide and protect is actually manipulating and dividing. Since I am an optimist, I have come to see what is moving into the open now as an opportunity for us to look at what is meaningful and important in our lives, in society, in community, and work out what we can do to build that. Humanity has wasted an awful lot of time repeating deleterious behaviours.
Roberta Histed
Posted on Portside's Facebook page
Re: This Isn't the First Time White Supremacists Have Tried to Cancel Birthright Citizenship
 
The difference of today's effort to maintain birthright citizenship is that the Republicans have the majority of the supreme court judges. If they know and respect the constitution they will act correctly but do they want to go against Trump. That's the real question.
Alice Henriquez Rosado
Posted on Portside's Facebook page
     =====
"In a little-known episode from World War II, nativist agitators who had led earlier efforts to exclude Asian immigrant communities—and paved the way for Japanese American incarceration—attempted to strip U.S.-born Nisei of citizenship," - Portside https://portside.org/2018-11-03/isnt-first-time-white-supremacists-have…
Making Contact
Posted on Portside's Facebook page
Re: The Yemen Crisis, Khashoggi, and the Deadly Saudi Arms Trade
 
The murder of Khashoggi demonstrates to me that the Crown Prince is a ruthless psychopath, which is very dangerous. The Royal Family should replace him. The other shocking detail is that while Trump was reciting publicly what the article mentions, the arms deals made by the US with Saudi Arabia and the number of jobs they involved in the U.S., he denied knowing at that time about the details of the murder and who had committed it. This was a lie! The Crown Prince himself called Kushner the day after the murder became known to tell him it had happened in some detail, so while the Saudi government was denying its direct involvement and was making excuses, the Trump family knew the Saudi prince was involved and said nothing.
Laurel MacDowell
Re: Pentagon Socialism Militarizing the Economy in the Name of Defense
 
Save the b.s. USA MILITARY and MONEY is what they defend.
Leslie Lance
Posted on Portside's Facebook page
     =====
The USA is repeating the error made by the USSR..
Gordon Galland
Posted on Portside's Facebook page
     =====
The military-industrial complex Eisenhower warned about.
Maxine Conant
Posted on Portside's Facebook page
Educational Resource - In-depth Background on U.S. Foreign Policies and Wars (U.S. Foreign Policy History & Resource Guide)
 

This is to inform you of an educational resource that provides in-depth background on U.S. foreign policies and wars from a peace-oriented, critical perspective. The latest essay on the U.S. Foreign Policy History & Resource Guide looks deeply into the origins of U.S. involvement in the World War One, unpacks President Woodrow Wilson's idealistic justifications for entering it, and charts the efforts of peace advocates. Authored by Charles F. Howlett, Jeremy Kuzmarov, and Roger Peace, the essay is written for the general public and students, synthesizing the work of many historians. 
The website is sponsored by the Peace History Society and the Historians for Peace and Democracy. This resource may come in handy in any articles reflecting on the 100th anniversary of the end of WWI.
Roger Peace 
Website coordinator, U.S. Foreign Policy History & Resource Guide
Toward Racial Justice and a Third Reconstruction - New Book and Website by Bob Wing
 
I hope this note finds you well after the bruising midterm elections. The energized Democrats scored some major victories in the House and in the states, but Trump also managed to spur his base to increase the Republican hold on the Senate. The rabid polarization of this country was on full display and is likely only to deepen in the coming years. We must build on our hard-won accomplishments and organize, organize, organize if we are to defeat Trump, Trumpism and the far right.
In this light, I am pleased to announce that my new book, "Toward Racial Justice and a Third Reconstruction," is now available at LULU.COM and that my new website is now online. I hope you will check them out and share with your friends, family and colleagues.
Here is what Angela Davis, Anthony Thigpenn, Andrea Mercado and Jeff Chang have to say about my book:
"This collection of Bob Wing's always insightful writings from the last two decades allows us to trace recent challenges of left movements and to reflect on how we defeat Trump and the ultra right he has emboldened in the years to come."
---Angela Y. Davis, Distinguished Professor Emerita, History of Consciousness and Feminist Studies, University of California, Santa Cruz
"Bob Wing's Toward Racial Justice is crucial reading for social justice organizers and movement leaders, especially in this most consequential period of U.S. history."
---Anthony Thigpenn, President, California Calls
"In these incisive, original essays Bob Wing applies the hard-won lessons of his five decades in organizing to offer us powerful paths forward."
--Jeff Chang, author, We Gon' Be Alright: Notes on Race and Resegregation
"This book is a critical resource for anyone seeking to make desperately needed change."
--Andrea Mercado, Executive Director, New Florida Majority
Thanks for all that you do,
Bob Wing
I've Been There - A study of torture and inhumane treatment in al-Mascobiyya interrogation center
 
For 26 years, Addameer Prisoner Support and Human Rights Association has documented violations against Palestinian prisoners and detainees in Israeli prisons and interrogation centers. As part of this work, the following study is a crucial part of Addameer's continuous efforts to document and expose the violations carried out by the Israeli General Security Services "Shabak" against Palestinian detainees during interrogation in one of the most infamous Israeli interrogation centers, known as the Russian compound "Al-Mascobiyeh".
This study aims to shed light on the torture, inhumane treatment, and violations occurring in Al-Mascobiyeh within a comprehensive, legal framework, starting from the early moments of arrest, and continuing up until arrival in the detention center and the proceedings prior to interrogation. The study also focuses on the interrogation itself by detailing the methods practiced by Shabak interrogators.
Mistreatment in Al-Mascobiyeh is not only witnessed in interrogation rooms, but rather is an integrated system operating to terrorize and break the detainees' spirit. Such mistreatment includes placing the detainee in solitary confinement, and exposing them to sounds of torture from neighboring cells, while being held in cells that don't meet the minimum standards of adequate human living.
The study indicates that these practices are integral to the overall operation of Israeli state institutions. They represent a coordinated system, operating through judges, prison wardens, and legislators, serving the Shabak in incriminating Palestinian detainees, legitimizing their torture, and overlooking complaints against them.
According to the Amnesty International Report on human rights for the years 2016 and 2017, in spite of the torture complaints filed with the Israeli Ministry of Justice since 2014, no drastic change could be detected in dealing with cases of torture carried out by Shabak interrogators. Since 2001, more than a thousand torture complaints against Palestinian detainees, including women and children, have been filed. From these, none were investigated and none of the interrogators who carried out the torture were held accountable for their actions.
Download the full report here (46-page PDF)
Addameer Prisoner Support and Human Rights Association
P. O. Box: 17338, Jerusalem
3 Edward Said Street
Sebat Bldg.
1st Floor, Suite 2
Ramallah, Palestine
Tel: +972 (0)2 296 0446 / 297 0136
Fax: +972 (0)2 296 0447
Email: info@addameer.ps
Website: www.addameer.org
The German Revolution of 1918/19 – 100 Years Later - New York - November 8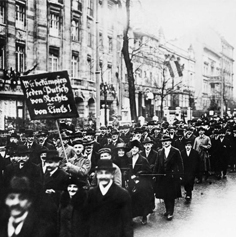 November 8, 2018  --  6:30pm
Rosa Luxemburg Stiftung—New York Office
275 Madison Ave., Suite 2114 (entrance on 40th Street)
This year marks the one hundredth anniversary of the German Revolution of 1918/19. On October 29, 1918, German sailors staged a revolt, which was soon followed by a mutiny. War-weary and hopeful for an end to the long war, the sailors demanded "Peace and Bread" (Frieden und Brot) and their uprising soon precipitated a larger revolution in Germany. By early November, several German cities were in the hands of the rebels. The November Revolution was born. The rebellious sailors, joined by soldiers and workers, now formed democratic "Workers' and Soldiers' Councils," which forced the emperor as well as the dynastic rulers of the German states to abdicate. The German monarchy was replaced with a democratic parliamentary republic, the Weimar Republic.
Given that the namesake of our foundation, Rosa Luxemburg, has played a prominent role in these events and their aftermath, we revisit the November Revolution and some of its most outstanding characters one hundred years later. At this centennial, we have invited three prominent scholars to speak on a panel to assess the historical legacy of the German Revolution, discuss unresolved political questions and controversies, and tackle persistent myths as well as attempts to romanticize it.
Historian Mario Kessler of the Center for Contemporary History in Potsdam will set the stage by providing a general overview of the events of the November Revolution, focusing on the workers' and soldiers' councils and their attempts to eliminate the old class rule in order to establish real social and civil liberties under the policy of the Majority Socialists (the MSPD). He will also discuss controversial standpoints in the work of other historians, ranging from Arthur Rosenberg's contemporary classic The History of the Weimar Republic to Bill Pelz's A People's History of the German Revolution.
Stephen Bronner, Professor of Political Science at Rutgers University, will talk about clashing visions of the German Revolution of 1918/19. Against the backdrop of mass action from below, conflict between left-wing parties, and the emergence of new institutions, this presentation will confront the unresolved institutional tension between republic and Soviets; explain the conceptual relationship between organization and spontaneity; and challenge the romance of revolution as against the material obstacles it confronts.
With few exceptions, most of the remarkable figures of the November Revolution that are mentioned in history books are men. Women are often missing from our historical narratives, archives, and collective memory. Julia Killet of the Bavarian office of the Rosa Luxemburg Stiftung addresses this looming historical silence by presenting her research on the role of women in the German Revolution of 1918/19, demonstrating their significant contributions to the war, the revolution, and the founding of the Weimar Republic.
Frances Fox Piven, What Just Happened? - The Resistance After the Midterms -  - New York - November 12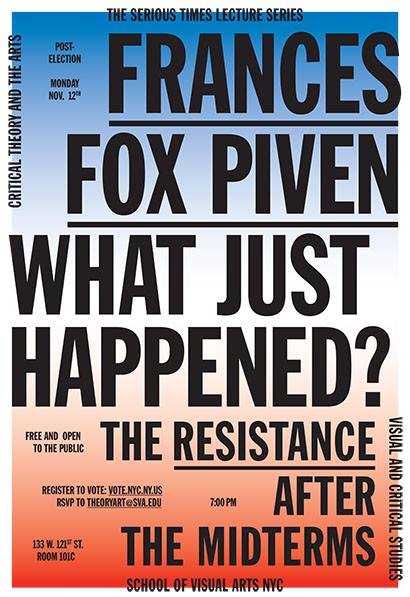 Monday, November 12, 2018 at 7 PM – 9 PM
L, 133 W 21st St
133 West 21st Street
Room 101-c
New York, NY 10011
Free - register here
The midterm elections have already produced a number of surprises and developments. In New York, incumbents have been unseated by socialist challengers; women are running for office in record numbers; the Republican party is closing ranks around the President and his politics; turnout, generally abysmal, midterm or not, has been ticking upwards.
Voter participation in the November midterm elections will be indicative of the overall attitude of the nation toward the Trump administration's policies and appointments - and of its capacity to resist. Frances Fox Piven, sociologist, activist and author of the definitive analysis of the barriers to voting in the United States, will join us a few days after Election Day for a discussion of the results, ramifications, and meaning of the 2018 midterms.
Frances Fox Piven, Professor Emerita of Politics at CUNY, was called by Glenn Beck one of the "nine most dangerous people in the world." She has been among the most incisive, humane and engaged voices on the left for decades in the struggle for voter rights, welfare rights, working people's rights, and social reform. She is the co-founder of the National Welfare Rights Organization and the author of Challenging Authority: How Ordinary People Change America, Poor People's Movements, Regulating the Poor, and Why Americans Don't Vote. Frances Fox Piven is the post-election curriculum advisor at Critical Theory and the Arts.
Hosted by SVA MA in Critical Theory and the Arts
March for Housing Justice! Fight Back Against Landlord Power! - New York - November 15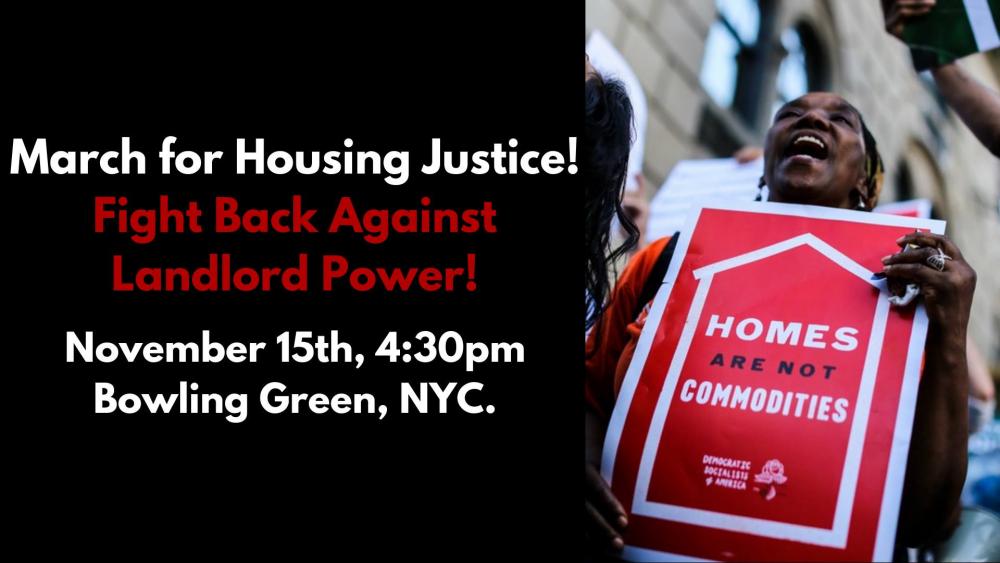 Thursday, November 15, 2018 at 4:30 PM – 7:30 PM
Bowling Green
Manhattan
From Rochester to Buffalo to Binghamton to New York City, the Upstate/Downstate Housing Alliance is building the power of tenants and homeless New Yorkers to end the housing affordable crisis in New York.
The real estate industry is the most powerful industry in New York State. They spend more money electing Albany politicians than any other industry.
The results are immoral. Rents are going up and up. Landlords are getting richer and richer. More and more people are facing homelessness.
On November 15, we are marching on the corrupt landlords who have bought off our politicians. We are telling our elected officials: It's time to chose.
Do you stand with tenants, or do you stand with real estate?
Left Economic Nationalism and the Question of Political Strategy - New York - November 20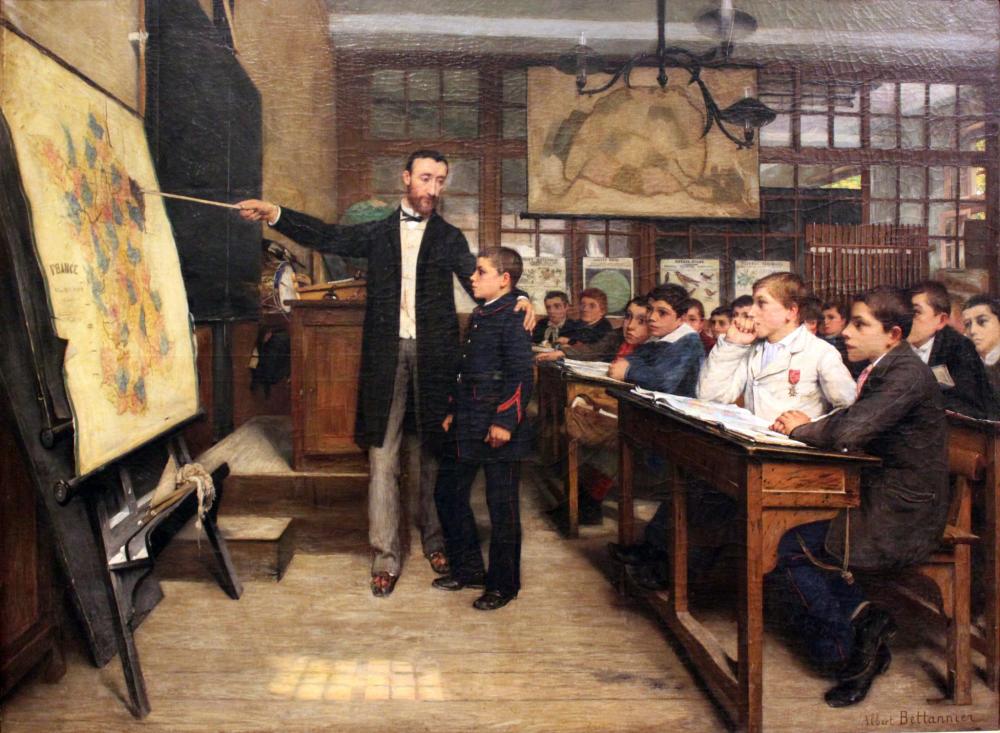 Left Economic Nationalism and the Question of Political Strategy
A discussion between Christian Parenti, J.W. Mason, and Jamie Merchant.
November 20
6:00pm to 8:00pm: Discussion
8:00pm to 9:30pm: Reception
John Jay College, CUNY
Room 9.64
524 West 59th Street
New York, NY
Please RSVP: for drinks and food for reception. This reception is sponsored by the John Jay Graduate School and the Masters Program in Economics.
The past decade of deepening crisis has dramatically remade the political terrain across the world. In country after country, support is collapsing for traditional ideas and institutions, opening the door for new forms of radical mass politics. "Socialism" is in the air once again. In this newly polarized environment, basic questions of analysis and strategy on the left are no longer merely theoretical, and now carry immediate practical consequences.
This discussion will revolve around one such key question: the nature of the national state and its relationship to globalization. Should the main goal of left politics be to reclaim national control over the economy from the forces of globalization, i.e. a program of left economic nationalism? Or should the left orient itself toward the horizon of a new internationalism based on solidarity across borders? The answer ultimately points toward the meaning of socialism today.
Christian Parenti is Associate Professor of Economics at John Jay College, City University of New York. His teaching and research focuses on social justice, environmental justice, globalization, climate change and climate justice, sustainable energy, American economic and environmental history, and political violence. He has reported extensively from Afghanistan, Iraq, and various parts of Africa, Asia, and Latin America for The Nation, Fortune, The London Review Books, The New York Times, and other publications.
J.W. Mason is Assistant Professor of Economics at John Jay College, City University of New York and a Fellow at the Roosevelt Institute. His research and teaching focuses primarily in macroeconomics, finance, economic history, the history of economic thought, and international finance and trade. Hi current research focuses on the historical evolution of debt in various sectors of the US economy, and the interface between balance sheet positions and real economic activity.
Jamie Merchant is a social theorist and the Media Director of the Center for Progressive Strategy and Research in Chicago. His research interests include the critique of political economy, psychoanalysis, aesthetics, and the history of economic thought. His work has appeared in Philosophy and Rhetoric, The Baffler, The Brooklyn Rail, In These Times, Al Jazeera, and other publications.
Talk is sponsored by the John Jay Economics Department and the Brooklyn Rail.
Fascism in the Age of Digital Reproduction: Reflections on today's Strongmen  --  Eve Ensler, Ninotchka Rosca, Lara Vapnyar, Vijay Prashad, and Jodie Evans discuss STRONGMEN at The People's Forum - New York - November 27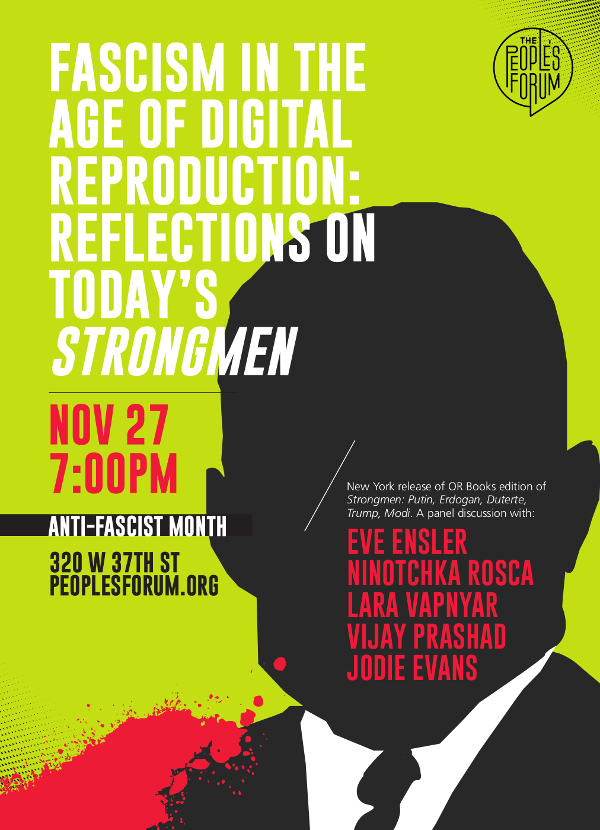 November 27, 2018 • 7:00 PM
The People's Forum
320 West 37th Street
New York, NY 10018
Join us for the New York release of OR Books edition of Strongmen: Putin, Erdogan, Duterte, Trump, Modi. Kirkus Review says of this book, 'readers seeking a literate crash course in bottom-of-the-barrel geopolitics will quickly devour this book'.
Speakers:
Eve Ensler is the Tony Award-winning playwright, activist, and author of the theatrical Obie Award winning phenomenon The Vagina Monologues, published in 48 languages and performed in over 140 countries. Ensler is founder of V-Day, the 20-year-old global activist movement to end violence against women and girls. Her new play The Fruit Trilogy ran at the Lucille Lortel Theatre in June 2018.
Ninotchka Rosca is a novelist and journalist. Her two novels—State of War (1988) and Twice Blessed (1992)—are considered classics of modern Philippine literature. She co-wrote Jose Maria Sison's At Home in the World, a book about the founding chairman of the re-established Communist Party of the Philippines.
Lara Vapnyar came to the U.S. from Russia in 1994. She is the author of the novels Scent of Pine (Simon and Schuster), Memoirs of a Muse (Pantheon), and Still Here (Hogarth) and two collections of short stories. She is a recipient of a Guggenheim Fellowship and the Goldberg Prize for Jewish Fiction. Her stories and essays have appeared in The New Yorker, The New York Times, Vogue, Harper's, and The New Republic.
Vijay Prashad s the executive director of Tricontinental: Institute for Social Research. He is the author or editor of several books, including The Darker Nations: A Biography of the Short-Lived Third World and The Poorer Nations: A Possible History of the Global South. His most recent book is Red Star Over the Third World.
Moderator:  Jodie Evans is the co-founder and director of CODEPINK and the co-founder of the after-school writing program 826LA. Jodie is the co-editor of two books, Twilight of Empire: Responses to Occupation and Stop the Next War Now: Effective Responses to Violence and Terrorism and a contributor to Beautiful Trouble: A Toolbox for Revolution.
2019 Study Tour & Volunteer Camp - Jericho, West Bank Palestine
 
TWO SESSIONS - ​13 days - 12 nights
March 30th - April 13th
October 26th - November 9th
Reduced price $1,990
(Scholarships and financial aid available)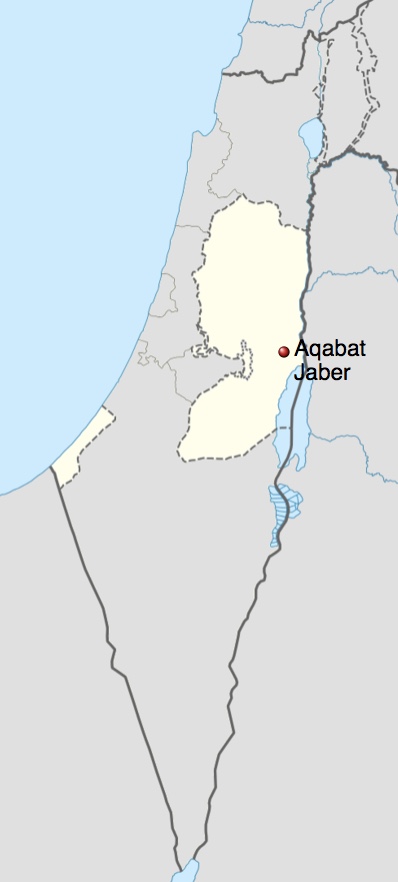 Aqabat Jaber Refugee Camp has been selected as the base for next year's Volunteer Camps due to it's key location in the West Bank. Jericho is often overlooked by visitors, or at best, visited for a half day.
The refugee camp is desperately in need of resources and hope. By embedding a group volunteers who will spend their time on useful projects with local organisations, we may be able to bring a little light into the lives of camp residents, and let them know that there are people who care. The camp will be structured to enable daily interaction between participants and local residents. 
Up to thirty participants will spend half their time on volunteer work in Aqabat Jabr Refugee Camp in Jericho, and half the time touring and participating in meetings and discussions with Palestinians and Israelis, cityfolk, villagers, settlers, experts and activists.
This intensive camp is designed to bring solidarity and hope to some of the most neglected and oppressed communities in Israel/Palestine, and help the participants become agents for change through building knowledge, developing strategies and motivation.
The project will provide Camp participants with a deep understanding of the history of the Israeli-Palestinian conflict with a focus on how the occupation has impacted the lives of Palestinians and Israelis. In particular the plight of Palestinian refugees, and the Bedouin of the Jordan Valley and Jerusalem/Judean desert will be highlighted.
Participants will conduct volunteer work with youth of the Refugee Camp through local organisations and schools. The work will be artistic in nature and involve cleanup and beautification of public spaces in the camp.  The exact scope of the work will be determined through meetings in the Autumn of 2018 with camp leaders.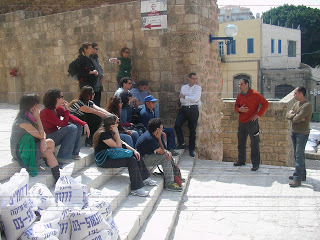 The group will meet in Tel Aviv, the cosmopolitan heart of Israeli economic and cultural life. After spending a day touring and learning in Tel Aviv and Jaffa, participants will be bused across the West Bank to Aqabat Jabr Refugee Camp in Jericho, a trip from the First World to the Third World in only 90 minutes.  The Camp is hosted at the Aqabat Jabr Hostel, by Eyad Alalem (Sami) and his  family.  
Through the interaction with the residents of the refugee camp, the participants will build relationships and deepen their understanding of the plight of the 1948 refugees and their descendants. 
Workshops, meetings and discussions will be held with Palestinian and Israeli peace activists and politicians, human rights organisations, former combatants, Bedouin villagers, and Israeli settlers. The group tour extensively for some of these meetings, to see some of the infrastructure of Occupation, and also to visit historical and religious sites.
Through these activities and daily de-briefings. the participants will gain the tools to become more effective advocates for a just peace after they return to their home countries.
Green Olive Partner and Combatants for Peace co-founder, Itamar Shapira, will take the lead in managing the camp and touring with the participants. His expertise and analysis of the situation on the ground will help make this a life-changing experience for the Campers.
Green Olive Tours
PO Box 41055
Jaffa 61410, Israel
In Israel/Palestine: Office: 03-721-9540
Outside Israel/Palestine: Office: +972-3-721-9540
USA 1-612-276-2077